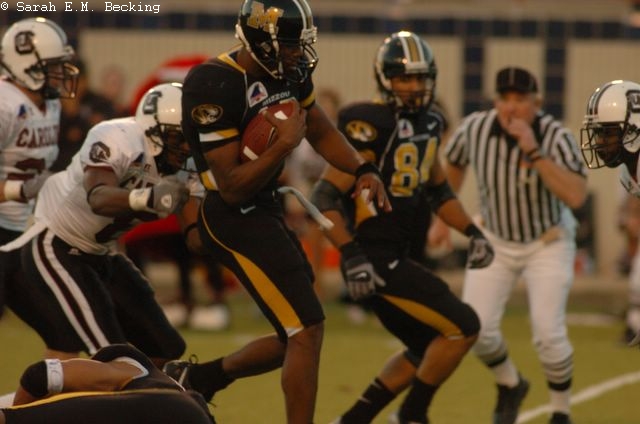 Yesterday I watched South Carolina get completely smoked by Florida. A couple hours later, I watched Mizzou coast to its second straight bid in the Big 12 Championship game.  It got me thinking about a relatively nothing game that happened almost three years ago.  This program has had many "turning points" in the Pinkel era: signing Brad Smith, beating NU in '03, signing Chase Daniel, coming back against ISU in '05, et cetera.  But one "turning point" stands out above all others at the moment, due to the fact that it was a bit of a turning point for two different programs.  It is, of course, the 2005 Independence Bowl.
In the middle of the afternoon of Friday, December 30, 2005, Mizzou was getting its ass kicked in Shreveport, plain and simple.  They were losing 21-0 to South Carolina, and the Gamecocks were driving, ball at the Mizzou 16.  Mizzou had 63 yards of offense.  A friend of mine texted me that they were chanting "Fire Pinkel" and "Gary Barnett" in the bar in which he was watching the game.  I was the most steadfast Pinkel supporter I knew of, but even I found myself saying "I'm not saying they should fire Pinkel, but if they do I guess I can't complain much."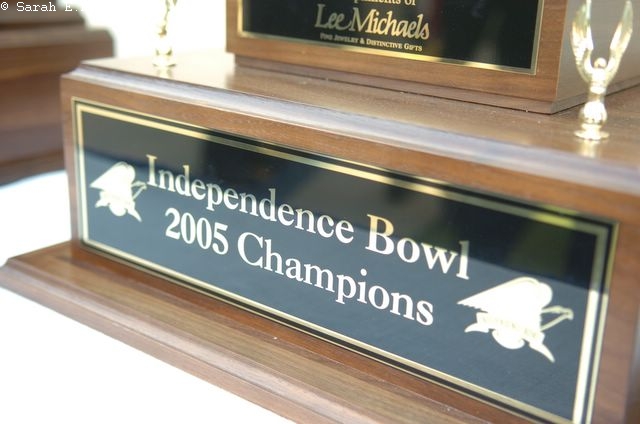 After the debacle of the 2004 season, in which a Mizzou team picked by some to win the North division for the first time had blown a series of leads and failed to make a bowl game, Gary Pinkel had needed a homerun in '05, and that was before Aaron O'Neal's death and the iffy press coverage that followed.  Brad Smith's senior season produced a few good memories--whipping Nebraska, making a dramatic comeback against ISU, putting up ridiculous yards against teams like Arkansas State and Troy. 
But more teams were able to employ the "Stopping Brad Smith" blueprint perfected by Kansas, and MU followed up a discouraging non-conference loss to New Mexico and a whoopin' by a wonderful Texas team with annoying trip-ups to KU (13-3) and Colorado (41-12).  And though they had clinched a bowl at 6-4, they blew a lead and lost to K-State in the season finale (36-28).  Everything that had haunted Mizzou in 2004--blown leads, offensive progress randomly screeching to a halt, defensive breakdowns, iffy play-calling--was still managing to trip Mizzou up, and with Brad Smith leaving, the future was in doubt. 
And Mizzou was heading back to Shreveport, with little to no fan interest.
(Pictures from Becking.com, mutigers.com and gamecocksonline.com)
Meanwhile, South Carolina's turnaround had begun.  Lou Holtz had managed some success in Columbia, SC, but his last three years were mediocre, and he had announced his retirement in November 2004.  The Gamecocks had pulled of a supposed coup by luring Steve Spurrier back into the college ranks with pretty golf courses and a fresh SEC gig, and after a 2-3 start to the '05 season, SC had ripped off five straight wins before a season-ending loss to Clemson.  Sophomore QB Blake Mitchell was looking good, RSFr WR Sidney Rice was looking great.  The defense was hard-hitting.  The future was bright, to say the least.
A quarter-and-a-half into the Independence Bowl, it seems like the game was just a formality and a coronation of a new SEC power.  Faster and physically dominant, the 'Cocks were about to go up 28-0...only Mitchell threw his first bad pass of the game, and Marcus King made an easy pick.  With a convoy ahead of him, he took it 99 yards for a TD, and it was 21-7.  It was a mere speedbump, however, as South Carolina responded with a 7-play, 64-yard TD drive, and it was 28-7.  After a trade of punts, Mizzou got the ball with 1:53 left in the first half, and it was time for Brad Smith to knock the shackles off of the Mizzou offense.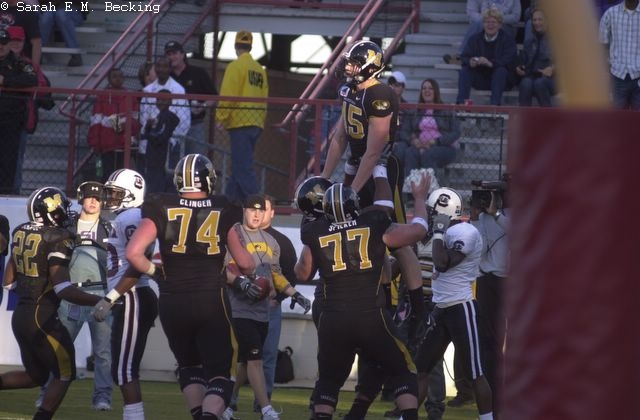 A 23-yard pass to Martin Rucker.  A 10-yarder to Tommy Saunders.  A gorgeous 31-yarder to Will Franklin.  A 5-yard fade route TD to Chase Coffman.  With 0:14 left in Q2, it was 28-14, Mizzou was getting the ball to start the second half, and we had ourselves a ballgame after all.  But Mizzou wasn't through with the setbacks yet.  A methodical 8-minute drive ended with Adam Crossett missing a chipshot FG.  Mizzou was still down 14 with 22 minutes left.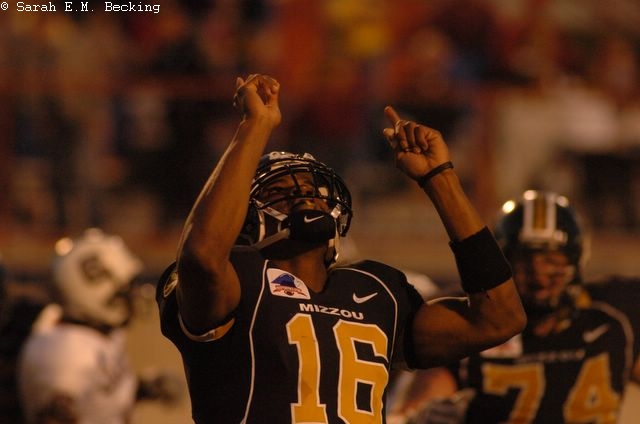 As night began to fall over lovely Shreveport, Louisiana, Mizzou forced a punt and took over at their 15 with 5:00 left in Q3.  This is where things started happening quickly.  A 30-yard pass to Coffman and a 32-yard run by #16 quickly made things 28-21.  Then Derrick Ming intercepted Mitchell.  Another 2-minute TD drive ended with a 4-yard TD run by Bad Brad on 4th down.  Tie game.  Three-and-out by South Carolina.  A 50-yard FG by Adam "boom or bust" Crossett.  Suddenly, despite a long bout with offensive ineptitude and numerous crippling setbacks, Mizzou was up 31-28 with 10 minutes left.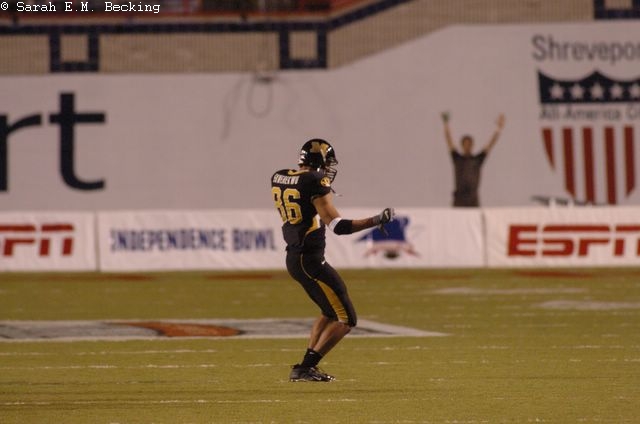 But South Carolina managed to get off the mat themselves.  A 13-play, 6:00 drive got them in FG range, and a Josh Brown chip shot tied the game at 31-31.  In response, Brad Smith ripped off a 60-yard run to the SC 18.  Three plays later, it was another TD for #16, and with 2:05 left, Mizzou was up 38-31.  In the last 30 minutes of play, Mizzou had outscored the Gamecocks 31-3, and that was despite the scoreless 7-minute drive to start the second half.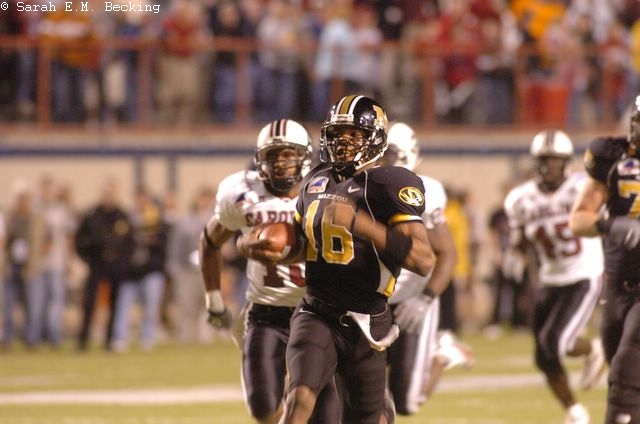 After a nice kickoff return, SC quickly had the ball back in Mizzou territory with 90 seconds left, but sophomore Darnell Terrell jumped a slant route and picked off Mitchell's final pass of the evening, and it was over. What seemed like the stage for a coronation a couple hours earlier had turned into Gary Pinkel's finest hour.  Missouri had not only pulled themselves off the mat, but they had registered a knockout blow of their own.  And Pinkel had outdueled The Ol' Ball Coach.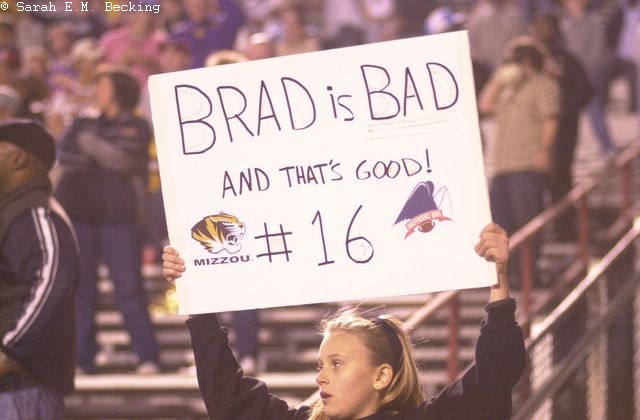 I'm the first one to tell you that bowl game results are often overstated and overestimated in terms of predicting a team's future success.  And in Missouri's case, it was doubly hard to project greatness on future Mizzou squads because Brad Smith had accounted for 431 of Mizzou's 504 Indy Bowl yards, and Brad's career was over.  But three years later, the facts say something pretty clear.
* Since that Indy Bowl win, Missouri has now gone 29-9, their best 3-year win total ever.  Chase Daniel has been the single biggest reason for those 29 wins, and he only played about 6 snaps in the Indy Bowl, but if Missouri hadn't bounced back from the wretched first 25 minutes in Shreveport, we may have never seen Chase Daniel get the chance to succeed here.  For all we know, a 45-7 loss could have resulted in Pinkel's firing and Daniel's transfer.
* In that span of time, South Carolina has gone 21-15.  That's certainly respectable, and it's a clear upgrade over Lou Holtz's last three seasons (16-19).  SC has had some tough, physical defenses in that time, but Spurrier has yet to find a QB like he thought he had in Mitchell, who fell into the doghouse in future seasons.  Mitchell had a respectable 2006, but he ended up splitting time with Syvelle Newton.  In '07, Mitchell split with Chris Smelley.  Now in '08, it's Smelley and Stephen Garcia who are struggling to take the reins.
Spurrier's program has fallen directly into the "6-8 wins a year, no better" trap that it appeared awaited Gary Pinkel's program.  There are extenuating circumstances, obviously (Mizzou has surged against an iffy-at-best North and behind their best QB in history, while SC has to compete and recruit against Georgia, Florida and Clemson every year).  For all we know, these two programs could have followed the exact same path even if SC had won this game easily.  But it's amazing how quickly the perceived direction of two programs can change over the course of a couple hours.  The overall narratives of these two programs will point to this game as something telling.
We have no idea what bowl game awaits Missouri in 2008.  Anything from the Fiesta Bowl to the Alamo Bowl is possible.  The worst-case scenario (Alamo) was the best-case scenario just a couple years ago.  What is amazing about college football--what makes it the greatest sport in the world, despite its obvious flaws--is how two programs' directions and fortunes can change on a lukewarm, late-December night in upstate Louisiana, with a medium-at-best national audience watching.  The 2005 Independence Bowl meant almost nothing to anybody outside of the states of Missouri and South Carolina, but it appears to have made a deep impact on two major-conference programs.  Without the bowl system, this moment--possibly a major turning point in both Missouri's history and Gary Pinkel's career--would not have happened.  All the talk about a playoff is fine--I'm all for it--but whatever system is eventually put in place, the bowls still better be a part of the picture.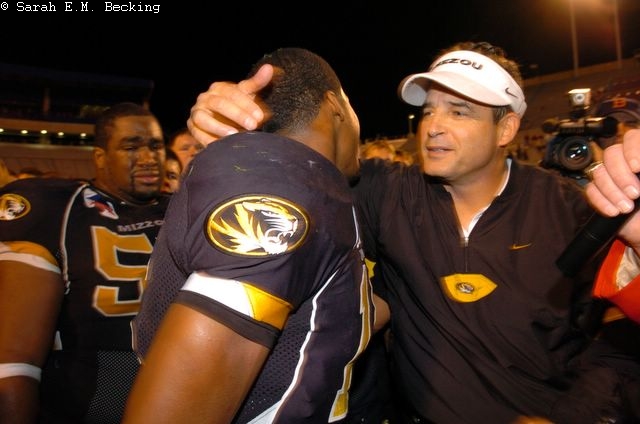 And wherever Missouri heads after Chase Daniel, Chase Coffman, William Moore, Tommy Saunders, and the rest of this "Greatest Senior Class in Missouri history" departs, I can say that everything I know about the Missouri program right now--the national perception, the improved facilities, the All-Americans, the all-but-lifetime contract in store for Gary Pinkel--might not have happened if not for the second half of the 2005 Independence Bowl, and everybody who had a part to play in that game but wasn't around for Mizzou's surge in success (Brad Smith, Marcus King, Tony Palmer, Derrick Ming, etc.) gets a giant tip of the cap.
And while I have nothing against South Carolina or the people of Columbia, South Carolina, if it had to be one of us making this giant step forward, I'm glad it wasn't them.