This is my first conference that I will be previewing. You can read my first college football preview here. So heeeere we go.
The Big 12 had a good year last year with two teams making BCS games and one team winning, but they have not had a National Title player for a while. That could very well change this year. Oklahoma and Missouri are the leading contenders in the Big 12, but Texas, Kansas, and Texas Tech could also compete for a national title bid. This league is full of offensive talent across the board. Texas Tech led the nation in many offensive categories last year and like always, they should be at the top again. Missouri's high powered offense from last year should be very good too. Kansas's offense will have to prove that they can do it again against better competion, but they should be pretty good. Oklahoma has Sam Bradford, the most efficient passer in the nation and he's only a sophomore. Nebraska started to get better on the offensive end last year with Joe Ganz at the helm and he'll be back. Even Baylor may have a decent offense with Art Briles' running style spread offense. The other teams should have some good offenses also. The league's defense won't be too shabby either with many teams returning lots of starters. So without further ado, here is the team by team previews for the Big 12.
Baylor
On offense, the Bears may not be too shabby. They have four options at QB and a pretty good backfield. They need a go to guy at reciever though if their offense is going to be able to compete. David Gettis appears to be this candidate for the Bears if he can be consistent. The offensive line returns four starters with good depth at all positions, so they have the foundation of a good offense, they just need to find out if they have the rest of the pieces.
On D, Baylor has not been very good for the last decade. Art Briles is trying to fix that. They are trying to be alot more physical than last year's team and make more plays. They were dead last in turnover margin and if they want to compete in the Big 12, they need to take care of the ball and take it away more from their opponent. The Bears linebackers should be the backbone of the defense. They have depth and talent at the position. The D line is good on starters but is not very deep.
We know: That Baylor is not going to become a Big 12 power overnight. This will take more than a year to turn around.
A surprise: Is that the Bears should not be looked at as an easy win on the schedule anymore. Art Briles is changing the attitudes at Baylor and if they have the attitude, they can win some games in the conference.
Predicted Record: 4-8
Colorado
Offensively, Colorado brings back QB Cody Hawkins who will only continue to improve. They need some wide recievers to step up to help him out though. The running back situation doesn't look too good. Sure, they have highly touted Darrell Scott but he is only a freshman. They don't really have much experience at this position. The offensive line is a little shaky after losing two starters and two key players.
Defensively, the Buffs will be decent at best. The line looks good on the inside but their are questions about the ends. At LB, they have some big shoes to fill with Jordon Dizon. If they find someone that can at least play his position half as well as Dizon did then they should be OK at backer. The DB's should be average to above average, having to replace Terrence Wheatley.
We know: That CU has lots of depth at almost every position
A surprise: Is that the Buffs might be young and inexperienced but they actually have some very good talent in Boulder and have a chance to be very good if they get the right formula.
Predicted Record: 7-5
Iowa State
Offense: The quarterback has not yet been determined, but they have lots of depth at running back which is always good. The recievers aren't the cream of the crop and the line has experience but the starting jobs are still up for grabs. Don't expect a great offense from Ames this year.
Defense: The line has good talent but not alot of experience. The linebackers return only one starter. The defensive backs are the strength of this defense which is good with all the spread offenses in the league.
We know: They aren't going to have a dynamic offense or stone wall defense.
A surprise: Is the Cyclones could actually have a very successful defense, one of the tops in the league maybe, because their secondary is very good and that is key against the spread.
Predicted Record: 3-9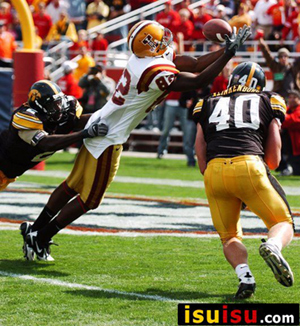 Kansas
Offense: The Hawks have six returning starters including quarterback, Todd Reesing. If Jocques Crawford lives up to his hype, then they should be good in the backfield with Jake Sharp and Angus Quigley returning. Reesing should have plenty of options to throw to at wide out but tight end is a question mark. The line has to replace two tackles and this could be a weak point for KU this year.
KU's defense returns nine starters and could be a force to be reckoned with in the Big 12. The linebackers return three senior starters and should be the best in the league barring injury. The D line should be pretty good too. The defensive backs take a blow in losing Aqib Talib, but the Jayhawks have decent depth and should be pretty good also.
We know: Kansas can't be under the radar again...teams will be prepared this time around.
A surprise: The Hawks were not a fluke last year, and they will be back. With a few breaks this team could be top 5 material...at least top 10.
Predicted Record: 8-4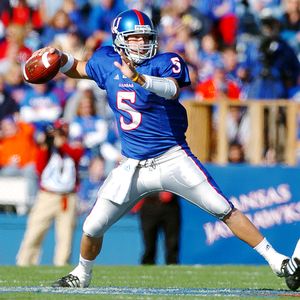 Kansas State
Offensively, the Wildcats aren't going to blow people away. At quarterback they have Josh Freeman who has a strong arm but many question his accuracy. As for options for Freeman, the Cats lose Jordy Nelson, their previous top reciever. If a few of the 19 JUCO's that Prince has brought in can step up, then the offense won't be so bad. The offensive line has five seniors and five juniors, so they have experience and depth.
On the defensive side of the ball, K-State has a great pass rusher in Ian Campbell. The linebackers should be fast but they are lacking in size. As for the secondary, they should be decent, but they won't be shutting people out.
We know: Ron Prince got a little desperate and brought in 19 JUCO's.
A surprise: Is that this move could pay off greatly and they could compete for the North...or it could come back and bite them in the butt.
Predicted Record: 6-6
Missouri
On the offensive side, the Tigers should be extremely good once again. The offensive line loses two players, but as long as they find some decent replacements there, they should be just fine. Chase Daniel comes back, hungry for another shot at Oklahoma as does a slew of talented targets for Daniel. At running back, Derrick Washington is probably going to start for the Tigers this year.
Defensively, the Tigers return 10 starters. Led by William Moore, this should be a very stingy defense. The linebackers should be great but they don't have a lot of depth there. The line loses nose tackle, Lorenzo Williams but should be fine. The defensive backs should be very good as well.
We know: That the Tigers have a chance at the title if they learn to handle all the pub.
A surprise: The defense has the potential to be one of the best in the Big 12.
Predicted Record: 11-1
Nebraska
On offense, the Huskers started to improve last year with Ganz at the helm. He will have some good options to throw to and a great running back to help out with the offense. Marlon Lucky skipped out on the NFL, so expect him to be ready to impress the scouts this year. As for the line, they are deep and experienced. This unit could actually be pretty good and scare some defenses.
On D, the Blackshirts were absolutely terrible last year. And they aren't going to be insanely good after one off season so don't expect anything amazing from the Blackshirts. Sure, they'll improve, there isn't anywhere to go but up, but they won't be a top 10 defense. The line should be pretty good but the linebackers could be pretty weak. The secondary is questionable but with Pelini as the coach, they could turn out to be decent.
We know: The Cornhuskers aren't going to run away with a Big 12 North title.
A surprise: Is that the Nebraska offense has great potential with Joe Ganz at QB and Marlon Lucky at RB. Combined with a very good offensive line, they could be a top 3 offense in the league.
Predicted Record: 8-4
Oklahoma
Offense: They will be led by Sam Bradford, the nation's most efficient passer as a freshman last year. At running back, DeMarco Murray and Chris Brown will share the load, both are very good backs. The Sooners have pretty good recievers and a really good tight end in Jermaine Gresham. The offensive line should be the best in the Big 12. They have seven very talented, experienced lineman that can all start and dominate up front. This could be the best line in the nation.
Defense: The defensive backs have good talent but they still have to decide the best fit for Lendy Holmes, who can play corner or safety very well. The linebackers lose Lofton to the League which is a pretty big blow. They won't be the best in the Big 12. The line suffered some injuries this spring, but the backups stepped up and showed that the D line at OU has very good depth. And the talent is there too.
We know: That the Sooners have all the pieces for a national title run.
A surprise: Is that OU's previous strength, linebacker, may be a huge weakness this year...hopefully for the Sooners, the D line and secondary will be enough.
Predicted Record: 12-0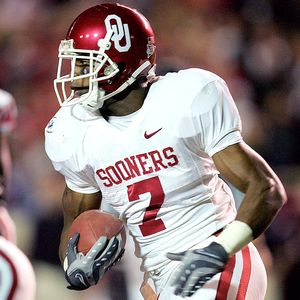 Oklahoma State
The Cowboys have a good, versatile quarterback with Zac Robinson. They lack experience at reciever and running back but they have young potential. If they can step it up, they could have a real good offensive unit. The O line is a very underrated group. They have experience and decent depth and should be in the top half of the league, if not top three.
On defense, Okie State's defense looked pretty good in the spring game. The line has potential but lacks experience. The linebackers only return one starter, so they are questionable at this point. At secondary, the 'Boys brought in a JUCO safety who is expected to help them tremendously. Along with him, they have a senior free safety and two returning corners.
We know: That the Cowboys have lots of questions on offense and defense.
A surprise: Is that the OSU offense is underrated and could surprise a lot of people...especially the offensive line.
Predicted Record: 6-6
Texas
On the offensive side of the ball, the Horns should be really good. Colt McCoy returns at QB, but he lost a few of his options from last year. At running back, they lost Jamaal Charles, but they should be alright with three dependable backs to fill his hole. The line is very deep and very talented. They could challenge Oklahoma for best line in the league.
The Horns have an unexperienced secondary, and this could be their weak link. Only one starter returns for the secondary. The defensive line boasts talented and deep defensive ends and two quick starting tackles. At linebacker, the Longhorns have pretty good potential and some good backups.
We know: The Longhorns will be very good, as usual.
A surprise: Is that they are being overshadowed by Oklahoma and Missouri this year. If everyone is talking about MU and OU, then Texas could actually be under the radar at least for a few weeks, which could allow them to get the upperhand in the conference.
Predicted Record: 9-3
Texas A&M
Offense: Stephen McGee has to adjust to Mike Sherman's new offense, but it should be less running so he can stay healthy. The Aggies have a very good backfield with Michael Goodson leading the way and some talented backups. Oh, I almost forgot to mention Javorskie Lane, the fullback. 6'0". 285 pounds. That's all you need to know. They have good recievers for a short passing game but still lack a deep threat reciever. The line has good starters but only two reliable backups.
Defense: Only one starter returns on the D line, so there is work to be done there. The linebackers have promising potential but are unproven and have little depth. The secondary is the strength of the defense, but they won't be the Big 12's best by any means.
We know: The Aggies have tons of questions, especially on defense.
A surprise: Is the Ags may have a pretty good offense if their line can stay healthy and they can find a deep threat for the passing game.
Predicted Record: 5-7
Texas Tech
On offense, the Red Raiders are always good, but they return ten starters this year. Barring any serious injuries, these guys will be scary good. Graham Harrell knows the offense like the back of his hand. Although the running game isn't huge, it still counts and they will be fine here, with three or four reliable backs. The recievers are led by Michael Crabtree and they have many other great, fast, strong recievers that will eat up secondaries like no other. The line should be very good too with all five starters returning. Best. Offense. In. The. League. At least, the most productive offense.
On defense, the Raiders return eight. Usually defense is a weakness for TTU, but this year is different. The line returns four pretty good starters. They have a fast, talented group of linebackers, but they don't have a ton of experience. The defensive backs are talented and there are many spots in the secondary that are too close to call right now.
We know: That Texas Tech will have a ridiculously amazing offense. They'll get their points week in and week out. They'll get their yards week in and week out.
A surprise: Is that they will have a good defense too. Maybe not the best in the Big 12, but if they are good enough to at least slow down the other high powered Big 12 offenses, this Red Raider team could be playing for a national title.
Predicted Record: 10-2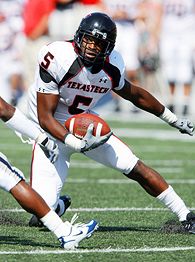 How they'll finish:
NORTH
1. Missouri
2. Kansas
3. Nebraska
4. Colorado
5. Kansas State
6. Iowa State
SOUTH
1. Oklahoma
2. Texas Tech
3. Texas
4. Oklahoma State
5. Texas A&M
6. Baylor
BIG 12 CHAMPIONSHIP:
Missouri Tigers
vs.
Oklahoma Sooners
BIG 12 CHAMPION:
Oklahoma Sooners beat the Tigers in the rematch from last year's title. The big difference was OU's offensive line dominating the Tiger defensive line