As the 2007 season showed us, preseason rankings don't really mean squat for some teams. There may be a top ten team that finishes the year out of the rankings. There may be a team (or two or three) that rise up from no ranking to a top five ranking. But some teams stay about where they are predicted. I'm here to try to predict the top 25 teams based on talent and the ability of the players and coaches to use the talents that they are given. My rankings have nothing to do with schedules or where I think they'll finish. My rankings are all about who has the more talented team with a coaching staff that can work the talent for all it's worth. So without further ado, here is my 2008 Top 25 Preseason Rankings.
1. Ohio State
Sorry Buckeye haters, this team has 18 returning starters from a team that made it to the national championship. Yes, they lost again, but how many other teams can say that they made it through the crazy 2007 season with a championship berth?
Bottom Line: OSU is motivated to prove they can finally win a national title, and they have the talent to do it.
2. Georgia
The Dawgs return 17 total starters, including Heisman candidate, Knowshon Moreno. Matthew Stafford will lead a great Georgia attack and the defense is going to be among the best in the SEC.
Bottom Line: Georgia has great coaches and players, but they don't have the championship game experience of Ohio State.
3. Oklahoma
The Sooners are looking really good with super efficient quarterback Sam Bradford and the other seven returning starters on offense. The defense returns six and both the offensive and defensive lines should be monstrous.
Bottom Line: The Sooners are the best team in the Big 12, but can Stoops return to his former status as Big Game Bob?
4. Florida
Tim Tebow and Percy Harvin will lead a powerful offense that should be able to score almost at will. This team returns eight starters on both sides and looks to be Georgia's biggest challenger.
Bottom Line: The Gators offense will be great, but the defense needs to step it up.
5. Missouri
The Tigers return six on offense including Chase Daniel at QB and Jeremy Maclin at WR. The offensive line has some questions. The defense returns ten starters and should be among the best in the Big 12.
Bottom Line: If the O line can be good early this team could challenge OU for the Big 12.
6. USC
USC returns four starters on offense and seven on defense which isn't that much compared to some other teams. But this is USC, they have depth across the board. The second string placekicker for the Trojans could probably start quarterback somewhere else, these guys will be fine.
Bottom Line: The Trojans reload on offense and should once again be the P-10 favorite.
7. Clemson
Clemson returns seven starters on both offense and defense, including the ACC's highest rated passer in Cullen Harper. The Tigers are loaded at running back, and the offense shouldn't struggle. The defense should be pretty good too.
Bottom Line: If the offensive line can protect Harper well enough, this should be the best team in the ACC.
8. West Virginia
The offense returns eight, including Heisman candidate Pat White, but the defense returns four. They will have to adjust to life without Rich Rodriguez, and Bill Stewart will have to prove he can coach this talented group.
Bottom Line: The defense needs to be able to slow teams down, and the offense should take care of the rest.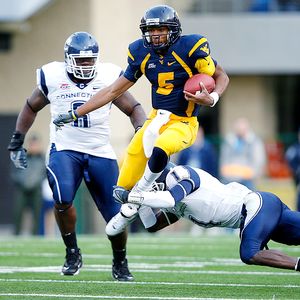 9. Kansas
The Hawks had a dream season last year, and they are back to prove last year was no fluke. Todd Reesing will lead the offense and its seven returning starters. The defense returns nine and should have one of the best group of linebackers in the nation.
Bottom Line: Kansas needs to replace NFL talent at a few positions, but if they can fill the holes they should challenge for the Big 12 North.
10. Texas Tech
The Red Raiders potent offense returns ten starters and should be amazing this year again, but this year they finally have a better than respectable defense that returns eight from a year ago.
Bottom Line: These guys have the firepower to take down OU in the Big 12 South.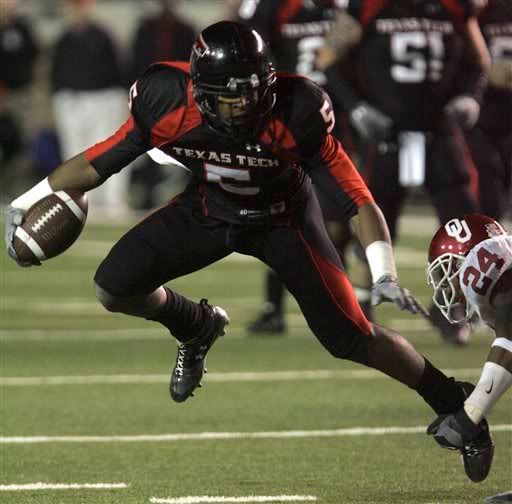 11. Auburn (Clemson's ACC challenger)
12. LSU (I have a hunch...this might be this year's Michigan???)
13. Wisconsin (Ohio State's Big 10 challenger)
14. Texas (Can they handle Oklahoma and Texas Tech?)
15. Arizona State (USC's Pac 10 foe)
16. Virginia Tech (They need to find one QB, no more two QB system)
17. Tennessee (Can they survive the SEC?)
18. BYU (BCS party crasher?)
19. Illinois (Can they contend for a Big 10 title?)
20. Pittsburgh (LeSean McCoy and Co. could win Big East.)
21. Penn State (JoePa can still coach)
22. Oregon (Everyone wants to know: What will the jerseys look like this year???)
23. South Florida (Can they climb the polls and actually stay there?)
24. Fresno State (Could be this year's Hawaii)
25. Alabama (Dark horse SEC contender)
On the Verge: Wake Forest, South Carolina, California, Boise State, Colorado
<!-- submit links are hidden -->
FanPosts may be posted by any RMN member and may not reflect the views of the management staff of Rock M Nation or SB Nation.