Mizzou GameNIGHT in Columbia, Missouri: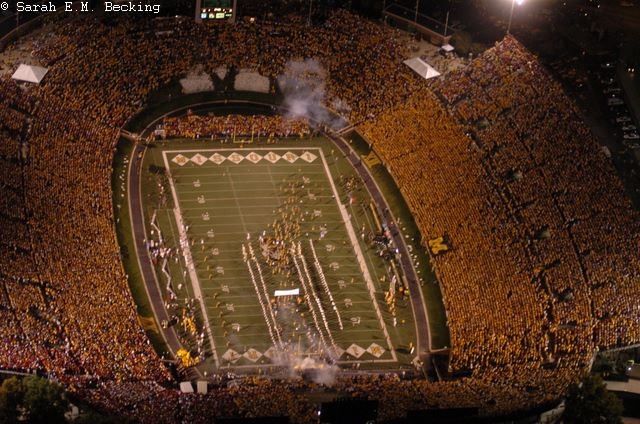 (Photo by Sarah Becking)
Who: No. 3 Missouri Tigers (5-0, 1-0) vs. No. 17 Oklahoma State Cowboys (5-0, 1-0)
Where: Faurot Field (Capacity 68,349)
When: 7:00 p.m. CDT
Line: Mizzou by 14.0
 

 

VS.
Radio: Tiger Radio Network (Mike "To The House" Kelly, John Kadlec, Chris Gervino)
TV: ESPN2 (Mark Jones, Bob Davie, Erin Andrews)
Weather: Hourly Forecast
Online trackers: CSTV, ESPN
OSU Online: Pokes Pride
Make Rock M Nation your base of operations tonight and weigh in with your predictions, questions, worries, bold statements and observations by signing up for a free account. With the Red River Rivalry wrapped up, the Big 12 spotlight falls on another matchup of ranked undefeateds. Do Gundy and Co. make a huge statement about the OSU program, or does Mizzou give the Pokes the ol' "2007 night game against Nebraska" welcome?
Fight Tigers... Rock, Flag and Eagle!
Tonight's pregame pump-up music, courtesy of Three 6 Mafia (of course, featuring some colorful language):
---