1 - Quick: name another Baylor player besides Robert "Hot Tub" Griffin.

2 - Of Missouri's three games before Arrowhead--@BU, KSU, @ISU--which one worries you the most (or in Doug's case, which one gives you the most hope of a trip-up)?

3 - From what we've seen of Baylor this year, what truly is their ceiling during the Art Briles era?

4 - Big 12 picks!

Missouri at Baylor
Texas at Texas Tech
Nebraska at Oklahoma
Kansas State at Kansas
Colorado at Texas A&M
Iowa State at Oklahoma State

5 - Finally...Robert Griffin's Celebrity Hot Tub: WILL it make me wet?  WILL it make me sweat?
The Beef: 1 - Um…don't they have a few people with "III" or "IV" at the end of their names? I'll go with them…that has to be at least one or two other people….
2 - I guess this one…and on a scale of 1-10 with 10 being worried, this game would be about a 2. There is no way our squad loses to kSU at home on Senior Day and given how we played the last time we were up in Iowa, I don't think we lose that game either, especially since all the SALTINESS of Iowa State should be pretty well removed by then (if it has not been already). So…yeah…can I pass?
3 - I don't know who said it earlier this week…probably a DeArmond, but Robert Griffin is the exact type of player Baylor needs right now. He can win some games by himself and hopefully get some people excited to play with him on the offensive side of the ball over the next couple of years. If they can build around him and start to show some improvement, then I think Baylor can get to making a bowl game every now and again. But, playing OU, UT, TTech and OSU right now is just murderous and four guaranteed losses these days. I don't know how their north rotation is, but if they can squeeze out a win over aTm and maybe take two of three against the north while winning three or four non-con…well…Texas Bowl it is for them. And that is not a bad thing right now.
4 - Missouri at Baylor – us by a lot…I think the team is refocused now and will be unmerciful over the next few weeks.
Texas at Texas Tech – I may endeavor to actually watch this game between shots from the Jaeger Girls at the Old Mill Stream Inn in St. Charles this weekend (shameless plug for the bar which my wife helps manage)…I will say Tech springs the upset just to prove The Boy's stats correct
Nebraska at Oklahoma – OU by…well…a good amount. However, some NU fans will still think they are right in line to win the conference.
Kansas State at Kansas – kU's new-found run game will run wild on a pretty awful kSU defense. kU in a decent romp
Colorado at Texas A&M – The weekly "Do I even have to think about this game being played?" game…I'll say aTm at home as they seemed to play better last week in actually winning and I have no idea how decent or otherwise awful CU actually is.
Iowa State at Oklahoma State – Okie State celebrates the new gift from T. Boone with a blowout.
5 - He might be Hot Tub Man #1…but Mizzou's defense is going to make him break out in a cold sweat….
Michael Atchison: 1 - Mike Singletary has been in the news. I'll go with him.
2 - Given our efforts against the South, given that it's on the road, and given that we won't see anybody else like Griffin all season long, I'll take Baylor. I'm having a hard time imagining either of the other two keeping up on the scoreboard.
3 - The ceiling? I don't know. As long as Bob Stoops remains at Oklahoma and the University of Texas remains in Texas, it's going to be hard for anyone else to be a top-level team in the South. But would it shock me to see Baylor jump up and go 8-4 or 9-3 some time in the next five years? Not at all.
4 - Mizzou over Baylor by 28.
Texas by 17 over Tech.
Oklahoma by 24 over Nebraska.
Kansas by 13 over KSU
Colorado by a field goal over A&M
Okie State by 25 over ISU.
5 - Anybody else here watch Celebrity Hot Tub on its first run? Didn't think so.
The Beef: I remember seeing the Hot Tub on its 1st run, but being really confused and not realizing that Saturday Night Live used to be on TV Land before it made the move over to NBC however many years ago…
rptgwb: 1. Jordan Lake, Joe Pawalek and Jay Finley. That's all I got. Do I still get a medal?

2. I'll say ISU, because weirder things have happened in Ames. Plus, I'm not about to call for a trip up for Mizzou on senior day against Kansas State.

3. I can see Baylor like Northwestern awhile back. They'll have the potential to pop up and bite somebody, and might have one huge season and end up in the Alamo Bowl or something, but in that division, it's hard to project much more.

4. Picks:
Missouri over Baylor by 28
Texas over Texas Tech by 10
Oklahoma over Nebraska by 20
Kansas over Kansas State by 10
Texas A&M over Colorado by 6
Oklahoma State over Iowa State by 24

5. Will it make me sweat? YEAH! Should I get in the hot tub? YEAH! Will it make me sweat? YEAH! I'm gon' get in the hot tub!
The Boy: Huh huh, Atch is old.

1 - I can name two defensive players: Jordan Lake and Joe Pawelek.  They're Baylor's two best defensive players, but I can't tell if they're good in a "good" way or in a "somebody has to make the tackles, even on bad defenses" way.

2 - Since Iowa State has ceased being salty ever since I committed to calling them salty, I'll say this one.  And yeah...despite ghtd36's best efforts, I just can't worry myself too much on this one.  In our last 22 games, we've lost four games--all to either Top 10 teams or teams that became Top 10 teams after beating us.  Baylor is neither.  K-State might or might not put up some yards and points against us, but they'd give up 21 points to "bye" right now, so I'm not concerned.  Iowa State...I'll be a bit paranoid about that game right before kickoff, but aside from 2006 scars, there's really not much to be scared about there.  Hot Tub Griffin is at least a dynamic player who can create some points out of thin air, so that gives Baylor the edge in the upset department...but yeah, I'm about at the same "2 out of 10" as Beefy is.

3 - I think their ceiling is probably the same as Larry Smith's ceiling.  Smith took Mizzou to two bowls despite the presence of an elite NU program, an elite KSU program, and a back-and-forth CU program.  Granted, the South has FOUR good programs instead of three, but sometime with Griffin, they'll upset one of those teams and pull a 4-4 conference record, I think.  That would probably get them to 7-5 or so, which might even get them to Shreveport!  But hey...that's the highest ceiling they've had since Grant Teaff left, so...bully for Briles.

4 - Missouri 48, Baylor 17.  Granted, Chase rarely plays great in Texas, but...yeah, it's a slight step down from UT's defense to Baylor's.  And honestly it wouldn't surprise me if Baylor didn't break into double digits, but I'm applying a "Griffin does something fantastic" sliding scale here.

Texas 48, Texas Tech 42.  My BTBS numbers say otherwise, but Tech has given up 59, 35, 52, 51, 43, 38, and 42 to Texas in the last 7 years.  Never bet against a streak!  (I honestly have no idea what to do with this one.)

Oklahoma 44, Nebraska 14.  OU's defense gets back on track.  I'm going to keep saying this until it happens--their defense has been inexcusably bad since the Texas game.

Kansas 42, Kansas State 20.  Nothing gets you back in an offensive rhythm faster than playing K-State.  Unless you're Colorado, anyway.

Texas A&M 31, Colorado 10.  ATM's been playing well offensively as of late, and after what I saw in person last weekend, I can't pick Colorado to score more than 10 against anybody right now.

Oklahoma State 56, Iowa State 7.  No salt left for Chizik.

5 - That will forever be one of the greatest team picture mugshots I've seen.  Made me like Robert Griffin 1000% more.

And no, I didn't see that skit on its first go-round.
ZouDave: 1 - Mike Singletary. Oh, wait, current player? Yeah, no idea.
2 - Probably @ISU, simply because they shouldn't have beaten us up there 2 years ago and they're salty.
3 - Hard to say. What was Missouri's ceiling in 2002 with Gary Pinkel and Brad Smith? It got better pretty quickly because of a very dynamic QB. Of course, we weren't sitting behind Texas, Tech, OU and OSU in our division. Baylor could very realistically be a bowl team in the next couple of seasons if they can get someone to help out Hot Tub.
4 - Missouri by 20+
Texas by 7
Oklahoma by 40
kansas by 7
Oh God....nobody wins the CU vs A&M game. The real losers are anyone who watches it. A&M by 2, 2-0.
OSU by 31
5 - Too hot, burned myself. HHHEEEYYYYYY!
ZouDave: I also saw the Hot Tub skit on first run. I remember watching it at my friend's house as a kid because I was spending the night there, and we just thought that was the single funniest thing ever. We didn't even remotely get it, but I just loved the line "Jump back, gonna kiss myself. HUH!" I bet I said that on an hourly basis for the following 3 weeks. Wish I could remember what year it was aired, but I just remember I was a very young kid.
Doug: 1 - Elgin Baylor. What? No?

2 - Um... the team bus driving off a ravine somewhere along the way?

3 - I think a lot depends on how Robert Griffin continues to develop. You can always make good things happen in college with a decent run/pass qb like him. In the pros... not so much. But, Briles has three more seasons to take advantage of Griffin's strengths and maybe head to one or two small bowls. What happens after Griffin leaves is anyone's guess, but history shows us that Baylor would probably revert.

4 - MU - Griffin's running ability will probably do well to keep himself alive on Saturday
Tech - It's dump-or-get-off-the-pot time for Mike Leach and if anybody can score with Texas... it's the Raiders
OU - Do we have an over-under yet on when Husker fans will call Pelini a mistake?
KU - I agree with Beef, the running game will help, plus K-State players have already been flapping their gums this week
Pass - Is this game on TV? If it is... kill me now.
OSU - Sorry, Gene... but enjoy Stillwater!

5 - Are they even allowed to have hut tubs on Baylor's campus?
The Beef: By the way…with the announced sell out of the k-State game, Mizzou will finish the season with an average attendance of about 64,500…about a 4,500 person jump from last season and their biggest total in 28 years (no comments necessary rpt). The big question though (as I was discussing with a friend last night)….will these same folks return next year?
rptgwb: If they don't come back, don't forget that Nebraska and Texas are back on the home schedule and are likely to bring some folks through the gates. But it's not the alumni I'm concerned about being fairweather fans. I'm more concerned about the current students. It's a bad state of affairs right now - this group has been spoiled by winning, including a freshman class who simply expects Mizzou to be a Top 5 team. They were having trouble finding enough people for the front line of Tiger's Lair last week.
ZouDave: I bet a lot of the same folks will return next year, but we'll probably see a slight dip. Much of it depends on how we end the year. If we win the North, are at least competitive in the B12 Champ Game, and then go win a bowl again I think things are going to be looking really good. Attendance in 2010 is the one that is TOTALLY up in the air right now.
The Beef: Now THAT is just a sad commentary...that 1 and a half years of high level winning spoiled them...sheesh...
ZouDave: Well they're part of the instant gratification generation, with their cheat codes and their wikipedias and their cable modems....YOU DAMN KIDS GET OFF MY LAWN!  GIT!
Michael Atchison: If the incoming freshmen are expecting to have a top five team every year, they'll be sorely disappointed by the occasional kick in the teeth that is this thing called life.
I'm sure attendance will be down some without Daniel and Coffman and Maclin as headliners, but the season ticket base should still be good, and so much better than five years ago.  There's still a better than average shot that this team is going to play in the Big 12 title game and make it to a New Year's bowl.  Pretty rare to season many season ticket cancellations in a year after a season like that.
The Boy: As I skate from meeting to meeting, I'll just add this...the first thing to pop up on a Google Image search of "Get off my lawn".
The Beef: You just could not make it one more week without getting one of those two on here, could you?
ZouDave: well played, but I'll raise you:
The Beef: I'll call with this one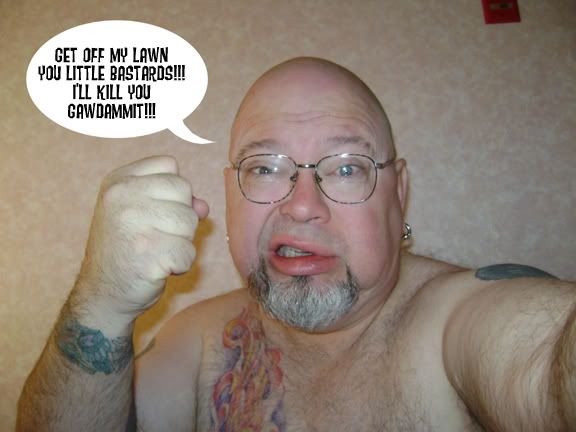 The Boy: Hey...I just posted the first thing on the list...I make no political comment...I saw what happened last time something political was raised (in the UT open thread), and I want nothing of that again!
The Beef: In this day and age…anything using either one of those two is a political comment
Michael Atchison: I assume that next week's roundtable will feature in-depth analysis of election returns. (Actually, I won't be worth a damn next Wednesday morning after staying up all night watching the news)
Doug: That's why I stick with making fun of Ron Paul.
ZouDave: did someone say RuPaul?
Doug: No, but Jenna Haze is running for State Senate in California.
ZouDave: Even if that's not true, excellent job getting her mentioned AGAIN!
But somehow I believe it is true. Is it?
The Beef: I cannot even imagine she would be old enough…not that I want her to be old enough as it is….
ZouDave: She's 26 (thanks wikipedia!). How old do you have to be to be a State Senator?
The Beef: 26?!?!? Damn…there goes that fanta…I mean…um…thought.
Michael Atchison: A quick Google search reveals that one need only be 18 years of age to run for California State Senate. I'm guessing that some film producers are desperately hoping that she meets said requirement.
ZouDave: Want a fanta? Don't cha want a, wanta fanta?
Michael Atchison: For no reason at all, can I interject this thought?:
rptgwb: Just to add another "read related" tag: ZouDave's sister
ZouDave: Fire of a thousand suns.....hate.....you.
The Beef: Oh wow....sad thing about RPT is he was...what...14 or 15 when that joke came around the first time?
ZouDave: Well, technically the first time that joke came around my sister was 14 or 15. My friends have had an unhealthy obsession with her since puberty (first hers, then theirs).
Are we really talking about this?
The Beef: Oh I bet...I was just referring to the TB incarnation of the joke...which strikes me as about 5-6 years ago now...or more...
And remember how badly our roundtable went off the rails last week and how our game turned out? Don't think I am not aiming for the same damn thing here....
ZouDave: I'd say the ZouDave's sister jokes probably started showing up on Tigerboard around 2001, which was when she got married and I think I made the mistake of posting her wedding picture on there. It was all over at that point. I blame JDotDot, who actually sent me a TBIM not too long ago.
The Beef: Really...that guy is still out there?
And to bring this all the way back around...the jokes (as I know them) may have very well started when RPT was but THIRTEEN...or even maybe TWELVE...ggh.
ZouDave: So when *he* was starting puberty. Cripes.
I hadn't even met the person I've now been married to for 3 years when my sister got married. That's how long ago that really was.
rptgwb: Who am I, Jenna Haze? Why do we care about MY age?
Michael Atchison: I already had a robust retirement account when your sister got married.
And could it be that next Tuesday will be our young colleague's first opportunity to vote in a presidential election? There's some perspective. It'll be my sixth.
The Beef: Yeah...clocking in at #4 for me...
Oy...retirement accounts...looked at mine yesterday just to chuckle...I did
The Boy: Back from my last meeting.  I'll catch up in one e-mail:

1) I do indeed want a Fanta.

2) Having seen ZouDave's sister in person, BELIEVE THE HYPE!!

3) What's a "retirement account"?

4) Election #4 for me as well.

5) I can't believe that wasn't the first time I had to go to Google Images and run a "Rupaul" search to find the right picture to use.  I need to re-evaluate where my life is taking me.
ZouDave: This will be my 4th as well.  I'm 2 for 3 on who I've voted for actually winning, but unfortunately that was the 2000 and 2004 elections.....
Michael Atchison: That means that in 1996, Dave either voted for a Kansan or Ross Perot.  The shame.
ZouDave: Oooh...I *AM* SHAMED!  OUCH!
Michael Atchison: Absolutely.
The Beef: Am sitting 1 for 3...Baseball Hall of Fame baby...
ZouDave: Well I'm sure we're not all going to get into a discussion of who we're voting for and why, but I will at least ask:

Is everyone here voting on Tuesday?  Because you freaking better be.
The Beef: Yeah...am going to try to vote early so I can come home and watch the returns over some beers...
The Boy:
ZouDave: when did you see my sister in person?
The Boy: Your wedding?

(No, I didn't because she was about to pop, but I was trying to further the narrative.)
ZouDave: yeah...she was in Thousand Oaks, CA, for my wedding. Awesome, except that we were in Wichita, ks.
Less than 24 hours before they were going to get on a plane to fly to Wichita, she had some bleeding and her doctor told her that while she might be ok that flying wasn't a good idea. That was a very, very rough phone call for her to make to me (was a rough one to hear as well). But, it wasn't worth putting at risk her twins since it took them over 2 years to get pregnant in the first place.
And now those kids are almost 3 years old and rule! And since my work friends kick ass they figured out how to webcast the wedding to her so she still got to watch it live.
So still NOBODY here has actually met her. THE LEGEND LIVES ON!
The Beef: Yeah…I mean…I was in the dude's wedding and I've only ever been able to see her live via webcam…
Hmmm…ZD may punch me for that one…I KNOW the Admiral will
ZouDave:
The Beef: Hey man….not my fault you work in a geeky industry
ZouDave: even then, you didn't see her live via webcam. She saw us; it wasn't a two-way conversation.
Although you did see video of her toast to me at the rehearsal dinner...still not live. HA!
The Boy: In my dreams, we've met many times.
(20 minutes later)
The Boy: Well, I didn't intend for that one to be just hanging out there like that.
Zoudave:
The Boy: My life in one picture.
The Beef:
ZouDave: