Answer: Presidential Elections.  Summer Olympics.  Mizzou trips to the postseason.
Question: What are...things that happen every four years, Alex?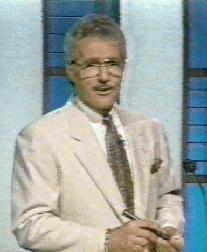 Correct!  Until this year, at least.  Following a run to the second round of the NCAAs in 2003, Mizzou had stumbled.  A 9-10-1 record in 2004 was followed by a 9-8-3 record in 2005 and a 10-9 record in 2006.  Mediocrity was the watchword, and as with Quin Snyder, Blitz managed to seemingly have a "young team" that was "a year away" for the better part of the decade.  As pressure began to mount on Bryan Blitz, and some (including myself and The Beef...which shows what we know) were ready to turn the page on the Blitz Era, Mizzou Soccer found its way again.  A real youth movement found a group of almost all underclassmen scoring goals at will in the middle of the season and wrapping up an 11-6-1 regular season record at #22 ranking.  Mizzou lost to Texas A&M in the Big 12 semis but easily wrapped up a spot in the NCAA Tourney.  Once again, they got to host the first two rounds.
NCAA First Round: Mizzou 1, SEMO 1 (Mizzou advances on PKs)
Mutigers.com: #23 Missouri Soccer team advances on penalty kicks
With the score tied at one, Redhawks keeper Lindsay Pickering (St. Charles, Mo.) made a game-deciding save at 27:22, blocking a shot by Missouri freshman forward Alysha Bonnick (North Gower, Ontario). Pickering, a clutch player on the night, made nine saves on the night.

Advancing to a second overtime for the third time of the season, Missouri previously held off Texas A&M, 3-2, on Sept. 28 and Texas Tech, 4-3, on Nov. 7. SEMO freshman forward Ashley Reunion (St. Peters, Mo.) had a breakaway and a clean shot at Missouri's goal but Pfeiffer tackled the ball away for a Mizzou goal kick.

Five Tigers were selected from the lineup to take Missouri's penalty shots. Tarr made Missouri's first penalty kick attempt but SEMO missed all four of theirs before Forst stepped up and hit her shot to advance the Tigers to the second round.
Columbia Tribune: Forst takes off the gloves
Missouri goalkeeper Mallory Forst spotted a trend during the shootout against Southeast Missouri in the first round of the NCAA women's soccer tournament last night at Walton Stadium.

Before the first three Southeast Missouri shooters struck the ball, they snuck a peak at one of the goal's corners.

"Generally that means they're playing it to the other corner," Forst said. "It was just an instinct that I had that I had to go on because there's not much time to make a save."

Her intuition proved right. After Megan McGrath missed Southeast Missouri's first shot wide left, Forst dove to her left to stop Molli Beard's attempt and then moved to her right to catch Alaina Lacopo's shot.

"On the fourth one, the one where I saved it with my foot, I picked the wrong way and at the last second realized she was going the other way, so I just stuck me feet out to get any thing on it I could," Forst said.

The ball rolled to the left, kissed the inside of the far post and bounced out. After blanking the Redhawks, Forst took off her gloves and sealed a 2-0 shootout win by knocking Missouri's fifth attempt past Southeast Missouri goalkeeper Lindsay Pickering. That shot sent the Tigers on to the second round where they'll meet Southern California at 1 p.m. today at Walton Stadium.
NCAA Second Round: USC 1, Mizzou 0 (2OT)
Mutigers.com: USC Tops Missouri, 1-0, in Double Overtime
"We want to congratulate USC for a great game and great competition," Tiger Head Coach Bryan Blitz said. "We're very proud of our group. As a season overall, with no seniors, the experience we had to go through, you're going to have to lose at some point unless you win the NCAA Championship, and that's our goal, but you just don't get there easily. [USC] is a team that went to the [second round] last year, with several seniors on it. But if you look at our team as a body of work you can't help but be excited for the spring season. It's been a really interesting season. I think our junior class has done an awesome job of being two year seniors, as they put it. It shows a lot of character, not quitting on each other. I think the overtime win or loss did show that."

USC scored the game-winning goal on a header from less than five yards out by midfielder Ashley Nick with 5:12 remaining in the second overtime period. USC midfielder Megan Ohai tallied the assist off a throw-in.
Columbia Tribune: USC ends Missouri's season in overtime (Tigers positioned for future success)
Missouri did not have a senior on this year's team. That includes Bree Thornton and Brittany Hopkins, both of whom missed the second half of the season with anterior cruciate ligament injuries. The Tigers also will add players with their 2008 recruiting class.

"Yeah, it kind of makes it a little bit easier," forward Michelle Collins said. "We're not losing anyone. We're only gaining people for next season. We just got to bring them in and make them realize this is what we're all about and we can definitely do this. So we're just looking to keep moving on."

Thoughts turned to the 2008 spring and fall seasons for Missouri (13-8-1) because USC midfielder Ashley Nick scored on a diving header in the 105th minute at Walton Stadium.

Nick's fourth goal of the season was set up by Kasey Johnson. Megan Ohai's flip throw-in from the right corner got the ball into the penalty box, and Johnson flicked it over a cluster of Missouri defenders to Nick.

"That was an unbelievable goal," Missouri goalkeeper Mallory Forst said. "It's good to lose on a diving header rather than something else."