Today, we look at the guys in Missouri uniforms.
Leo Lyons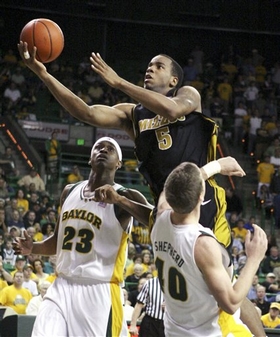 Senior
6'9, 245
2005-06

: 9.5 MPG, 2.6 PPG, 2.4 RPG, 45% FG


2006-07

: 17.9 MPG, 7.4 PPG, 4.3 RPG, 55% FG


2007-08

: 22.1 MPG, 13.1 PPG, 5.7 RPG, 58% FG


rptgwb: Good Leo or Bad Leo? We've seen both in the exhibition season. Yes, he's got the silky smooth mid-range jumper, but right now, Leo simply can't stay out of foul trouble. He managed four fouls in 13 minutes in the Black and Gold game, and picked up his fourth against Missouri Southern less than a minute into the second half. WIth so much unproven depth on the bench at forward, Leo has to find a way to curtail the fouls. Like DeMarre, Mizzou can't afford to have him off the floor long, especially because he's Missouri's best hope in the half-court offense.
The Boy: We've read about Mike Anderson's efforts to make Leo a leader.  If it takes, and he's actually a positive presence in the locker room and on the court, this team's ceiling is much higher.  Of the individual skills this team possesses, "Leo Lyons' gorgeous jumper" is #1...or at worst #2 behind "Demarre Carroll's hair."
The Beef: Anytime he is ready to show up every game, I will care about him. Until then, I just am not impressed because I know what he CAN do
DeMarre Carroll
Senior
6'8, 225
2004-05

(Vanderbilt): 15.6 MPG, 4.0 PPG, 3.8 RPG, 50% FG


2005-06

(Vanderbilt): 29.1 MPG, 10.8 PPG, 6.4 RPG, 51% FG


2007-08

(Missouri): 25.3 MPG, 13.0 PPG, 6.7 RPG, 54% FG


rptgwb: No. 1 in your program, No. 1 in your hearts. He continues to throw himself around the lane with little regard for human life. DeMarre will bring the same energy every game, the question is whether or not the spinning, falling putbacks from four feet are falling or not. After fighting injury last year, Carroll told reporters in a news conference how much quicker he was then last year. He's shown some burst early on this year. This team NEEDS DeMarre on the floor or it will be destroyed on the glass.
The Boy: Energy Guy #1 for Mizzou.  In a halfcourt situation, I'm not sure how well you can run an offense around DeMarre, but if somebody else is the offense's #1 threat (Good Leo, I'm looking in your direction...), DeMarre becomes an outstanding weapon on the glass and cleaning up messes.
The Beef: He pump faked the other night and I thought Dr. Tajudeen Soyoye was suddenly back out on the court.
The Boy: I actually see Dr. Soyoye on a semi-regular basis...it makes me smile every time.
Matt Lawrence

Senior
6'7, 203
2005-06

: 6.9 MPG, 1.5 PPG, 0.7 RPG, 33% 3-pt FG


2006-07

: 27.3 MPG, 11.2 PPG, 3.1 RPG, 44% 3-pt FG


2007-08

: 26.1 MPG, 8.8 PPG, 2.9 RPG, 37% 3-pt FG


rptgwb: God Bless Matt Lawrence. The man knows one thing - 3-pointers - and, God willing, he's going to keep putting them up. He hasn't really found a rhythm from the 3-point line yet, but hopefully that's just karma building up for an explosive game later on down the road. He's not the most agile or the most fluid player, which is why the additions of Taylor and Denmon should open up some space for him. Anderson's had him starting so far, but at this rate, I'm not sure how you keep Denmon off the floor.
The Boy: If there's one thing Mizzou has proven in the last couple of years, Matt Lawrence is a great #3 scoring...and a horrific #1.  Rpt is right--if Denmon or Taylor or Paul or somebody can actually become a drive-and-kick threat, Matt could see a lot more open shots in '08-'09, and...good god, you have to think that he eventually starts making them.
The Beef: If I threw him out of a boat, could he hit water this season? We need him to…
J.T. Tiller

Junior
6'3, 200
2006-07

: 13.6 MPG, 4.2 PPG, 1.3 RPG, 1.1 APG


2007-08

: 19.7 MPG, 6.8 PPG, 2.3 RPG, 1.8 APG


rptgwb: JT TIller is the heart of this basketball team. Tiller's plays the game at a pace I don't think I've ever seen before in person. One play in particular: Against Missouri Southern, Tiller was streaking down the sideline about to receive a pass and dish it to a streaking Leo Lyons. The only problem? He missed receiving the pass and it went out of bounds. He turned to Anderson, flashed his trademark grin, and gave a big thumbs up. After the game, Anderson said Tiller did that because he knew what Anderson was going to say: that he plays so fast that he gets ahead of himself mentally. Anderson says he "plays at 200 mph" and "in his mind, he'd already made that pass to Leo."
The Boy: Energy Guy #2.  Consider him Little Demarre.  If the halfcourt offense runs through him, it's trouble.  If he's able to roam free and fly around, he's a great weapon to have...when he can avoid fouls, anyway.  There aren't many positive memories from last season, but JT's single-handed comeback efforts against Michael Beasley and K-State are by far #1 for me and a lot of others.
The Beef: Man do I love the JT Tiller Drinking Game. Drink once when Tiller falls, drink twice when Tiller makes someone else fall. Made watching this team much more bearable at times last season.
Justin Safford
Sophomore
6'8, 230
2007-08

: 8.9 MPG, 2.3 PPG, 2.2 RPG, 0.6 APG


The Boy: He's 230?  Really?
rptgwb: I still have NO idea of what to make of Justin Safford. I seriously can not adequately describe him, other than he comes off the bench when Leo or DeMarre goes off the floor. He's good for 6-12 points a game, a couple of rebounds, and a highlight every now and then.
The Boy: Energy Guy #3.  It's almost like we could split this team into two units.  An "execution" unit and an "energy" unit.  Every TV timeout, we have a line change.  I like this.  As with everybody else I don't totally know what to expect from Justin (though I would say that 3-7 points is more likely than 6-12).  When he was confident and assertive last year, he actually showed a lot of potential.  But he seemed to lose confidence and start pouting pretty easily.  Don't think, Justin...just play.
The Beef: Not banking/counting on much from him, but if he is consistent he could certainly augment our efforts
NEWCOMERS
Zaire Taylor

Junior
6'4, 190
2005-06

(Delaware): 29.7 MPG, 6.8 PPG, 3.2 RPG, 3.7 APG


2006-07

(Delaware): 28.5 MPG, 10.3 PPG, 4.9 RPG, 1.6 APG


rptgwb: While I appreciate Zaire and JT for being without a doubt the best quotes on the team, I think Zaire is one of the most unappreciated members of this new class, undoubtedly because of his experience at Delaware. The offense takes on a different flow and a different feel when Taylor's on the court and in control, but he HAS to cut down his turnovers. He's got good vision and some definite ability to shake defenders.
The Boy: Zaire would definitely be the point guard for the "execution" team.  He has a prettier shot than I thought he would, but he seems to have a nice point guard mindset.  Consider him Jason Horton + better defense - a bit of quickness + likeability.
The Beef: Seems to be an upgrade at actually RUNNING the point, and has some real quick hands on defense.
Keith Ramsey
Junior
6'9, 210
2006-07

(Okaloosa-Walton CC): 11.2 PPG, 7.4 RPG, 3.0 APG


2007-08

(Okaloosa-Walton CC): 14.6 PPG, 8.5 RPG, 3.8 APG


rptgwb: The kid is LONG. Length on top of length on top of length. He's athletic and tenacious inside on defense and seems to be the leading candidate to be Missouri's "shot blocker of the future." He's a bit unpolished, and I'm not sure how his minutes will adjust once real play begins.
The Boy: Energy Guy #4.  We're running out of slots in the "energy" lineup, but...for now that's where he goes.  He's skinnier than I was hoping, but you can certainly see what a "40 minutes of hell" coach would see in him.
The Beef: Tall…thin…runs around…could be him or a lot of people on this team I guess
Marcus Denmon
Freshman
6'3, 185
rptgwb: This kid is the star of the class, without question. After the Missouri Southern game, Tiller, Carroll and Lyons were asked which of the freshmen they trusted most and thought was most ready to play, and without any hesitation, they all answered "Denmon." His got one of the smoothest releases I've seen from a player in a Mizzou uniform in at least four years, and he's got ridiculous range. The crowd heats up every time he's on the floor, and he continues to drain threes mercilessly. Unless he's a defensive liability, I don't see how you start Matt Lawrence over him.
The Boy: For all the times we used to complain about Clarence Gilbert, I don't think there's a single Mizzou fan out there who would complain if Marcus became the Second Coming of Clarence.  He's actually probably quicker than Clarence, but his shot seems just as streaky.  If he develops Clarence's huevos (I always expected Clarence to start doing the "Sam Cassel testicle dance" at some point), we've got ourselves a future star and leader.
The Beef: Yeah…kid can light it up. I think he is better off coming off of the bench for the foreseeable future, but I do like what I saw from him
Miguel Paul

Freshman
6'1, 172
rptgwb: Given his relationship to his cousin Chris Paul, there are a lot of hopes on MP3, but I don't think that's really fair. Paul is very much the run-and-gun guard who zig zags across the floor at full speed, rather than your straight ahead, survey the court guard. His shooting touch has been off in the exhibition season, and I'm not too sure how much I trust the kid yet.
The Boy: If Marcus' shot isn't on, then we turn to Miguel to put on the Clarence hat.  He's confident and assertive...and he definitely deserves to run point on the "energy" team.
The Beef: Seemed to turn it over less, though I am going to get tired of hearing the CP3 mentions all season in every single game
The Boy: He's Chris Paul's cousin?  Huh...hadn't heard that...and just think...the regular season hasn't even begun yet, and you're tired of the references...
Kimmie English
Freshman
6'6, 200
rptgwb: I don't think we've truly seen what Kim English can do yet. He's got a quick first step and some nice outside touch, but I'm REALLY concerned about how he'll get handled in Big 12 play. He's not a big, strong, physical presence. He and Paul combined can't weigh more than 300 pounds, combined.
The Boy: I haven't read this much about somebody's gorgeous jumper since Glen Dandridge was a freshman.  Or maybe Danny Allouche.  Let's just say, I hope English's career turns out much better.  Consider him the Sixth Man of both the "energy" and "execution" teams.
The Beef: Did not play very well in the one game, I do remember that.
The Boy: They don't call Beef the best color man in the business for nothing.
Laurence Bowers
Freshman
6'8, 205
rptgwb: Anderson calls him "a highlight reel," and I'll believe it. He's got athleticism to spare, but again, it's very much unpolished. Much like Ramsey, we'll have to wait and see what his role becomes once the season actually gets underway.
The Boy: Energy Guy #5.  Looked fantastic on defense the other night.  Obviously I'd like him to carry a bit more weight--big, strong teams are going to give us all sorts of fits, especially if DeMarre and/or Leo immediately pick up two fouls (and they probably will)--but I see Bowers being a fan favorite pretty quickly.
The Beef: Um…I think he looked good the other night? I think I mix him and Ramsey up…not that Norm was a lot of help while he was "calling" the game.
Steve Moore
Freshman
6'9, 265
rptgwb: We've seen almost nothing out of Steve Moore so far. He's a big guy, which Missouri doesn't have a lot of. But he doesn't look like much of a finisher with the basketball and much of a mover without it. But as I said, we really haven't see much of him so far.
The Boy: It doesn't appear that Steve will see the floor much this year, judging by how much he played in the exhibition games.  He's a work in progress, but it does appear there's some game in there somewhere.
The Beef: Hit his two free throws the other night…I liked seeing that. Pretty sure he leads the team at this point. I actually thought he would be a little smaller, but he is pretty stout looking. Probably still has some baby fat to be worked off and replaced.