The original version of this post appeared on November 16, 2008.
---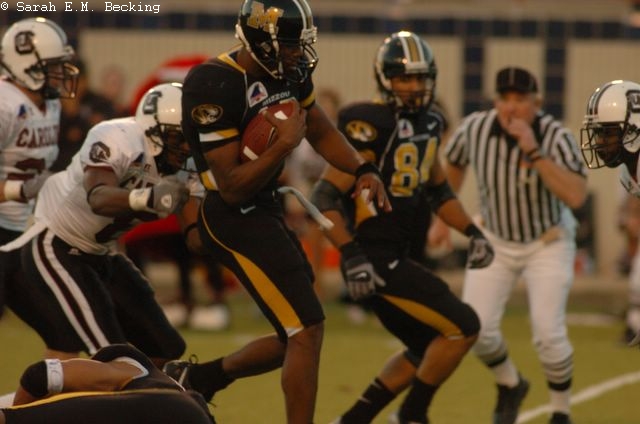 Sarah Becking
With all due respect to the good people of Shreveport, La., the Independence Bowl is rarely a program-defining game. It is indeed a bowl, a reward for winning at least half of your football games, and that is something in and of itself. But while Mizzou has had the opportunity to play there three times in the Gary Pinkel era, two were mostly forgettable.
But while this program has had many "turning points" through the years, from signing Brad Smith in 2001, to beating Nebraska in 2003, to signing Chase Daniel, to reaching No. 1 in 2007, to moving to the SEC, to coming within one quarter of the BCS title game in 2013, the game that took place in the late afternoon of December 30, 2005, in Shreveport gets nearly top billing on the list. Without this comeback win, it is conceivable that everything that followed over the last wonderful decade may not have come to fruition.
Chris Graythen-Getty Images


In the middle of the afternoon of Friday, December 30, 2005, Mizzou was getting its ass kicked in Shreveport. The Tigers were losing 21-0 to South Carolina, and the Gamecocks were driving, ball at the Mizzou 16. Mizzou had 63 yards of offense. A friend of mine texted me from a bar, saying that the patrons were chanting "Fire Pinkel" and "Gary Barnett." The worst of the Mizzou fan id was on full display, and it was almost understandable. I was the most steadfast Pinkel supporter I knew of, but even I found myself saying "I'm not saying they should fire Pinkel, but if they do, I guess I can't complain much."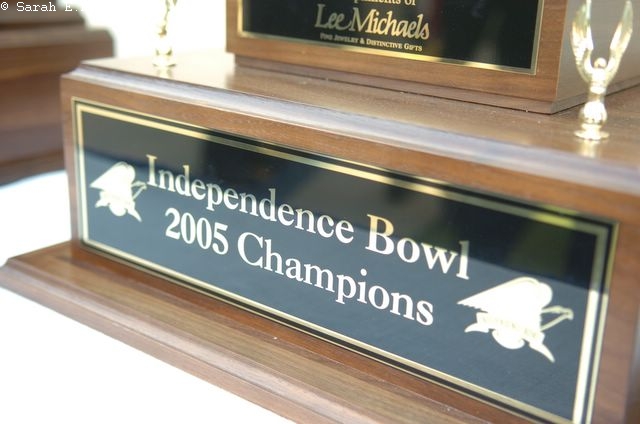 Sarah Becking
After the debacle of the 2004 season, in which a Mizzou team picked by some to win the Big 12 North for the first time had blown a series of leads and failed to make a bowl game, Gary Pinkel had needed a home run in 2005. And that was before Aaron O'Neal's death and the disgusting press coverage that followed.
Brad Smith's senior season produced a few good memories -- whipping Nebraska again, making a dramatic comeback against Iowa State, putting up ridiculous yards against teams like Arkansas State and Troy. But more teams were able to employ the "Stopping Brad Smith" blueprint perfected by Kansas, and MU followed up a discouraging non-conference loss to New Mexico and a whoopin' by a wonderful Texas team with annoying trip-ups to KU (13-3) and Colorado (41-12). And though they had clinched a bowl at 6-4, they blew a lead and lost to K-State in the season finale (36-28).
Everything that had haunted Mizzou in 2004 -- blown leads, offensive progress randomly screeching to a halt, defensive breakdowns, iffy play-calling -- was still managing to trip Mizzou up, and with Brad Smith leaving, the future was in doubt.
And Mizzou was heading back to Shreveport, with little to no fan interest.
Chris Graythen-Getty Images


Meanwhile, South Carolina's turnaround had begun. Lou Holtz had managed some success in Columbia East, but his last three years were mediocre, and he had announced his retirement in November 2004. The Gamecocks had pulled of a supposed coup by luring Steve Spurrier back into the college ranks with pretty golf courses and a fresh SEC gig, and after a 2-3 start to the 2005 season, SC had ripped off five straight wins before a season-ending loss to Clemson. Sophomore QB Blake Mitchell was looking good, and redshirt freshman WR Sidney Rice was looking great. The defense was hard-hitting. The future was bright, to say the least.
A quarter-and-a-half into the Independence Bowl, it seemed like the game was just a formality, the coronation of a new SEC power. Faster and physically dominant, the 'Cocks were about to go up 28-0. However, Mitchell threw his first bad pass of the game, and Marcus King made an easy pick. With a convoy ahead of him, he took it 99 yards for a touchdown, and it was 21-7. It was a mere speed bump, however, as South Carolina responded with a seven-play, 64-yard scoring drive. 28-7. After a trade of punts, Mizzou got the ball with 1:53 left in the first half, and it was time for Brad Smith to knock the shackles off of the Mizzou offense.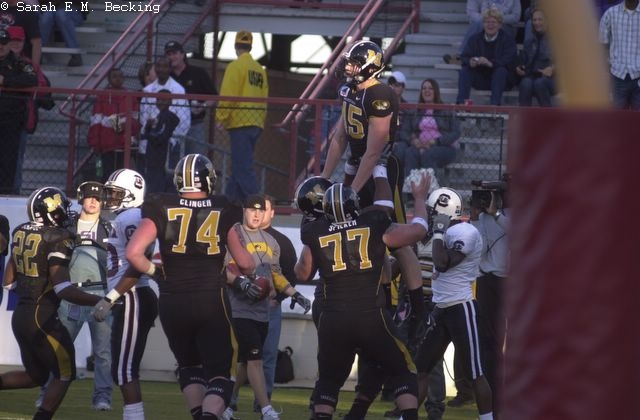 Sarah Becking
A 23-yard pass to Martin Rucker. A 10-yarder to Tommy Saunders. A gorgeous 31-yarder to Will Franklin. A 5-yard fade route touchdown to Chase Coffman. With 14 seconds left in the second quarter, it was 28-14, Mizzou was getting the ball to start the second half, and we had ourselves a ballgame after all.
But Mizzou wasn't through with the setbacks yet. A methodical eight-minute drive ended with Adam Crossett missing a chip shot FG. Mizzou was still down 14 with 22 minutes remaining.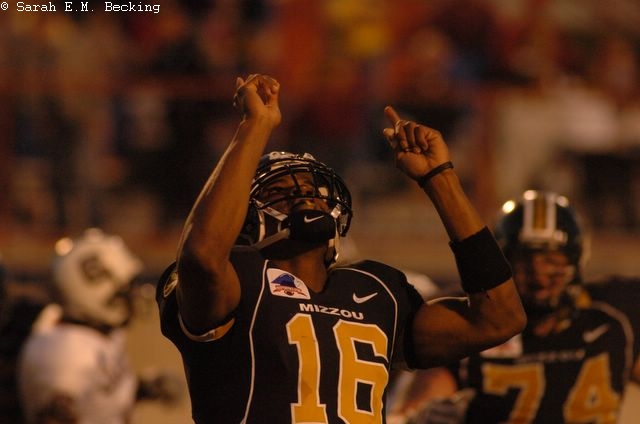 Sarah Becking
As night began to fall over lovely Shreveport, Mizzou forced a punt and took over at its 15 with five minutes left in the third. And this is where things started happening quickly. A 30-yard pass to Coffman and a 32-yard run by Smith. 28-21. A Derrick Ming interception. Another two-minute scoring drive that ended with a short scoring run by Bad Brad on fourth down. Tie game. A three-and-out by South Carolina. A 50-yard FG by Crossett, the most boom-and-bust kicker in recent memory.
Somehow, despite a long bout with offensive ineptitude and numerous crippling setbacks, Mizzou was up 31-28 with 10 minutes left.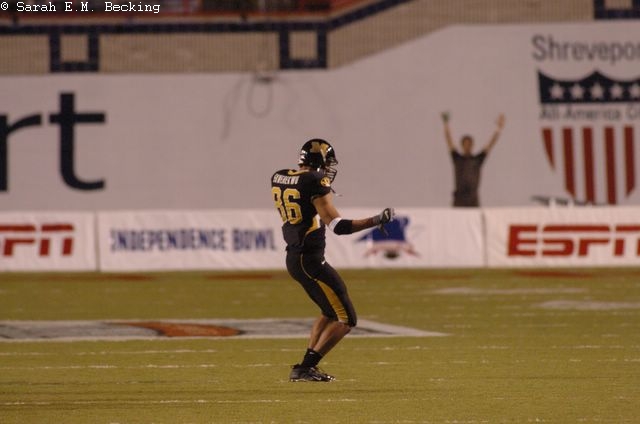 Sarah Becking
But South Carolina managed to get off the mat as well. A 13-play, six-minute drive got the Gamecocks in field goal range, and a Josh Brown chip shot tied the game at 31-31. But in response, Smith ripped off a 60-yard run to the SC 18. Three plays later, he scored his third touchdown. With 2:05 left, Mizzou was up 38-31. In the last 30 minutes of play, Mizzou had outscored the Gamecocks 31-3, and that was despite the scoreless seven-minute drive to start the second half.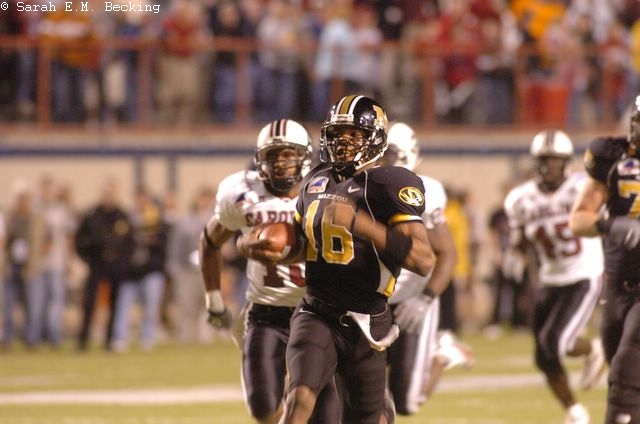 Sarah Becking
After a nice kickoff return, SC quickly had the ball back in Mizzou territory with 90 seconds left. But before Mizzou fans could suspect the worst, sophomore Darnell Terrell jumped a slant route and picked off Mitchell's final pass of the evening.
What seemed like the stage for a coronation a couple hours earlier had turned into Gary Pinkel's finest hour. Missouri had not only pulled itself off the mat, but the Tigers had registered a knockout blow of their own. And Pinkel had outdueled The Ole Ball Coach.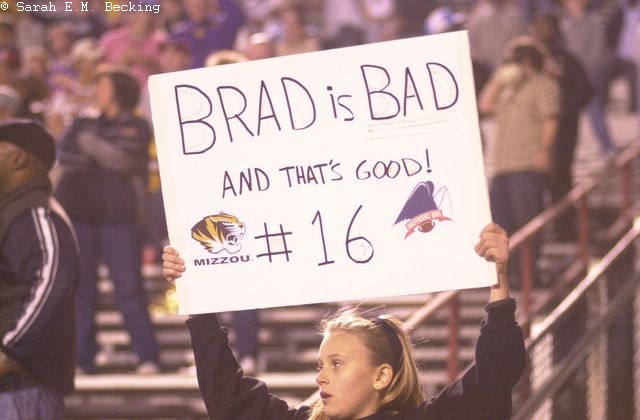 Sarah Becking
I'm the first one to tell you that bowl results are overstated and overestimated when it comes to predicting a team's future success. And in Missouri's case, this seemed like an isolated success -- it was hard to project greatness on future Mizzou squads because Brad Smith had accounted for 431 of Mizzou's 504 Indy Bowl yards. But by winning, Missouri not only assured Gary Pinkel's further employment, but the Tigers found a starting point. Predicted by most to fall apart post-Brad, Mizzou improved to 8-5 in 2006, then broke through 22 wins and a top-5 finish in 2007-08. Chase Daniel not only matched Smith's greatness but exceeded it. Mizzou won 10 games again in 2010, moved to the SEC, and won division titles in their second and third seasons in the conference, respectively. In the nine seasons that followed this win, the Tigers have won 10 or more games and finished ranked five times.
If Missouri hadn't bounced back from the wretched first 25 minutes in Shreveport, we may have never seen Chase Daniel get the chance to succeed here. For all we know, a 45-7 loss could have resulted in Pinkel's firing and Daniel's transfer.
Chris Graythen-Getty Images


Spurrier's program, now a division rival of Missouri, rebounded eventually. The Gamecocks lost either five or six games each year from 2005 to 2010 before signing a breakthrough recruit in Jadeveon Clowney and breaking through for 33 wins and three top-10 finishes in three years. Post-Clowney, though, they fell back to 7-6, and with Spurrier acknowledging that he could be retiring sooner than later, the Gamecocks face an uncertain future.
Chris Graythen-Getty Images


What makes college football so beautifully unique despite all of its obvious flaws is how a program's direction, its fortunes, can change on a lukewarm, late-December night in upstate Louisiana, in a game of no national significance. Those who tuned in were either Missouri fans, South Carolina fans, or general college football fans wanting to get a sense for how long it would take Steve Spurrier to begin dominating again. And for 25 minutes, it looked like the answer was "not long at all."
Instead, viewers saw a turning point.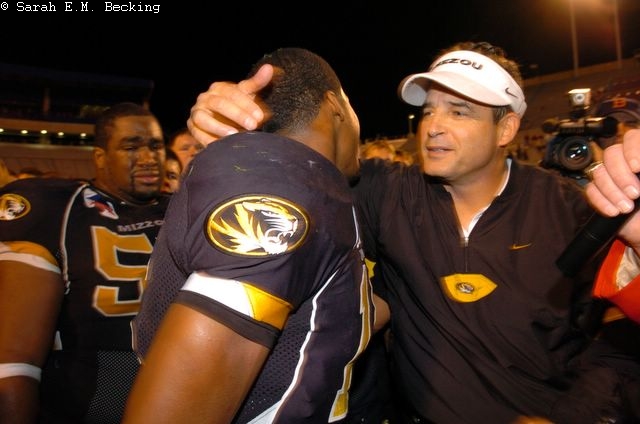 Sarah Becking
And wherever Missouri heads after Gary Pinkel eventually leaves, one can certainly say that everything we've come to know at the Mizzou program -- the new conference, the national perception, the upgraded facilities, the All-Americans, the first-rounders -- might not have come to fruition if not for a second half comeback. And everybody who had a part to play in that game but wasn't around for Mizzou's surge in success -- Brad Smith, Marcus King, Tony Palmer, Derrick Ming, Darnell Terrell -- gets a giant tip of the cap.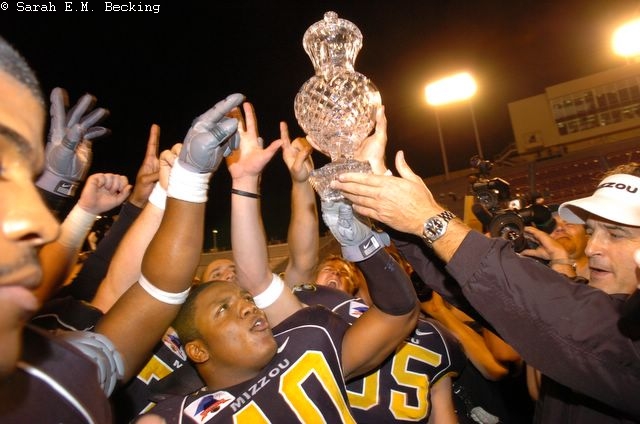 Sarah Becking