In preparation for Friday's Mizzou 25 Coaches Finale, we will spend a day taking a look at each of the finalists.  First up, Norm.
"I'm a fan, I want to see us do well. I don't care if it's hopscotch."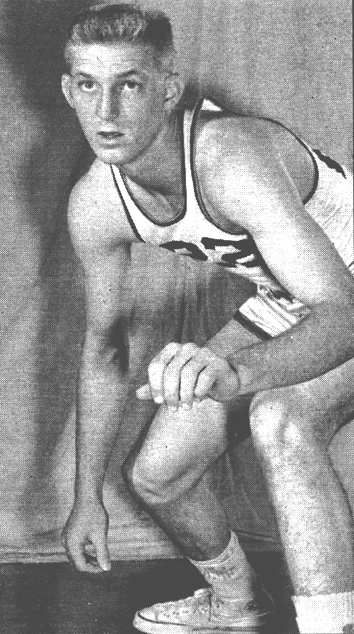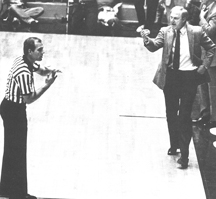 Click 'Full Story' for Norm articles galore, and feel free to share your own links in the comments.
SI: Tempest at Mizzou, 2-20-1989
The son of a gas station owner from Shelbyville, Mo., he attended Missouri, where he starred in baseball and basketball in the mid '50s and met Virginia Zimmerley, the homecoming queen who would become his wife. Stewart has always warmed to players who remind him of himself—small-town Midwestern kids who would outnasty you. Through the 1970s and '80s, as Missouri football fell apart and 26 other Big Eight basketball coaches came and went, Stewart's power increased.

Like Knight, his methods have been hard-nosed but, so far, beyond the NCAA's reproach. Unlike Knight, Stewart has never been to a Final Four—in fact, Missouri has not won an NCAA tournament game since 1982—and that eats at him. However, few who know him think it eats at his ethics, the current probe notwithstanding.

"He's one of the most competitive people I've ever met, whether it's golf or cards or basketball," says Tom Dore, a center on Stewart's teams during the late '70s who's now a radio sports director in Austin, Texas. "But when I got recruited—and I got all sorts of offers under the table—Norm told me exactly what I would get at Missouri: room, board, books, tuition and fees."

It's ironic that, after losing the brilliant but free-spirited Derrick Chievous to the NBA after last season, Stewart's current team is so delightful and industrious. NBA scouts consider the late-blooming, 7'1" Leonard, a senior, among the best prospects at his position. And three splendid guards—roommates Byron Irvin, Lee Coward and Peeler—provide an almost scary explosiveness. On Jan. 21, Oklahoma State led Missouri by five points midway through the second half, as Leonard and forwards Doug Smith and Mike Sandbothe rode the bench with four fouls each. The In-It-To-Win-It Crew, as Peeler calls the roommate trio, touched off a 42-15 stampede that chased the Cowboys back to Stillwater.

There was irony, too, in Missouri's 93-80 win over Kansas last Saturday, the first time in the Stewart Era that a national network, in this case NBC, had deigned to originate a broadcast from Columbia. Stewart has cultivated such a rabid rivalry with Kansas that he once wondered aloud whether the Jayhawks were tapping his phone. Saturday's game was an event Stewart had worked toward for two decades, and he could hardly savor it from his sickbed.

"This may sound self-righteous,' Stewart said in the hospital on Sunday with Virginia by his side. "But I've basically tried to do things keeping in mine that, if it were all over, I'd not look back with any regrets. I've taken all sorts of criticism and innuendo from writers saying I must change. I'd like to write them a letter and tell them to change." Even from the third floor of Columbia Regional, Stewart was still competing.
Behold These Tigers - 3-7-1994
Since surviving a bout with colon cancer in 1989, Stewart hasn't been quite the same Stormin' Norman of old, but he's still a feisty presence on the sideline. Whether the 59-year-old Stewart is appearing in a ridiculous-looking chef's hat for a bit on a Kansas City TV station, polishing off a greasy cheeseburger and chili with his staff at Booche's pool hall in Columbia or joining his wife, Virginia, to play host to an engagement dinner for their daughter, Laura—all of which he did the day before the game against Oklahoma—Stewart seems determined to enjoy each day to its fullest. "When I found out that I was going to end up on the right side of the green grass, I began appreciating things a little more," Stewart says. At the moment his major off-court project is to supervise Norm's Special Challenge, a statewide three-point-shooting contest that is expected to raise $400,000 this year for cancer research.

"The way Coach Stewart handled his cancer shows what a tough person he is," Booker says. "He really bounced back, and that's pretty much what we try to do on the court. We try to do what he did, just keep fighting."

...

As for Stewart, he doesn't look too far down any road, the road to the Final Four included. But, yeah, he admits he would "enjoy the hell" out of just one trip to the big show, a pleasure that has eluded him in his 27 years at Missouri, during which the Tigers have often been early-round flops in the NCAA tournament (remember their loss to Xavier in 1987? To Rhode Island in '88? To Northern Iowa, for heaven's sake, in '90?). "I know we have a lot to prove, but I like the idea of proving yourself all the time," Stewart says. "This program is going to get there sooner or later. I just hope I'm around to make the trip."
From True-Sons:
Before his legendary 32-year run as Missouri's head coach, Norm Stewart was the best all-around player in the first half-century of Tiger basketball, a truly revolutionary athlete who combined interior size with perimeter skills. A 6'5" guard, the Shelbyville, Missouri native was a potent scorer, ball-handler and rebounder. As a sophomore in 1953-54, Stewart was second in scoring on the team to Bob Reiter. By his junior year, he had earned a reputation as the Big Seven's best all-around player, averaging 16.7 points and 8.9 rebounds per game. Then, as a senior, he simply exploded. Named to the Helms Foundation All-America team, Stewart set MU records for total points in a season (506) and scoring average (24.1) while leading the conference in scoring and becoming just the second Tiger to top 1,000 points in a career. He also averaged a remarkable 10.7 rebounds from his position on the perimeter. Decades later, Stewart still ranks in the top ten in career scoring and rebounding average. In addition to his exploits on the court (his teams posted the best records at Mizzou in 25 years), Stewart was a pitcher on the 1954 national champion baseball team and later threw a no-hitter for the Tigers.
Also from True-Sons
On the broadcast of the exhibition game against UMSL, Norm Stewart referred to field goals as "fielders," making him the first person since Grantland Rice to use the term. Regrettably, he did not comment on modern players and their baggy pantaloons, nor on the unfortunate abandonment of underhanded free throw shooting.
The Trib: Rivals remember 'The Dean' - 4-1-1999
"Norm Stewart is Missouri basketball," said Texas Christian coach Billy Tubbs, who had some classic battles with Stewart when he coached at Oklahoma. "He's had as great a run as anybody can.

"You can't stay at a school for 32 years and not be someone special."

Tubbs, who verbally sparred with Stewart on many occasions as the Sooners coach, said their personal relationship was far different than their coaching relationship.

"I always liked Norm," Tubbs said. "We had some battles on the court, but we always left it on the court."

Of course, the two wouldn't be mistaken for best friends, either.

"Norm and I never grew up in this politically correct world," he said. "Now coaches hug after games. Norm and I never hugged. We were spit-in-your-eye-type guys."
The Trib: Norm Sits Down - 4-1-1999
"When you talk about the University of Missouri and the things that embody this institution one of the things that I look at are "The Columns", which symbolize quality, endurance and strength," [Missouri Chancellor Richard] Wallace said. "The Columns are a symbol of Missouri and anytime I've watch Norm coach I saw he embodied the same things, quality, endurance and strength.

"Norm never lost touch with his Missouri roots. He served with respect and dignity. He's been loyal to this program for 32 years."

At the press conference, Stewart thanked his wife, family, players, friends, coaches and administrators that he worked with in his 32 years at Missouri. He talked openly about all the good times he had as Missouri's. He talked about the players that have gone on to be successes not only in the NBA but in life as doctors, and lawyers and insurance salesmen. He also talked how great the group of current players are and how good they can be.

"I know this group is great," Stewart said. "They will continue to get better all the time."

Most of the team attended the press conference, but noticeably absent were freshmen Keyon Dooling and Clarence Gilbert. But Stewart said that he told all of his players to go to class and that's why Dooling and Gilbert weren't in attendance.

"What did I tell you guys to do?," Stewart asked his players, and to a man they all responded, 'Go to class.'
The Trib: Home Court - 4-2-1999
Over the years, Stewart has returned to Shelbyville for the annual Old Settler's Reunion to catch up with friends and family.

"I'll go back and I might stand around the pool hall ... and let's say we'd had an outstanding year, I might stand in the pool hall for five or 10 minutes before someone would say, 'Hey, Norm, are you still coaching down at Missouri?'"