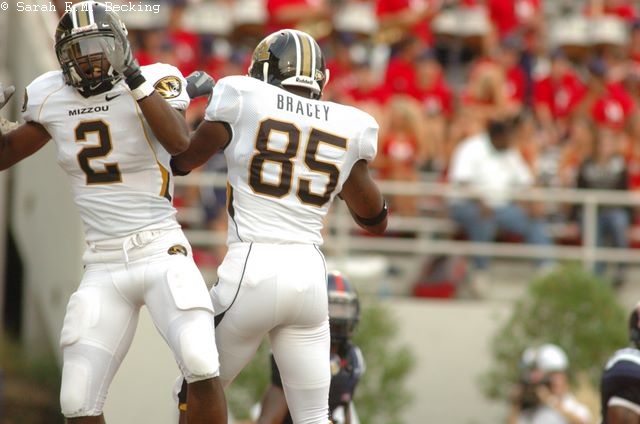 Dave Matter checks in on Will Franklin, who should pretty easily become the Chiefs' #2 receiver this year (pretty sure he's capable of catching more than the 20 passes Devard Darling nabbed last season).
Meanwhile, the Post-Dispatch takes a look at next year's likely Mizzou draftees.  I refuse to acknowledge that this year may be our last with Maclin and Weatherspoon, so don't even say it.
MAILBAG!!!
In it, Gabe addresses a rather interesting question--who constitutes the All-Pinkel Team?  I wholly endorse the Zack Abron pick (though obviously "Laurence Maroney" would have been a lovely answer).  Here would be my picks:
QB - Chase Daniel
RB - Zack Abron
WR - Jeremy Maclin
WR - Justin Gage
WR - Brad Smith (see what I did there?)
TE - MotherRucker
OL - Tony Palmer
OL - A.J. Ricker
OL - Rob Droege
OL - Mike Cook (always liked that guy)
OL - Aaron Crittendon (was never as good as he should have been, but he was HUUUUUGE)
DE - Brian Smith
DT - Lorenzo Williams
DT - Atiyyah Ellison (not C.J. Mosley, as I get the impression he was quite a cancer)
DE - Stryker Sulak (or maybe Xzavie)
LB - Sean Weatherspoon
LB - Marcus Bacon
LB - Sean Doyle!
S - William Moore
S - The 2004 version of Jason Simpson
CB - Honestly?  Carl Gettis
CB - And Michael Harden
K - Gotta go with the diver...Wolfert.
P - Unfortunately Vince Sebo wasn't a Pinkel guy, so...I say the 2002 version of Brock Harvey.
KR - Maclin.  Duh.
PR - Marcus James!!!  Okay, Maclin.
I didn't necessarily go with the single best at each position there...any disagreements?
Finally...did you receive an online questionnaire recently regarding your tailgating habits?  Here's why.