We go with a different theme for today's Roundtable.  We're such a fan of the "Official Guide to Kansas City" that Bring On the Cats put together last March that we're going to create an Official Guide to Columbia for the tens of visitors from Reno, Buffalo, Cape Girardeau (okay, also Boulder, Stillwater and Manhattan) that we expect to welcome to Columbia this season.

But first, a question:

1.  What lot are you parking in this year?  It appears everybody got bumped back a lot, and I have NO idea what we'll be doing for tailgates this year.  And no, Doug, this question doesn't really pertain to you.

And now, to the visitor's guide...

2.  Tell us your favorite feature of Faurot Field (that's a lot of F's) and the immediate surrounding area.  You too, Doug.

3.  Bars and Nightlife: give us your choices.

4.  Restaurants and Other Entertainment: ditto.

5.  Anything else you'd like to share about the greatness that is Como?
Audience participation requested on this one: share your own favorites for Q's #2-5 in comments...
The Beef: 1. Currently we are in Lot P…but we may be efforting a move DOWN to Lot X to get the band back together

2. Um…that they play football at Faurot Field? As for the surrounding area…um…that you can tailgate there?

3. Flatbranch for beer, though food is decent as well. 'Berg on Friday nights before the game…rally night at Harpos of course (throw in a Harpos Hammer for good measure). I don't know…I am getting kinda old…don't do too much in the bars anymore. Shakespeares Sunday morning on the way out of town for breakfast.

4. Um…I guess see the previous answer

5. I miss it…but I have not lived there in over two years and while it has not changed too much, I just don't have the immediate memory capture of it…so thus I bow out of the questions.
ZouDave: 1 - Dad and I decided once again to forego donating money for a parking pass, and boy are we glad we did. We'll be parking in the Maryland Parking Garage again, like we always have. As for where we're tailgating, I have no idea. We will want to be with Beef and The Boy wherever they are but I don't think my dad can handle that much walking. He's old. Almost as old as Atch.

2 - Um...it's really near Greek Town so the scenery is nice? I don't know. I love being in Columbia on gameday so much I don't really focus on any one thing.

3 - When I was a student, my first choice was always Fieldhouse. Visiting now in my more mature years (more mature, not necessarily actually mature) I definitely prefer Harpos. Except when I'm lucky enough to order 2 beers and the keg runs out as they start pouring the 2nd one, so I get to wait. And wait. And wait. And, wait.

4 - Love Shakes. Absolutely love it. It's the only pizza place besides Minsky's in KC that I actually ever "crave". I make it a point to take anyone new to Columbia to Shakespeares, and I've never had anyone come away disappointed. But I am also very thankful for The Beef introducing me to Booches back in December or 2002 when I came down to see a basketball game with him and Greg. I've made many return trips to Booches since then. Nothing better than 3 of their burgers and a Stag, other than maybe 6 of their burgers and 2 Stags.

5 - There's no place I'd rather be on any given Saturday.
rptgwb: 1. I have absolutely NO clue. Last year, I was fortunately enough to walk to all of the games and not deal with the Charlie Foxtrot of parking near Faurot. Odds are that I'll end up in one of the free on-campus garages, so don't look to me for any tailgating answers.

2. I've said it before, but I think Faurot Field (at least on the student side), is really not that nice. It's a craphole, but it's OUR craphole. The one thing is does have is charm. The Rock M is an obvious favorite, but something about the short brick walls surrounding the field on each side is very appealing to me. Tiger Walk over Providence is kind of contrived and forced, but still interesting nonetheless.

3. The official rptgwb endorsement goes to Deja Vu, for either the bar/club downstairs, or the comedy club upstairs. That's the only place where I've been multiple times, so I'll let everyone else take over for other endorsements.

4. For local dining, I'm very much a Flat Branch lover and apologist. Anyone coming through town needs to head out to Fifth St. and, if nothing else, grab an appetizer of fries. Plus, I can't personally speak to it, but I've heard nothing but glowing endorsements about their microbrews, and their bartenders are extremely knowledgeable of their selection if you aren't a beer drinker - Papa rptgwb can attest to this, having sampled a few of the scotches at the bartender's urging.

5. If nothing else, arrive early and, if the weather is good, take some time to just stroll around campus. Mizzou on a beautiful fall day is something to behold. Visit the columns, gawk at Memorial Union, etc. The beauty of CoMo is how it embraces the university and how the university embraces it.
Michael Atchison: 1. I'm in Lot O, with easy access to the Hearnes Center restrooms, always a big consideration when traveling with young children and incontinent adults.

2. My favorite feature of Faurot Field? The ass-kickings that take place between the sidelines. My favorite feature of the immediate area? Easy parking. And did I mention the Hearnes Center restrooms?

3. Let's start with the Blue Note, one of the great live music venues in the middle western states. Let's end there, too.

4. I have a deep, genuine historical affection for the Heidelberg and for Shakespeare's Pizza as bastions of the collegiate experience, and the Oil Change Oatmeal Stout at Flat Branch Pub & Brewing is top-shelf. For finer dining (and I don't do that in Columbia much), Chris McD's will do you right.

5. I still have my coffee cup proclaiming Columbia to be America's second most liveable city. Apparently, that award was based partly on the number of hospitals and available beds in town, though luckily the City Council declined to adopt the proposed slogan "Columbia: A great town to get sick in!" In truth, though, I have nothing but good things to say about the place. Love that town.
The Boy: 1.  We're in X, and I was actually going to propose that The Beef attempt to move there too, but naturally he's on it.  In all, I understand why everybody got bumped back a lot, but it still kinda sucks.

2.  I do love the Rock M (it's in our name, after all), and I love that the sight lines are good.  I love that, when you're on one side of the stadium of the stadium there's a pause between the "M-I-Z" and the "Z-O-U" as the sound travels across the field, but when you're sitting on the Rock M, it's perfectly in rhythm.  I love the statue out front.  I love the buzz you can feel as everybody is entering the stadium (half due to the actual buzz, half due to the beer in the parking lot).  I loved Lot M, back when I was allowed to park there.

3.  I'm a homebody now, and while I'm still a bit in mourning for the loss of Widman's about 4-5 years ago, I do think an out-of-town visitor needs to check out Harpo's at least once (preferrably the Friday night before the game).

4.  Luckily, all the great restaurants serve good beer too.  It starts, obviously, with Flat Branch.  Not only is the beer outstanding (can never go wrong with the Brown or Irish Red...or anything else, really), but I've never had a bad meal there.  Green chili chicken fingers or bread bowl of chokes & cheese for appetizer, Flat Branch Burger (burger w/chokes & cheese on top) for main course, Brown Ale for dessert.  Mmm.  Unfortunately, visitors probably won't be able to sample Flat Branch, Booches (best burgers in town), G&D's (family pizza & steak place...with hot waitresses), Bambino's (great Italian food...with schooners of beer) AND Shakespeares in thesame weekend, unless they time it perfectly.  They're all worth trying, especially the Branch and Shakespeares.

5.  Just a great college town.  Great restaurants, great gameday atmosphere, great scenery around the city (not talking about the Golden Girls...okay, not just talking about the Golden Girls).  And if you catch a game in October, the turning leaves make it a perfect college town.
Doug: 1 - Probably down by the Student Rec Center.  Course, that hill is a bitch to walk, even when you're sober.  But, once you get to the top, and cross the Boulevard and can gaze down over gameday at Memorial, it's a hell of a view.
I'm sorry, this roundtable is all about Columbia?  Oh.  Hmmm.
2 - I'd probably say for Missouri fans it has to be the ease with which you can get to any of the three Wal-Marts in Columbia, right?  I mean, that's got to be it's biggest selling point.
3 - Athena Night Club is back open, right?  I hear they got some great chicken wings there.
4 - Do the Wal-Marts have McDonald's in them?  Shopping and eating all under one roof!
5 - No... I think I got everything covered... although, if it's so great... why'd the Athletic Department agree to move the KU game to Arrowhead this year?
The Beef: I suppose I should mention my STILL favorite Chinese restaurant is in CoMo…greasiest place you ever would want to go…but China Kitchen is STILL in my speed dial in my cell phone.
The Boy: Not enough health code violations for my taste.  Give me Hong Kong on the business loop.  Mmm...chicken mixed in a mop bucket...mmm...
Michael Atchison: Is Peking still there? That was my Chinese of choice back when people wore Frankie Say Relax! t-shirts, and not just for ironic effect
(one hour later)
Michael Atchison: Who killed this roundtable? A lamentable amount of jackassery thus far.
ZouDave: Other than Doug, nobody has really said anything stupid yet.
Doug: I'm sorry, having never been to Faurot... I'll have to go on is generic stereotypes of MU fans and not-quite current event happenings to forge my answers.

I'll try better next time.

But I probably won't.
The Beef: Of course…a picture of jackassery could help spice things up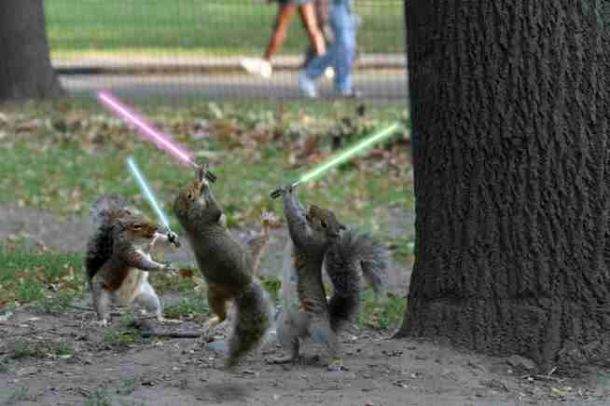 rptgwb: Well done, sir.
MizzouRobot Ridiculous Matt: 1. Northwest campus, most likely, so I can relive the eternal walk from McDavid to Faurot.  You want to see all of campus, that's the best route. Over by Engineering, across the quad, over to Memorial, and down. There's a more direct way, but that way's a little prettier.

2. Surrounding area, I have to say Stankowski. The Turf so Rough They Named It Tough. And the tunnel thing, where I was constantly afraid of getting mugged.

3. Otto's Corner Bar and Grill, if it's still around, by the north city columns, was absolutely fantastic. Never all that busy, played terrific music, and the meals were really good and affordable. Killer, killer, killer whiskey and cokes. The Berg's happy hour. Jesus. My liver hurts thinking about it.

4. If you take Broadway past campus, right at the intersection of Stadium, there's a shopping center that I went to four times a week. Why? One complex, the best chinese food I have ever had and the best greasy spoon I've ever been to.  House of Chow, run by a three generation trio of Korean women (grandmother-mother-daughter), the mother was a woman my brother taught English to 11 years prior to me coming to Mizzou. Absolutely amazing food, and never made me sick. Not once. Best egg drop soup I've ever had. And the best part? They yell at you. They have absolutely no regard for you, and the waitresses seem to appear out of nowhere. About ten of us went to dinner freshman year, and all of us requested singles as change for the keg parties in East campus that night. I was the last one, and she'd seen me in there a bunch of times. The woman got frustrated and yelled "You want change? Go to Buddha. You want food, come here."  Awesome. The greasy spoon? G&D's.  Oh, sweet jesus.  Cold cheap beer, rednecks, $5 steaks, Gyros, and the 1.99 hamburger and fries lunch special. So amazing.

5. Eric Clapton Is The Sun. My brother was there when they spraypainted that.
The Beef: Sounds like your brother is much cooler than you are...
MizzouRobot Ridiculous Matt: Yes. But now I'm a blogger. So I win.

Or something.
The Boy: Nobody's cooler than bloggers.  Everybody knows that.
The Beef: Except for that one angry guy from Costas's show
ZouDave: speaking of jackassery, can anyone find something more randomly funny than this?

(apologies to those who can't view YouTube at work, because this is worth seeing)
Doug: +100
The Boy: Holy crap, that's outstanding. Now THAT's some jackassery.
The Beef: I am one of those people…so I hate you
MizzouRobot Ridiculous Matt: It's like a Mangino-Reesing press conference, with less sounds of sloth.
The Boy: And from one of the related videos...
Sorry, Beef.
ZouDave: Yeah, I love that one too. The damage I could do if I was creative and talented.

This has to be killing Beef.
The Beef: I hate you too.
ZouDave: you earned it yesterday, asspipe.
The Beef: Christ…is it sad I cannot even remember what I did yesterday? Is it because I asked about your smoking hot sister? That's probably it, isn't it? Your smoking hot sister….yeah…I guess I deserve it for talking about your smoking hot sister.
The Boy: She is pretty smoking hot...
ZouDave:
Doug: Yeah, but what hot woman is going to talk to Beef?  And, "his wife" doesn't count.
The Beef: Nice to see this thing so wildly off of the rails in about 10 minutes....
ZouDave: we were challenged. We answered the call.
Michael Atchison: Some men just want to watch the world burn.

I am that man.
ZouDave: Might want to avoid painkillers and sleep medication.....

too soon?
rptgwb: I think we just scared off any visitors we were trying to help.
Doug: That's about par for the course, isn't it?
Ten minutes later...
ZouDave: This was just brought to my attention...

God Bless Paraguay.
The Beef: WOW…now THAT is a woman who won't talk to me
ZouDave: And not just because you don't speak Guarani.
MizzouRobot Ridiculous Matt: Here's an actual football question. How in the hell is Danario already doing drills after tearing his ACL? He's like some weird combination of Mr. Glass from Unbreakable and Wolverine. He breaks easy, heals easier.

Oh, and just to keep things in the same vein:
Michael Atchison: Rex Sharp is a faith healer.
ZouDave: Yeah, it's amazing what the doctors are doing with our athletes. Van Alexander snaps his ACL at the very end of spring practice and everyone around the team is like "Eh, not a big deal. He'll be totally fine before the season starts." Danario has TWO surgeries on his knee in the past 8 months and could probably play against Nevada at this point. Ridiculous.

I hope they don't rush Danario back, though. He won't be ready by Illinois, which is the only non-con game we'll conceivably need him. It sucks that Perry is looking questionable right now for Illinois, but that just means Saunders is going to have to be really involved because Coffman and Cheat Code are going to get double-covered all day. Maybe the Illinois game can be a coming out party for Jerrell Jackson this year like it was for Maclin a year ago. I don't really want to see Danario play before Nebraska. I'd love him to be 100% and HUNGRY for that game.
ZouDave: also just brought to my attention.
Michael Atchison:
ZouDave:
Michael Atchison: Checkmate!