Alright, I guess I've talked about other conferences long enough.  I haven't given myself enough time to crank through the non-BCS conference (and anybody who knows me well, knows there's nothing I enjoy more than pretending I know a lot about the Eastern Michigan's and San Jose State's of the world), so I'll just do a Big 12 preview (set up like the others, only with links to my BTBS posts about Mizzou's 8 conference opponents) and uncork an overall national preview post next week.
North Division
Missouri (7-1)
Game-Changing Stats
Defensive Points Per Play
Redzone Defense
Q4 Rushing Offense

3rd Down Defense

Top Ranks
#1: Offensive Q3 S&P+
#3: Offensive Q1 Rushing S&P+
#3: Offensive Q3 Passing S&P+
#4: Offensive 3rd Down S&P+, Offensive 3rd Down Line Yards+, Offensive 2nd Down Rushing S&P+
Bottom Ranks
#104: Defensive 3rd Down Passing S&P+
#103: Defensive Q3 S&P+
#99: Defensive Q4 Line Yards+
#96: Defensive Q3 Passing S&P+, Defensive Q4 Passing S&P+
You want to know how Mizzou differs from the stereotypical "spread offense, no defense" team?  Check out some of the '+' rankings in which they ranked in the Top 20. On offense, there was Close-Game Rushing S&P+, Rushing S&P+, and 3rd Down Rushing S&P+/Line Yards+.  On defense, there was Overall EqPts+, Close-Game Overall S&P+, Overall S&P+.  After a poor overall non-conference performance, the Mizzou defense really was one of the best in the country over the last 10 games of the season.  And the rushing offense was solid too.  They had almost no weakness from October onward.
So what does that mean for 2008?  Defensively, good things.  Lots of good things.  Even if they start slow again (and with so little new blood, you have to like the chances of avoiding that), this defense should end up in the Top 20 overall by end-of-season. One thing that Missouri did defensively better than just about any team in the country in '07 was take away its opponent's #1 (and sometimes #2) weapon.  Juice Williams & Rashard Mendenhall, Maurice Purify & Marlon Lucky, Allen Patrick (and to an extent, Malcolm Kelly, though he still did rather well), Michael Crabtree, Todd Blythe, whoever Colorado's #1 weapon was, Jordy Nelson, Brandon McAnderson & Marcus Henry, Darren McFadden & Felix Jones. Just about everybody mentioned had extremely poor games against Missouri, at least until the game was out of hand in Q4.  If you had a good #3 or #4 option, you could move the ball against Mizzou.  But even then, your odds of major success using those options instead of your #1 or #2 are still limited.
I haven't mentioned the offense yet, but...well, you have to figure things are going to go just fine there.  Yes, there are a couple of new components--a RSFr left tackle and the first new starting center since 2004, for instance.  Plus, Tony Temple and Martin Rucker are gone.  Mizzou fans have extremely high hopes in their replacements (and in the case of Rucker's replacement, Chase Coffman is already almost more accomplished than Rucker anyway), but you never know what you're going to get until they show it on the field. 
Either way, though, an offense with Chase Daniel at the helm is going to succeed, and likely succeed big. If 2007 is any indication, there's one way to beat a Chase Daniel-led Missouri team: have a monstrous D-line, and hit Chase a lot.  Really, only two teams on the '08 schedule have really good lines--Illinois and Texas.  Illinois' is still as much about potential and athleticism as anything else, and Texas' was much better against the run than the pass, but those are the two biggest hurdles on the slate.
Verdict: While they may not be receiving any first-place votes, Missouri is as dangerous and proven as any team in the nation's Top Tier (Georgia, Florida, LSU, Mizzou, OU, USC, Ohio State).  They have a Heisman candidate at QB, speed speed speed at WR, the best hands in the country at TE (Coffman), a proven D-line, toughness and speed at LB (led by Sean Weatherspoon), an already-grizzled lock-down CB (Carl Gettis), and the best safety in the country (William Moore)...not to mention the most dangerous return man in the country (Jeremy Maclin) and the most consistent kicker in the Big 12 (Jeff Wolfert).  Barring a complete breakdown on the O-line, or a series of (KNOCK ON WOOD) injuries, Mizzou's got the talent to go undefeated and will be favored in at least 11 of the 12 games on their schedule.  They are, for 2008 at least, the class of the Big 12 North.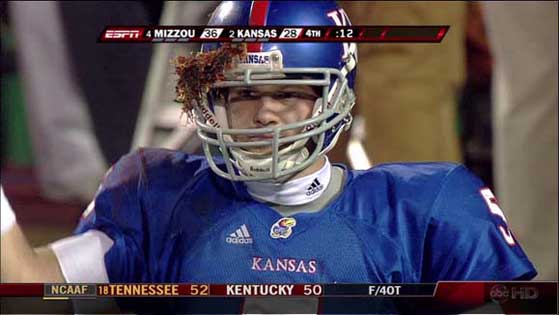 Kansas (7-1)
Game-Changing Stats
Rushing Offense (particularly success rates)
Offensive Line Yards
Pass Defense Success Rates
1st Down Defense
Top Ranks
#1: Defensive Q3 Line Yards+
#3: Offensive Q3 Line Yards+
#3: Defensive Passing S&P+
#4: Defensive EqPts+, Defensive Close-Game Line Yards+
Bottom Ranks
#106: Offensive Q1 Passing S&P+
#98: Offensive Redzone Passing S&P+
#94: Defensive Redzone Passing S&P+
#90: Offensive Q1 S&P+
Kansas Football: Beyond the Box Score 2007
To me, the 2008 KU season will be determined by how they handle two things: 1) offensive line deficiencies and 2) a harder schedule...and to a slightly lesser extent, 3) special teams deficiencies.  Their '+' numbers show that they would have probably done just fine with a harder schedule in 2007--they did play quite a few weak teams, but they still did better against those weak teams than most did.  Taking strength of schedule into account, they still finished in my Top 10 in both offense and defense.  I'd be surprised if the offense finished that high again--with OL problems and the losses of go-to guys Brandon McAnderson and Marcus Henry--the latter of whom I didn't touch on here, but who himself carried KU's offense at times, particularly against Oklahoma State--I could see KU's offense falling back into the #30-35 range.  The defense however, should only go up.  They have to replace James McClinton and Aqib Talib, but the personnel and experience levels are strong here, and unless the loss of DC Bill Young means more than I think it will mean, KU should end up with a Top 5 defense in my '+' rankings in 2008.

The main problem is, of course, the schedule.  They travel to South Florida on 9/20.  USF's offense isn't amazing, but it should still put up a few points.  This will be the first major test in 2008 of KU's offense, and how it responds to George Selvie and an overall tough unit will determine the game.  The conference schedule, meanwhile, includes trips to Norman (ouch) and Lincoln (NU will be looking for revenge), and it wouldn't be completely surprising for KU to go 0-2 in those two.  The good news is that Texas Tech and Texas both have to come to Lawrence, and while they should win one of the two, winning both will be a chore.

This is a very good team, and there's no gimme loss on the schedule (okay, I guess the trip to Norman is a bit of a gimme).  But while KU eeked by the likes of Colorado and ATM on the way to starting 11-0, they'll now have to beat at least two ranked teams (USF, OU) on the road, along with two more (TT, UT) at home to match that start in '08.  And that's probably not going to happen.
Verdict: The running game was what made this offense click--without it, KU struggled--and it's unclear yet whether the Jake Sharp/Jocques Crawford combination can succeed at the same level as McAnderson did, especially without their All-American LT.  This is the biggest question mark on a team with a strong leader at QB (Todd Reesing), a couple of dynamic weapons at WR (Dexton Fields, Dezmon Briscoe), and a top-to-bottom tough defense (led by LBs Joe Mortensen, Mike Rivera, and James Holt).

Colorado (4-4)
Game-Changing Stats
Pass Offense (particularly in close games)
Non-Passing Downs Offense
Offensive Points Per Play
Rushing Defense
Top Ranks
#5: Defensive 2nd Down Line Yards+
#11: Defensive Q2 Line Yards+
#13: Defensive Q2 Rushing S&P+
#13: Defensive Q4 Passing S&P+
Bottom Ranks
#126: Offensive Q4 Rushing S&P+
#122: Defensive 3rd Down Line Yards+
#120: Offensive Non-Passing Downs Rushing S&P+
#117: Offensive 3rd Down Rushing S&P+
Colorado Football: Beyond the Box Score 2007
Will Colorado be able to run the ball when it counts?

The answer to this one comes down to one name: Darrell Scott.  Assuming he's ready for the opening bell, the All-World true freshman from California will be given every opportunity to carry the Colorado offense.  If he doesn't do it, I doubt anybody else on that roster can.  So let's focus on him.

...

[H]ere's roughly what we can expect from Scott this season:

NONCONFERENCE: 45.1% success rate / 0.38 PPP / 0.827 S&P
CONFERENCE: 41.9% / 0.33 PPP / 0.751 S&P
BOWL (assuming they make one): 36.8% / 0.56 PPP / 0.933 S&P

Over a 13-game season, this would result in the following averages: 42.5% success rate / 0.36 PPP / 0.789 S&P

Is that good?  Bad?  Well...Texas' Jamaal Charles put up a 0.958 S&P last season, so it's not amazing.  But over the course of 20 touches/game, that's still going to be pretty productive.

Let's put it this way: last year, CU's three main RBs--Charles, Lockridge, Sumler--went for a line of 40.8% / 0.31 PPP /0.717 S&P.  Scott's line would represent a 10% improvement over that...and 10% less pressure on Cody Nolte-Hawkins to make plays.

Anybody who watched Scott's highlight reel knows how good this guy is.  But it takes the rarest of rare freshmen--ahem, Adrian Peterson--to make such a gigantic impact in his debut season...especially on a team with few weapons (and a relatively weak O-Line) around him.  Maybe Scott really is that special...but most likely he's going to put up average to above-average numbers in 2008 before possibly busting out in 2009.

...

Bottom line: CU's defense will probably be about the same in 2008, and their offense will be at least marginally better...but probably not so much better that they can think about making a New Years Day Bowl run or anything.  Honestly, with this year's schedule CU should really just feel glad to make a bowl and continue upon last year's progress.  The home slate includes West Virginia and Texas, while they have to travel to Florida State (technically Jacksonville), Kansas, Missouri, Texas A&M, and Nebraska.  Right now the schedule contains three likely wins (Colorado State, E'ern Washington, Iowa State), five likely losses (WV, @FlaSt, Texas, @KU, @MU), and four tossups (KSU, @ATM, OSU, @NU).  To make it to 8-4, they'd have to win all four tossups AND spring an upset.

Dan Hawkins is building a decent program here, but I think we won't find out how high this program's ceiling is until the 2009 season.  If they can tread water and make a repeat visit to Shreveport (or maybe Houston or Arizona...maybe El Paso) this December, they'll have to feel they did pretty well.
Verdict: As good as Darrell Scott could be by the end of the year (they're breaking him in slowly and not starting him--plus he's a bit banged up right now), CU will go as far as their defense takes them this year.  Missouri game aside, they were pretty good against the pass, and that will serve them well in a division stocked with variations of the spread offense.  Plus, George Hypolite is a nice, disruptive force on the D-line.  But...good god, is that schedule brutal.

Kansas State (3-5)
Game-Changing Stats
Offensive Line Yards (particularly non-passing downs)
2nd Down Defense
Q4 Defense
1st Down Offense
Top Ranks
#5: Defensive 3rd Down Line Yards+
#8: Offensive 2nd Down Rushing S&P+
#10: Defensive Q4 Rushing S&P+
#15: Offensive Q1 Rushing S&P+
Bottom Ranks
#123: Defensive Q4 Passing S&P+
#122: Offensive Q2 Line Yards+
#119: Offensive 3rd Down Rushing S&P+
#117: Defensive Q2 Passing S&P+
Kansas State Football: Beyond the Box Score 2007
So how far can KSU get in 2008 with a stout front seven on defense, a decent QB, solid special teams...a shaky secondary, and question marks everywhere else on offense?  Again, I think the onus falls on the running game.  If Patton (or whoever) can move the ball reliably, the schedule is rather manageable. 

...

Anyway, an undefeated non-con slate certainly isn't out of the question, as that trip to Louisville doesn't seem as daunting as it might have a year ago. 

KSU starts the conference slate with a 4-of-6-on-the-road stretch--if they can win one road game out of trips to College Station, Boulder, Lawrence, and Columbia, they should consider it tremendous progress.  Meanwhile, their two homegames in that stretch are against Texas Tech and Oklahoma.  OUCH. 

So really, I'd say the best-case scenario for KSU is to be 2-4 at that point (best best case is 3-3, as for some reason I think the KU-KSU game will be a dogfight, even in Lawrence).  If they're, say, 1-5 at that point and 4-6 overall (or, even worse, 0-6 and 3-7), I'd say it won't matter that they finish with home games against ISU and NU.  The players might be in full mail-it-in stage as they were last November, and the Prince administration could be on its last legs.

A total collapse is certainly a reasonable scenario with that schedule, but another decent start to the season, and 4-4/8-4 is reasonable too.  I'll hedge my bets and predict a 7-5 record here, with an undefeated non-conference slate and conference wins over NU, ISU, and...uhh...someone else.  CU, maybe.  Or Tech.  Somebody.
Verdict: The more I think about K-State, the less convinced I am that they'll totally collapse this year.  (Then again, the more I thought about test answers in school, the more likely I was to get them wrong.)  While I do think the limitations of Josh Freeman (accuracy), the secondary (not enough firepower to compete seriously in the North), and Ron Prince (not being a very good coach) put KSU's ceiling at around 8-4, I do think they're relatively likely to sneak back into bowl consideration after a monstrous collapse in November '07.

Nebraska (2-6)
Game-Changing Stats
Defensive Success Rates
2nd Down Rushing Defense
Non-Passing Downs Defense
Non-Passing Downs Passing Offense
Top Ranks
#1: Offensive Passing Downs S&P+
#3: Offensive Redzone Passing S&P+
#3: Offensive 3rd Down Passing S&P+
#3: Offensive Q2 Passing S&P+
Bottom Ranks
#126: Defensive 3rd Down Rushing S&P+
#119: Offensive 3rd Down Line Yards+
#117: Defensive Q4 Rushing S&P+
#113: Defensive 3rd Down S&P+, Defensive 3rd Down Line Yards+
Nebraska Football: Beyond the Box Score 2007
So what can we expect from Nebraska in 2008?  The easy answer is, who the hell knows?  They're the biggest unknown quantity in the conference outside of Manhattan, KS.  But we won't settle for that easy answer.

Nebraska's offense averaged 0.27 more PPP with Joe Ganz behind center than with Sam Keller.  That's not sustainable.  But 0.10 may be within the realm of possibility.  Over the course of 60-80 plays, that's a TD more per game.  That may be a bit much, but we'll go with it.

On defense, NU just doesn't have enough talent in the front seven to improve too considerably.  They have a series of DE's--Barry Turner, Zach Potter, and especially Pierre Allen--who have shown varying amounts of potential, but who haven't proven themselves to be every-down playmakers.  Maybe a 'fire under the ass' coach like Pelini will be what they need...and maybe not.  Ty Steinkuhler and Ndamukong Suh could be solid at DT, but Steinkuhler is limited and Suh completely disappeared after a decent start to '07.  At LB...their leading playmaker is Tyler Wortman...who made all of 3.5 'successful' tackles in '07.  Ouch.

(That's the other thing--even though their defense was wretched, players who made 70% of their 'successful' tackles departed after '07.)

Despite the lack of potential, let's say that the defense also improves by 0.10 PPP, which would be hefty improvement.  That would mean the offense and defense are both 7 points better.  Well...five of NU's seven losses were by 18 points or more.  A 14-point improvement doesn't take you that far.  That would, however, take them back to the Oklahoma State-level in regard to overall performance.  That's a decent step in the right direction, and it--along with their massive homefield advantage--is why I said in yesterday's Roundtable that 8-4 is quite possible.
Verdict: I'll stick with what I said above.  Despite the fact that college football wants Nebraska to be good, their ceiling is also pretty well-defined.  Your defense can only improve so much in one year, but Joe Ganz, Marlon Lucky (the main reason for those great 3rd down numbers above), and a great homefield advantage will move Nebraska back into the bowl picture.

Iowa State (2-6)
Game-Changing Stats
Pass Defense (particularly in close games)
Non-Passing Downs Defense
Pass Offense
2nd Down Defense
Top Ranks
#14: Defensive Q4 Rushing S&P+
#22: Defensive Q1 Line Yards+
#22: Defensive Q1 Rushing S&P+
#24: Offensive 3rd Down Line Yards+
Bottom Ranks
#126: Offensive 2nd Down S&P+
#124: Offensive 1st Down Rushing S&P+
#123: Offensive Q3 Rushing S&P+
#123: Offensive Q4 Line Yards+
In all, Iowa State ranked #100 or worse in exactly 50 of my 100 '+' categories.  In a conference full of offensive firepower, Iowa State had less than none.  Meanwhile, it seems almost every team in the country was good enough to rank in the Top 10 in one of the 100 '+' categories.  Iowa State managed to rank in the Top 25 in only four.
Iowa State Football: Beyond the Box Score 2007
The following things are quite possible:

Iowa State could once again play over their heads and win a couple games they shouldn't, just by being physical, taking advantage of turnovers, and slogging through to victory in the fourth quarter.
In their second year of adapting to his philosophy, ISU's defense could improve despite losses to their front seven.

Alexander Robinson could have a breakout (i.e. 800-1000 yard) season.
One of the WR newcomers (or somebody...anybody...) could become at least something of a deep threat to the tune of 1.00 PPP or more.
The secondary could be in the top half of the Big 12.

And...

If all those "coulds" come to fruition...Iowa State could win 6 games.

The ceiling's not very high for ISU this year, but a lot of the likely key cogs for the 2008 edition will return in 2009, when (as has been written here many, many, many times before) the North goes completely up for grabs again.  Not saying the balance of power could shift in the direction of Ames by any means, but with an experienced offense and potentially mean defense, they could at least make some noise in '09.  Just not in '08.
Verdict: I'm not sure if a college football team has ever missed a 4-year starting QB less than Iowa State will miss Bret Meyer in 2008.  However...on an offense that was so horrible in so many different ways, Meyer can only shoulder so much blame.  Expect incremental improvement in just about every unit, and expect Iowa State to be in position to steal a game here or there, but...the talent gap between Iowa State and most of the rest of the conference is just ginormous.

BALANCE OF POWER
Part Two (South Division and predictions) tomorrow.