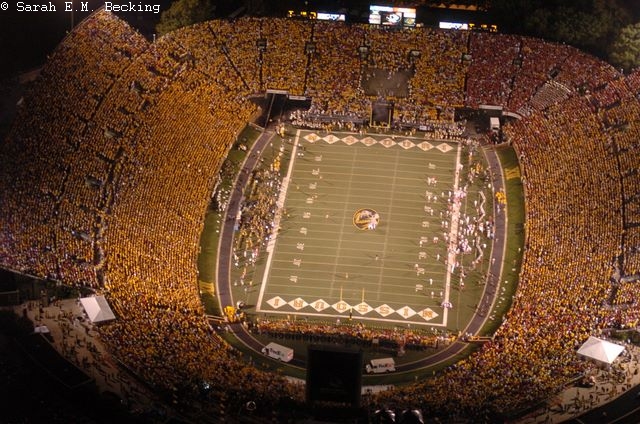 When I was combing through resources for some of the Mizzou Football History posts I wrote this summer, I stumbled across a wonderful resource in the Missourian archive.  The years are spotty--the majority of the papers are from between 1966 and 1985; but the archive also contains the entire year of 1929 as well.  Poring through the papers from the fall of 1929, I found one of the coolest, most enlightening series of articles and pictures I've ever seen.  It was the week of October 21-25.  The stock market was about to crash.  But there was not much mention of any financial issues--no, the Missourian's focus, particularly on October 24 (the day of the initial crash), was on the Missouri-Nebraska game.
Among the two schools has sprung a rivalry that is threatening to overtake in the hearts of Missourians the annual grudge fight with the Jayhawks of Kansas.

...

While the ancient Bearg-Henry rivalry is gone, a new one looms up between the Tiger head and the new Cornhusker chief which promises to be just as fierce and bloody.  either one would chuckle with consummate pleasure to start off the siege with a victory.  Henry would like to give the vast gathering of visitors, who are expected to furnish the noise-making assistance for his charges on Homecoming, their complete money's worth, while Bible cherishes the dream of wiring back to the homefolks Perry's famous message.  The tussle is certain to develop into General Sherman's definition for hell.

While Coach Ernie Bearg has departed from the Nebraska institution, in his place has come the wonder man of the south, Dana X. Bible, recognized as one of the brainiest mentors in the profession.

...

When the two elevens meet upon the gridiron it will be no mere struggle between physical strength, as both chieftans are master minds at tricks and versatile playing.  Hiterhto, the contest between the two teams was one of sheer physical power against a lighter but more versatile eleven.  But now both teams are of behemoth type and the Husker mentor is skilled in the art of versatility.  Thus all of the ingredients for a great battle between skill and brawn combined in each opposing lineup are present.

A glance through the dope pages since the inauguration of the conquests shows Nebraska has a decided edge.  For fifteen of the twenty-two contests, the Cornhuskers have ended the game with practically everything but the soiled jerseys of their rivals.  But since Coach Gwinn Henry's regime in the Bengal camp, they have experienced hard sledding.  Twice they have won, but three times they have been turned back.  One other has ended with no advantage.
I love the Border War, Missouri's rivalry with Kansas.  I wouldn't trade it for anything.  Few rivalries in this country can literally claim to have ties in the Civil War.  Ancestors of Kansas fans killed ancestors of Missouri fans, and vice versa.  It is a rivalry with intensity, history, and bitterness.  It is a personal rivalry that bleeds into sports.
Missouri-Nebraska, on the other hand, is a football rivalry.  (And yes, no matter what Nebraska fans might tell themselves, it is indeed a rivalry.)  It springs from Missouri and Nebraska coaches hating each other, Missouri and Nebraska players hating each other, and of course, Missouri and Nebraska fans hating each other. There is no war history between these two schools, only football.  And football's enough.
For over a century, Nebraska has more-or-less been a measuring stick for Missouri's progress as a program.  Pick any season from the 1900s or 2000s, and if the question is, "Was it a good season for Missouri?" the fastest way to find an answer is to look at the result of the Nebraska game.  Not the Kansas game, not the conference standings, not any bowl game.  If the Tigers beat the Huskers, it was probably a pretty good season.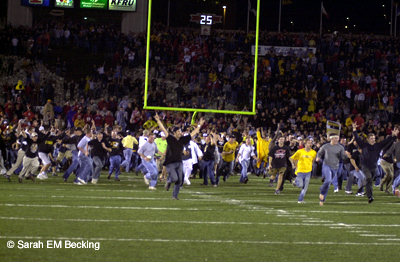 Just look at some of the ten seasons I wrote about this summer:
1939: good season.
Nebraska came to town hoping to further their cause for a potential national title.  Instead, they got run off the field (or, if you prefer, passed out of the stadium).  Nebraska was ready for a steady dose of Christman's arm--instead, in front of 18,000 Tiger fans, they got Christman's and Bill Cunningham's legs.  Mizzou ran to set up the pass, and it worked beautifully.  Christman only completed four passes in the first half--for 116 yards and three touchdowns.  From the Nebraska 20, he completed a pass to Bud Orf, who fumbled...and his brother Bob scooped it up for the touchdown.  After NU tied the score at 6-6, Christman found Bob Orf, intentionally this time, for a 60-yard bomb.  Up 13-7 in the second quarter, one play after he had scrambled for a 28-yard gain, Paul rolled left, then threw right, pitching to a wide-open Stillman Rouse for a 20-yard touchdown to put Mizzou up 20-6 at halftime.

Here's a reminder: Nebraska was really, really good in 1939.  After getting whooped by Missouri, they would go on to plow through Kansas, Pittsburgh (in Pennsylvania), and OU to wrap up an otherwise perfect season.  But Mizzou ran (and threw) roughshod over them.  NU could only manage a couple of scoring drives, and they just could not get the ball away from the Tigers.

This was a major step forward for Mizzou.  Not only was it their first ever win over a ranked team (the AP had begun ranking teams in 1936), but after a few games of just getting by on offense--nine points against K-State, none against Iowa State with Christman at QB (they did put up 21 with the backup)--Mizzou was cocky and assertive against the Huskers.  It was a good time for the pieces to come together, as the schedule wasn't going to get any easier.
1957: pretty good season.
Oct. 25, 1957 - A group of pranksters changed the rock "M" to an "N" the night before the Missouri-Nebraska game. But the Mizzou groundskeeper, with the help of some young boys who gained free admission to the game in exchange for their assistance, restored the "M" to its proper form before kickoff. The next day, Missouri used a last-minute touchdown to post a come-from-behind 14-13 win over the Huskers.
1965: solid season...but still a bit disappointing.
Suddenly a flag fluttered to the ground, and the referee stepped off 15 yards against Missouri for unsportsmanlike conduct.

...

Word from the field was that Missouri tri-captain Bruce Van Dyke had cursed an official.  The press box, envisioning pier-six language to cap what had been a bruising, pier-six brawl of a game, imagined the most personal and pointed of vulgarities.

...

"Gosh," [Van Dyke] said [at the MU Varsity-Alumni game in 1974], "that official made absolutely no allowance for the tempo of the game.  I did not curse him or anyone.  On the short-yardage situation we tried so hard to keep the ballcarrier from falling forward.  When there was a slow whistle and then a measurement that showed Nebraska had made it, I said, 'Oh, bull...'"

...

In the end, the penalty may have made the difference.  NU gained eight yards in three plays, and instead of facing a field goal from the 24, they faced one from the 9.  NU kicker Larry Wachholtz atoned for his missed PAT by banging home the chip shot, and NU took a 16-14 lead with under 6:00 remaining, then held on for the exhausting win.
1972: Yeah, they rebounded from 1-10 and went to a bowl, but...
And then the third quarter happened.  Six minutes in--after a quick TD drive, a great punt return by Johnny Rodgers, and an interception of Cherry--it was 42-0.  Then 48-0.  Then, with NU's backups in, 55-0.  And finally 62-0.  NU's starters came out midway through the third quarter, but Mizzou just kept handing them the ball.  Husker quarterback David Humm completed 15 passes for 267 yards, NU rushed for (only!) 215 yards, and Mizzou's incompetent offense kept handing them short fields.  Bad, bad, bad.  Mizzou was now 2-3 with two more games versus Top 10 teams to go.  Next up: a trip to South Bend.
1978: 8-4? Don't care--it was a great effing season.
Wilder literally shoves a tackler aside, pounds ahead into the endzone (Grass: "WILDER!"  Roe: "WILDER!"  Grass: "JIM WILDER!"  Roe and Grass: unintelligble loud noises.  Roe: "DID YOU SEE THAT??  DID YOU SEE HIM??  DID YOU SEE HIM TAKE THAT MAN AND THROW HIM DOWN??  Grass: "You will not believe what Wilder did."  Roe: "He had a guy wrapped around his waist, he just grabbed hold of him and threw him into the ground like he was a piece of turf!"  Grass: "Unbelievable!")

...

Some of the best games ever have been decided by a 35-31 tally.  OU-NU 1971.  Super Bowl XIII (Pittsburgh-Dallas).  The score suggests a blow-for-blow game rather than one of crazy plays and weird scoring lines.  Sure enough, there have been crazier games just in the three seasons we've now covered in this series (1965: Mizzou 20, Florida 18...1984: Wisconsin 35, Mizzou 34), but none better.  This was a well-executed game with the big players making big plays, and Mizzou, traveling to the den of the #2 team in the country in nearly sub-zero temperatures, was simply the better team.

A loss like this one is hard to take.  For Tom Osborne, who came just one or two plays short in his quest for the national title game, the loss (and the pressure of living up to the standards that Bob Devaney set) almost sent him running to a new location.
Even though Missouri's 1980s-1990s bowl drought was technically only 13 seasons (1984-96), Missouri did not see itself as having truly broken through to quality football again until they beat Nebraska in 2003.  (All due 1997 disclaimers aside, of course.)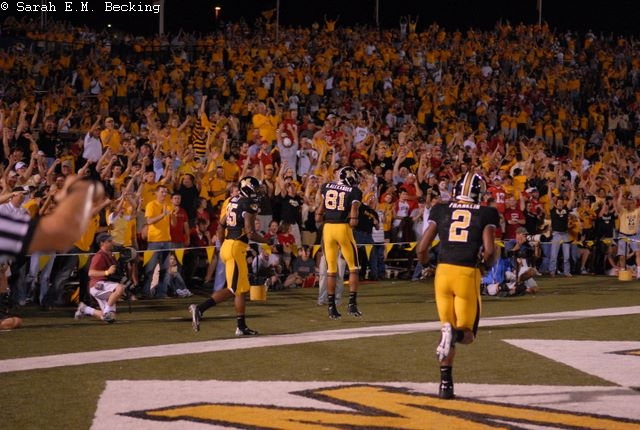 The Missouri-Nebraska rivalry is in an interesting place right now.  After twenty-four straight wins over Missouri, Nebraska's fans naturally started to get a bit of a wandering eye.  The huge battles with OU in the 1970s and 1980s made them the #1 rival, and then beaten-down stepbrother Colorado started using Nebraska's style of play to win a ton of games, beating NU in 1989 on their way to a near-national title, then beating them again in 1990 on their way to a true (controversial, ahem) national title.  For most of the 1990s, NU and CU played tight games (that Nebraska always won) before Colorado crushed them in 2001, bringing rise to the Huskers-Buffaloes rivalry.  But Colorado has been down for a while now, and OU-NU only takes place two of every four years.  Now after seeing other people, Nebraska and Missouri have gotten back together again, and all of those feelings from the past are bubbling up again.
Missouri-Nebraska has a history that other rivalries do not have.  NU and Oklahoma were just beginning to play each other in the 1920s when Mizzou was fighting the Huskers annually for conference titles. NU and MU went 3-3-3 versus each other in that decade with Nebraska winning five conference titles, Missouri three.  Frank Carideo ran Missouri's program into the ground in the early-1930s, and Nebraska went 8-2 versus the Tigers in that decade.  However, in 1938, Paul Christman's Tigers upset Nebraska in Lincoln, kick-starting a long Missouri domination of the rivalry.  Mizzou would win 13 of 16 battles between 1938 and 1953 (NU and CU didn't even start playing each other regularly until the late-1940s, and this rivalry had already seen a couple of dramatic momentum swings), and after a short losing streak, would win another six in a row from 1957 to 1962.  Even when Nebraska hired Bob Devaney, Missouri remained quite competitive, and overall, despite losing streaks of four (1963-66) and three (1970-72), Missouri would go 13-9 against Nebraska from Frank Broyles' first (and only) season in 1957 through Warren Powers' first season in 1978.
And as we all know, after Mizzou's epic win in Lincoln in 1978, the rivalry...stopped being a rivalry for a while.  NU ripped off 24 straight wins against the Tigers.  At first the rivalry remained relatively competitive--five of NU's ten wins from 1979-88 were decided by a touchdown or less.  But as Woody Widenhofer gave way to Bob Stull, then Larry Smith, the defeats turned into outright embarassments.  The average score from 1989 to 1996: Nebraska 52, Missouri 10.
Naturally, 24 straight wins takes the starch out of a rivalry, and as mentioned above, NU fans stopped considering Mizzou a rival.
Well guess what: Missouri's a rival again.  Starting in 2003, Missouri has won four of six, and the series is tied at 4-4 in this decade.  The winner of Missouri-Nebraska has won the last three North division titles, and the two teams are very much in the hunt to make it a fourth straight year this season (though Kansas might have something to say about that).  Nebraska fans can try to convince themselves that they still have the superior program, but if they do, Missouri will just have to keep right on beating them until they start to think otherwise.  And until Nebraska treats this like the rivalry that it is, Missouri will probably do just that.  Nebraska still may be Missouri's measuring stick, but Missouri is becoming Nebraska's as well.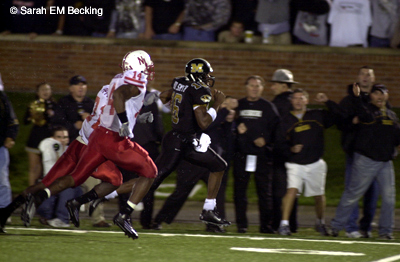 Clearly Thursday night's game is huge in just about every sense--it's a battle of ranked teams, it's got serious division title repercussions, etc.  The loser of Thursday night's game will struggle to catch back up in the North title race.  But even without any build-up, Missouri-Nebraska is still Missouri-Nebraska.  Missouri-Nebraska is and has always been the Bearg-Henry feud.  Christman's guarantee.  Faurot's dominance.  Rearranging the M on the hill.  Bruce Van Dyke's curse words.  Epic Devaney-Devine battles.  Epic Osborne-Onofrio (and Osborne-Powers) battles.  Wilder's stiff-arm.  Randy Jostes knocking Turner Gill unconscious.  Dale Klein's seven field goals.  Matt F***ing Davison.  Ben Davidson.  Eric Crouch.  Brad Smith.  Chase Daniel.  The gold rush.
Mizzou fans have been raging against Nebraska's air of arrogance for over a century now, and while the coaches are a bit more politically correct these days (Gary Pinkel is "very impressed" with Nebraska, while Bo Pelini thinks Missouri is "here to stay"), let's just say that no pep talk will be needed tomorrow night.  Due to football and football alone, Missouri-Nebraska is a game that needs no introduction, no added motivation, no nothing.  This is a rivalry that fills the air, particularly in Columbia, where Mizzou can never completely make up for the damage done in the past but will never stop trying.  The teams will run onto the field, the gold will fill the stands, the ESPN cameras will roll, and nobody will have any doubt whatsoever what this game and this rivalry mean to everybody involved.
It's on.