1 - Who faces more pressure to win tomorrow night, Missouri or Nebraska?

2 - This could all be a smoke screen, obviously, but supposedly Nebraska is preparing to play quite a bit of dime coverage against Missouri tomorrow.  In theory, that means they'll be relying on their DL to stop the run and rush the passer (with likely corner blitzes and things like that thrown in, of course).  Smart strategy?

3 - While meteorologists can't agree on when the rain may come into town and when it may leave, let's pretend for a second that we've got Noah's Arc-level conditions in Columbia tomorrow night.  How does the game play out?

4 - Picks!

Oklahoma State at Texas A&M
Iowa State at Kansas
Baylor at Oklahoma
Kansas State at Texas Tech
Colorado at Texas

And of course...
Nebraska at Missouri
The Beef: 1 - Normally I would say the pressure is really on the home team in these cases, but I just don't quite see it.  I really do think this game is bigger for Nebraska in the eyes of the national media than it is for Mizzou.  Nebraska was announced/anointed as being "back", and losing this game could potentially do a lot of damage to that notion (especially with OU and @ kU remaining on the docket).  As for Mizzou, while the pressure is on them because of how they started, the national perception wont be as damaged with a loss here.  I am sure each set of fans can and will rationalize why the pressure is on the other team, and each will be right in a lot of ways, but I think (predictably) it is on Nebraska.

2 - I think that is going to be a bad move for NU.  I would think it would be OK if their D-line had done ANYTHING against us in the past couple of years, but no sacks and D-Wash gashing them last season at home certainly proves otherwise.  With a healthy Devion Moore returning and God Lawrence having had more experience from the past few games, I expect Mizzou to try to establish the run, especially with some option plays to move the pocket and point of attack away from the heart of that D-line.  I think our downfield blocking is always a strength and if we consistently can get to the edge, I could see us controlling the game.  Besides, for all the issues the O-line has had, sacks has not really been one of them.

3 - I imagine it plays out wet.

4 - Oklahoma State at Texas A&M – Okie State by a decent amount

Iowa State at Kansas – kU by a decenter amount

Baylor at Oklahoma – OU by an even decenter amount

Kansas State at Texas Tech – Ttech by about as much as Okie State

Colorado at Texas – Texas by the most of anyone

Nebraska at Missouri – I like Mizzou by a couple of TD's in the end.  I realize this is probably fairly bold given the numbers/stats/spreads.  However, I don't believe our weakness is necessarily as weak (O-line vs. their D-line) as theirs is (secondary).  I think the crowd will be up and Lee struggled in his only other hostile environment.  I don't think he will be as bad as he was against VaTech (in part because our defense is not as good as theirs and in part because we are not quite as hostile as Blacksburg), but I still see him struggling.
ZouDave: 1 - Well, if you look at it one way it's Missouri because Nebraska will have an easier time absorbing the loss and still competing for the North (in my opinion).  Missouri basically has to win to have a shot at the North this year, because we've still got major tests at OSU, home against Texas and at Arrowhead against kansas.  We lose this one, we can lose AT MAX 2 of those 3.  Nebraska has a home game against Texas Tech, home against Oklahoma and at kansas.  If they lose to us, they could still lose 2 of those games and be hanging around.
 
But on the other hand, Nebraska is under more pressure to win this because they have the longest streak of any of the North teams (tied with Iowa State) at Faurot Field.  They're 0 for their last 3 here, and they haven't been close.  Plus, we've won 4 of the last 6, and Nebraska fans feel this is unacceptable to lose to such an "inferior" team so if they lose 3 in a row and push it to them winning a mere 2 of the last 7 then once again they're going to be looking for answers.  If Pelini isn't able to rebound like he did last year after a loss to Missouri, you're already going to have a section of the fan base calling for his head.
 
2 - Worked great for Arkansas in the Cotton Bowl.  /sarcasm
 
No one defensive set is going to work.  If you give us the run, we're more than capable of taking it.  We'll also be able to throw it to Washington or Lawrence or Moore out of the backfield if 7 of the defenders are backing up at the snap.  It will make the slants and shallow crosses more difficult, and it will minimize one of Nebraska's biggest defensive deficiencies by having just one subpar linebacker on the field at a time as opposed to 3.
 
3 - Slowly and sloppily.  The rain conditions most are expecting will probably be good enough to take 7-10 points away from each team.  So instead of a 34-24 win by Mizzou we could easily be looking at a 24-17 win by Mizzou.  But going back to #2, if they're dropping back in Dime all day and we're taking the run that they're giving us, the rain only plays to our advantage as we're not going to throw as much in such horrible conditions anyway.
 
4 - OSU by more than 2 scores
kansas by more than 2 scores
Oklahoma by more than 2 scores
Texas Tech by more than 2 scores
Texas by more than 2 scores
Missouri, 41-24 (hey look at that, that's more than 2 scores)
 
Boo on you for not coming up with some kind of pop culture question.  You're slipping.
Michael Atchsion: 1 - Missouri.  The game is at home and inside the division, which means it's one they need to get.  Oklahoma State and Texas loom next.  If the Tigers don't get this one, they may need to have a perfect November to get to where they want to be at season's end.

2 - I never thought this was smart against Chase, because without the rush, he'd eventually find someone no matter how many were in coverage.  But that sort of look seemed to confuse Blaine for a while against Bowling Green, and Nebraska will be doing it with better athletes.  Of course, once Blaine and David Yost figured it out, they dropped the hammer on BGSU.  In the words of the great philosopher, what do I know?

3 - My wife and mother in law leave the stadium early and I'm forced to walk to the hotel.

4 - Do I really need to pick the first five?  Talk about clear winners.  And Mizzou wins.  In Columbia, at night.  We've seen this one before.
RPT: 1. I don't think you can differentiate. I think we all agree that while the North can't be won on Thursday night, it certainly can be lost. The team that comes out of this game with a loss is seriously behind the 8-ball for the rest of conference play.

2. I know we're all pointing to the Cotton Bowl and laughing and waiting to shred the defense, but I don't think it's a terrible move. Yeah, the NU D-Line has done nothing against Missouri in the past, but the MU O-Line had been far more consistent in those seasons and the NU D-Line hadn't been this developed. Nebraska can afford to play it like Bowling Green -- just hang back and take away the deep stuff, and trust your D-Line to get enough penetration on running plays to disrupt the flow.

3. I honestly don't know what to say here.

4. Picks:

Oklahoma State > Texas A&M -- Man, OSU has really disappeared from the national radar
Iowa State < Kansas -- What an easy walk to 6-0 for Kansas
Baylor < Oklahoma -- Yeeeeeah...
Kansas State < Texas Tech -- Big
Colorado < Texas -- Bigger
Missouri > Nebraska -- If it were in Lincoln this year, I think I'd go the other way
ZouDave: You go the other way on so many things, why stop now?
RPT: I got nothing.
ZouDave: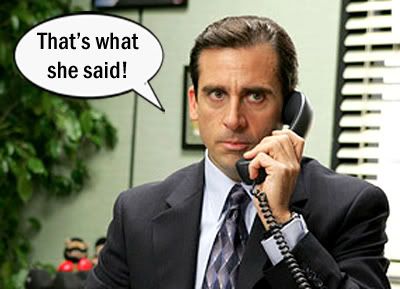 RPT: Submitted for your approval, this path to victory:
ZouDave: pretty sure that was Pervis Pasco's younger brother.
ghtd36: Hello. How 'bout that ride in?

1 - I think the pressure is absolutely on Mizzou. It's a home conference opener on national television against a rival (YEAH I FREAKIN' SAID IT STEP DOWN FROM YOUR IVORY TOWER NEBRASKA AND ANOTHER THING WHAT IS WITH THOSE FOAM HATS THAT LOOK LIKE AN EAR OF CORN THAT'S PRETTY SILLY IF YOU'RE TRYING TO SHAKE THE NATIONAL NOTION THAT YOUR ECONOMY IS SOLELY BASED ON MAIZE AND MAIZE ACCESSORIES YOU'RE DOING AN EXTREMELY POOR JOB ALSO I FIND YOUR GOVERNOR DAVE HEINEMAN TO BE OFF-PUTTING OF COURSE I DON'T NECESSARILY HAVE MUCH ROOM TO TALK CONSIDERING I LIVE IN TEXAS AND OUR GOVERNOR RICK PERRY HAS SERIOUSLY SUGGESTED SECEDING FROM THE UNION BUT STILL), so it's a game you have to win.

2 - I think it's a savvy strategy, especially if your goal is to lose by three touchdowns.

3 - If it's an absolute downpour, I think it's a big advantage for Nebraska. Helu will get fed the ball over and over and over, and the less that Zac Lee has to interact with the brown oblong thing, the better. Beyond that, it would severely hurt Mizzou's passing attack and downplay Nebraska's biggest glaring weakness in the secondary. Mizzou would have to run the ball the big majority of the time (in theory), which (in theory) is where Suh is a viking.

4 - Picks!

Oklahoma State at Texas A&M -- Oklahoma State. Hey, Kevin Sumlin, whatcha doing in six months? Because I know this lovely rural, conservative Christian town just north of you that's going to be hiring around then. And best part: you'd be one of about six black guys in town!

Iowa State at Kansas -- Kansas. PLAY SOMEBODY oh wait it's a conference game. Nevermind.

Baylor at Oklahoma -- Oklahoma. Two weeks ago, pre-Hot Tub injury and post-Bradford injury, I really would have been tempted to pick Baylor, at least against the spread. But now, with Baylor's level of DISRESPECT by getting their quarterback injured, Stoopsie rolls.

Kansas State at Texas Tech -- Tech. Taylor Potts mustache rides for everyone!

Colorado at Texas -- Texas. Hey, Ron Zook, whatcha doing in six months? Because I know this lovely hippie town a few hundred miles west of you that's going to be hiring around then. And best part: you wouldn't be the biggest failure in town!

Nebraska at Missouri -- Even though I spent the great majority of this response bashing Mizzou, I like the Tigers tomorrow night. 31-24.
Doug: 1 - I'm split on who needs this win more. Obviously, Missouri would like to continue it's recent stretch of dominance over Nebraska and put itself in position to win the North again, however, like Seth mentioned, there is a lot pressure on Nebraska to prove they are indeed "back." Not that I really think they are, but regardless, there is pressure on Pelini and I think some of that will transfer to the players.

2 - Well, if there is a monsoon, I don't know what the smart strategy would be so, why not try it?

3 - I say it's very sloppy on both sides of the ball, and if any team has a significant advantage in turnovers, then all bets are off, because ground control will become the name of the game. Enough cliches for you?

4 - This week, I'll take every home team save for Texas A&M, I still don't know what to think of the Aggies, but I have a feeling they won't be able to stop the Cowboys.
(An hour later...)
ZouDave: step up your game, jerkasses.  Tomorrow is way too big for us to suck like this.
(An hour later...)
Doug: You guys are playing on a Thursday night?

Wild.
ZouDave: and there's going to be 2000 less parking spots available, which works out well since there will be nearly 5000 more people at this game than the average home game.
Bill C.: Seven to a car, no problem whatsoever.
ZouDave:
Doug: Seriously, guys, you're sounding like KC residents complaining about parking.
ZouDave: well, since I am a KC resident.......
ghtd36: Kansas City: Like Nashville If It Were Run By Ned Flanders.
(Two hours later...)
ZouDave: I blame Seth for all of this.
RPT: I blame Sam Keller. Mr. Keller, what say you?
Nothing? I guess you're look of shame will have to suffice.
RPT: "Your," not "you're."
Hey, it's not like ESPN is focusing on the J-School or anything on Thursday. **looks away in shame
(An hour later...)
RPT:
Bill C.: Alright, I'm finally done with getting crushed by meetings, and it's time to liven up this place!!!!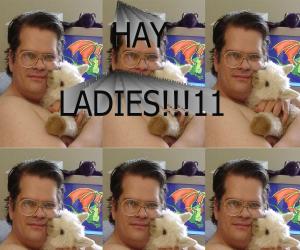 ...hello?  Anybody here?  Did everybody leave the party already?
ZouDave: DO OR SAY SOMETHING INTERESTING!
ghtd36: I'm ready to party like Miguel Cabrera before an important game!
Bill C.: Anybody heard of this guy Brett Favre?  I saw him the other night, and...that guy really loves to play football!  Just loves it!  I don't know if anybody else has come up with this before, but I saw it in his eyes and thought I would pass it along.
RPT: Oh, that dude out of Southern Miss? I'd forgotten about him.
ZouDave:
Bill C.: Mmm...corn...
ghtd36: The reason they don't show the rest of that Wranglers commercial is that the dog picks off Favre and takes it back for six.
(25 minutes later...)
ZouDave: it's not working.
RPT: That's what she said.