1 - So...umm...do anything fun last weekend?

2 - What scares you the most about Missouri's trip to K-State this weekend (and you can't say "Bill Snyder")?  And for Doug...what should Mizzou fans be most scared of?

3 - Picks!

Nebraska at Kansas
Texas Tech at Oklahoma State
Texas at Baylor
Texas A&M at Oklahoma
Colorado at Iowa State

And finally...
Missouri at Kansas State

4 - Anybody have a pop culture question for the roundtable today?  I'm apparently tapped out...
Doug: 1 - I got a new phone.  Can you guess what kind?

2 - If you can't stop the run and turn the ball over, then forget it.  It would be more than fair to say KSU is not the flashiest of teams, but they'll take advantage of your miscues, even if it's just a time-killing drive.

3 - Kansas (at least I hope so)
Oklahoma State (since it's a home game)
Texas (because it's Texas)
Oklahoma (they've got to be pissed about last week)
Ugh... Pass.
Missouri (because I refuse to pick K-State)

4 - What, we're not going to talk about basketball?

Sent from my iPhone
RPT: So, after last week's game Roundtable, we need to make sure to bring our A-Game today. Really the disappointment of last week's game Roundtable is pretty much attributable to failures from the senior leadership. We can't afford that kind of mediocre play Roundtables through the rest of the season.

1. Well, the parents were in town last weekend and the whirlwind tour of Columbia dining took us to Buckingham's, Booches, and Flat Branch, so loss notwithstanding, it was a pretty solid weekend.

2. I know Daniel Thomas should scare me, but I feel OK about the Missouri rushing defense. But count me as TERRIFIED of kicking to Brandon Banks, especially given how much the coverage unit has struggled.

3. Picks:

Nebraska > Kansas
Texas Tech < Oklahoma State
Texas > Baylor
Texas A&M < Oklahoma
Colorado < Iowa State

4. Why, oh why, did The Squirrelizer get taken down?
The Beef: 1 - Everything I did was fun last weekend.  Got into town and enjoyed a lovely dinner at the U-club with friends.  Great tailgate and breakfast on Saturday morning, and the best weather day in a long time.  Post-game tailgate was lovely as the sun went down, then back to the Chuck for a party that evening.  Sunday was a TON more breakfast with some old friends as we watched football.  Not much could have been better.

2 - Given the comments of Spoon from yesterday regarding the mental state of the team, I don't think they get it quite yet.  And if there is ever a team that will get it, no matter how talented, it is a Bill Snyder team.  Can they win?  Sure.  Should they win?  Perhaps.  But man that defense is going to have to show up against their running game and someone is going to have to step up for our suddenly injury and experience-depleted secondary.

3 - Nebraska at Kansas – I will take NU here…kU just seems horribly out of sorts and NU's ugly winning ways will continue

Texas Tech at Oklahoma State – Good game, but I like Okie State at home

Texas at Baylor – Well that sucks for Baylor…to come home to that.

Texas A&M at Oklahoma – OU to respond in a big way (props to Bill's numbers by the way for nailing that outcome last week)

Colorado at Iowa State – Um…ISU I guess?

Missouri at Kansas State – Man…if ever there was a relatively unimportant MUST WIN…this is it….just to quell the noise (both deserved and undeserved).  Snyder will be ready for us, of that I am sure.  Will our defense be ready?  But just for the sake of …well…I don't know…I will take MU close.

4 - Of the group, I am probably least equipped for a pop culture question, unless it is about 80's music…then color me (Badd) ready to throw down
Michael Atchison: 1 - I watched the second half of the first exhibition game.  That was fun.  Did some laundry on Sunday.  Bagged some leaves.

2 - When you got nothing to lose, you got nothing to fear.  Bob Dylan said that.  Actually, he didn't but he said something like that.  They should look at every remaining game as an opportunity.  Nothing to be afraid of.

3 - Nebraska at Kansas  Nebraska by six.

Texas Tech at Oklahoma State  No clue.  I'll say Tech pulls the upset, wins by three.

Texas at Baylor  The march of inevitability rolls on.  Texas by 21.

Texas A&M at Oklahoma  Interesting to see if OU feels like there's anything left to play for.  I suspect they will.  Sooners by 10.

Colorado at Iowa State.  Coin flip.  I'll take the home team.  Iowa State by one.

Missouri at Kansas State  No clue.  It's winnable.  Frame of mind worries me.  I'll be a Pollyanna.  Tigers by a touchdown.

4 - I saw an episode of Mad Men for the first time last week.  I'm catching up to the culture and the kids and their rock and roll music.
(An hour later...)
RPT: Scrambling for pop culture ideas, and this is one that is of major debate amongst my friends:

Power rankings of ancillary characters from The Office?
The Beef: Consider me checked out for the remainder of the Roundtable  :-)
RPT: Oh, so The Beef punches out early. Thanks for making sacrifices, Beef.

I'M COMMITTED TO THIS ROUNDTABLE, DAMN IT.
The Beef: Never watched a full episode…and what I did watch certainly did not keep me coming back...what can I say?  I've got nothing
Bill C.: For Beef, then: top ten favorite professional wrestlers of all-time.

Meanwhile, if we're talking about my own personal Office hierarchy...assuming we're talking about everybody but Michael, Jim and Pam...and we're not including Darryl, who's barely on anymore...

1. Andy
2. Creed
3. Stanley
4. Ryan
5. Oscar
6. Angela
7. Kevin
8. Dwight
9. Kelly
10. Phyllis
11. Meredith
12. Erin

I'm apparently sexist.
Michael Atchison: I haven't seen The Office nearly as much recently, but assuming that the main characters are Jim, Pam, Michael and Dwight, here's my rankings:

1. Kelly Kapoor
2. The rest
Bill C.: Crap!  Forgot Toby!  Everybody forgets Toby...put Toby at #9...and Atch is right...I'm disrespecting Kelly...

1. Andy
2. Creed
3. Stanley
4. Ryan
5. Oscar
6. Kelly
7. Angela
8. Kevin
9. Dwight
10. Toby
11. Phyllis
12. Meredith
13. Erin
ghtd36: I'll get to your stupid "Missouri-related" questions later. First, I have some Office ranking to do.

1- Andy
2- Kevin
3- Dwight
4- Stanley
5- Creed
6- Meredith
7- Toby
8- Michael
9- Oscar
10- Phyllis
11- Jim
12- Kelly (she beats me down considerably)
13- Pam (though she's the hottest)
14- Erin (go away)
RPT: 1. Creed
2. Andy
3. Kevin
4. Stanley
5. Toby
6. Dwight
7. Daryl (screw it, I'm counting him)
8. Kelly
9. Ryan
10. Angela
11. Oscar
12. Meredith
13. Phyllis
14. Erin
The Beef: Oh sure…make me into the geek for somehow being able to remember 10 of them at this point J

Ric Flair – Could make anyone look good…and did it forever

Ricky Steamboat – Had some epic battles with Flair, and anyone who could carry the Macho Man to an amazing match deserves to be here

Chris Benoit – Actually, his Japanese stuff was the most impressive from the little I ever saw of it. Clearly had more than one screw loose

Eddy Guerrero – I almost could put he and Benoit as a tie…I just liked watching Benoit better

Brett Hart – Nothing flashy, but just amazing until Goldberg thumped him in the head

Jerry Lynn – Used to have some battles with Rob Van Dam, but was the better wrestler of the two

Mick Foley – Certainly not a great wrestler, but you can never get the image of him falling through the top of that cage out of your head

Rob Van Dam – Not a great wrestler actually, but did some of the most stupid/amazing things I had ever seen

Tommy Dreamer – Used to absolutely kill himself, though not quite like Foley

Goldberg – TERRIBLE actual wrestler, but few people have ever been marketed the way he was and at his height…it was impressive

I will admit…I struggled with coming up with 10  :-)
ghtd36: This man would like a word with you...
Bill C.: Let's see...I too would have...

Ric Flair
Ricky Steamboat
Chris Benoit
Rob Van Dam
Goldberg

Then I would add...

Sting!!!
Rey Mysterio Jr.
Ronnie Garvin
Brutus Beefcake (sad but true)
Chris Jericho
The Beef: Sting, Jericho and Rey Mysterio were close…Van Dam was Mysterio before Mysterio, while Benoit and Guerrero covered Jericho in my book.  Sting was much tougher…MUCH tougher.  He was good at a lot of things, but not great at anything in particular.  He could probably replace Goldberg, but Goldberg's push and marketing was better than Sting at any point I could remember.
Bill C.: Yeah, they did such a great job of basically turning Goldberg into the "Mike Tyson as a 20-year old" of professional wrestling...he had no skill and about three moves (maybe two), but he was AWESOME to watch for that one year...
ghtd36: We're seriously going to ignore the dude who shaped professional wrestling into what it is today, the man who put the "sport" on the map, the man who is almost solely responsible for the enormous commercial success of professional wrestling?

We're going to ignore Dean Malenko?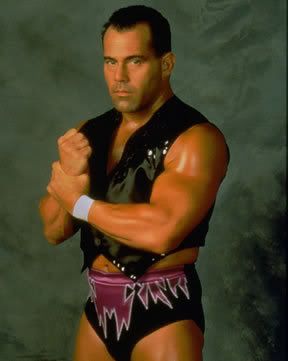 The Beef: What can I say…I am just not a vest guy
Bill C.: I'm not gonna lie: the first thing I did when I clicked on the picture was go to Wikipedia to see if he's still alive.  The verdict: he is!
ghtd36: Dean Malenko: official wrestler of Rock M Nation?
The Beef: I'd say so…since he's about the only one living still
Bill C.: If we're being honest with ourselves, there's only one Official Wrestler of Rock M Nation:
Then again, I guess he gets disqualified on account of being dead...Malenko it is!  I second that emotion!
Michael Atchison: OK, I'm going to drop the old school science on y'all.  When I was a kid, in the 1970s (yes, when President Harding led the war against the dinosaurs), I lived in a small town in east central Illinois that had a shockingly forward-thinking cable TV system.  In addition to local wrestling from Indianapolis, we got Atlanta's WTCG (which later became WTBS, and then TBS) which featured Georgia Championship Wrestling, and we also got the Madison Square Garden network, which would show – live – the monthly WWWF (yes, three Ws then) spectacles from the Garden.  Those New York wrestling events were the craziest things my ten year old eyes had ever seen.  And so, here are the ten greatest wrestlers I saw before 1980.

1. Dusty Rhodes.  He had no moves, a terrible physique, a lisp, and he almost never actually wrestled on television.  And all of that had a way of giving him mystique.  Mostly, they just showed him in grainy footage from old events at the Omni in Atlanta, but he would come on TV and talk Gordon Solie's ear off.  The American Dream, Stardust himself.

2. Bob Backlund.  The WWWF champ in the day.  Looked like he walked out of the 1950s.  Had a series of epic cage matches with Pat Patterson.

3. "Wildfire" Tommy Rich.  Again, no moves, but he was super purty and alla those southern girls swooned over him.  A poor man's Ric Flair.

4. Ric Flair.  How can Ric Flair follow the poor man's Ric Flair?  I don't know.  Get in a time machine and argue with me in 1978.

5. Bruno Sammarino.  Already past his prime, was called "The Living Legend" in those days, and he was utterly invincible.

6. Andre the Giant.  He was like the Loch Ness Monster in those days.  Often described, rarely seen, but every so often his head appeared above the surface of the water and it was momentous.

7. Dick the Bruiser.  Old, no moves, pot belly.  Talked like a Marine and utterly dominated the competition in Indianapolis.  I'm lookin' at you, Ox Baker.

8. Tony Atlas.  One of the first bodybuilder wrestlers.  Looked like a superhero.

9. Superfly Jimmy Snuka.  Another staple of the NYC cards.  Made wrestling a vertical game.

10. Ken Patera.  Real-life weightlifting champ turned WWWF heel.  His swinging full nelson put alla those babyfaces to sleep.
The Beef: Now THAT is respect right there…well done sir
ghtd36: YOU SEE THAT? WE'RE RESPECTING EACH OTHER.
The Beef: What is our meme for that?
RPT: And if we can't get respect?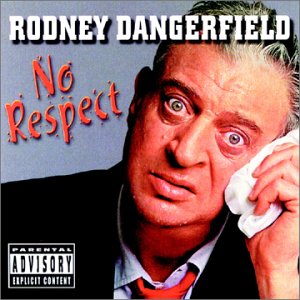 ghtd36: You want a Roundtable discussion? Here we go:

Rodney Dangerfield is overrated.
RPT: You REALLY want a Roundtable discussion? Watch me piss off ghtd36:

The decision to give the Gold Glove to Derek Jeter was totally justifiable and warranted.
ghtd36:
Bill C.: My wife was eating lunch in my office when I pulled this up.  Emphasis on "was."
The Beef: Wow…that is a lot more graphic than I was really ready for
RPT: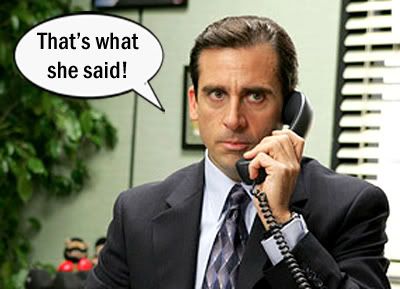 Bill C.: Meanwhile, my wife approved of this one.  Ross gets a gold star.
ghtd36: Rock M Nation: Bringing Couples Together Through Exploding Heads and Sexual Innuendos Since 2007
RPT: The site really hasn't taken off until Brass Bonanza gets played at someone's wedding.

And, of course, the Darkness Song gets played at the subsequent divorce.
The Beef: Oooh...man...here's me wishing I had not gotten married 2.5 years ago....

....you think that one is going to be taken out of context?
Bill C.: Lord I hope so.
The Beef: In the meantime, I will see what I can do about getting that added to the playlist for the tailgates…perhaps that is what we need since we have…oy…lost three home games in a row.
RPT: Can't we only imagine those wedding videos of people dancing down the aisles with Brass Bonanza blaring over them?

God Bless America.