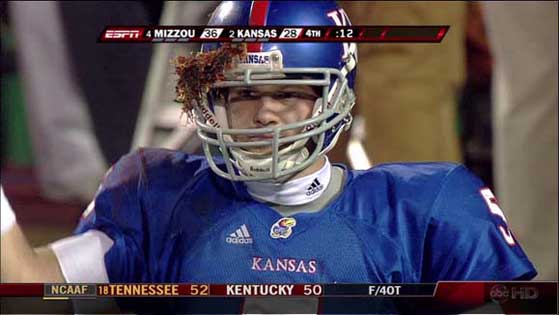 You expected some other way to start out this post?
Every Border War win feels a little bit more triumphant than other wins, but this year packs a bit of extra meaning.  Missouri has a chance to end both Todd Reesing's career and Mark Mangino's tenure in Lawrence with a single victory; meanwhile, Reesing and Mangino have a chance to extend their lives with an upset win in what is potentially their last game together.

I'll say this out front: I try to tune extracurricular detail out of these previews.  I said last week that I don't necessarily believe in a positive Senior Day effect, and just the same, I doubt there is any net gain or loss to things like Kansas fighting for Mark Mangino's life in Lawrence.  Extra emotion can go either way in the end, but let's just say this: I expect both Missouri and Kansas to bring their respective A-games to Arrowhead; and really, it shouldn't be any other way.
Offense
Kansas: 2009 Beyond the Box Score Preseason Offensive Preview
While the 2009 KU offense really could improve a bit more in 2009, it's a red flag to me that all of their improvement in 2008 came on Passing Downs.  They were actually worse on Standard Downs but overachieved in passing situations (which, if you watched last year's MU-KU game, shouldn't surprise you).  As I've mentioned before, disproportionate achievement on Passing Downs doesn't seem totally sustainable from year to year, and while a lot of that Passing Downs success was due to both Todd Reesing and the chemistry that Reesing has with Kerry Meier and Dezmon Briscoe, they still may have been a little too successful, unsustainably so.

Lord knows that with their schedule, they better be at least as good in those situations because...well, they're going to face a lot of those situations.
Once again, KU is a strong Passing Downs team, but they have only been a good overall offense instead of a great overall offense.  And with their defense struggling for much of the season, good hasn't really cut it.
Kansas Offense vs Missouri Defense
Category
KU Offense
MU Defense
Close S&P+ (Rk)
115.0 (30)
104.1 (48)
Close Success Rate+ (Rk)
112.4 (23)
100.0 (62)
Close PPP+ (Rk)
121.3 (37)
110.1 (46)
Rushing S&P+
109.2 (41)
111.2 (39)
Passing S&P+

116.9 (30)
98.2 (62)
Standard Downs S&P+
118.4 (24)
112.7 (31)
Passing Downs S&P+

131.4 (17)
95.0 (75)
Red Zone S&P+
127.8 (17)
110.5 (44)
Q1 S&P+
106.1 (65)
90.2 (85)
Q2 S&P+
121.4 (24)
121.6 (29)
Q3 S&P+
144.4 (4)
106.9 (47)
Q4 S&P+
128.3 (11)
115.3 (28)
1st Down S&P+
125.8 (12)
108.0 (44)
2nd Down S&P+
122.7 (29)
99.4 (62)
3rd Down S&P+
117.6 (34)
113.7 (38)
Line Yards+
104.6 (53)
103.7 (46)
Close Sack Rate+

91.9 (69)
90.8 (73)
Standard Downs /
Passing Downs Sack Rate+

107.3 (59) /
85.5 (81)
102.5 (57) /
116.4 (39)

As you'll see, both offenses have significant advantages in this one, so the game could come down to which individual playmakers step up the most.  Danario Alexander and Sean Weatherspoon, or Dezmon Briscoe, Kerry Meier and Darrell Stuckey?  Blaine Gabbert or Todd Reesing?
When KU Has the Ball...

KU Rushing
Advantage: Push

KU Passing
Advantage: KU

Best Time for KU:
Q1, Q3

Best Time for Missouri:
Q2
Mizzou Advantages:
Passing Downs Sack Rate+
And for KU...
Close SR+, PPP+, S&P+
Passing S&P+
Standard, Passing Downs S&P+
Red Zone S&P+
Q1, Q3, Q4 S&P+
1st, 2nd Down S&P+

No matter what happens in this game, Missouri will once again end up with a more successful regular season than Kansas.  This has been the norm with Gary Pinkel against Mark Mangino.  That said, it's pretty easy to see that KU has a number of matchup advantages to work with, and if Todd Reesing is dialed in and playing well, this game is a complete tossup shootout.
Mizzou's path to success, however, comes on Passing Downs.  They must successfully blitz on those downs; if they do, KU's other advantages can be negated pretty quickly.
Quarterback
While he completed 66% of his passes at 7.8 yards per pass against OU and Mizzou, Reesing proved his all-or-nothing tendencies by completing just 54% at 5.4 yards per pass against Texas and Texas Tech (with a 3-3 TD-INT ratio) at home.  In the end, most would love to have a "gamer" like Reesing leading your team, but his confidence in his abilities to make plays ends up being, at times, his biggest flaw.  He posted a QB rating right at 149 each of the last two years, but he also took 56 sacks in that time, and his interceptions rose to 13 in 2008, not a bad figure per say, but not as in control as the seven he threw in 2007.  That's why Kansas only finished 25th in Passing S&P+ and not higher--we remember the great plays, but we forget the sacks he's taken and the occasional atrocious throws he's made.
Todd Reesing: 276-for-441 passing (62.6%), 3,118 yards (7.1 per pass), 18 TD, 9 INT
As a whole, Reesing has certainly put up solid numbers this year; however, after QB ratings in the 148-150 range both of his first two years as a starter, his has fallen to just 131.4 this year, and he has been every bit as all-or-nothing as in years past.  Against Iowa State, he went 37-for-49 for 442 yards, 4 TDs, and 1 INT; he followed that up with another 401 yards against Colorado.  Then, against Oklahoma and Texas Tech, he went a combined 42-for-77 (54.5%) for 405 yards (5.3 yards per pass), 1 TD, 3 INTs, and a sub-100 QB rating.  We should all expect to see his best performance tomorrow, but anything less than his best might not get the job done.
Running Back
Jake Sharp is the least-scary good running back in the country.  He was the main cog in a rushing attack that was 7th in the country in Success Rate+, he's scored 19 touchdowns, caught 44 passes, and put up a combined 1,143 yards from scrimmage the last two seasons, yet his lack of explosiveness got him ranked 198th among 269 eligible running backs in POE, the rushing performance measure I created for Football Outsiders.  He's good for a couple of huge games a year, usually against bad defenses (he destroyed Kansas State for 181 yards and 4 TDs last year and went for 118 and 3 TDs against an OU defense adapting to the loss of Ryan Reynolds), but in all he's a steady but so-so runner.  You could do worse than starting Jake Sharp, but you could certainly do better.
Toben Opurum: 133 carries, 554 yards (4.2 per carry), 9 TD, 13 receptions, 105 yards (8.1 per catch), 1 TD
Jake Sharp: 95 carries, 400 yards (4.2 per carry), 4 TD; 26 receptions, 188 yards (7.2 per catch), 3 TD
Rell Lewis: 10 carries, 60 yards

Toben Opurum is out with an injury, but I cannot really say I can tell any difference whatsoever between Opurum and Jake Sharp.  Their numbers suggest that they are virtually the same running back.  Opurum is a bit bigger, and Sharp is a bit faster, but in all, KU's running game probably will not get going that much on Saturday (knock on wood).  Mizzou's rush defense has improved considerably throughout this season, and if they can stop Sharp and get to Reesing on passing downs, they should win.  It's if they don't get to Reesing where the problems may start...
Wide Receivers / Tight Ends

KU executed a risky but perfect gameplan against Mizzou in 2008.  They continued to dink and dunk, stretching the field horizontally with Meier and Briscoe, relying on the KU defense to fend Mizzou's offense off for as long as possible.  If Mizzou sustains some drives in the first half, then the Mizzou defense doesn't completely wear out in the fourth quarter, but alas, that's what happened.  When all was said and done, Briscoe and Meier combined for 23 catches, 221 yards, and 3 TDs (two of which came in Q4), and an exhausted Mizzou secondary saw its communication fall apart down the stretch.  Again, dink-and-dunk is always risky because it takes a lot of plays to sustain a drive and opens up more opportunities for mistakes.  But if you can pull it off, it works brilliantly, and it worked against Mizzou in 2008.
WR Kerry Meier: 92 receptions, 931 yards (10.1 per catch), 6 TD
WR Dezmon Briscoe: 70 receptions, 1,095 yards (15.6 per catch), 7 TD
WR Jonathan Wilson: 35 receptions, 449 yards (12.8 per catch)
WR Bradley McDougald: 31 receptions, 285 yards (9.2 per catch)
TE Tim Biere: 12 receptions, 134 yards (11.2 per catch)
KU's Border War strategy last year was very effective; what's scary is, Mizzou has become even more vulnerable to that sort of strategy in 2009.  If Mizzou is unable to corral the short pass, Reesing could very easily go over 400 yards.  If Mizzou fans are having nightmares tonight, it is probably because of Meier and Briscoe.
Offensive Line
Todd Reesing is one of the best when it comes to improvising and creating on the fly, but that doesn't mean you want him doing it every play.  For KU to win the North (which means either taking a game against Texas, Oklahoma, or Texas Tech, or running the table in the North), converted tight end Tanner Hawkinson will likely need to quickly become the real deal at left tackle, and Jeff Spikes (or whoever wins the RT job) will need to become pretty stable, pretty quickly.  The ends in this conference are more athletic and experienced than in recent years, and...again, this team needs Reesing healthy and upright.
KU's offensive line has been distinctly average in 2009, improving slightly as the year has progressed.  Mizzou's line, meanwhile, has also improved as the year has progressed, particularly in terms of line yards and passing down sack rates.  If Mizzou can win this matchup by quite a bit, it could negate the passing advantage KU appears to have.
---

Defense
Kansas: 2009 Beyond the Box Score Preseason Defensive Preview
While the offense actually got better, the defense got measurably worse despite nine returning starters (sound familiar, Mizzou fans?).  They lost a second-team All-American in James McClinton at defensive tackle--the only loss other than Aqib Talib--and it seems to have made a difference.

Kansas was a bit worse defending the pass, a lot worse at defending the run, and in particular they gave up a ton more big plays (PPP+).  This year, they return their entire secondary and three of four starters on the defensive line (losing only end Russell Brorsen)...but lose all three starting linebackers.  So the passing numbers improve and the rushing numbers regress, maybe?
I was half-right above.  The rushing numbers have certainly regressed ... but then, so have the passing numbers.  After some adjustments resulted in better defensive play in the middle of the season, KU's defense just has not been able to maintain a spark.  They looked good at times against both Kansas State and Nebraska in recent weeks, but their breakdowns have been killers, as evidenced by the fact that they rank a ridiculous 93rd in PPP+.  Mizzou's big-play ability, matched with KU's inability to stop the big play, represent Mizzou's single biggest advantage.
KU Defense vs Missouri Offense
Category
KU Defense
MU Offense
Close S&P+ (Rk)
92.3 (82)
117.2 (27)
Close Success Rate+
96.2 (76)
108.4 (37)
Close PPP+
87.4 (93)
133.1 (21)
Rushing S&P+
84.0 (107)
107.6 (47)
Passing S&P+

99.9 (57)
125.9 (17)
Standard Downs S&P+
93.4 (85)
114.6 (28)
Passing Downs S&P+

106.3 (50)
109.5 (53)
Red Zone S&P+
92.3 (87)
85.9 (104)
Q1 S&P+
106.0 (53)
118.1 (42)
Q2 S&P+
107.9 (54)
115.1 (44)
Q3 S&P+
86.2 (98)
122.8 (22)
Q4 S&P+
92.6 (79)
105.8 (55)
1st Down S&P+
94.2 (77)
120.2 (22)
2nd Down S&P+
97.0 (69)
108.5 (53)
3rd Down S&P+
102.1 (60)
110.1 (57)
Line Yards+
94.1 (84)
97.7 (77)
Close Sack Rate+

135.7 (16)
150.0 (28)
Standard Downs /
Passing Downs Sack Rate+
141.6 (19) /
112.2 (48)
251.2 (10) /
113.6 (51)

When they are not forcing turnovers, this unit is simply not getting the job done.
When Missouri Has the Ball...

Missouri Rushing
Advantage: Mizzou
Missouri Passing
Advantage: Mizzou

Best Time for KU:
First Half

Best Time for Missouri:
Second Half


MU's advantages:
Close SR+, PPP+, S&P+
Rushing, Passing S&P+
Standard Downs S&P+
Q1, Q2, Q3, Q4 S&P+
1st, 2nd, 3rd Down S&P+
Standard Downs Sack Rate+
KU's advantages:
Red Zone S&P+

As with Mizzou's defense, KU's defense has few advantages, but can use what they have to great benefit.  If KU is able to hold Mizzou to three points instead of seven by shutting things down in the red zone, then they will find it a lot easier to outscore Mizzou.
Defensive Line
So if KU felt the absence of James McClinton more than any other in 2008, then it's up to either Jamal Greene (21 tackles, 7 TFL/sacks) to become a much more consistent force or Jeff City's own Richard Johnson (14 tackles, 2.5 TFL/sacks) to overtake him if KU's run defense is to improve.  If not them, then who?  Man-beast Darius Parish moved to OL.  Somehow, someway, there needs to be a better push up the middle.

And on the outside too.  Solid-not-spectacular end Jake Laptad (8.5 TFL/sacks) offers hope for a pass rush, but he'll need help.  The lack of a pass rush was bad enough last year that LB James Holt moved to end toward the end of the year, and KU fans seem to have hope that 4-star JUCO transfer Quintin Woods will thrive pretty quickly.  The other options (Jeff Wheeler, Maxwell Onyegbule, or some younger guy) don't seem ready or capable, so all eyes are on Woods.  If Woods doesn't catch on, KU fans start getting worried.
DE Jake Laptad: 37.0 tackles, 12.0 TFL/sacks, 2 FF, 1 FR, 6 QBH
DE Max Onyegbule: 23.5 tackles, 10.0 TFL/sacks, 1 INT, 1 FR, 2 PBU, 5 QBH
DT Caleb Blakesley: 12.5 tackles, 3.0 TFL/sacks, 1 QBH
DT Richard Johnson: 12.0 tackles, 3.0 TFL/sacks, 1 FR, 2 QBH
DE Jeff Wheeler: 11.0 tackles, 6.5 TFL/sacks, 3 FF, 8 QBH

As with many highly-touted JUCO transfers (hello, Jocques Crawford ... and Andy Maples, for that matter), Quintin Woods came to Lawrence with much ado and produced almost nothing.  He has a whopping four tackles for the season.  Which means my prediction more or less came true -- Woods didn't catch on, and the KU defensive line was a liability, at least against the run.  Rushing the passer, they've been pretty solid.  Laptad (6.5 sacks), Wheeler (5.5) and Onyegbule (5.0) have all had their moments, and KU has been at its most successful getting pressure on the passer while not committing LBs to the blitz.  They've been a sieve against the run, though.
Linebackers
While the RB situation isn't in wonderful shape right now, it's still no surprise that Angus Quigley was moved from RB to LB.  There's clearly a major void in terms of proven playmakers, so really at this point Kansas just needs as many warm bodies as possible to throw out there and see what they've got.  Never say never, but it's hard to see this unit gelling into a solid unit quickly.  Whether they call it this or not, you do have to figure that with an experienced secondary, KU will be playing a lot of 4-2-5 or nickel coverage.
LB Drew Dudley: 64.0 tackles, 8.0 TFL/sacks, 4 QBH
LB Huldon Tharp: 44.5 tackles, 0.5 TFL/sacks, 2 PBU, 2 QBH
LB Arist Wright: 34.5 tackles, 4.0 TFL/sacks, 1 FF, 1 FR, 3 PBU, 2 QBH
LB Justin Springer: 18.5 tackles, 4.5 TFL/sacks, 1 FF, 1 FR, 1 PBU, 2 QBH

True freshman Huldon Tharp has gotten some good press recently for racking up a large number of tackles in recent weeks; but that's all they are: tackles.  He is not much of a disruptive force -- much more Luke Lambert than future Sean Weatherspoon.  Drew Dudley, on the other hand, has been a pleasant surprise.  With Angus Quigley failing to figure out the LB position in just one offseason (that is the norm, not the exception), Dudley, a junior, has stepped up and made a decent number of plays behind the line of scrimmage.
The LB corps has been solid in pass coverage, but their run support and blitzing have, as a whole, left something to be desired.
Secondary
As devoid of experience that the KU linebacker corps is, the secondary is the polar opposite.  Five players with solid starting experience return, led by Mizzou killer Darrell Stuckey, who almost single-handedly fended off the Tiger offense for the entire first half last November at Arrowhead.  ...  Mark Mangino has some interesting ingredients, and he's not afraid to shuffle things around.  Justin Thornton's been around forever (seems like just yesterday that he was getting decapitated by Tony Temple at Faurot Field), and while he's a proven commodity, he's also in Mangino's doghouse.  If he doesn't end up starting (I assume he will, but...well, Mangino's got an angry side), then it looks like Anthony Davis will be the man opposite Daymond Patterson at CB.  Both are sophomores.  Meanwhile, junior safety Chris Harris was a star freshman in 2007 before losing his starting spot last year.  He still managed the second-most successful tackles in the secondary in 2008, however, and I'm going to figure he'll still play a role opposite Phil Strozier and Stuckey.
CB Chris Harris: 67.0 tackles, 6.5 TFL/sacks, 1 FF, 1 FR, 7 PBU
S Darrell Stuckey: 66.5 tackles, 3.5 TFL/sacks, 1 INT, 1 FF, 2 PBU, 1 QBH
S Justin Thornton: 58.0 tackles, 3.5 TFL/sacks, 1 INT, 1 FF, 1 FR, 6 PBU
S Lubbock Smith: 32.0 tackles, 1.0 TFL/sacks, 1 PBU
CB Daymond Patterson: 27.5 tackles, 0.5 TFL/sacks, 1 INT, 5 PBU
CB D.J. Beshears: 16.0 tackles, 1 PBU
CB Anthony Davis: 14.0 tackles, 1.0 TFL/sacks, 1 PBU
S Ryan Murphy: 11.0 tackles, 2.0 TFL/sacks, 2 INT, 1 FR, 2 PBU, 2 QBH
S Phil Strozier: 11.0 tackles, 1 PBU, 1 QBH
It's been a strange year for the KU secondary.  Relatively speaking, it has still somewhat been a strength of this defense, but 2009 has seen all sorts of personnel shuffling and slump busting.  Career doghouse resident Chris Harris has turned out to be the star of the secondary (again), while Justin Thornton has, at times, taken Harris' place in the doghouse.  Darrell Stuckey has certainly been good, but he hasn't quite lived up to my own expectations for him.  Meanwhile, Lubbock Smith emerged as a potential leader in the secondary but has been hindered recently by injury.  He is a game-time decision.
In all, this is a crafty, experienced secondary, and I'm sure that, if given the opportunity, they will take advantage of any mistakes by Blaine Gabbert or any drops by Mizzou receivers.  That said, they still aren't quite as scary as I thought they would be, and I'm a lot more confident in Mizzou's potential ability to win a shootout than I was a couple of months ago.
Special Teams
KU was decent in the kicking and punt return games, but kick returns produced eight yards fewer in 2008, and that really can make a pretty big difference.  It might help explain how KU's Offensive S&P+ actually improved in 2008, yet KU scored 10 fewer points per game.  Dez Briscoe was outstanding in limited opportunities, but it seems KU is making a concerted effort not to wear him out (Jeremy Maclin managed to do it all, ahem...just sayin'...), and early indications (according to Rock Chalk Talk) are that sophomore Isiah Barfield might take over the duties, at least to start.

If KU gets anything from the kick return game, this is a decent special teams unit, not as good as Nebraska's (NU really does seem to have the best special teams unit in the North at this point), but solid.  Alonso Rojas leaves something to be desired punting, but this is an offensive conference--kicks matter a hair more than punts, right?
Punt Returns Rank: 83rd (Daymond Patterson: 20 returns, 8.2 avg)
Net Punting Rank: 73rd (Alonso Rojas: 48 punts, 41.4 avg)
Kickoff Returns Rank: 51st (Bradley McDougald: 20 returns, 19.2 avg; Dez Briscoe: 16 returns, 23.9 avg, 1 TD)
Opponents' Kickoff Returns Rank: 90th (Jacob Branstetter: 60 kickoffs, 8 touchbacks)
Field Goals: 80th (Jacob Branstetter: 12-for-18, long: 57)
PATs: 78th (Jacob Branstetter: 38-for-40)
In all, special teams are a giant "meh" unit.  They are average to below average in both place-kicking and punting, and their return units are, Dez Briscoe aside, average as well.  In all, Mizzou should be able to flip the field rather well with Jake Harry, and Mizzou's average return units might find at least some moderate success.  But Briscoe is the key.  To avoid overuse, Briscoe has not been the key return man this year, but he showed what he could do if given the opportunity with his effortless TD return last weekend in Austin.  I get the sneaking suspicion that Briscoe will be the main return man tomorrow, and ... well, that scares the living daylights out of me.  IF Mizzou doesn't give up serious field position and/or a touchdown in the kicking game tomorrow, they win the special teams battle.  But with the way Mizzou has been covering on kickoffs, that's a huge if.
---

Three Keys to the Game

Passing Downs

KU's offense will likely be relatively efficient on Saturday, meaning Mizzou must make stops on passing downs when given the opportunity.  They have a pass-rush advantage in those situations, but if they don't make the sack or force a poor throw from Reesing, their propensity for breakdowns makes them extremely vulnerable.  If they're giving up the dink-and-dunk stuff and allowing big plays on Passing Downs, they probably cannot win.
Danario Alexander vs Dez Briscoe

Alexander has been the best receiver in the country over the last month, and if he performs to that level again, Mizzou could score at will.  Primarily because of Domino, Mizzou's offense has a significant advantage over KU's defense in terms of The Big Play, and if KU successfully takes that away (lord knows they've got the talent and experience to do so), they take away the biggest weapon in the Mizzou arsenal.  Meanwhile, the other scariest guy on the field is Briscoe.  While Meier gives Mizzou fans nightmares after last year's heroics, Briscoe is still the more dangerous guy.  The winner of the Alexander/Briscoe battle will go a long way in determining the winner of the game.
MU's Running Game

Most of the previews, this one included, has focused on these two teams' respective passing games, but if Mizzou's slowly improving run game can eat away chunks of yards and Mizzou is able to both overpower KU and beat them with the big play, then they can both run up points and dominate the flow of the game.  Potentially the most underrated facet of the last two games at Arrowhead was MU's running game.  In 2007, Tony Temple racked up 98 yards in 22 carries.  In 2008, Derrick Washington ended up with a respectable 54 yards in 11 carries but averaged under four yards per carry for the first three quarters, when Mizzou's offense was struggling and the defense was unable to get off the field.  If Mizzou is running well from the start, their passing game will open up like a Venus Flytrap.
Prediction
Gotta say, I do NOT like how well KU is capable of running the short passing game considering how vulnerable Mizzou has been to just that over the last few weeks.  That is just not a matchup I like for Mizzou.  However, Mizzou's own big-play ability might neutralize that a bit, and besides ... it's not like I let my own feelings get in the way of these predictions anyhow, right?  The numbers say Mizzou by 4.7, so we'll go with Mizzou 31, Kansas 26.  Nothing between a 17-point win for Mizzou and a 17-point win for Kansas would surprise me, but being that the last two games have both gone down to the wire, we can probably expect more of the same here.