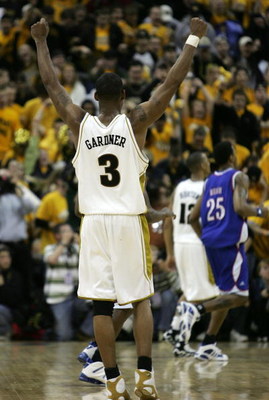 I'll give it this: it certainly was weird.  I've written a few (tens of thousands of) words about the history of Missouri Tigers basketball, and while the whole panorama is speckled with moments both brilliant and bizarre, no ten-year span can hold a candle to the parade of imponderables that has been the decade now drawing to a close.  Gilbert's heaves.  Paulding's dunks.  Taylor's daggers.  A four-overtime victory.  A Big 12 Tournament title.  NCAA Tournament thrills.  Good moments all, but only half of the story.  The flipside includes flip flops, the Athena, Paige Sports Arena, and the three most embarrassing words ever tied to a big-time hoops program: Them crackers shakin'.  Consider this: If we compiled a list of the fifty strangest things that happened over these ten years, the fact that the team lost a player after he went to Canada and wasn't allowed back might not even make the cut.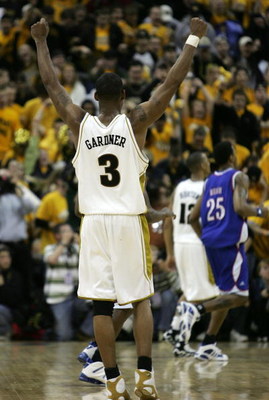 This decade of Mizzou hoops could be a book unto itself, the story of a rise, a fall and a redemption.  It was the first decade since the 1960s without a regular-season conference title, and the only decade ever with two Elite Eight runs.  It was a time that saw some highly-touted teams crash and burn, and a lightly-regarded one rise and shine.  It was a century-plus of history boiled down to its singular crazy essence.
It was also a time of some fine players, and I've been elected a committee of one to pick the best of the bunch, Mizzou's all-decade team.  At first, I planned to choose a cohesive 13-man roster, but then realized that there would be nothing cohesive about it.  Clarence Gilbert could have played for Mike Anderson, but would Arthur Johnson even have considered it?  Quin Snyder might well have recruited DeMarre Carroll, but would he even have noticed J.T. Tiller?
So instead of trying to force together a patchwork lineup of mismatched parts, I've opted instead to honor the aughts' top achievement(s) and select the decade's Elite Eight players based on individual and team success.  Most of the consideration has been statistical, but some is intangible, and the order, as you'll see, is chronological.  All, of course, is subjective.  Feel free to tell me I'm crazy in the comments.
Clarence Gilbert, guard, 1998-2002.  The face of Quin Snyder's program before everything went horribly wrong.  Mizzou's teams early in the decade perfectly mirrored Gilbert's play:  Often erratic, occasionally explosive, and on the nights the shots fell, totally entertaining.  Gilbert stands eighth among all scorers in Missouri's history (1,685 points), and he started the decade with a bang.  On January 22, 2000, with Jeff Boschee draped on him like a Snuggie, Gilbert scored 27 points on seven-of-ten three-point shooting in an 81-59 rout of Kansas.
Kareem Rush, guard/forward, 1999-2002.  Mizzou's only player to be twice named first-team All-Big 12, Rush was the decade's most dangerous scorer, averaging 18.9 points per game for his career, far more than anyone else on the list. The league's Freshman of the Year in 1999-2000, Rush went on a scoring binge in conference play, including a 31-point effort in a win at Texas Tech. The next season, Rush missed half the league slate with a thumb injury that required surgery, but he still earned a spot on the All-Big 12 team, and he garnered national recognition by scoring 29 points against Duke in the second round of the NCAA Tournament.  Had he not left for the NBA after his junior year, Rush almost certainly would have become just the third Tiger to eclipse 2,000 points in his career.
Arthur Johnson, center, 2000-04.  The decade's dominant player from a statistical standpoint, Johnson scored more points than any other Tiger over the past ten years, and he grabbed more rebounds and blocked more shots than any other Tiger ever. In his final campaign, even as the team struggled, Johnson continued to shine, especially late the year as the Tigers tried to resurrect their season. He tallied 29 points and 13 rebounds in a crucial win over sixth-ranked Oklahoma State, and he later scored 37 points in his final home game, a heartbreaking two-point loss to Kansas.
Rickey Paulding, guard/forward, 2000-04.  The decade's second-highest scorer (Gilbert scored slightly more for his career, but some of those points came in the Nineties) and its most spectacular athlete, Paulding may have been at his best in a supporting role, like in the 2002 NCAA Tournament, where he played third fiddle to Rush and Gilbert – and was named to the All-West Region first team after averaging 18.3 points over four games.  In fact, Paulding was always at his best in the NCAAs.  In 2003, he scored 36 in Missouri's second-round overtime loss to Marquette.
Thomas Gardner, guard, 2003-06.  The only member of our Elite Eight not to have played in the Elite Eight, Gardner was a bright light in a period of profound darkness.  He averaged 19.7 points per game in his junior year (his last before entering the NBA draft), but will be best remembered for his play in two upset wins against Kansas.  As a sophomore, Gardner scored 23 as the Tigers closed the regular season with a 72-68 victory over the seventh-ranked Jayhawks.  And the next year, he gave the individual performance of Missouri's decade, sparking a spectacular comeback by scoring 40 in the Tigers' overtime triumph.
Leo Lyons, forward/center, 2005-09.  The Big Enigma could be frustrating on the nights when Bad Leo showed up, but few players in Missouri history have ever been better than Good Leo.  When properly motivated, Leo's refined skills and elongated frame made him a mismatch for most post defenders.  Though he made little impact in his freshman season under Quin Snyder, Lyons was reborn as a player upon Mike Anderson's arrival.  He finished his career with more than 1,200 points and nearly 600 rebounds.
J.T. Tiller, guard, 2006-09.  On February 2, 2008, with a chunk of its roster suspended in the wake of the infamous brawl at the Athena, Missouri welcomed all-world big man Michael Beasley and the Kansas State Wildcats to Columbia, and sent them back to Manhattan with their first conference loss.  The reason was sophomore reserve guard J.T. Tiller who emerged from the shadows to score 20 points.  Since then, Tiller has defined himself as the decade's dominant defender, but on that day he helped redefine Missouri basketball.  Still, he has shown the ability to score when needed, like when he tallied 23 points in Missouri's triumph over Memphis in the Sweet Sixteen of the 2009 NCAA Tournament.
DeMarre Carroll, forward, 2007-09.  A key player in the program's rebirth and a first-team All-Big 12 pick as a senior, Carroll was the prototype player for Mike Anderson's system – ferocious on defense, opportunistic on offense, giving all-out effort all the time.  The ultimate box score filler, Carroll led the 2008-09 Tigers in scoring (16.6 ppg) and rebounds (7.2), and ranked second in steals, and third in blocks and assists.  Though Zaire Taylor is remembered for sinking the game-winner in Missouri's 62-60 win over Kansas, it was Carroll who carried the team, scoring a game-high 22.  He again paced the Tigers when they won the Big 12 Tournament title against Baylor, posting 20 points and 9 rebounds as Missouri claimed the biggest trophy of a tumultuous ten years.