As fun as it may be to write about the great seasons in Mizzou history, the idea behind my Mizzou Football History book will be to make you care about all of the seasons, not just the really good ones you've read about before.  I will likely bounce back and forth between good seasons and bad in these RMN write-ups.
So with that said, today we start to take a look at one of the more frustrating, and in the end regretful seasons in Missouri history: 1984.
From MU's season finale against KU.  (The Missourian*/Wendy Carlson)
* Pictures from this season's write-ups will be from the Missourian's lovely archive...and since they are digitized copies of copies, they will likely be both interesting and grainy.
Aside from crazy, Ricky Clemons-like incidents, here's the worst-case (normal) scenario for an athletic director: your football coach has proven that he can field a competitive team, he runs a clean program, he's a class act, he wins more than he loses...and yet, he might have peaked at 8-4, fans are losing interest in simply being average or above average--they want to be great, he hasn't had a true "breakthrough" win, and thanks to a ton of bad luck (among other things), he just had a losing season.  If you're going to have to fire somebody, you want it to be after a 2-10 season or something, in which the team gave up on the coach, and there's no question that a move needs to be made.  Instead, there's no black-and-white, only grey as far as the eye can see.
That's what awaited Dave Hart after the 1984 season, Mizzou's first losing season in seven years under Warren Powers.  In 1983, Warren Powers was named Big 8 Coach of the Year for manning an exciting and successful Holiday Bowl squad.  Twelve months later, he was unemployed.  The 1984 season was one of almosts, what ifs, injuries, defensive breakdowns, and in the end, a firing.
Knowing what we know now (that Mizzou would end up falling into a football abyss for almost 15 years), it probably would have been better to keep Powers and hope that he could eventually crack the 8-win glass ceiling.  But at the time, with attendance quickly dwindling, Hart and the powers that be pulled the trigger.  Was it a justifiable move?  Let's step back into the ulcer that was 1984 to see both what went wrong and how close things were to going right.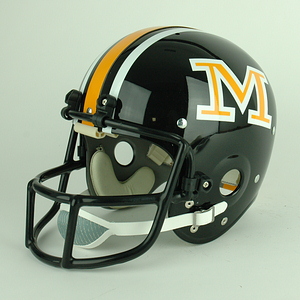 From the great
HelmetHut.com
Preseason
Unlike 1965, the 1984 didn't feature many memorable names, so we probably need to set the stage a bit.
In my first few years in Columbia, one thing I heard numerous people mention was that Warren Powers was a very good coach, but he couldn't recruit.  With Al Onofrio's recruits, he produced good teams, but when they left the program, he wasn't able to sustain the same success.  Well...technically there's some factual support for that, but not really.
In Powers' first four seasons, Missouri went 8-4, 7-5, 8-4, and 8-4, going to four straight bowls for the first time ever.  Granted, plenty of Onofrio players were on those teams, but not really by year four.  After a step backwards in 1982 (5-4-2), Mizzou had bounced back in 1983 by going 7-5 with three losses by a possession or less.  1983 was almost a really special season, and it gave Powers momentum heading into his seventh season as Missouri coach, but it was up to a relatively new cast of characters to sustain that momentum.
Heading into 1984, Mizzou players were not lacking in confidence.  They were big, talented, and pretty fast, and they were honestly talking about an Orange Bowl run before the season began.  Granted, almost every team talks about a conference title before the season, but regardless, this was a confident bunch.
One reason for confidence was because, in comparison to recent seasons under Powers, the Tigers were loaded at the skill positions.  QB Marlon Adler, who started all 12 games in 1983, returned for his junior season, and he was being pushed into a part-time role by rising junior Warren Seitz.  At RB, fullback Eric Drain, who had a great Holiday Bowl (117 yards rushing) the year before, was back and was being pushed by Jon Redd.  The WR position was manned by a couple of senior speedsters in former Jefferson City Jay George Shorthose (who ended up having a cup of coffee with the Kansas City Chiefs in 1985) and Andy "Future Mizzou WRs Coach" Hill.  If there was a concern, it was in the trenches, where Mizzou was going to have to replace four starters, including All-American (and New York Giants draftee) Conrad Goode.
On defense, things were a bit more up in the air.  Mizzou's defensive identity in 1983 was based around a pair of relentless defensive ends in Bobby Bell, Jr. (who had been drafted by the New York Jets) and Taft Sales (who had been drafted by the USFL's Birmingham Stallions).  Excitement remained for guys like leading-rusher-turned-LB Tracey Mack (father of a potential current Mizzou target, Ryan Mack), soon-to-be three-year-starter Robert Curry, and DBs Terry Matichak (All-Big 8 in 1983) and Jerome Caver.
Clearly if this is the first time you've ever read about the 1984 team, then you probably don't recognize many of these names, but a lot of them were key cogs to the successful (almost really successful) 1983 squad, and more importantly, opportunity was there for the seizing in a Big 8 conference in flux.  Nebraska had lost a ton from their unbelievably good 1983 team but was still the class of the conference, as Oklahoma had slipped a bit with 12 losses in three years.  A rising OSU program (8-4 in 1983) had lost coach Jimmy Johnson to Miami, and the other four teams in the conference--KU, KSU, CU, and ISU--had combined for just 15 wins in 1983.
If there was any cause for alarm for this 1984 team, aside from the newbies on the offensive line, it was that the defense wasn't tremendously deep, and there could be trouble if they were beset by injuries.
Predictably, they were beset by injuries.  It started immediately, when Matichak injured his hamstring in late-July and would be lost until October.
September 8: Missouri (0-0) at Illinois (1-0)
Despite the loss of Matichak, confidence was high when Mizzou headed to Champaign to face Illinois and stud QB Jack Trudeau (future Davey O'Brien runner up and Indianapolis Colt draftee) in front of a record, hostile crowd of 78,297 at Illinois' Memorial Stadium.  Warren Seitz, rotating series with Marlon Adler, ripped off an unlikely 50-yard touchdown run to give Mizzou an early 7-3 lead, but Trudeau had the Illini offense rolling, especially after Jerome Caver sprained an ankle late in the first quarter and would be knocked out for a few games.
Trudeau led the Illini on four scoring drives in the first half, but Mizzou managed to stay in the game by forcing a couple of field goals (one from the MU 1 with 0:01 left in the first half) and playing ball control with a decent running game.  At half, it was 20-10 Illinois.
As rain began to fall in the second half, Illinois made its move.  Two quick scoring drives made it 30-10.  Trudeau was slicing up the depleted Mizzou secondary, passing often to dangerous WR David Williams (9 catches for 136 yards), and after some success in the first half, the young Mizzou offensive line was struggling to give Adler and Seitz any time to make plays.
In the fourth quarter, however, Mizzou bounced back.  With 12 minutes left, Seitz scored from six yards out to make it 30-17.  Then with six minutes left, Jon Redd busted into the open and rumbled 57 yards to the Illinois 10.  Mizzou, however, couldn't take advantage, and eventually an Adler pass fell incomplete on 4th-and-goal.  The Illini, who couldn't move the ball at all in Q4, punted, and on the third play of a quick drive, Adler found George Shorthose for a 40-yard TD strike.  With under two minutes to go, MU was within 30-24.
When Illinois recovered the resulting onsides kick, however, it appeared that hope was lost.  Not so.  Trying to score one first down and run out the clock, Illinois fumbled.  Mizzou recovered and somehow had a chance to take the lead despite struggling for most of the game.  Behind Adler, the Tigers moved the ball to the UI 23 as time was expiring, but before Adler could lob a pass to Shorthose on the final play, he was sacked for the third time of the game by DT Guy Teafatiller. A mad comeback fell just short, and Mizzou fell to 0-1.
Illinois 30, Missouri 24
---
** FORGOTTEN CLASSIC **
September 15: Wisconsin (1-0) at Missouri (0-1)
Blocked Punt #1
What's crazier than crazy?  If Mizzou's season opener against Illinois featured a crazy fourth quarter, they took it up a few notches for their home opener against Wisconsin.
It started innocently enough.  Warren Seitz found Tony Davis for a 50-yard touchdown in Q1, then scored from two yards out with 0:30 left in Q2, and Mizzou took a 13-7 lead (after a blocked PAT) into halftime.  Warren Powers was all but settling on Seitz as his full-time quarterback--he would end up taking the reins for 13 of Missouri's 15 game possessions.
With Wisconsin focusing on stopping a strong Missouri running game in the third quarter, Seitz's arm gave Mizzou a big lead.  Long passes to Andy Hill and young Adrian McBride set up an Eric Drain touchdown, and Mizzou was up 21-7.  Next up: a TD pass to Shorthose.  Mizzou was up 28-7, and Seitz had thrown for 216 yards and 3 TDs on just eight completions.  It looked as if Mizzou was moving to 1-1 on the season.
And then the bottom dropped out. 
More specifically, Marlon Adler had the worst quarter of his career.
On the first play of the fourth quarter, Wisconsin CB Richard Johnson (who had blocked the PAT earlier) blocked an Adler punt and recovered it in the endzone for a touchdown.  28-14.  Two minutes later, Johnson partially blocked another Adler punt.  Six plays later, Badger WR Al Toon (I loved that guy) scored.  28-21.  Mizzou punted again (cleanly this time), and Wisconsin went 66 yards in six plays.  28-28.  Adler came in at QB for a much-needed change of momentum...and was picked off.  Wisconsin missed a go-ahead field goal attempt...and then Adler was picked off again.  Wisconsin went 35 yards in two plays, and just like that it was 35-28 Wisconsin.
And get this: there were still five minutes left in the game!
With Seitz back at QB, Mizzou somehow gathered its composure and set about evening the score in the face of massive momentum.  In four minutes, Seitz engineered a 12-play, 67-yard drive capped by a 6-yard TD run by Vernon Boyd with 1:26 left.
Mizzou was in position to somehow salvage at least a tie...but who plays for ties?  Not Warren Powers.  In the face of all the fourth-quarter chaos, Powers decided to try to steal the win.  On the two-point conversion attempt, Seitz rolled out and threw a strike to an open Shorthose for the win...
...and Shorthose dropped it.
Mizzou had put up 455 yards of offense, Warren Seitz had seized control of the QB race in passing for 276 yards and 2 TDs, the defense had held Al Toon to two catches in the first half and really played strong most of the game...and Missouri was 0-2.  Mizzou had given up 28 fourth-quarter points and still had victory in its hands, and the ball fell to the ground.
Wisconsin 35, Missouri 34
Next up: Mizzou bounces back.