For other seasons, go here.
Part One (updated with Savitar pics--definitely worth seeing)

Where we last left off, Mizzou had dominated a mediocre Minnesota team at home, then needed two fourth-quarter picks to defeat a game Illinois squad in Champaign.  In their next contest, they would need the offense to step it up.
October 1: #11 Missouri (2-0) at #2 UCLA (2-0)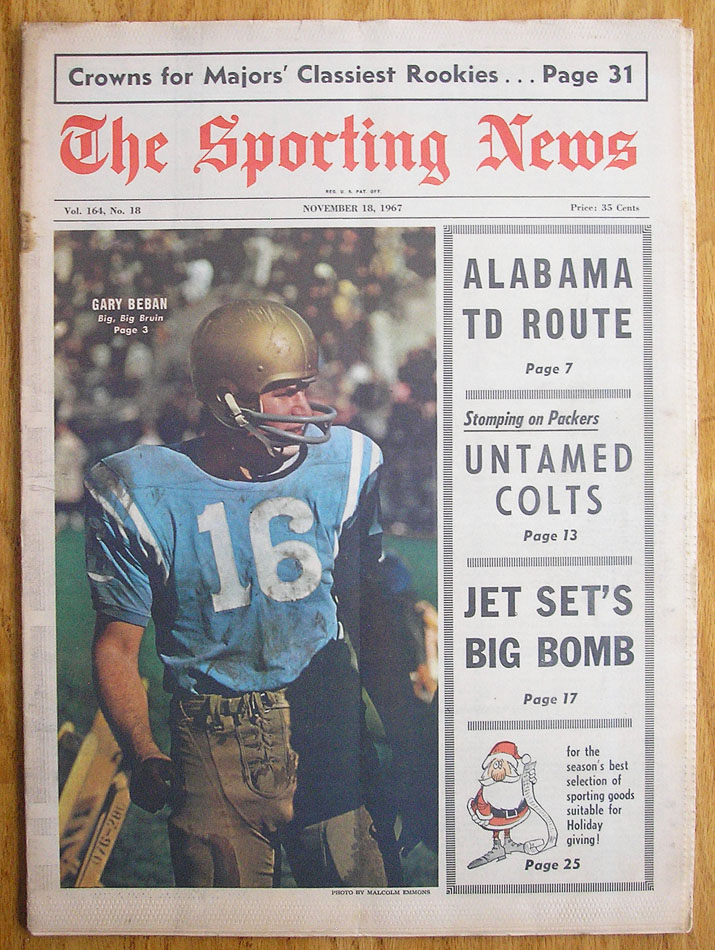 Gary Beban: one of the marquee names of 1966.

Last year's Sugar Bowl champion versus last year's Rose Bowl champion.  When Missouri traveled to LA in the first weekend of October, it was one of the marquee matchups of the 1966 season.  The rugged, midwestern defense of Missouri versus the west coast flair of Gary Beban (about two months from winning the Heisman), star halfback Mel Farr, and UCLA.  The Bruins entered the game ranked #2 in the country, having crushed Pittsburgh at home (57-14) and easily defeated a good Syracuse team on the road (31-12).  In two weeks, they would crush Penn State (49-11).  But first, with national title hopes on the line, they would need to get past a Missouri team that had rallied to tie them in Columbia 12 months earlier.
Missouri came to LA a bit banged up.  Charlie Brown was nowhere near full-speed after getting hurt in Champaign, and starting fullback Barry Lischner was out, along with starting guard Jim Willsey.  In front of 32,000 in the LA Coliseum and a national TV audience watching at home, Missouri would need to overcome quite a few factors working against them.
In the first half, Mizzou would bend in every possible direction, but refused to break.  While the Tiger offense was completely stagnant, UCLA racked up 200+ first-half yards and drove inside the Mizzou 10 three times.  On their first trip, Farr was fighting for the goal line when Roger Wehrli literally stole the ball from him at the 1.  The score remained 0-0.  The Bruins came right back, but Tiger defender Gary Grossnickle batted down a third-down pass...and then batted down a fourth-down pass.  0-0.  The third time, the Bruins took the hint and kicked a 25-yard field goal for the only points of the first half.
Anytime one team dominates on the field but can't muster the points on the scoreboard, one of two things can happen.  Either a) they eventually fold, and the team who was holding on for dear life eventually takes control, or b) the team who was holding on for dear life eventually folds under the pressure.  Unfortunately for Mizzou, the third quarter leaned heavily toward (b).  UCLA finally punched the ball into the endzone to go up 10-0, and late in the third, Gary Kombrink, having a simply terrible day at QB, threw a pick to LB Dallas Grider, who returned to the 10 yard line.  A 6-yard Farr touchdown put the Bruins up 17-0 and seemingly locked the game away.
However, as they had the week before against Illinois, and as they had in every road game since October 1964 (the last time they lost on the road), the Tigers fought back.  After three quarters of ineptitude, Mizzou figured out how to move the ball.  Kombrink found Marty Berg for 40 yards, then backup quarterback Danny Sharp, lined up at halfback, took a handoff and found reliable end Chuck Weber for a touchdown.  A two-point conversion pass made the score 17-8.
Devine, attempting to capitalize on momentum with plenty of time left in the game, elected for an on-side kick, and Mizzou recovered...but Mizzou went three-and-out and had to punt.  Really, though, for much of 1966, Mizzou's best offense was their great defense, and after the teams traded punts once (first UCLA, then Mizzou again), UCLA lined up to boot the ball away with little time remaining.  Giant Russ Washington blocked the kick, found the ball, and carried UCLA tacklers 20 yards for the touchdown.  Suddenly it was 17-15 with just a couple of minutes remaining.
On-side kick attempt #2, however, was unsuccessful.  UCLA moved on a demoralized Mizzou defense, and Farr's 13-yard touchdown with under a minute left sealed the deal.  The Tiger defense was, as always, game, but the offense couldn't do enough.  The 24-15 defeat saw Mizzou get outpassed 204-96 (Kombrink 5-for-18 with 1 TD and 4 INTs), outrushed 203-(-9), and out-first downed 19-5.  The Tigers had no business winning this game, but timely plays had given them a chance.  They had held UCLA to half of their season average (though it was still the most they had given up since Devine's first season in Columbia, 1958) and picked off Beban three times, and though the offense still had issues, Mizzou had a few weeks to get things ironed out before the schedule got rough again.
Meanwhile, UCLA would go on to finish 9-1 in Beban's Heisman campaign, losing only at Washington.  They were inexplicably left out of the Rose Bowl when USC was voted in (???) despite a worse conference record.
UCLA 24, Missouri 15

---
October 8: Missouri (2-1) at Kansas State (0-3)

For Mizzou's third straight road game, they traveled to the anything-but-hostile confines of Manhattan, Kansas, to face a sad Kansas State team in the midst of a 14-game losing streak.  Earl Denny was hobbled and sat this one out, but it didn't even remotely matter.  His substitute, Ray Thorpe, a kick return specialist, raced 67 yards for a first-quarter touchdown, and if Mizzou didn't score again after that, they'd have still won comfortably.  K-State hung in defensively and only trailed 10-0 at half, but Mizzou eventually landed a series of knockout blows.
After a 46-yard boot from Bill Bates, having a great season, made it 13-0, Mizzou applied the dagger.  Jim Whitaker intercepted a K-State pass and returned it to the 3, and Charlie Brown took it in from there to make the score 20-0.  Mizzou scored again with the backups in, and this one turned into a laugher.  Statistically, the Tigers did everything to K-State that UCLA had done to them--first downs: 19-6 MU, total yards: 369-172 MU.  The only thing that kept the score from being even worse was two Mizzou fumbles.  Mizzou returned to Columbia having gone 2-1 on their road trip.
Missouri 27, Kansas State 0

---
October 15: Oklahoma State (1-2) at Missouri (3-1)
From the Missourian.  Ray Thorpe scores his second TD in two weeks.
You know how they say everything is cyclical?  How innovation in football isn't really innovation--it's just slightly different versions of old ideas?  Well, you'll find this amusing then: to breathe some life into a stiff offense, Dan Devine decided to change things up against Oklahoma State on October 15.  How did he do this?  Missouri came out and played...in the I-formation.  Crazy.  And it worked to varying degrees; only Missouri prevented Missouri from running away from the 'Pokes in front of 54,000 in Columbia.
On the game's opening possession, Mizzou marched into Cowboy territory until Terry Brown intercepted a Gary Kombrink pass at the OSU 17.  After an OSU missed field goal, the two teams began trading punts, and OSU began trying to give the game away.  First, on a Bill Bates punt to the OSU 19, Cowboy return man Danny Lawson bobbled the kick, and a Keystone Cops routine broke out.  Seemingly every MIzzou player on the field (and maybe even some from the bench) fell on the ball, looking to set Mizzou up with easy points, and the ball kept slipping out from under them.  Eventually OSU recovered at their own 3.  Later, Mizzou's Elmer Benhardt almost blocked an OSU punt, but the hurried punter botched the kick, and it went one yard.  Still, Mizzou didn't score.  Crazy plays were happening left and right, but neither team was seriously threatening, and the game was 0-0 at halftime.
From the Savitar.  Charlie Brown returns a punt against the Pokes.
After an OSU punt started the first half, Mizzou looked destined to punt as well until Kombrink found Chuck Weber for a third-down completion to the MU 32.  Three plays later, on fourth-and-1, Kombrink snuck ahead for another ballsy first down.  Mizzou was to the OSU 49 when they finally struck the jackpot.  Kombrink optioned left and was stopped for a 7-yard gain, but at the last second he pitched to Gary Thorpe (almost a forward lateral...or maybe it actually was a forward lateral), who jetted untouched for 42 yards and a touchdown.  The play took place in front of the OSU sideline, and naturally they virulently disagreed about the legality of the pitch.
Regardless, hat was all the Mizzou defense needed.  OSU never seriously threatened to score after the first-quarter field goal attempt.  The 'Pokes gained just 125 yards on the day, and Mizzou (280 yards, 250 on the ground) dominated in ball control...they just couldn't score.  Sure-footed Bill Bates even missed to field goals.  But the crowd of 54,000 went home happy nonetheless, and Mizzou was 4-1.
Missouri 7, Oklahoma State 0

---
October 22: Iowa State (1-4) at Missouri (4-1)

You remember 2005, when Chase Daniel came in and rallied Mizzou from a 10-point fourth-quarter deficit against a mediocre Iowa State squad, salvaging a win (and eventually the season)?  Well, before there was Chase Daniel (and before there were overtime periods), there was Chuck Weber.
After returning from a 3-game road trip to face Oklahoma State and Iowa State at home, Mizzou had to be thinking that two easy wins were in the cards.  But the offense just continued to get in its own way both games.  They only scored 7 against OSU, but a dominant defensive performance got them the win.  Would they be as lucky against Iowa State?
No.  The salty Cyclones punched Mizzou in the mouth early, driving 50 yards on the arms and legs of QB Tim Van Galder and going up 7-0 midway through the first quarter.  MIzzou responded with a lengthy drive of their own, to the ISU 18, but Gary Kombrink once again made a redzone mistake--he was picked off at the 10.  ISU couldn't move the ball, and MU was poised to take over with good field position, but Roger Wehrli muffed the punt.
Neither offense threatened the rest of the first half until Kombrink again faltered, fumbling at the Mizzou 33.  The Cyclones kicked a field goal to go up 10-0 at half.
Against OSU, Mizzou made good halftime adjustments and immediately drove for a score in Q3.  Not against ISU.  Danny Sharp subbed in for Kombrink at QB, but in a bout of nerves, fumbled the opening snap of the second half.  ISU recovered and drove to the Mizzou goal line, but led by Wehrli, the Mizzou defense snuffed a fourth-down plunge and saved any chance they had of winning the game.
Wehrli with the game-saving stuff.
Did that spark the Mizzou offense?  Not so much.  With Kombrink back at QB, Mizzou was stagnant the rest of the third quarter, so Devine desperately returned to the sophomore Sharp in Q4.
After another ISU punt, Mizzou took over near midfield with under eight minutes remaining, down 10.  On Sharp's first play back in the game, he connected with Earl Denny for 41 yards, and a Bill Bates field goal finally put Mizzou on the board, 10-3.  ISU quickly had to punt in front of a suddenly excitable crowd, and Jim Whitaker--returning punts after Wehrli's fumble--made a nice return to the ISU 43, followed by a 15-yard late hit penalty.  After a 13-yard Sharp scramble and an incomplete pass, Sharp lobbed a tough ball toward the corner of the endzone.  Chuck Weber, channeling Chase Coffman (can you channel somebody who wouldn't be born for another 20 years?), made a falling-out-of-bounds catch with the fingertips.  Touchdown.  10-10.
There are good ties and bad ties, and even though it was actually a little surprising that Devine didn't elect to go for two late, this one qualified as a good tie.  Mizzou rallied late yet again (remember Illinois and UCLA?) and avoided a conference loss, and with Sugar Bowl representatives on hand, salvaged a chance at another big bowl game.
Unfortunately, reality would soon strike.
Missouri 10, Iowa State 10

---
Next up: Mizzou's worst two weeks under Dan Devine.