UPDATE, 3:26pm - Per the Clarion-Ledger, Scott Bittle is unavailable for the Rebels this weekend, and Tim Jamieson is showing an EPIC set of juevos by holding Kyle Gibson for Saturday against (in theory) Ole Miss and starting Nick Tepesch tomorrow.  If Mizzou loses to WKU without Gibson, that move will get called into question (clearly), though technically that means that Saturday's is the more important game as well.
Today we move on to the #1 team and host of Mizzou's NCAA Baseball regional, the Rebels of Ole Miss.

Colonel Reb stopped by our tailgate back in aught-six...and no, this is not a picture from that tailgate...
Season: Ole Miss was an impressive 40-17 in 2009, going 24-8 at home and 20-10 in the SEC (and improvement from last year's 15-15), tying with LSU for the conference championship.  After winning four in a row to end the regular season, the Rebels quickly limped out of the SEC Tournament after losses to Georgia (6-3) and Florida (12-2).  They drew the nation's #11 overall seed and will host an NCAA Regional for the fifth time in six years.  This is a well-established baseball program.
RPI & Ranking:  #17 RPI, #12 in Baseball America's Top 25
Common Opponents:
SLU: Mizzou won 19-6, Ole Miss lost 15-11.  That's it.  It's like they play in the Southern circuit and we play in the Midwest circuit, and the two never interact...

The Rebels in recent NCAA Tourneys:  UM has PLENTY of NCAA experience.  Let's take a look at just the last five years.
2004: Oxford Regional.  #1 Ole Miss (the nation's overall #10 seed) lost to #4 Western Kentucky (1-0), then bowed out to #2 Washington (7-2), their last winless trip to an NCAA Regional.

2005: Oxford Regional.  #1 Ole Miss (the nation's overall #5 seed) beat #4 Maine (5-0), #3 Oklahoma (7-3), and then Oklahoma again (20-5!), to advance to the Super Regional.  They hosted overall #12 Texas and lost in three games, winning Game 1 (6-4) before losing Games 2 (3-1) and 3 (6-4).

2006: Oxford Regional. #1 Ole Miss (the nation's overall #11 seed) beat #4 Bethune-Cookman (3-2), #3 South Alabama (9-7), and #2 Tulane (12-4) to advance to the Super Regional.  They hosted Miami-FL, an upset winner in #6 Nebraska's regional, and once again they lost in three games, winning Game 1 (11-9) before losing Games 2 (7-0) and 3 (14-9).

2007: Oxford Regional.  #1 Ole Miss (the nation's overall #12 seed) beat #4 Sam Houston (14-5), beat #2 Southern Miss (4-0), then beat Sam Houston (21-13) again to advance to the Super Regional in Tempe.  There, they lost to overall #5 Arizona State by scores of 4-3 and 7-1.

2008: Coral Gables Regional.  #3 Ole Miss lost to #2 Missouri (7-0--Aaron Crow's shining moment), eliminated #4 Bethune-Cookman (14-1), eliminated Missouri (9-6), and then got thumped by #1 Miami-FL (11-2).
In all, this is the Rebels' 13th trip to the NCAA Tournament.  They haven't missed a tourney since 2002.  They've been to Omaha four times, the last time being, surprisingly, 1972.
Scott Bittle, Mizzou killer
Non-Conference:  SEC teams don't really need to challenge themselves much in non-conference play, and Ole Miss really didn't.  They lost two of three (to Mercer and South Alabama) in the Coca-Cola Classic in Mobile to start the season, swept Central Arkansas, Arkansas State, Vermont, and Austin Peay at home, lost home games to TCU and SLU, and for the most part plowed through mid-weekers versus Southern Miss, UA-Pine Bluff, UA-Little Rock, etc.  In all, they were 20-7 in non-con play.
SEC Action:  The Rebs turned it on in the SEC, that's for sure.  En route to tying for the conference title, they lost 2 of 3 at co-champ LSU, took 2 of 3 from Florida in Gainesville, took 2 of 3 from Alabama in Oxford, took 2 of 3 from Georgia in Oxford, and swept Arkansas in Fayetteville to end the regular season.
Offense:  Ole Miss averaged an impressive 7.6 runs per game despite having only one player with an OPS over 1.000.  That guy would be senior catcher Kyle Henson (.349 BA, .438 OBP, .611 SLG, 8 HR, 31 RBI).  Otherwise they just have a lineup full of guys with .400 OBPs and .500 SLGs.  I don't know if it's better that they don't have a couple of dominant guys, or if it's more scary because anybody can beat you at any moment.
Best OBPs: Junior OF Jordan Henry (.477, with 34 SBs), junior 3B Zach Miller (.440)
Best SLGs: Henson (.611), senior OF Jeremy Travis (.540, with just a .319 OBP), sophomore 2B Tim Ferguson (.530).
Defense:  The Rebels' .952 fielding percentage is second-best in the regional.  It's not amazing, but few in college baseball are.  And of course there are other tools than fielding % (range factor, etc.), but we don't exactly have those stats at our disposal.  We'll just say they're a decent defensive team.
Pitching: Ole Miss's three primary starting pitchers on the year have been sophomore lefty Drew Pomeranz (6-4, 4.16 ERA, 88-31 K-BB in 71.1 innings), junior righty Phillip Irwin (7-3, 3.82 ERA, 59-18 K-BB in 73 innings), and Brett Bukvich (9-3, 4.61 ERA, 65-16 K-BB in 66.1 innings).  They do have a secret weapon, however, in part-time starter-reliver, and Mizzou killer, senior righty Scott Bittle (14 appearances, 6 starts, 5-2, 2.17 ERA, 3 saves, 68-22 K-BB, 45.2 innings).  In last year's NCAA Regional elimination game, Bittle got 13 Tigers out...12 via strikeout.  It sounds like Pomeranz will get the start against Monmouth, meaning UM could go with Irwin, Bukvich, or Bittle should they face Mizzou in Game 2.
In all, the bullpen is quite solid, with four main guys (including Bittle) having thrown 30+ innings with an ERA under 5.00 (three are under 4.00).
Fun Fact:  The Grove rules.  Just ask The Beef.  There's a fact for you.  If it were up to The Beef, Mizzou would play Ole Miss every year in football...all in Oxford.  With maybe a home-and-home with Memphis thrown into the mix.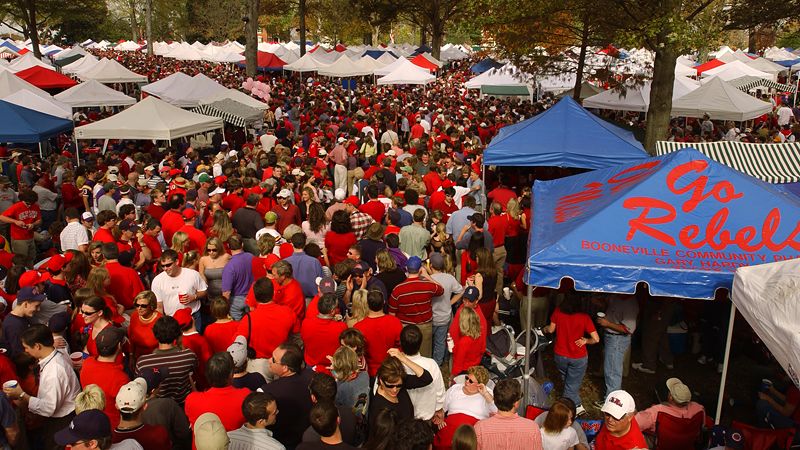 \
Overall Thoughts:  We know all the big national names in college baseball--Strasburg, Ackley, etc.  Ole Miss has none of them.  They just have a ton of different hitters who can beat you and a ton of different pitchers who can get you out.  Their strength is their depth, and they are built to win in an NCAA Regional format.  Hopefully Monmouth will take them down on Friday, obviously, but that's doubtful.  If Mizzou plays Ole Miss (preferrably in the winner's breacket), they will need a complete team effort to match that of the Rebs.