We jump back to the 1950s this time in our look at Mizzou History.  The resources are a bit thinner back then, so this one won't be nearly as long as the book I wrote about 1978, but I'm sure you don't mind.  Also, a lot of the information for this season comes from Bob Broeg's Ol' Mizzou: A Story of Mizzou Football, and everybody needs to try and procure a copy of this book.  Very informative, very uniquely interesting writing style.
First things first: a show of hands.  How many of you actually knew Frank Broyles coached at Missouri?  It was a blink-and-you-may-miss-it stay in Como, but it happened.  When Don Faurot retired at the end of a 4-5-1 season in 1956, Athletic Director Faurot then embarked on a two-month search for Coach Faurot's replacement.  The list of candidates was interesting, to say the least.
According to Broeg, Faurot first offered the job to Perry, but was rebuffed.  Perry decided to stay at Bowling Green, where he would coach until 1964 (becoming athletic director after that--very Faurot-esque), winning a small school national title in 1959.  Faurot gave a long look at Devaney, and you know a loyal guy like Faurot also probably gave long, hard thought to his assistants as well, but he was fixated on Broyles.
The SEC Player of the Year in 1944, Broyles led Georgia Tech to four straight bowls as Yellow Jacket quarterback and had joined Bobby Dodd's GT staff in 1951.  In six seasons as an assistant in Atlanta, Broyles had seen six more bowl games and a national title in 1952.  One problem: Dodd was not yet even 50 years old and looked to be Georgia Tech head coach for quite a while, so Broyles was going to have to go elsewhere for head coaching experience.  He saw in Missouri a lot of the same ambitions and goals as Georgia Tech, and as a small-town boy from Decatur, GA, he found a lot to like in Columbia, and in Faurot himself, for that matter.  From Broeg:
[S]o many big-name coaches told Don how fortunate he was.  Actually, Broyles, the personable Presbyterian deacon of Scotch-Irish-German descent, must have reminded the Old Master of Ol' Mizzou of himself.  Frank did not smoke or drink or swear, either.

Like Faurot, he was a dynamo, but better organized or, at least, better able to delegate authority because he had come from Georgia Tech where Dodd "invented" the modern concept of chairman-of-the-board status for the head coach.  Broyles, who paid his dues as a defensive backfield genius, had learned to put his faith offensively in a refinement of the Split-T called the "belly series," which he pronounced "bailey see-rees."
When Broyles was spurned by a series of Faurot's assistants--Simmons left to focus on baseball, Betty quit coaching, and others found other jobs--he brought in his own guys.  Guys like Jerry Claiborne, future Virginia Tech, Maryland and Kentucky head coach, Jim Mackenzie, future OU coach, and Merrill Green, OU assistant and future high school coaching great.
While there was talent on the sidelines, the amount of talent on the field was debatable.  In the end, Don Faurot's biggest strength as a coach--his loyalty, particularly to the state of Missouri--had also been his biggest weakness.  He rarely strayed beyond the Missouri borders in recruiting, figuring a Missouri kid could do anything as well as an out-of-stater.  But the results from Faurot's last few years disagreed with that notion.  After Faurot's return from World War II, Missouri managed five straight winning seasons to finish the decade of the 1940s.  But in the seven seasons from 1950-56, Missouri went only 26-41-3 with one winning season (1953). 
Faurot had derived a coaching advantage in the late-1930s and early-1940s with his offensive innovation, but while coaching an Army team during the war, another one of his greatest strengths--his humility and his willingness to share his secrets for the betterment of the game--proved a downfall.  Away from Missouri, he coached with guys named Jim Tatum and, to a lesser extent, Bud Wilkinson.  The Split-T was still something of a mystery to others--remember, scouting was a lot harder in the days before prevalent video--and Faurot taught everything about it to Tatum and Wilkinson.  He even said no to bringing Tatum on as an assistant after the war, recommending him for the Oklahoma job instead.  Whoops.
Tatum got the OU job and immediately ushered in a 3-win turnaround (5-5 to 8-3) for the Sooners.  He then moved on to Maryland, leaving the OU job for his protege, Wilkinson.  From 1950 to 1956, either Tatum (1953) or Wilkinson (1950, 55, 56) won four of seven national titles.  Meanwhile, Missouri languished.  Faurot had shared his tricks of the trade to coaches who had a better base of recruiting talent, and a higher desire for recruiting.
Faurot's final teams were tough-nosed and competitive, but they just were not athletic enough to compete with the Oklahoma's of the world.  Broyles caught on to this very quickly.  He did have some talent on the roster, in the form of sophomore quarterback (and future state senator) Phil Snowden, soon-to-be all-conference fullback Hank Kuhlmann (also a star catcher for Hi Simmons' 1958 College World Series team), and star linemen Charlie Rash (a future Mizzou hall-of-famer who was also a good kicker), Jack Keelan, Frank Czapla (future draft pick of the Cleveland Browns) and Merv Johnson (who would twice interview for the Missouri head coaching position in 1977 and 1984 before becoming a mainstay in the Oklahoma football staff).  But the team speed, in particular, was severely lacking, and with games against teams like Bud Wilkinson's Sooners and Bear Bryant's Texas A&M Aggies (the preseason #1 and #2 teams in the country) on the schedule, Broyles would have to figure out creative ways to win games.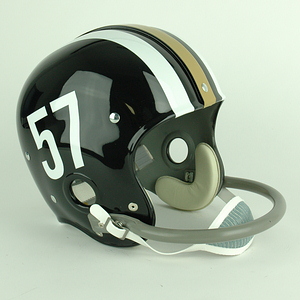 HelmetHut.com:
awesome friggin' site
September 21: Missouri (0-0) at Vanderbilt (0-0)

Missouri's first game with Broyles at the helm was in Nashville, to take on a Vanderbilt Commodore team that was in the midst of one of its more successful spans under coach Arthur Guepe.  Guepe, while recognizing the athletic limitations of such a strictly academic school, wrung out some wins in his tenure.  In 1955, Vandy had started 1-2 and made a dramatic charge, winning seven of eight to end the season and beating #8 Auburn in the Gator Bowl, the last time Vandy would win eight games in a season until 1982.  In 1956, they had managed a 5-5-1 record against a tough slate of SEC teams, and they would field a pretty competitive 5-3-2 team in 1957 as well.
Even against a less-athletic squad like Vandy, Broyles realized he had little discernible athletic advantage.  From the opening kick of the season, Broyles' strategy at Missouri was simple: ball control.  Mizzou's best weapon?  The quick-kicking of Bob Haas.  Missouri had lost nine straight season-openers under Faurot, and while the offense didn't score against Vandy, the defense did the trick in breaking the losing streak.  Linebacker Tom Swaney picked off a pass and returned it for a touchdown, leading to a 7-7 tie.  It wasn't a win, and Vandy wasn't an amazing team, but they were better than anybody Mizzou had beaten in 1956, and this was a pretty good start.
Missouri 7, Vanderbilt 7

---
September 28: Arizona (0-0-1) at Missouri (0-0-1)

In 1957, Arizona could have almost been considered a cupcake.  They were not yet members of the Pac 10--they resided instead in the Border Conference with teams like Arizona State, UTEP, West Texas A&M, and Hardin-Simmons.  They also just weren't very good.  They had yet to beat what would have been considered a major conference team in the 1950s.  The Wildcats were led into battle by rookie coach Ed Doherty, and...it wasn't much of a battle.  Hank Kuhlmann ran over, around, and through Wildcat defenders, Jerry Curtright raced 81 yards for a touchdown, and in Broyles' first home game, against possibly the only team on the schedule over which Mizzou held a significant athletic advantage, the Tigers coasted.
Missouri 35, Arizona 13

---
Next up: Bear Bryant's Aggies come to town, and Mizzou gets hot.