November 4, 1957: the new AP poll is out, and Missouri is ranked #19, their first appearance in the polls since the first week of 1950.  Bafflingly, they even get a first-place vote!  Meanwhile, in the last couple of weeks, #1 Oklahoma, who hasn't lost a game since the first week of 1953, has somehow been passed for the #1 ranking by Bear Bryant's undefeated Texas A&M Aggies.  Talk about disrespect!  Five days later, the angry Sooners and excited Tigers would meet in Columbia for control of the Big 7 Conference.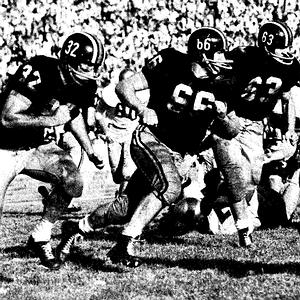 November 9: #2 Oklahoma (6-0) at #19 Missouri (5-1-1)

For the first time in years, Columbia was buzzing about football.  The last few years of the Don Faurot era had gotten pretty dicey.  After an extremely disappointing 1-9 season in 1955, a petition in the Kansas City area started to circulate, calling for Faurot to resign.  He stuck around one more season, and Mizzou bounced back somewhat, but regardless, it had been a long time since Mizzou was even ranked, and even longer since they were a serious threat for the conference title.  This was their chance.
Of course, as Frank Broyles would later say, "We didn't have a chance, and I'm the only one who knew it."  In front of a record crowd of 39,500 in Columbia, Oklahoma did what they had done for most of the previous four seasons (or, 47 straight games): they stomped a mudhole in their opponent.  Mizzou QB Phil Snowden was injured, but that really didn't matter.  OU was just too good.
This game was actually pretty historically notable, and not because of anything Missouri did.  It was the last of OU's 47 straight wins.  The next week, this cover would come out...
...and then this would happen.
It was the birth of the SI Jinx and the death rattle of a winning streak, but that didn't really matter to either Frank Broyles or Mizzou players.  They had earned the moment they wanted, and they had gotten smoked.  It's usually pretty hard to recover from such an emotional letdown.  It was really hard for Missouri.
Oklahoma 39, Missouri 14

November 16: Kansas State (2-5-1) at Missouri (5-2-1)

Mizzou had gotten near the national spotlight by using what Bob Broeg called the "punt-and-pray" strategy.  Play good defense, and quick kick like your life depended on it.  Being so amazingly conservative (not that Broyles had a choice) is a good way to stay close to good teams and maybe even beat them, but it's also a good way to keep bad teams close to you.  The upside of the strategy showed itself on November 2 in Boulder.  The downside, two weeks later in Columbia.
A flat Missouri team didn't have the natural athleticism to run a pretty weak K-State team off the field, and the Wildcats kept things close.  As the game progressed, the visiting Wildcats grew confident and stole momentum.  They ended up rushing for 410 yards against a Mizzou defense in the midst of suffering a major letdown and stealing an upset win that knocked Mizzou even further back on their heels.
Kansas State 23, Missouri 21

---
November 23: Missouri (5-3-1) at Kansas (4-4-1)

They were stomped by a great team and upset by a bad one, and now, with Frank Broyles' first season in Missouri coming to a close, the Tigers were reeling.  QB Phil Snowden was nowhere near 100%, and an MU offense that was never tremendously good was shorthanded without any threat of the pass.  Still, though, they took and clung to a lead in their Border War finale.
KU's Homer Floyd broke open a 72-yard touchdown in the first quarter, but KU missed the PAT, and that made the difference in most of the game.  Mizzou was up 7-6, but Frank Broyles had no confidence in the offense (even less so than before).  With a chance to cushion the lead on 4th-and-inches in KU territory at one point, he punted.  Still, though, Mizzou was driving to clinch the game late when they fumbled inside the KU 15.  KU's offense suddenly got rolling, and behind the legs of Dave Harris, drove into field goal position in the final minute.  Now, there was no such thing as a gimme kick in the 1950s, but a guy named Ray Bames, who had missed the PAT earlier, made a 27-yarder with 0:48 left, and KU had escaped with an unlikely 9-7 win.
Mizzou finished the season in a tailspin, with three straight losses after a dramatic surge to the front of the Big 7 conference standings.  Broyles was absolutely crushed by the Kansas loss, but still...the future looked pretty bright considering how well they had played at times.
Kansas 9, Missouri 7
---
Wrap-Up
Of course, while the 1957 season had some pretty memorable highs and lows, the most notable moment took place after the season was over.  Even as the season was progressing more positively than expected, Frank Broyles was a bit unhappy with what he had discovered about the Missouri job in his time in Columbia.  He knew that Don Faurot and Missouri boosters preferred recruiting Missouri kids over all others--that winning with Missouri kids was better than winning big with out-of-staters.  No problem, he thought.  But what he didn't expect was the lack of big-time high school focus on football throughout the state of Missouri.  From Bob Broeg:
At a speech earlier before Missouri high school superintendents and principals Broyles had fussed about lack of prep emphasis in football.  Leaving MU he decried the absence of spring football in high school and lack of a state prep all-star game.

"There aren't enough small-town schools playing football to make up for a disappointing situation I found in St. Louis city proper and in Kansas City," Broyles told the St. Louis Post-Dispatch.  "Too many of the better high school coaches, the basic football teachers, are leaving the field.  I though, for instance, I could expect 15 to 20 topflight players a year out of St. Louis alone.  Last year we were able to recruit only four."
It was likely pretty clear to Broyles that he could build a competitive program at Mizzou--one that could win more than it lost.  But he wanted to build something elite, something to compete with what he had watched Bobby Dodd build at Georgia Tech, and the likelihood of that, in his perception, wasn't nearly as high as he had once thought.  He was in the process of signing a pretty solid first recruiting class to Missouri--one that included Mizzou's first ever black players--and over time, he would probably be able to slowly bring more and more out-of-state kids into the program (there was no rule forbidding the recruitment of non-local guys...it was just frowned upon). But the lack of athleticism on the 1957 squad, and their crumbling down the stretch, continued to weigh on him.
In early December, Don Faurot had given Arkansas Athletic Director John Barnhill permission to speak with Broyles about the Razorbacks' open head coach position.  He didn't think much of it, really--Broyles had given him his word that the only job he would leave for was Georgia Tech, and as mentioned before, Faurot saw a lot of Broyles in himself.  He thought Broyles, too, had the same to-a-fault loyalty as he did.  Plus, he had worked behind the scenes to assure a pretty sizable raise for Broyles, and the future was pretty bright to Faurot's eyes.
Imagine his shock and surprise, then, when Broyles accepted the job.
Imagine his embarrassment when he was eventually relayed a damning quote from Broyles about Missouri's recruiting approach: "They're living on a cloud up there."
And imagine his pride and satisfaction when, a few years later, Missouri beat Arkansas in Little Rock.  Even a proud, non-vengeful man like Faurot probably enjoyed that at least a little extra.
In all, the Broyles situation was rather unfortunate.  Faurot thought he had found the guy to take Missouri through the next 25 years, and Broyles thought he had found his destination job, but things didn't work out that way.  And in the end, both Missouri and Broyles probably ended up as good or better off with his departure.  Broyles would win a national title in Fayetteville in 1964, while Missouri would almost win one in 1960 and churn out one of the winningest programs of the 1960s under Broyles' replacement (and Faurot's true successor) Dan Devine*.  And who knows, maybe Broyles' call for more focus on football in Missouri high school athletics spurred on some progress!
* Dan Devine, who, by the way, recruited plenty of out-of-staters.