I think I've established a strategy for tackling these seasons.  So far we've looked at 1957, 1965, 1978, and 1984.  We'll next create starting points for 1995 and 1939, and from there we'll begin to follow developing narratives.  What I mean is, we'll take a look at 1966, then 1985, then 1979, etc.  The years chosen thus far have been relatively evenly spaced, so this seems like a decent strategy to me.  If you have requests for a specific year or something, feel free to pass it along--I was going to attempt 1992 via request, but I don't have the resources to pull that season off yet, so we're going with 1995 with our main weapon, the Columbia Tribune archive.  So without further adieu, bring on Corby Jones's (and The Beef's) freshman season!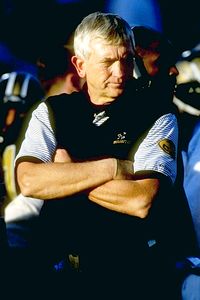 Via Getty Images
In December 1993, Larry Smith was chosen as the new Missouri Head Coach by outgoing Athletic Director Dan Devine.  He got the nod--recommended to Devine by Joe Paterno, Bo Schembechler, and Darrell Royal--over candidates like Vince Tobin, Washington State head coach Mike Price, new Northwestern coach Gary Barnett, primarily because of toughness and grind-it-out style.  Missouri had just gone through an unsuccessful attempt at a pass-first offense under Bob Stull (Stull really was ahead of his time in terms of the spread), and Smith represented a return to the old school.  Three yards and a cloud of dust, et cetera.
Smith inherited a team that was handicapped by a) some of the worst facilities in the Big 8 and b) a lack of talent.  And the talent they did have in no way fit Smith's offensive style.  This would be a lengthy rebuilding process, and anybody grounded in reality knew that.  And those who didn't know it before 1994 knew it afterward.
The 1994 season, Smith's first in Columbia, saw a 3-8-1 record with wins over just Houston (1-10 in '94), Oklahoma State (3-7-1), and Iowa State (0-10-1), and a tie against Hawaii (3-8-1).  The far-from-smooth turnover from Stull's offense to Smith's led to a lot of true freshmen getting playing time, and the growing pains were both predictable and, well, painful.
Heading into 1995, Smith saw at least a bit of promise.  Brock Olivo, one of the Big 8's best freshmen in 1994, led a deep backfield.  He looked to carry a majority of the load while Kenyatta Williams, a junior Indiana transfer, and Devin West, a freshman from Moberly, tried to sneak into the rotation.  Promising sophomore fullbacks Ernest Blackwell and Ron Janes returned as well.  It was still a young backfield, but Olivo and Janes had gotten plenty of experience in 1994 while Blackwell recovered from a dislocated toe.
A stable of young-but-promising backs would be running behind a young-but-promising line, led by sophomore Mike Morris, junior Russ Appel and senior Chris Buck.  A series of solid true and redshirt freshmen waited in the wings.
At quarterback was an intriguing prospect: Brandon Corso, a record-setting quarterback from Virginia who had chosen to attend Mizzou to work with Dirk Koetter, Stull's offensive coordinator (and future Boise State and Arizona State head coach).  He stuck around when Smith came to town, and while he did not seem to be a perfect fit for Smith's rushing offense, his arm held some promise.  Plus, he had more mobility than Jeff Handy--another guy meant for Stull's offense instead of Smith's--did in 1994, which was clearly a plus.  Highly-touted true freshmen Corby Jones and John McArthur waited in the wings if Corso failed, but surely one of them wouldn't be needed in 1995, right?
Corso was regarded as a solid passer, but to whom would he throw?  Rashetnu Jenkins, a promising junior (who made the most amazing one-handed catch I've ever seen in person in 1993), began the season under suspension after being accused of rape, so pass-catching duties looked to go to speedy-but-hands-challenged freshman Martez Young, former walk-on Jay Murchison, junior Lou Shepherd and tight end Bill Lingerfelt.
On defense, there were plenty of question marks, but there was promise in the form of junior DT Steve Martin and an exciting secondary led by junior Illinois transfer Demontie Cross, sophomores Shad Criss and Terrance Binion and true freshmen Caldrinoff Easter, Harold Piersey and Randy Potter.
Heading into the 1995 season, two things were certain: 1) this team was still extremely young, with quite a few members of the 1994 and 1995 recruiting classes looking at significant playing time, and 2) this team's identity would focus mostly around Brock Olivo, one of the weirdest, greatest Mizzou personalities in recent memory.
Those closest to him embrace his makeup, but they are also a bit mystified by it.

"I'm not sure why he is like he is," said David Olivo, Brock's father.

...

Olivo's workouts became the lore of strength coach Dave Toub, who said it was not unusual for Olivo to run the steps at Memorial Stadium and ask for more.

"He'd say, `I don't feel like I got anything out of the first workout, can I run again?' " Toub said. "I've never seen anyone train as hard as Brock
Olivo. His work habits are contagious, and I think he was an inspiration to everyone this summer."

Now other athletes -- from MU football players to the tiniest tots in his home town of Washington -- are searching for ways to emulate the Tigers' top running back.
With so much unproven youth, it was unlikely this team could put things together and earn Mizzou's first bowl bid since 1983, but growth was the key to 1995.  There had not been much of it in Larry Smith's first season.  Step by step, this team would need to start from scratch in learning how to win, how to end slumps quickly, and how to hold a lead.  It would by quite the touch-and-go project.
September 2: North Texas (0-0) at Missouri (0-0)

Here is how the first three minutes of the 1995 season played out for Larry Smith's second Missouri team:
On the opening kickoff of the season, Kenyatta Williams returns the kickoff 98 yards for a touchdown, Missouri's first kick return TD in 13 years.  Oranges rain down on the field (Remember, this was back when the Big 8 champ went to the Orange Bowl--of course, Missouri fans were still doing this to celebrate the first TD of the year until about two years ago.  Dumb.).  A ref picks through the half-burst oranges to unveil a yellow flag that had been thrown on the ground.  Illegal block, Missouri.  No touchdown.  (Missouri would then go another 12 years without a kickoff return TD until Jeremy Maclin took care of matters.)

On the opening drive, Jay Murchison sneaks open deep downfield for a sure touchdown...and drops the pass.
After these miscues, Missouri is forced to punt...only, they can't get set up right and have to burn a timeout.
Against North Texas--a team returning to 1-A competition after spending 12 years in 1-AA--it didn't matter.  Mizzou dominated in the trenches, and ran for 347 yards in 60 attempts (Brock Olivo ran for 129 yards, Ernest Blackwell for 92 on just five carries, Devin West for 88, and Kenyatta Williams for 45).  Meanwhile, Clayton Baker intercepted three Mean Green passes.  Mizzou got up early and coasted.  But there were fumbles, penalties, and dropped passes throughout.  They would have to show more against Bowling Green the next week.
Signs of life: In a season that was almost certainly not going to result in a bowl game, it was important to specify signs of life for 1996 and beyond from game to game.  Against North Texas, there were plenty of them despite the mistakes.  Almost the entire backfield was made up of freshmen and sophomores, and they were too much for the Mean Green defense.
The game was also notable for one other reason: it marked the return of natural grass to Faurot Field after nearly a decade of Omniturf.  Never mind how iffy the Omniturf surface was--it's hard to grind out three yards and a cloud of dust without dust.  Plus, as Smith noted, it was hard to practice on the Omniturf when nobody wanted to actually hit the ground and land on what was basically concrete.
Missouri 28, North Texas 7

---
September 9: Bowling Green (0-1) at Missouri (1-0)

Next up for Mizzou: Gary Blackney's Bowling Green Falcons.  Bowling Green had been the class of the MAC for most of the 1990s, averaging 9.0 wins a year from 1991-94.  Blackney was a pretty hot coaching prospect for a while, but stuck with BGSU until 2000, when his program began to slip and he was replaced with Urban Meyer.
In all this was a great opportunity for Mizzou to start 2-0 for only the second time in twelve seasons--and any chance of a bowl bid hinged on their going at least 3-1 in non-conference play--but Bowling Green would have other ideas.  For the second straight week, Mizzou made a ton of mistakes, and BGSU was good enough to take advantage.
As is often the case, it started well enough.  Mizzou kicked a field goal on its opening drive, got the ball back, and scored quickly on a 29-yard run by Brock Olivo in which he dove over defenders at the goalline.  It was 10-0 Mizzou very early on in the second quarter, but his team had little to no experience in playing with and holding a lead.  They clammed up.
Mizzou was still up 10 in the third quarter when Ernest Blackwell fumbled the ball away.  Three plays later, it was 10-7.  After a long pass to Lou Shepherd was negated by penalty on the next drive, Bowling Green got the ball back, and against a suddenly conservative Mizzou defense, Falcon QB Ryan Henry completed 10 straight passes.  BGSU scored again late in Q3 to go up 14-10.
Mizzou still had a chance, however.  After Brandon Corso pulled a hamstring, backup QB Misael Alvarado drove Mizzou to the BGSU 10, but Devin West was stuffed on a 4th-and-1, and that was the last chance Mizzou got.  This loss was far from a "shocker" (they had lost to a bad Tulsa team in '93 and tied a bad SMU team in '92), but it was distinct proof that Missouri still had a long way to go.
Signs of life: In an extremely disappointing loss, only Olivo stood out.  But he was a sophomore, as were the guys paving the way for him.  Plus half the offensive line was made of freshmen and sophomores as well.
Bowling Green 17, Missouri 10

---
September 16: Missouri (1-1) at Texas Tech (0-1)

A disappointed Mizzou team then had to make the tough trip to Lubbock to face a rock-solid edition of the Texas Tech Red Raiders.  Tech was in the middle of its most successful stretch under coach Sonny Dykes.  They had gone to the Cotton Bowl in 1994 and would end up winning nine games in 1995 on the legs of Byron "0.0 GPA" Hanspard.
Hanspard had an easy day against the Tigers (via)
Mizzou came to town a week after Tech had almost upset Penn State in the Nittany Valley.  The workhorse Hanspard didn't have to do much in this one.  He only needed 14 carries to rack up 117 yards, and Brandon Corso, who was uncertain all week with a hamstring injury, got lit up by two Texas Tech defenders and left the game after 20 minutes with a bruised elbow.  Adding further insult, Steve Martin partially tore his PCL and would be out for three weeks.
In the end, Mizzou was able to keep up with the Red Raiders for a while offensively--Lou Shepherd had two huge catches in the first half--but Tech rushed for over 300 yards, and while Tech QB Zebbie Lethridge was only 6-for-24 passing, he averaged 25 yards per completion, and in the end Mizzou just could not stop Tech.  The offense lost the Bowling Green game; the defense lost the Tech game.
Signs of life: This time, we look to a super-young Mizzou secondary that held Tech to a 25% completion rate.  Yes, there were breakdowns, but things looked good for 1996 and beyond.
Texas Tech 41, Missouri 14

---
September 23: UL-Monroe (1-2) at Missouri (1-2)

When you schedule cupcakes, the idea is to win pretty easily, build up some confidence, and get some young players some experience.  While Bowling Green was a good enough program to not be considered a cupcake, North Texas and UL-Monroe (then known as NE Louisiana) were.  Mizzou had handled UNT with little problem, but Directional Louisiana was a different story.
Once again, it started well enough.  Brock Olivo was unstoppable early, scoring on Mizzou's first two possessions and putting up a third TD before half.  Mizzou's defensive gameplan was strong, and Mizzou went up 28-7 at half.  Mizzou was giving two true freshmen--WR Eddie Brooks and OL Tim Mittelstadt--their first starts, and so far it was paying off.
But as had happened against BGSU, the offense took the third quarter off, and the defense grew conservative.  NE La QB Raymond Philyaw completed seven straight passes, and after blowing a goal-to-go situation early in the third quarter, the Indians scored on the next drive to cut the Tiger lead to 28-14.  Walking wounded Brandon Corso made the situation worse by throwing an interception on the next drive.  Four plays later, it was 28-22.  Of the 38,000 in attendance, those who remained started booing.  Mizzou was about to complete another horrifying collapse.  And that was before Brock Olivo fumbled.
The Mizzou defense, however, got aggressive again, and forced a missed field goal.  The Mizzou offense responded with a 15-play drive--on which Olivo carried the ball 12 times--that resulted in a game-clinching field goal.  Mizzou was 2-2.  Despite the untimely fumble, the moment belonged to Olivo, who finished with 222 yards rushing and became only the second Mizzou back ever to reach 1,000 career rushing yards in his sophomore season.
Signs of life: Olivo made yet another statement--he would clearly have a chance at Mizzou's all-time rushing record in a couple years.  Plus, despite momentarily clamming up, the young Mizzou defense still played well for about three quarters.
Missouri 31, UL-Monroe 22

---
Next up: Conference play gets a big ugly.