I'm pulling together info for my next season write-up--1958--and I just couldn't wait to share what has to be one of the most gut-wrenching half-minutes in Missouri history.  There are Forgotten Classics, and then there are Forgotten Classics.
Let's experiment here.  Close your eyes for a second.  Allow yourself to drift back to the evening of November 24, 2007.  Arrowhead Stadium.  It's the biggest game in the history of the Border War.  Missouri has led throughout, but a 21-point lead has been whittled down to six.  They give Kansas the ball back with under 30 seconds to go and almost the entire field to go. 
You with me so far?  You know what happened in 2007--the "Sod Reesing" incident.  One of the most fulfilling moments in Mizzou history.  The Mizzou defensive line meets at the quarterback, and Todd Reesing is piledrived into the turf in the endzone, clinching a Mizzou victory, the North title, the #1 ranking, etc.  The moment is well-documented, to say the least.
Now imagine this scenario: instead of getting sacked, Reesing finds Dezmon Briscoe for a miraculous 89-yard touchdown.  Chaos ensues at Arrowhead.  Kansas is just an extra point away from winning the game, moving on to the Big 12 Championship Game, advancing to #1 in the country, and scoring eternal bragging rights...
...and Mizzou blocks the PAT.  Tie game.  Of the 80,537 in attendance, and the millions watching around the country, how many Mizzou and Kansas fans would have dropped dead somewhere in that sequence?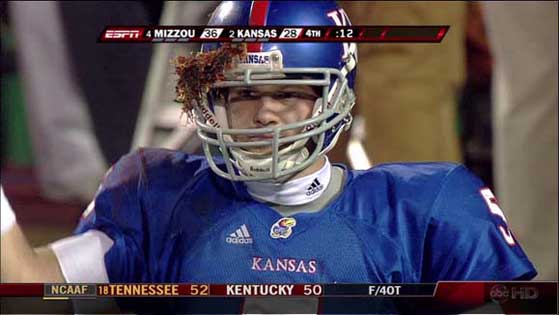 What if...no Sod Reesing?  What if KU had miraculously scored in those final seconds?  And then Mizzou had blocked the PAT?  Welcome to 1958.
Granted, the game in 1958 was much less significant than what took place in 2007, and in 2007 there would have been the most ulcer-inducing overtime ever played (seriously, I don't know if I could have watched that...), but that's pretty much what happened.  Mizzou took a 13-0 lead into the fourth quarter, and a completely ineffective Kansas offense suddenly found its bearings.  They scored to cut the lead to 13-7, and with time running out, Mizzou attempted a game-clinching field goal and missed.  On the next play, Homer Floyd caught an 80-yard touchdown pass with only 18 seconds left.  A point away from disastrous defeat, Mizzou's Dale Pidcock--who had been injured most of the season and came back just in time for the KU game--broke through the line and blocked the PAT, salvaging a tie.  Mizzou went from certain victory, to certain defeat, to a tie in less than 30 seconds.  Mizzou fans had to be both crestfallen and relieved at the same time.  If that happened today, even under 1958 circumstances--two MU and KU teams near .500, nothing on the line other than bragging rights--that would have just been the most harrowing ending to a game.