Due to a number of factors--desire to use BTBS numbers right now for something other than Bowling Green analysis, annoyance at the quickly-forming "Nebraska is obviously almost back" consensus (how many times have we heard that since 2001?), etc.--I thought I'd take some time and lay out some North Division analysis based on the unit rankings* that I've been using for the BTBS previews the last two weeks.
As I've mentioned before, the unit rankings are a work in progress, but they're at least a place to start.  Clearly I think Missouri's WR/TE corps was better than #25 in the country last year (meanwhile, their O-line was good, but probably not #5 in the country), but for the most part they seem like a good jumping-off point.  Again, I can go into detail on this if I need to, but I'm working with the assumption that nobody cares that much about the methods.  If I'm wrong, let me know.
Before we jump in, however, I'd like to post a graph.  It represents each North team's point differential in their ten North division games in 2007-08.  This should also be part of any jumping-off point for analysis of the North.
Mizzou went 9-1 versus the North in 2007-08, with only a last-second loss in a rivalry game marring a perfect record.  Their per-game point differential was +25.8.  Yes, they technically tied for North titles with Kansas in 2007 and Nebraska in 2008, but make no mistake: they destroyed the North.  Kansas was 8-2, but with only a differential of +12.0.  Nebraska: +1.4.  Colorado: -14.4.  Yes, Mizzou has lost a ton of talent, but...25 points' worth per game?  40?
Alright, with that out of the way, let's get started.  Today, we look at offense.  Tomorrow, defense.  For each unit, I'll look at the 2008 unit rankings, try to perceive who has risen or fallen since last year, and come up with rough rankings for this year.  And I'm going to try my best to keep my own personal biases out of the equation (for proof, simply look at the QB rankings).
OFFENSE
Quarterbacks
2008 Rankings
Missouri (#11 in the country)

Nebraska (#13)

Kansas (#27)

Kansas State (#65)
Iowa State (#92)
Colorado (#113)
Missouri, Kansas Nebraska and Kansas State lose their starters, leaving Todd Reesing a clear #1.  Everybody can agree on that.  But what about after that?  Austen Arnaud and Cody Hawkins return, but they were ranked very low.  Conservatively, let's rank Arnaud and Hawkins #2-3, simply because they are known quantities (in Hawkins' case, too known, I think).  Who's #4 among MU's Blaine Gabbert, NU's Zac Lee, and KSU's Carson Coffman (or Grant Gregory)?  Taking away the junk time work that Gabbert and Coffman/Gregory have gotten, the only other thing we have to go by is recruiting profile.  Gabbert was a 5-star recruit, Lee a 4-star JUCO, Coffman a 2-star, and Gregory a 2-star.  I like Coffman, but for this exercise I'm trying to take my own opinions out of the equation for now, simply because I'm biased.  So we're going to rely totally on my own numbers and external factors like recruiting rankings.  So despite the fact that my list would look different than this, here's what we come up with:
Tentative 2009 Rankings
Kansas
Iowa State
Colorado
Missouri
Nebraska
Kansas State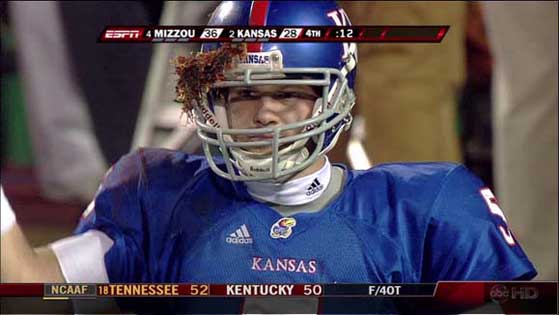 If another picture of Todd Reesing exists, I haven't seen it.
Running Backs

2008 Rankings
Missouri (#16)

Nebraska (#20)
Kansas (#69)
Iowa State (#90)
Colorado (#107)
Kansas State (#119)
The BTBS numbers do NOT like Lamark Brown and Logan Dold, apparently.  Anyway, basically everybody returns most key contributors--Derrick Washington, Roy Helu, Jr., Jake Sharp, Alexander Robinson, Darrell Scott/Rodney Stewart, Lamark Brown/Keithen Valentine/Logan Dold (though Dold may have been moved to defense).  Therefore, we won't change the rankings much.  I could see moving CU ahead of ISU simply because Stewart and Scott were both hurt a bunch, but again...we're trying to deal as much as possible with known quantities.
Tentative 2009 Rankings
Missouri

Nebraska
Kansas
Iowa State
Colorado

Kansas State
From the Missourian.  D-Wash: good.
Wide Receivers / Tight Ends

2008 Rankings
Kansas (#23)

Missouri (#25)
Nebraska (#27)
Kansas State (#48)
Iowa State (#96)
Colorado (#110)
Well, first things first: CU had one reliable weapon--Josh Smith--and he's gone.  So it's safe to say they're staying #6.  And with the return of Dezmon Briscoe and Kerry Meier, KU stays #1.  Missouri loses Maclin and Coffman, so they'll fall.  Nebraska loses Swift and Peterson, so they'll fall.  Iowa State returns everybody, but they don't make up enough ground.  Really, I think KSU slides into the #2 spot here with Brandon Banks and Deon Murphy returning.  So that leaves Mizzou vs Nebraska for #3.
Career stats for projected top three receivers and top tight end:
Missouri: Danario Alexander (78 catches, 997 yards, 8 TDs), Jared Perry (91 catches, 1148 yards, 7 TDs), Jerrell Jackson (9 catches, 98 yards), Andrew Jones (20 catches, 146 yards).  Total = 198 catches, 2389 yards, 15 touchdowns, 12.1 yards per catch, one TD every 13.2 catches).
Nebraska: Menelik Holt (34 catches, 452 yards, 1 TD), Niles Paul (24 catches, 220 yards), Chris Brooks (3 catches, 31 yards, 1 TD), Mike McNeill (33 catches, 467 yards, 6 TDs).  Total = 94 catches, 1170 yards, 8 touchdowns, 12.4 yards per catch, one TD every 11.8 catches).
The per-catch stats are extremely similar, with a slight advantage to NU, but Mizzou has by far the experience advantage.  And if I'm giving Cody Hawkins an experience advantage...well...
Tentative 2009 Rankings
Kansas

Kansas State
Missouri
Nebraska
Iowa State
Colorado

What If...
Offensive Line

2008 Rankings
Missouri (#5)
Kansas State (#20)
Kansas (#25)
Iowa State (#60)
Nebraska (#61)
Colorado (#102)

Offensive line rankings are based on line yards and sack rates (adjusted, as always, for strength of schedule), in case you were wondering.  Anyway, Mizzou was a clear #1 in the North last year, and with the return of Tim Barnes, Kurtis Gregory, and Elvis Fisher, and the seeming emergence of Dan Hoch this spring, they will stay #1.  K-State's line, led by Nick Stringer and potential stars like Clyde Aufner and Colten Freeze, actually looks pretty solid as well.  Iowa State returns four OL starters and a good blocking TE in Derrick Catlett--they have the most combined returning starts in the North.  Nebraska does have to replace probably their best overall OL (to me, at least) in Lydon Murtha, but their experience level is solid.  Colorado's line is full of good recruits, but they were so young, thin, and injury-prone last year that there's no telling what their ceiling is.  But they were so far in last place here that they'll stay there.
So pretty much everybody stays in the same order...but what to do with Kansas?  They were quite far ahead of ISU and NU, but they return a mere 26 career starts, easily the lowest in the conference as a whole.  This could be the offense's Achilles Heel, and with improvement possible from ISU, I'll squeeze KU between the 'Clones and the Huskers.
Tentative 2009 Rankings
Missouri

Kansas State
Iowa State
Kansas
Nebraska
Colorado

Photo by Andrew Worrall, via The Columns
OFFENSE SUMMARY

Alright, so to get a general, reasonably unscientific way of judging the talent level here, let's simply add everybody's rankings together and see what happens.  Lowest number = best, obviously.
Tentative 2009 Offensive Ranking
1T. Missouri (9)
1T. Kansas (9)
3. Iowa State (14)
4T. Nebraska (16)
4T. Kansas State (16)
6. Colorado (20)
I honestly didn't know how the numbers would play out when I started that exercise, but it does make some sense.  For all the loss analysts mention when talking about Missouri, it only affects the passing game side of the equation.  Missouri still has the division's best running back and best offensive line, and with the right approach and play-calling, those strengths can take a large load off of Blaine Gabbert's shoulders.  Plus, Gabbert does have two extremely experienced, relatively proven quantities in Perry and Alexander at WR (assuming they're healthy).  I'd still give a slight nod to Kansas overall*, but there is at least some cause for optimism for Mizzou this year.
* This is 90% honesty and a 10% attempt at a jinx of Kansas.  Jinx...JINX...NOONAN!
Tomorrow we look at defenses.  Does Nebraska have enough of a defensive advantage to make up for a lacking offense?