For other seasons, go here.
In Part Two, we saw Mizzou bounce back from a disappointing 1-3 start--one that saw them blow multiple red zone opportunities each week and squander a 19-point lead against SMU.  Dan Devine pulled out all the stops to get the team moving, and Mizzou whooped Kansas State and crept by Iowa State despite injuries piling up.  How did they finish the season?  Let's take a look.
But first, timeout.  One thing I haven't been doing a good enough job of in these write-ups is describing the college football landscape as a whole in a given year.  For instance, while the Frank Broyles drama was playing out in 1957, who was winning the national title?  Oklahoma?  Notre Dame?  Ohio State?  Nope.  Auburn.
Billy Cannon, Warren Robb, and your 1958 national champion LSU Tigers.
As for 1958, things were pretty topsy-turvy early in the season.  Ohio State started the season at #1 before being overtaken (without losing) by Oklahoma.  In turn, Oklahoma (without losing) fell from the top spot, replaced by Auburn.  A week later, Auburn lost it (without losing) to Army.  Then, on October 27, it was LSU.  A month earlier, they were unranked.  But after whipping Rice, Alabama, Hardin-Simmons, Miami-FL, and Kentucky (none of whom ended up better than 6-5), there they were.  Oklahoma lost to Texas, while Auburn, Ohio State, and Army all tied mediocre opponents, and when LSU beat Florida at home, 10-7, they moved to #1. 
Without Auburn on the schedule (why??), they never relinquished the top spot.  They beat a very good Ole Miss team, 14-0, and whipped Duke before almost falling to an iffy Mississippi State team.  They beat the game Bulldogs, 7-6, in Jackson, and luckily for them, #2 Iowa lost to Ohio State.  Auburn (undefeated, with only the tie as a half-blemish) almost caught them at #1 but didn't; LSU crushed Tulane in the season finale and wrapped up their first (and only, until 2003) national title.  A year after winning the title, Auburn went 9-0-1 but couldn't make it back-to-back titles thanks to the SEC's other Tigers and their unblemished slate.
In the end, due probably to more regional football coverage, an insane THIRTEEN teams finished the season with at least one first-place vote in the AP Poll.
Final 1958 AP Top 10
LSU (10-0) - 130 first-place votes

Iowa (7-1-1) - 17 first-place votes
Army (8-0-1) - 13 first-place votes
Auburn (9-0-1) - 9 first-place votes
Oklahoma (9-1) - 10 first-place votes
Air Force (9-0-1) - 2 first-place votes
Wisconsin (7-1-1) - 13 first-place votes
Ohio State (6-1-2) - 3 first-place votes
Syracuse (8-1) - 1 first-place votes
TCU (8-2)
Also receiving first-place votes: #11 Ole Miss (8-2), #12 Clemson (8-2), #17 Notre Dame (6-4, typical), #20 Rutgers (8-1).
1958 Bowl Games (which came after the final polls)
Tangerine Bowl: East Texas State 26, Missouri Valley 7
Sun Bowl: Wyoming 14, Hardin-Simmons 6
Bluegrass Bowl: #19 Oklahoma State 15, Florida State 6
Gator Bowl: #11 Ole Miss 7, #14 Florida 3
Cotton Bowl: #10 TCU 0, #6 Air Force 0 (thrilling)
Orange Bowl: #5 Oklahoma 21, #9 Syracuse 6
Rose Bowl: #2 Iowa 38, #16 California 12
Sugar Bowl: #1 LSU 7, #12 Clemson 0
Okay, now that THAT's out of the way, back to your regularly-scheduled Mizzou programming.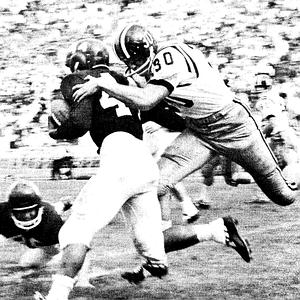 November 1: Mizzou (3-3) at Nebraska (2-4)

It's weird to type these words, but before the schedule got rough again, Missouri had the opportunity for an easy road trip to Lincoln to get themselves above .500.  The Huskers were smack in the middle of their worst era of football--it was still four years until Bob Devaney would would apply the Miracle Max Miracle Pill to the mostly-dead Husker program.  After a 1-9 season in 1957, NU had started 1958 with promise--a 14-7 win over Penn State.  However, they rode a three-game losing streak into November, having been waxed by K-State (23-6), Syracuse (38-0), and Colorado (27-16).
They were no contest for Devine's hot Tigers.  QB Phil Snowden was still out due to injury, but Bob Haas's work behind center was perfectly sufficient.  After a low-scoring first half, Mizzou caught fire.  Hank Kuhlmann, healthy after being banged up a good portion of the year, burned the Huskers up the middle for an 86-yard touchdown run in the third quarter, Mizzou's longest run since Harry Ice went for 90 yards in 1945.  A case of fumble-itis killed Nebraska, and Mizzou pulled away, absolutely crushing the Huskers.
Improbably, Mizzou not only had a winning record overall at 4-3, but they were also 3-0 in the Big 7 and tied for first place.  They controlled their own destiny in the conference title race--beat back-to-back Top 10 teams in Colorado and Oklahoma over the next two weeks, and the Tigers would head to the Orange Bowl.
Mizzou 31, Nebraska 0
---
November 8: Colorado (5-1) at Mizzou (4-3)
At this point, Missouri was 3-0 in conference, but they hadn't actually knocked out any heavy hitters here.  The conference's heavyweights that year were Colorado and Oklahoma.  Led by future Green Bay all-pro Boyd Dowler, Colorado was a sleeper pick to win the Big 7 that year, but they had suffered a very disappointing 23-7 loss to Oklahoma the week before.  If you want further proof that the polls were volatile in those days, look no further than this: despite the fact that the game had played closer than its 16-point final margin, and despite the fact that OU was, well, OU, Colorado fell all the way from #9 to unranked after the loss.  Ouch.
Knowing that any hope of them still making the Orange Bowl required a win over Mizzou, the Buffs started strong.  Completely shutting down the Mizzou attack, they held a 9-0 lead late in the third quarter.  But Phil Snowden, returning from injury and wearing a protective fiberglass vest (think of how comfortable THAT must have been), brought Mizzou back.  With their own Orange Bowl hopes on the line (ahem, pay no attention to the fact that I already revealed who played in the Orange Bowl), the Tigers scored on a bootleg touchdown pass from Snowden to Russ Sloan.
Mel West, hurdling from two different angles.  Thanks again, Savitar.
The pro-Missouri momentum swing turned into an avalanche.  The first play after the kickoff, the Buffs fumbled, and Mizzou recovered.  After a nice Hank Kuhlmann run, Snowden faked a pitch out and rolled left for a 16-yard touchdown.  Mizzou had taken the lead, and they continued to pile on.  More fumbles and more touchdowns.  And then, to cap things off, Fred Brossart returned a punt 87 yards for a touchdown.  For about 44 minutes, Colorado had completely dictated the game.  Over the last 16, Mizzou violently turned the tables.  The history books show this one as a laugher, and despite the struggles of the fourth quarter, that's what it turned out to be.
From Dan Devine's biography, Simply Devine:
That game, which was at home, really energized our fans.  I found out Missouri's pattern in recent years had been to play good teams tough for a half or three quarters, then manage to lose the game in the last 15 minutes.  This game kind of reversed that trend, and nobody was happier than me.

Some of the alumni were so revved up by that game, they wanted to make certain I didn't become upset like Broyles had the previous year and decide I wanted to leave after the season was over.  They discussed ways to make certain I stayed, and eventually came up with an insurance policy worth $250,000.  They paid the premiums, and the IRS ruled the money was a gift.  The policy called for my family to get the money if I died, or I would receive it after 20 years if I stayed in Missouri.  When I became tenured in 1963 it became even more attractive.
Mizzou 33, Colorado 9

---
November 15: Mizzou (5-3) at #6 Oklahoma (6-1)

For the second straight year, Mizzou met Oklahoma with a chance at the conference title.  For the second straight year, the game was no contest whatsoever.  Despite the fact that the heartbreaking 15-14 loss to Texas, a two-touchdown underdog, had effectively ended their national title hopes, this was a stout Oklahoma team.  And despite their 4-game winning streak, Missouri was still undermanned.  As the Savitar put it, "It was like pitting David against Goliath...without his slingshot."  Oklahoma had no trouble clinching their astounding thirteenth consecutive conference title.  Sooner back Prentice Gautt ran wild, and from a Mizzou standpoint, the most notable thing about the game took place after the contest.  From Bob Broeg's Ol Mizzou: A Story of Missouri Football.
The game was no contest, 39-0, assuring the Sooners a thirteenth consecutive conference championship.  But an astounding thing happened afterward.

The emotional Devine leaped onto the trainer's table in the cramped dressing room at Owen Field.  In a trembling voice, the black Irishman said, "I promise you seniors that two years from now when these sophomores return to Norman, we'll beat Oklahoma and dedicate the game to you."

A bold promise, indeed.  Missouri had not won in the red-clay country since 1936.
As Mizzou fans and players would learn two years later, Dan Devine was a man who kept his promises.
Oklahoma 39, Mizzou 0

---
** FORGOTTEN CLASSIC **
November 22: Kansas (4-5) at Mizzou (5-4)
Charlie Rash gets riled up on the sideline.
We've talked about this one already.  Let's do it again.
Close your eyes for a second.  Allow yourself to drift back to the evening of November 24, 2007.  Arrowhead Stadium.  It's the biggest game in the history of the Border War.  Missouri has led throughout, but a 21-point lead has been whittled down to six.  They give Kansas the ball back with under 30 seconds to go and almost the entire field to go. 
You with me so far?  You know what happened in 2007--the "Sod Reesing" incident.  One of the most fulfilling moments in Mizzou history.  The Mizzou defensive line meets at the quarterback, and Todd Reesing is piledrived into the turf in the endzone, clinching a Mizzou victory, the North title, the #1 ranking, etc.  The moment is well-documented, to say the least.
Now imagine this scenario: instead of getting sacked, Reesing finds Dezmon Briscoe for a miraculous 89-yard touchdown.  Chaos ensues at Arrowhead.  Kansas is just an extra point away from winning the game, moving on to the Big 12 Championship Game, advancing to #1 in the country, and scoring eternal bragging rights...
...and Mizzou blocks the PAT.  Tie game.  Of the 80,537 in attendance, and the millions watching around the country, how many Mizzou and Kansas fans would have dropped dead somewhere in that sequence?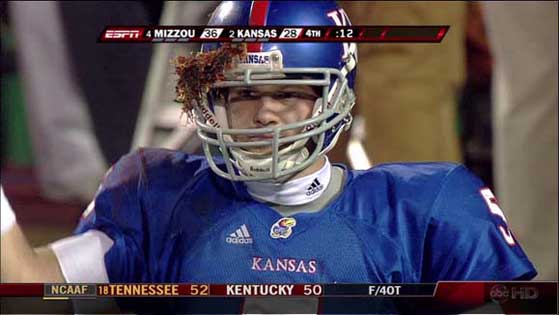 What if...no Sod Reesing?  What if KU had miraculously scored in those final seconds?  And then Mizzou had blocked the PAT?  Welcome to 1958.
Granted, the game in 1958 was much less significant than what took place in 2007, and in 2007 there would have been the most ulcer-inducing overtime ever played (seriously, I don't know if I could have watched that...), but that's pretty much what happened.  Mizzou's hopes for a surprise Big 7 title were out the window after the whooping they took in Norman the week before, and with few bowl games available, this game was for pride.  Of course, this was Kansas, and Dan Devine almost always got his team up for Kansas, going 8-3-2 in his 13 seasons in Columbia.
Sure enough, Mizzou came out ready to dominate.  Powered by Mel West's 102 rushing yards, they took a 13-0 lead into the fourth quarter, but it should have been bigger.  Mizzou missed out on a series of scoring opportunities, due mostly to the play of KU's Homer Floyd, who made a series of game-saving tackles.
In the fourth quarter, a completely ineffective Kansas offense suddenly found its bearings.  They scored to cut the lead to 13-7, and with time running out, Mizzou attempted a game-clinching field goal and missed.  (Devine later admitted regretting the decision for a field goal attempt.)  On the next play, Floyd caught an 80-yard touchdown pass with only 18 seconds left.  It was an absolute dagger.
Eight days earlier, Mizzou had dreams of the Orange Bowl.  Now they were staring a .500 record in the face.  But the craziness wasn't over yet.  A point away from disastrous defeat, Mizzou's Dale Pidcock--who had been injured most of the season and came back just in time for the KU game--broke through the line and blocked the PAT.  Mizzou went from certain victory, to certain defeat, to a tie in less than 30 seconds.  Mizzou fans had to be both crestfallen and relieved at the same time.  If that happened today, even under 1958 circumstances--two MU and KU teams near .500, nothing on the line other than bragging rights--that would have just been the most harrowing ending to a game.
Kansas 13, Mizzou 13

---
Wrap-Up
After twelve months of uncertainty, drama, poor play, and great play, the 1958 Mizzou team went out and put up exactly the same record as the 1957 team had: 5-4-1.  Dan Devine had taken a young team that didn't know how to win and saw it blow many early scoring chances in losses to Vanderbilt, Texas A&M, and SMU; after finding confidence in smoking Kansas State, the Tigers caught fire, winning four games in a row and whipping a good Colorado team.  And then they faded, getting roughed up by mighty Oklahoma and blowing a sure win against Kansas.  The season was encouraging and frustrating, but one thing was certain: Mizzou would be experienced in 1959, and extremely experienced in 1960.  Mizzou fans were only starting to get to know names like Mel West, Norris Stevenson, and Danny LaRose.  The future was bright.
Through all of the ups and downs during the season, Devine had been very impressed with the leadership of his captains, Charlie Rash and Don Chadwick.  He immediately added Rash to his staff for 1959; after three years Rash moved on to the staff of Air Force, and then to Tennessee.  In his second year in Knoxville, he and two other assistants were killed when the car in which they were travelling in West Knoxville was struck by a train.  It was a tough loss for both the Tennessee and Missouri families.  In 1998, Rash was elected into the Mizzou Intercollegiate Athletics Hall of Fame.
---
Next up: 1996.