Confused?  Catch up with the BTBS Primer.
Alright, through the non-conference slate, the BTBS Projections (which had none of my own biases in them whatsoever--I actually downgraded Mizzou's initial status in the original projections) have Missouri heading into conference play at 4-0, albeit with tight victories over Illinois and Nevada.  As they head into their first weeknight ESPN home game since 1992's 6-0 loss to Colorado, Mizzou could either be primed for another North title run or ready for a stiff reality check to head into town.  Or, you know, they could be 2-2 and desperate.  We'll see.  First up in conference, for the third straight year, are the Nebraska Cornhuskers.  I'm bringing my A-game for this one (as I'm sure Missouri will too)--time to go waaaaaaaaaaaay beyond the box score.

With 1:43 left in the Colorado-Nebraska game, Alex Henery booted a beyond-clutch 57-yard field goal to give Nebraska a 33-31 lead.  Forty-five seconds later, Ndamukong Suh intercepted a Cody Hawkins pass and took it to the house for the game-clinching TD in a 40-31 win.  If Henery had missed that field goal, Nebraska would have likely lost and fallen to 7-5; they probably wouldn't have qualified for the Gator Bowl, and without the proceeding win over Clemson upon which to build, would the expectations for 2009 have been quite as high?  Did the killer kick from Henery change the landscape of the 2009 preseason?
However it happened, here we are.  Instead of a predominant "Is this the Jayhawks' time?" offseason storyline, most eyes have been on the Huskers.  They're back!  Ndamukong Suh!  Blackshirts!  Domination!  (Of course, the cynical Missouri fan in me says the "They're back!" storyline would have been the same if they'd gone 0-12 last year--they're always 'almost back.'  But I'm turning over a new leaf and trying to leave cynicism out of this...as much as I can, anyway).  Instead of continuing to slowly build the program over time, Bo Pelini is now expected to produce a Top 15-20 team and North champion in Year #2.
Without further adieu, let's dive into our two-day, far-too-detailed look at Pelini's Huskers.
2008
Record: 9-4 (5-3)
S&P+: #21
Scoring Margin: 460-371 (+89)
Conference Scoring Margin: 284-272 (+12)
Wins (S&P+ Ranking in parentheses): #20 Kansas, #30 Clemson, #40 Baylor, #79 Kansas State, #82 Colorado, #101 San Jose State, #104 Iowa State, #106 Western Michigan, #110 New Mexico State
Losses: #3 Oklahoma, #10 Missouri, #15 Texas Tech, #41 Virginia Tech
Nebraska faced a whopping four teams ranked #100 or lower and went just 3-4 against teams in the Top 50.  Their capstone wins were at home over #20 Kansas and in Jacksonville against #30 Clemson.  In their two games against the S&P+ Top 10, they were outscored 114-45.  But it's all about momentum (at least as far as offseason narratives go), and Nebraska has it.  They won six of their last seven, and while they didn't beat a marquee team in that time, they did take out three in the Top 40 (KU, Clemson, Baylor).  While it's probably true that Henery's kick against #82 Colorado sent expectations through the stratosphere, there's no denying that Nebraska has some things going for them.  The nine wins were more than most people expected for 2008 (though not me, ahem), and a lot more is expected in 2009.
Coaching
Head Coach: Bo Pelini
Record at Nebraska: 9-4 (conference: 5-3)
Career Pythagorean Record (explained further down): +1.25 wins (+1.25/year)
A former co-captain and starting free safety for Ohio State (his senior season was Kirk Herbstreit's redshirt freshman season--I point this out only because I can), Bo Pelini has pretty quickly built a solid career for himself.  After bouncing around at the grad assistant level for a few years, he made the move to NFL positions coach.  He started with the 49ers (DBs coach, 1994-96), then moved to the Pats (LBs, 1997-99) and Packers (LBs, 2000-02).  In 2003, he broke into the college ranks by taking over as Defensive Coordinator for Frank Solich's final Nebraska team.  Solich was let go, and after a year as co-coordinator at OU, he spent three seasons as DC in Baton Rouge before taking the NU job last year.  That's a pretty steady progression.
So how good was Pelini as a defensive coordinator?  To gauge that, we can't simply look at his defenses' stats--we also have to compare it to something of a baseline for defensive performance at the schools he coached.  So for his three DC gigs, we're going to compare his defenses' performances to the performance of those schools before and after his time.
Nebraska.  In 2003, Nebraska gave up 14.5 points and 297.2 yards per game, allowed 4.4 yards per play, and forced an insane 3.5 turnovers per game (granted, 14 turnovers came in three games against Oklahoma State, Southern Miss and Troy, but that's still an impressive total).  In the four seasons surrounding Pelini's one year in Lincoln, the Blackshirts gave up 21.9 points and 338.5 yards per game, allowed 4.7 yards per play, and forced 1.8 turnovers per game.  Clearly Pelini's '03 unit was better than the others Solich or Bill Callahan produced around that time.  (And you wonder why NU fans thought Pelini was an unbelievably great coach.)
Oklahoma.  In 2004, Oklahoma gave up 16.8 points and 299.0 yards per game, allowed 4.8 yards per play, and forced 1.7 turnovers per game.  In the four seasons sandwiching his one year in Norman, the Sooners gave up 18.8 points and 297.6 yards per game, allowed 4.6 yards per play, and forced 2.2 turnovers per game.  This was a strange situation--he was a co-coordinator, and he was replacing the head coach's brother.  His 2004 defense was really no better or worse than the typical Sooner defense (they gave up a couple fewer points, more yards per play, and forced fewer turnovers).  Not surprisingly, he left after one season to take over another big-time defense and remove the "Co-" from his title.
LSU.  From 2005-07, LSU gave up 15.7 points and 266.7 yards per game, allowed 4.2 yards per play, and forced 1.8 turnovers per game.  In the four seasons sandwiching his time there, the Bayou Bengals gave up 17.5 points and 280.2 yards per game, allowed 4.4 yards per play, and forced 1.9 turnovers per game.
Aside from the 2003 turnovers outlier (if Pelini had been there five years, you know they wouldn't have forced 3.5 turnovers per game that whole time--it would have come back down toward the 2.0 range), you do get a pretty good read of a Pelini defense.  They're going to give up the expected (and respectable) number of yards, but they also seem able to make the big plays in preventing points.  Whether that's just timely blitzes in the red zone or something else, preventing points clearly is a pretty good idea (brilliant analysis, I know), and Pelini's defenses generally knew how to do it.
After five seasons of being a pretty good defensive coordinator, Pelini took the Nebraska job vacated by Bill Callahan.  In season #1, the Huskers managed 9 wins despite a Pythagorean projection of just 7.75 wins, so well done there too.  Usually a team overachieving its projection that much probably managed to win a series of close games, but Nebraska actually went only 1-2 in games decided by a touchdown or less, so...not sure.  Really, the projections were probably crazy because they got crushed so badly by Oklahoma and Missouri and it skewed the reliability of the projection.  Anyway, I'm not going to think too hard about it.  We'll see how his Pythagorean record shapes up after at least a couple more years of data.
Offense
So we've talked a lot about the typical Pelini defense.  What did the Pelini offense do in 2008, and what can we expect in 2009?
Overall Stats

S&P+: 119.9 (#18)
Success Rate+: 116.6 (#13)
PPP+: 124.3 (#20)

Standard Downs S&P+: 120.1 (#13)
Passing Downs S&P+: 119.1 (#25)

Redzone S&P+: 117.3 (#22)

Q1 S&P+: 123.8 (#22)
Q2 S&P+: 115.6 (#27)
Q3 S&P+: 123.9 (#17)
Q4 S&P+: 124.4 (#11)

1st Down S&P+: 128.0 (#10)
2nd Down S&P+: 111.9 (#38)
3rd Down S&P+: 123.9 (#22)

Rushing Stats

Rushing S&P+: 107.1 (#50)
Rushing SR+: 104.0 (#55)
Rushing PPP+: 112.1 (#50)

Standard Downs: 111.7 (#35)
Passing Downs: 84.9 (#102)

Redzone: 94.2 (#87)

Line Yards+: 96.1 (#81)

Passing Stats

Passing S&P+: 131.3 (#10)
Passing SR+: 129.9 (#8)
Passing PPP+: 113.1 (#15)

Standard Downs: 132.9 (#6)
Passing Downs: 130.0 (#17)

Redzone: 163.8 (#4)

Adj. Sack Rate: 4.9% (#40)
In all, Nebraska ended up putting together strong offensive numbers in 2008, better than some would expect.  Because of Pelini's reputation and the ongoing "BLACKSHIRTS!!" narrative this offseason, it's assumed that the NU defense runs the show--not true.  NU's defensive numbers were decent but far from dominant; meanwhile, they had a Top 20 offense.  (Of course, this is a problem since they lost much more on offense than defense.)
NU's numbers here don't have a whole lot of crazy variation, but there is one in particular--while their Passing Downs performance was worse than Standard Downs performance across the board, they were severely lacking in terms of rushing on Passing Downs.  What that says is, if they ran the ball on, say, 2nd-and-8, they were not picking up enough yards to avoid a 3rd-and-long.
Here are some other points of interest:
For the most part, their offense got better as the game progressed, from #20-30 in the first half to #10-20 in the second.  They were best in the fourth quarter, and if that's because of the system, or the offensive line, or the running backs, that could mean great things for 2009.  If it was more because of Joe Ganz or Nate Swift and Todd Peterson, that could be much less encouraging.
Their red zone passing was outstanding, and their red zone rushing was terrible.  Strange.  Though it also throws a little water on the "Quentin Castille = great short-yardage runner" theory.  And again, if this was because of Ganz-to-Swift/Peterson, that could be a red flag.
Another interesting split: NU's O-line was #40 in preventing sacks (though that could have been somewhat due to Ganz's scrambling abilities) but only #81 in line yards.  The 2009 O-line should be about the same as 2008, potentially a bit better, so NU's success in 2009 could hinge on whether Zac Lee is as elusive as Ganz.
Quarterback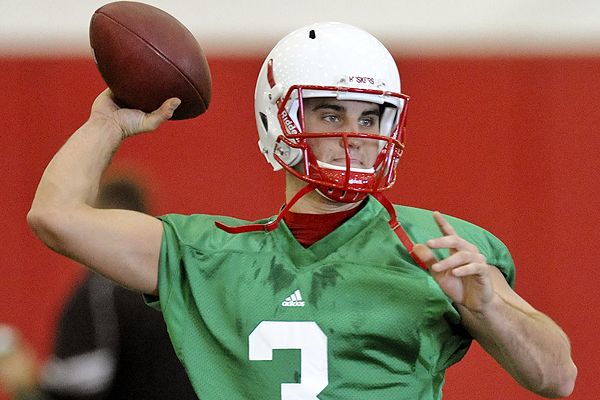 Zac Lee is the default #1.
2008 Unit Ranking: #13 in the nation (#5 in the Big 12)

Projected Depth Chart
Zac Lee (6'2, 210, Jr.)
Latravis Washington (6'3, 225, Jr.)
Kody Spano (6'2, 215. RSFr.)
A former 4-star JUCO recruit, Lee won the battle for starting QB, in part, by sticking around.  Entering the spring, Patrick Witt was seen as the slight favorite to win the starting job, by the end of the spring, he had announced that he was transferring.  So that left the job to the winner of a contest between, basically, Lee and converted defender Latravis Washington.  From what I read, Washington has nice arm strength and running ability (he was a QB in high school), but...well, in general you have to hope that your starting quarterback was actually playing quarterback twelve months earlier, not linebacker.  So in the end, it was probably a relief that Lee won the job--he had a tremendous spring game, and while we've all come to notice how one performance in the spring game is taken more seriously than all other spring practices combined (just ask Blaine Gabbert), it does seem like he performed well enough in the spring that there is a legitimate amount of optimism in how he'll handle the job once the real season starts.
As mentioned above, the key to his success could be his elusiveness.  Joe Ganz was able to extend coverage on a lot of plays by avoiding the pass rush and creating things outside the pocket.  NU's offensive line was not too tremendous, and he possibly made them look better by avoiding sacks.  If this is true, then Lee will need to do the same in 2009.
In the end, Lee shapes up to be anywhere between the #2 and #5 QB in the North, depending on both how he performs and how another newbie QB performs--one-time Nebraska commitment Blaine Gabbert.
Running Backs
Most hope pinned on the NU offense is because of this guy.
2008 Unit Ranking: #20 in the nation (#3 in the Big 12)

Projected Depth Chart
Roy Helu, Jr. (6'0, 215, Jr.)
Quentin Castille (6'1, 235, Jr.)
Collins Okafor (6'1, 225, RSFr.)
Taking poor line yardage figures into account, NU's running backs were quite strong in 2008, and they should be even better in 2009.  Marlon Lucky was the go-to guy heading into the season, but he just didn't do anything on the field to keep from losing a large percentage of his carries to Roy Helu, Jr. (being injury-prone didn't help).  Using the Points Over Expected (POE) measure, Lucky's 2008 carries generated 2.7 points fewer than would have been expected against given opponents (164th among 267 eligible FCS backs).  Meanwhile, Helu generated 14.9 points over expected, good for 30th in the country and 6th in the Big 12 behind Kendall Hunter (5th), Chris Brown (8th), Derrick Washington (15th), DeMarco Murray (26th), and Keith Toston (27th).  The third guy in the backfield, Quentin Castille, was almost exactly average, generating 1.7 POE.
(It should be noted that Lucky was also the #13 receiving RB according to POE, 2nd in the conference behind DeMarco Murray.  Helu was #53, 9th in the conference.)
In the end, Helu took 125 carries, Lucky 125, and Castille 106.  Simply splitting Lucky's carries among Helu and castille could generate between 10 and 15 extra EqPts for NU in 2009.  That's really not too much to ask from the two, as that would only put Helu up to about 16 carries per game and Castille 14.  Honestly, I don't think much of Castille, so the more carries to Helu, the better for Nebraska.  The other question, of course, is can somebody like Collins Okafor break into the rotation?
Wide Receivers / Tight Ends
Jeremy Maclin's high school teammate, Mike McNeill
2008 Unit Ranking: #27 in the nation (#6 in the Big 12)

Projected WR Depth Chart
Menelik Holt (6'4, 220, Sr.)
Niles Paul (6'1, 215, Jr.)
Curenski Gilleylen (6'0, 220, So.)
Chris Brooks (6'2, 215, Sr.)
Will Henry (6'5, 215, Jr.)
Khiry Cooper (6'2, 195, RSFr.)
Projected TE Depth Chart
Mike McNeill (6'4, 240, Jr.)
Dreu Young (6'4, 245, Jr.)
Ryan Hill (6'3, 250, So.)
In 2008, Nate Swift and Todd Peterson combined for 125 catches, 1,727 yards, and 14 touchdowns.  Meanwhile, the six names on the above WR depth chart combined for 57 catches, 607 yards, and 2 touchdowns.  Looking at POE, Swift and Peterson were +29.5, everybody else -7.5.
In other words, the passing game could be pretty iffy in 2009.  Now, certainly this receiving corps is more highly-touted from a recruiting perspective, but they have not yet produced, and considering there are two seniors and two juniors there, they've had plenty of opportunities already.  Swift in partcular was quite solid, ranking 35th among 411 eligible receivers in POE, 7th in conference and ahead of Michael Crabtree (39th), Jordan Shipley (52nd), and Quan Cosby (100th).
But he's gone.  The good news for Nebraska is, there are quite a few candidates for becoming Zac Lee's go-to receiver; the bad news, of course, is there's no guarantee that one will emerge.  Menelik Holt has good size but was -1.8 POE (320th in the country).  Niles Paul is a solid threat in kick returns but produced -5.7 POE (382nd, third-from-last in the conference ahead of just CU's Patrick Williams and ISU's Darius Darks).  Curenski Gilleylen passed up a Mizzou offer to play for the Huskers but produced only 11 yards in two catches last year.
Then there's Chris Brooks, a former 4-star recruit from Hazelwood East (and Mizzou commit), ranked ahead of Chase Coffman, Brock Christopher, Kurtis Gregory, Justin Thornton, Jaron Baston, and Jairus Byrd in Rivals.com's 2005 State of MO rankings.  Three seasons in Lincoln have produced three catches and 31 yards.  He had himself a nice spring, even catching a touchdown pass in the Red-White Game, but...well, there isn't a very nice way to say this, but if Brooks is one of your top receivers, at this point in his career, that probably means that your receiving corps isn't very good.  He's had plenty of time to distinguish himself and hasn't; and with little time on the field to date, it's not tremendously likely that his experience can lead to the latest of late-career breakthroughs...at least not much of one.  Never say never, of course, but it's not likely.
The bright spot, however, comes at tight end.  Every new QB can use a bailout option at the TE position (Mizzou fans are banking on Andrew Jones becoming just that for Blaine Gabbert), and junior Mike McNeill looks like a pretty nice bailout.  He and Helu out of the backfield can allow the Huskers to pick up some yards while remaining conservative and letting Lee grow more confident.  Jeremy Maclin's former high school teammate would have looked really good in black and gold.
Offensive Line
Jacob Hickman is one of the conference's better centers.  Of course, now he's playing guard.
2008 Unit Ranking: #61 in the nation (#8 in the Big 12)

Projected Depth Chart
G Jacob Hickman (6'4, 295, Sr.)
T Mike Smith (6'6, 290, Jr.)
G Keith Williams (6'5, 320, Jr.)
T Marcel Jones (6'7, 310, So.)
C Mike Caputo (6'1, 275, So.)
G Ricky Henry (6'4, 300, Jr.)
G DJ Jones (6'5, 315, Jr.)
G Andy Christensen (6'3, 310, Sr.)
T Jaivorio Burkes (6'5, 295, Jr.)
T Brandon Thompson (6'6, 300, RSFr.)
Here's where my own stats confuse me.  With good rushing stats and decent sack totals, it seems like NU would have had a pretty good line in 2008.  But the line yards measure--not a perfect stat, obviously, but a pretty good one--credited most of NU's rushing yards to the backs, and it really is likely that Ganz's scrambling ability (just think of how much he was on the run against Missouri) bailed the line out of some pretty poor sack numbers.  In the end, NU's line ranked poorly, below Iowa State (60th), Kent State (53rd), Southern Miss (51st) and Marshall (50th).
It appears that Bo Pelini knew that his line wasn't too hot--he did a decent amount of shuffling this spring.  The result is a line that has potential quality at the guard positions but inexperience at center and shakiness on the outside.  Their 61 career starts rank fifth in the conference, but solid experience on a mediocre line isn't as impressive as a smidge less experience on a really good line.  With a new QB, new receivers (who may, in theory, take longer to get open), and a unit or RBs who had to create a lot on their own in 2008, the offensive line could be the linchpin of the Nebraska offense.
Summary
If you believe that NU's defense is going to be outstanding in 2009 (maybe, maybe not--we'll talk about this tomorrow), then the offense only needs to be serviceable to win the Huskers some games in the Big 12 North.  By all means, there is enough talent here--particularly in Helu, McNeill, Hickman, and potentially Lee--to put some points on the board, but we'll see.  The offensive line is relatively experienced but shaky, and the WR corps is the exact opposite of proven.  If NU can't avoid passing downs, and if the passing threat isn't enough to prevent defenses from keying on Helu, then this unit could go downhill in a hurry.  On potential, Nebraska could have the 2nd- or 3rd-best offense in the North, but some players--Holt, Paul, Jones, Caputo--will need to step up their games for that to happen.
Tomorrow: the defense.