For other seasons, go here.
Due to a request for some mid-1970s action, we're going to alter the order of these history posts a little bit this time.  Can't imagine anybody will complain.  Time to jump to the early-1970s, where Al Onofrio was taking hold of the Mizzou program.  The first year had, to say the least, not gone as planned.
Uncle Al (via)
In just two years, Mizzou had fallen from the Top 10 and an Orange Bowl bid to a 1-10 season in which they scored just 93 total points.  Injury, turnover, etc...all the normal causes accounted for the horrific season, but regardless, one season into the Al Onofrio era, there was at least a little bit of pressure to put together a quick turnaround. He was replacing Dan Devine, Mizzou's most consistently successful coach, who had left to replace Vince Lombardi in Green Bay.  Though Mizzou had fallen to 5-6 in Devine's last season, a plunge to 1-10 was unforeseen and unwelcome.
Of course, whatever pressure Al Onofrio was feeling, none came from national expectations.  After (obviously) finishing dead last in the Big 8 in 1971, they were predicted to do exactly the same thing in 1972.  They would break in a new wishbone offense with a couple key new pieces in the backfield--bringing in former OU quarterback Bob Warmack to assist in its implementation--and the team had potential, but nobody expected much.
Thank you, Savitar.
Whatever happened in 1972, would happen because of youth.  Mizzou was brimming with it.  John Cherry replaced Chuck Roper at quarterback, and the rest of the backfield was stocked with unknown quantities.  Junior college transfers Tommy Reamon, Jimmy Smith, and Leroy Moss gave depth (a necessity with a wishbone offense) to a unit that also returned inexperienced Bill Zeigler and Bruce Berr.  Reamon was the potential star, a two-time JUCO running back of the year, he had posted 3,985 yards in two seasons at Fort Scott CC and chose Mizzou over USC despite their 1971 struggles.  Smith was also a JUCO All-American.  Meanwhile, fullback Don Johnson would prove to be a solid weapon.  The wishbone only allotted one main receiver, and that job went to Jack Bastable, charged with replacing John Henley.
Tommy Reamon in action.
The defense had regressed in points allowed every year since the 1967 squad allowed just 7.3 points per game.  That average had risen to 12.4, then 17.4, then 20.3, and finally 23.7 in 1971.  Defense wasn't necessarily the reason for the 1-10 season, but it certainly didn't help matters a whole lot.  The secondary had a lot of athletic potential in future all-conference CB John Moseley and S Mike Fink, both excellent kick (Fink) and punt (Moseley) returners.  The Tigers would give up quite a few passing yards in 1972, however, both because of defensive breakdowns and the fact that they faced a pretty loaded set of passing attacks, starting with Dan Fouts of Oregon and finishing with Danny White of Arizona State.
Up front, Dan McDonough was a tackling machine; he would rack up 114 tackles (4 TFL) from the tackle position.  Lynn Evans led a decent linebacking corps, but as a whole the defense looked rather unimpressive.  Yards per play allowed would rise from 4.3 in 1971 to 4.7 in 1972, meaning the Mizzou offense would have to pick up the slack if they were to improve their putrid 1971 record.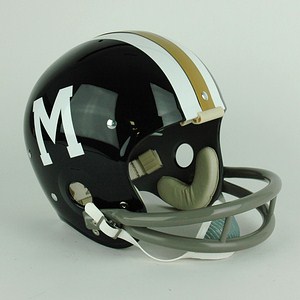 God bless Helmet Hut
** FORGOTTEN CLASSIC **
September 9: Oregon (0-0) at Mizzou (0-0)

Mizzou started the 1972 campaign with a visit from a dangerous opponent--the Oregon Ducks, with new head coach Dick Enright and star quarterback Dan Fouts.  In the first (and only) meeting between the two schools, Mizzou entered the game as 2-point favorites, but both sides had so many new faces that it was hard to tell what to expect.  Plus, it was hard to favor Mizzou for anything, considering they were riding the tail of 1971's 8-game losing streak.
Looking to avoid a school-record ninth straight loss, the Tigers took the field in front of 41,236...and fumbled the opening kickoff.  Just a few plays into the season, Oregon was up 7-0 on a 2-yard Maurice Anderson run.  Mizzou responded well, with John Cherry handing often to fullback Don Johnson, but on fourth down from the UO 14, Cherry was stuffed, and Mizzou turned the ball over on downs.  Mizzou got one more scoring chance in Q1 after an Oregon fumble, but a 50-yard field goal attempt from kicker Greg Hill fell short.
In the second quarter, Fouts and the Duck offense got rolling.  Greg Specht caught a touchdown pass, and twenty minutes into the contest it was 13-0 Oregon.  Once again, Mizzou tried to respond.  Cherry excelled on the option, and the Tigers marched to the UO 5, where they faced another fourth down.  Onofrio gambled again, and this time it paid off--Cherry found Johnson for a 5-yard touchdown, and the deficit was cut to 13-7.  After an Oregon punt, it was time for Tommy Reamon to introduce himself to Mizzou fans.  A couple nice runs set up another Mizzou touchdown--this one from Cherry to Jim Sharp.  Mizzou led 14-13 late in the half, but Fouts was able to string together a few quick completions, and Oregon hit a field goal as time expired, taking a 16-14 lead into the locker room.
With everybody wondering if the Mizzou offense could keep up with Oregon's passing attack, Mizzou's defense struck gold early in the second half.  Hickman grad John Moseley, one of the nation's best punt returners, jumped a Fouts pass and took it to the house.  Mizzou led 21-16, but Fouts responded.  Specht burned Moseley for a quick 51-yard touchdown, and even though the two-point conversion pass was incomplete, just like that Oregon had the lead again, at 22-21.  In under five minutes, Moseley had become the rare hero-goat.
In the fourth quarter, the defenses took over.  Oregon punted four times, and Mizzou dodged a huge bullet when a 72-yard Fouts-to-Anderson screen pass was called back because of an ineligible man downfield.  Of course, the Ducks got away with some breaks too.  With 5:30 left in the game and Mizzou driving, Reamon fumbled and Oregon recovered.  Mizzou immediately forced a punt and drove again, but fullback Ray Bybee fumbled at the Duck 15 with just 3:30 left.  In all, Mizzou fumbled six times and lost three (welcome to the wishbone!), one of the major reasons their 259 rushing yards did not produce more points. 
After Bybee's fumble, hope waned, and why not?  Time was quickly expiring.  Oregon milked the clock but elected to punt on fourth-and-one.  Mizzou got the ball back with just 29 seconds left and quickly maneuvered down the field.  Cherry found Jack Bastable for 20 yards, then Don Johnson plunged forward for a nice gain, and suddenly Mizzou was to the Oregon 14 with just enough time left for a field goal attempt.  Hill, who had missed a potential game-winner against Air Force the year before, nailed this one.  The field goal split the uprights as time expired, and Mizzou had pulled off a 24-22 win.
Every team wants to win every game it plays--clearly that's the optimal situation.  But food tastes better when you're starving, and winning feels that much better when you haven't done it in a while.  Sure, Oregon would go on to only finish 4-7, and sure, it was only the first game of the season.  But as Al Onofrio clutched the game ball after the game, only his second opportunity to do so in his first 12 games as Mizzou coach, this win probably felt as good to him as just about any he would experience at Mizzou--and he would experience some pretty good ones.  Mizzou had overcome adversity, both self-inflicted and not, and found a way to win, and they had the 1-0 record to prove it.
Mizzou 24, Oregon 22

---
September 23: Baylor (0-1) at Mizzou (1-0)

Mizzou was disoriented on offense.
Following the Oregon game, Mizzou's Tommy Reamon suggested to reporters that they hadn't seen anything yet--Mizzou would eliminate the fumbles, and the wishbone would take off.  Well...let's just say that the off-week following Oregon did not have the wished-for impact.
Mizzou have been attempting to bounce back from a bad 1971, but Baylor was attempting to comeback what had basically been a series of 1971's.  Under previous coach Bill Beall, the Bears had gone 3-28 in three seasons.  This was not a major-level program, necessarily, but it wasn't that bad, right?  Well, it was up to new coach Grant Teaff to find the swagger and put together some wins.  Baylor had put together a respectable showing against #16 Georgia in Teaff's debut, losing 27-13, and now they headed to Columbia for Rebound Bowl 1972.
Baylor brought into battle quarterback Tony Jeffrey, an Overland Park, KS, native who went unrecruited by Mizzou, and he did his best to convince Mizzou they had made a big mistake.  Jeffrey led a powerful option attack--the Bears put up 229 rushing yards--and completed 7 of 11 passes, including a couple of key third-down attempts, and the Bear offense did more than enough to win.  But it was the Bear defense that made this one a laugher.  Baylor forced EIGHT turnovers--four lost fumbles (so much for Reamon's theories) and four interceptions.  With Baylor nursing a 10-0 lead and 13 seconds remaining on the first-half clock, Mizzou drove inside Baylor's red zone; they attempted to run one more play before settling for a field goal.  John Cherry rolled to his right, hoping to once again find Don Johnson for a touchdown...only reigning SWC Defensive Player of the Year Roger Goree (think how good he had to have been to win Defensive POY on a 1-9 team) broke through and sacked Cherry, and Mizzou didn't get another play off.  If Mizzou had any chance of winning this game, it ended there.  Mizzou managed just 27 rushing yards in the second half, and Baylor ran it up.  All the cathartic feelings Mizzou experienced two weeks previously, made their way over to the visitors' locker room after this one.
Overland Park native Tony Jeffrey punished the Tigers.
Baylor 27, Mizzou 0

---
September 30: California (1-2) at Mizzou (1-1)
Mizzou's physical play earned them a huge lead.
Ever since Pappy Waldorf was wandering the sidelines in the late-'40s/early-'50s, Cal just hadn't had much of a football program.  Coach Ray Willsey had managed to go almost exactly .500 in his eight years in Berkeley, and now it was first-year coach Mike White's turn to try to breathe some energy into a stagnant program.  Eventually, he would do just that, putting together a handful of solid seasons before moving on to Champaign and leading Illinois to the Rose Bowl.  But in his first year, things didn't come together so well.  Cal went 3-8 and came to Columbia having just lost to San Jose State (17-10) at home.
It's never easy for a team learning how to win all over again.  Mizzou came out of the gates in this one doing everything right.  Ray Bybee, who had 153 first-half rushing yards, scored on a 1-yard run; John Cherry found Jim Sharp for a 38-yard score, and slotback Chuck Link scored from 17 yards, and Mizzou found themselves with a startling 20-0 first quarter lead.  It was the most points they had scored in a quarter in four years.  Link scored again in Q2, and Mizzou took a 27-0 laugher of a lead into halftime.
Touchdown, Tigers!
Mizzou's pass rush was destroying the passing attack of Cal QB (and future NFL Pro Bowler) Steve Bartkowski, and thanks mostly to sacks, Cal would finish with an unbelievable minus-77 yards rushing.
Mizzou drank Steve Bartkowski's milkshake.  What?  That reference is already old and tired?
But at halftime, Mizzou relaxed.  Why wouldn't they?  Teams who have gone 2-11 in the last 13 months don't really know much about stomping on the throat, and they came out stagnant in the second half.  Backup Golden Bear QB Jay Cruze came on, and the score started evening up awfully quickly.  Early in the third quarter, Tommy Reamon fumbled again, and Cruze found awesomely-named running back Fred Leathers for a 46-yard touchdown.  Mizzou responded with another Link touchdown--his third of the game--but Cal kept coming.  A roughing-the-punter penalty on Mizzou prolonged a Bear drive, and soon it was 34-20.  Cal recovered an onsides kick, and suddenly it was 34-27.  A 27-point lead had frittered away, but with 3:47 left, the Bears attempted another onsides kick, and Mizzou recovered.  They managed to advance the chains just enough to run out the clock, and despite a pretty awful second half, they came away with the win.  It wasn't pretty, but there were no style points involved here.  A win was a win was a win.
Mizzou 34, California 27
---
Next up: One of the worst moments in Mizzou history...followed by one of the best.