Yesterday we took a look at a Texas offense that could be described as anything between "uncertain" and "great."  It all basically depends on how well Colt McCoy can duplicate his passing downs success from 2008.  On the defense, it all depends on how UT replaces Brian "O-Sack-Po" Orakpo.  All of the other pieces are in place, and there are plenty of super-duper, highly-recruited players at the DE position, but as I mentioned yesterday with the offense, how quickly some guys can turn potential into production will dictate whether Texas is playing for a national title in 2009, or just maybe a Big 12 title.
Defense
Overall Stats

S&P+: 146.4 (#2)
Success Rate+: 130.7 (#2)
PPP+: 167.7 (#3)

Standard Downs S&P+: 130.6 (#3)
Passing Downs S&P+: 145.0 (#4)

Red Zone S&P+: 163.0 (#1)

Q1 S&P+: 162.5 (#2)
Q2 S&P+: 126.3 (#14)
Q3 S&P+: 156.7 (#2)
Q4 S&P+: 108.3 (#37)

1st Down S&P+: 129.0 (#5)
2nd Down S&P+: 132.1 (#6)
3rd Down S&P+: 147.7 (#3)

Rushing Stats

Rushing S&P+: 147.1 (#2)
Rushing SR+: 133.7 (#2)
Rushing PPP+: 169.5 (#3)

Standard Downs: 119.3 (#20)
Passing Downs: 165.4 (#4)

Redzone: 165.8 (#3)

Line Yards+: 124.6 (#10)

Passing Stats

Passing S&P+: 148.9 (#3)
Passing SR+: 128.2 (#4)
Passing PPP+: 174.3 (#4)

Standard Downs: 144.6 (#3)
Passing Downs: 144.0 (#9)

Redzone: 174.5 (#3)

Adj. Sack Rate: 8.7% (#5)

Whereas the UT offense saw disproportionate success on Passing Downs compared to Standard Downs, the UT defense was pretty consistently great no matter the down, quarter, or type of play (run/pass).
They ranked in the top five for both SR+ and PPP+ in Rushing, Passing, and overall defense.
They had the #1 red zone defense in the country.
They were Top 10 in both Line Yards+ and Adjusted Sack Rate.
Really, there are only two sources of variance: their rushing defense was better on Passing Downs than Standard Downs, and they were much better in Q1/Q3 than Q2/Q4.  Of course, if you had to choose a time to be great, you should choose Q1/Q3--without Q1/Q3 strength, Q4 may not matter.
Looking at all categories, you have to go pretty far to find a weakness.  Here's one: they ranked in the nation's bottom ten in Q4 Rushing Success Rate+, Q4 Rushing Line Yards+, and Q4 Rushing S&P+.  Of course, they only played four games decided by less than 20 points, so a large majority of Q4 rushes took place with UT's #1 defense off the field.
The Pass Defense rankings are the most impressive considering a) they improved from 29th in 2007 to 3rd in 2008, and b) they did so with two freshmen starting at safety.
Defensive Line
Lamarr Houston brings experience to an otherwise relatively green line.
2008 Unit Ranking: #2 in the nation (#1 in the Big 12)

Projected Depth Chart
DT Lamarr Houston (6'2, 290, Sr.)
DE Eddie Jones (6'3, 260, Jr.)
DE Sam Acho (6'3, 260, Jr.)
DT Kheeston Randall (6'5, 290, So.)
DE Alex Okafor (6'4, 240, Fr.)
DT Ben Alexander (6'0, 310, Sr.)
DE Dravannti Johnson (6'2, 232, RSFr.)
DT Kyle Kriegel (6'5, 265, Fr.)

Sophomore tackle Michael Wilcoxon left the team very recently, which hurts depth a bit.  At least, it hurts experience a bit.  Chances are, at least one true freshman will break into the rotation behind Lamarr Houston and Kheeston Randall.  Kyle Kriegel was in for the spring, but 4-star freshmen Calvin Howell and Derek Johnson should be ready to fight it out for a spot in August.  The 'Horns will miss underrated Roy Miller (11 TFL, 28 QB Hurries) at tackle, but Houston (7 TFL, 11 QBH) was solid, and Randall has a nice pedigree.  The experience from Houston and Ben Alexander can't hurt either.
Whereas UT was good at DT last year, they were great at DE, thanks in part to Brian Orakpo and his 19 TFL, 11.5 sacks, four forced fumbles, and 30 QBH.  Seriously, we at RMN really liked Stryker Sulak and Tommy Chavis--they combined for 21.5 TFL, 13.5 sacks, and 12 QBH.  Granted, they forced a really impressive eight fumbles, but still.  Orakpo was ridiculously good.  Also gone: RB-turned-DE Henry Melton (10 TFL, 4 sacks).  That's a lot of sacks and hurries to replace.
The main man in making sure UT's QB pressure doesn't drop in 2009 isn't even on the list above.  That, of course, would be hybrid LB/DE Sergio Kindle (14 TFL, 10 sacks), listed below in the LBs list.  He will be the main rush end, I think, in passing situations.  Along with Kindle, it's probably time for former 5-star recruit Eddie Jones to make his move.  In 13 games last year, he managed only eight tackles in backup time, though five went for loss (he also added 5 QBH, but I'm starting to think that Texas statisticians were VERY liberal in their interpretation of what constitutes a "hurry").  If he can become a reliable force alongside Kindle and Sam Acho, Texas should be just fine.  If he doesn't, defensive coordinator Will Muschamp will be looking toward Dravannti Johnson and maybe stud true freshman Alex Okafor to provide the lacking pressure.
The components are certainly all here for the 'Horns to have another great D-line--it's just that it's always hard to assume such a thing when you lose somebody as great as Orakpo.  The odds are in their favor, though.
Linebackers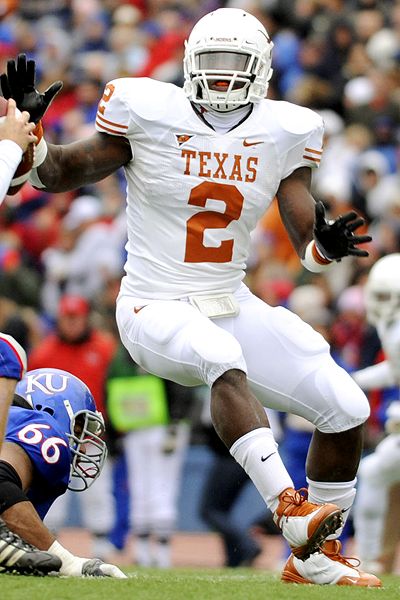 Sergio Kindle: too much of a stud to play just one position.
2008 Unit Ranking: #3 in the nation (#1 in the Big 12)

Projected Depth Chart
Sergio Kindle (6'4, 255, Sr.)
Roddrick Muckelroy (6'2, 235, Sr.)
Jared Norton (6'3, 237, Sr.)
Keenan Robinson (6'3, 232, So.)
Tariq Allen (6'2, 245, Fr.)
Emmanuel Acho (6'2, 235, So.)
Whereas the D-line had headliners and great stats, the Texas linebackers (sans Kindle) were probably a bit overshadowed in 2008.  But when a defense is equally great at stopping the run and the pass, some of that is going to be because of a good LB corps, and that reflected well in my LB rankings.  Kindle and fellow 2009 seniors Roddrick Muckelroy and Jared Norton were extremely steady in 2008, and there's no reason to expect otherwise in 2009.  Muckelroy only had four TFLs and didn't really play a role in forcing many turnovers, but he was UT's main tackler, racking up 112 (71 solo).  There is little experience behind this trio of seniors, but Keenan Robinson and Tariq Allen were both 4-star recruits--they'll probably be alright in 2010...or at least 2011.
Secondary
Sadly, Blake Gideon is thus far remembered for the play he didn't make.

2008 Unit Ranking: #4 in the nation (#1 in the Big 12)

Projected Depth Chart
S Earl Thomas (5'10, 197, So.)
S Blake Gideon (6'1, 200, So.)
CB Chykie Brown (6'1, 187, Jr.)
CB Deon Beasley (5'10, 180, Sr.)
CB Aaron Williams (6'1, 189, So.)
CB Curtis Brown (6'1, 185, Jr.)
S Christian Scott (6'1, 209, So.)
S Nolan Brewster (6'2, 210, So.)
That such a young unit led such an impressive move up the passing rankings (from 29th to 3rd) is rather astounding.  With freshman safeties Earl Thomas and Blake Gideon holding down the fort at safety, and a batch of solid (mostly young) corners, UT had the best pass defense in the Big 12, and it's hard to imagine that changing with most of the key cast of characters coming back in 2009.  Of course, what is most memorable out the secondary are the two plays they didn't make--Gideon dropping the INT, then Beasley (I think) whiffing on the tackle of Crabtree at the end of the Tech game--but that's unfair since this unit made most of the rest of the plays they needed to make.
If there's an area of aimed-for improvement in this unit, it comes in the form of interceptions--they only snagged six in 2008.  In landing the #3 ranking, they benefited from the fact that my rankings don't place heavy emphasis on turnovers.  They covered and tackled well, but one thing that can help out the Texas offense--one that I'm still saying might struggle more than expected thanks to their disproportionate success on Passing Downs--is by setting up some short fields and easy points.  These are mostly 3- and 4-star recruits with a growing amount of experience, so it wouldn't be shocking to see a secondary that was a liability just a couple of years ago, suddenly forcing quiet a few turnovers and turning into the single best unit on the team.
Special Teams
Google searching for Hunter Lawrence, I also found this pic.
2008 Unit Ranking: #3 Net Punting, #72 Punt Returns, #32 Kickoff Returns

Projected Starters
K Hunter Lawrence (6'0, 187, Sr.) - 60-for-60 PAT, 10-for-12 FG (long: 46)
P John Gold (6'3, 212, Jr.) - 39.6 Net Avg
KR Jordan Shipley (6'0, 190, Sr.) - 26.3 Avg, 1 TD
PR Jordan Shipley (6'0, 190, Sr.) - 10.7 Avg, 1 TD

Hunter Lawrence wasn't asked to do a ton last year--less than one FG attempt per game--but he did well in the limited opportunities, missing just two kicks all year.  He and John Gold form a pretty damn solid kicking unit, even if neither was needed much in 2008.  Jordan Shipley had a clutch kickoff return touchdown against Oklahoma, just as it looked like OU was about seize control of the game (UT had just gone down 14-3 when he broke loose), but the rest of the year he was only solid at KR's, not spectacular.  Same with punt returns, where he ripped off a 45-yard touchdown in one return and managed only 19 yards in five others.  It wouldn't surprise me to see Malcolm Williams become a force in kickoff returns, but overall this is a solid unit either way.  Not as good as OSU's, but definitely in the upper half of the Big 12.
Summary
If the Texas defensive line can approximate last year's success, then the linebackers and secondary should be more than good enough to keep Texas in the Top 5 of the defensive S&P+ rankings.  Six starters return among the back seven, and the backups were highly-touted recruits.  It all hinges on line success, however.  There is no way to underestimate how disruptive the D-line--particularly Orakpo, Miller, and (when he played DE) Kindle--was, and how integral it was to UT's success.  Opposing quarterbacks having almost no time to throw cleanly definitely a green secondary, and while the secondary won't need quite as much help in 2009, they'll still need some.  Find a solid rush end to line up opposite Kindle--be it Acho, Jones, Okafor, or whoever--and UT will have a national title-caliber defense.
---
Projections on Friday.