The Greatest Win in Mizzou History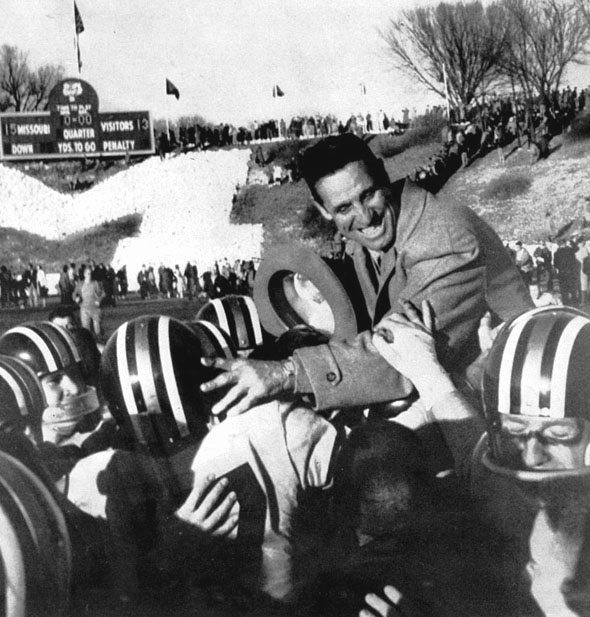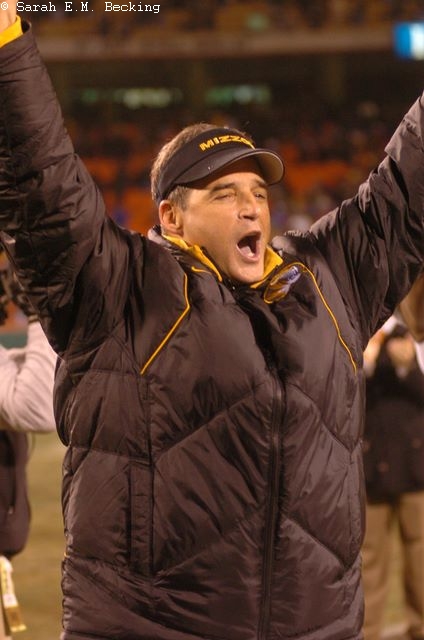 Greatest Win in Mizzou History Bracket

2000s Region

Round One
Which was greater--Mizzou's best fourth quarter ever, or the finale to Mizzou's best season ever?
Mizzou 41, Nebraska 24
Mizzou 38, Arkansas 7
October 11, 2003
Columbia, MO
Faurot Field
January 1, 2008
Dallas, TX
Cotton Bowl

Significance: This was Mizzou's first win over Nebraska in 25 years. After the heartbreak of 1997, Mizzou fans had to wait another six years go get a prime opportunity to beat the hated Huskers. It started well enough, with Mizzou riding a long Brad-Smith-to-Darius-Outlaw-back-to-Smith trick play to a 14-10 halftime lead. But two third-quarter touchdowns gave Nebraska a 24-14 lead heading into the fourth quarter.

All that followed was possibly Mizzou's single most perfect fourth quarter ever. Brad Smith raced 39 yards for a touchdown on the quarter's first play, then James Kinney absolutely obliterated Jamaal Lord, forcing a fumble that Dedrick Harrington recovered and returned to the NU 9. After a three-and-out, Gary Pinkel trotted out kicker Mike Matheny for seemingly the game-tying field goal attempt. Instead, Sonny Riccio pulled the ball away from Matheny, rolled right, and found Victor Sesay for the go-ahead touchdown. 28-24, Mizzou.

The carnage continued. Marcus James returns a punt inside the NU 40, setting up an eventual Brad Smith touchdown. 34-24. Zach Ville dropped into coverage and picked off Lord, setting up another Smith touchdown. In ten minutes, Missouri had scored 27 points. The final five minutes were just a party. The horn sounded, and the goalposts were down in about 2.5 seconds. Sure, a last-minute win is exhilarating, but this was all about exorcising demons.

Significance: How's this for significance? Mizzou's win over Arkansas on New Year's Day 2008...

1) Gave Mizzou their first January 1 win since 1966.

2) Wrapped up Missouri's first ever 12-win season.

3) Gave Mizzou their first Top 25 poll finish since 1998, their first Top 10 finish since 1969, and their first Top 5 finish since 1960.

The game itself was fun, but not quite in the way Mizzou fans were accustomed. The Razorbacks sold out to stop the Missouri passing game, and it worked--Daniel went just 12-for-29 for 136 yards, 1 0 TD's, and 1 INT. But in selling out against the pass, they left themselves vulnerable to the run, and Tony Temple made them pay, setting a Cotton Bowl record with 281 yards and four TDs on the ground.

Mizzou took a 14-0 lead into half after Arkansas missed two field goals and unsuccessfully attempted a misguided fake field goal. Temple's third TD made it 21-0, and a William Moore pick six put Mizzou up 28-0. From there, it was a victory celebration. Mizzou held Darren McFadden in check and rode Temple's legs to a startlingly easy victory.

Late in the third quarter, the Cotton Bowl stands were half-full--full on the Mizzou side and almost empty on the Arkansas side.

Aftermath: Mizzou was 5-1 after the win but went just 3-4 the rest of the way, winning out at home and losing out on the road. Still, they made their first bowl in five seasons--an Independence Bowl loss to Arkansas--and were thought to be headed in the right direction as a program. They were, but only after a 2004 detour cost Gary Pinkel a lot of goodwill that he's only now earning back.
Aftermath: The win gave Mizzou a #4 finish in the polls, their best since 1960. It also set in motion their most hyped offseason in decades. They opened 2008 as a Top 10 team and looked the part for five games before being upset by Oklahoma State and having to settle for a 10-4 record and their second Big 12 North title. A good season, but certainly not what was expected after they shellacked the Hogs to end 2007.