The Greatest Win in Mizzou Football History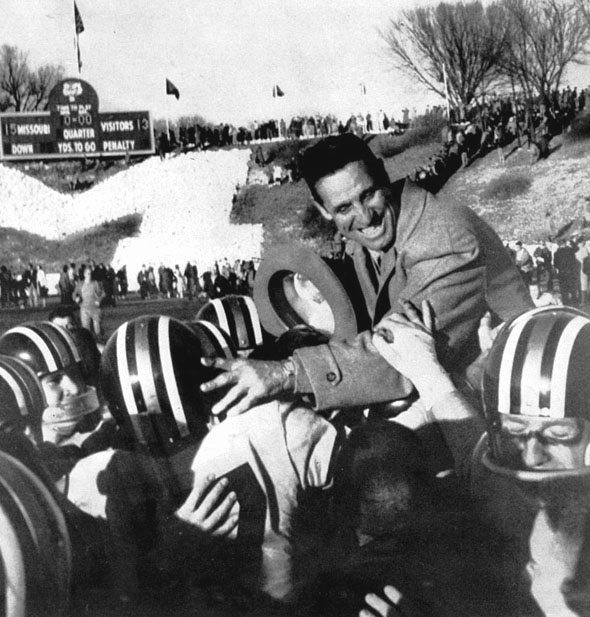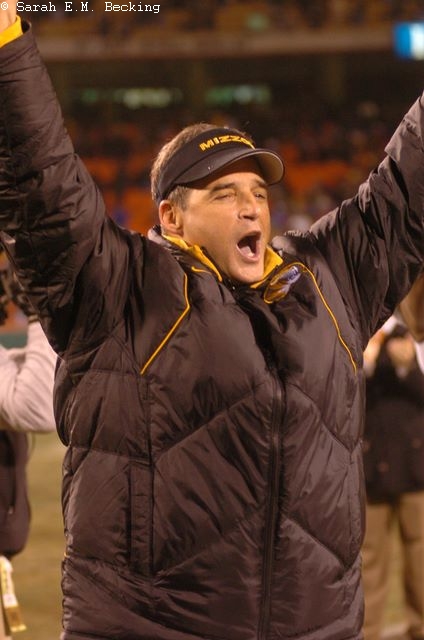 Greatest Win in Mizzou Football History Bracket

2000s Region

Round One
Which is greater, a tight, near-death experience, or a demon-exorcising whoopin'?
Mizzou 40, Illinois 34

Mizzou 52, Nebraska 17

September 1, 2007
St. Louis, MO
Edward Jones Dome

October 4, 2008
Lincoln, NE
Memorial Stadium


Significance: Want to know why rptgwb is a card-carrying member of the Church of Pig Brown? Because without his efforts in this game, the 2007 season as we remember it does not happen. Without Pig Brown recovering not one, but two Eddie McGee fumbles, and intercepting a pass at the Mizzou goal line in the final seconds, Mizzou does not finish 11-1, does not move to #1 in the country in late-November, does not finish in the Top 5, and maybe does not even win the North. Mizzou needed confidence, needed to know they could win a tight game where everything seemed to be going wrong, and thanks to Pig, they did just that.

It started out well enough. Mizzou shut down the Juice Williams-led offense early (despite what Andre Ware may have thought at the time), and as Brown (99-yard fumble return) and Jeremy Maclin (two touchdowns--one via punt, one via pass) introduced themselves to a national audience, Mizzou jumped to a 37-13 lead.

But led by backup QB Eddie McGee (Juice was injured by Hardy Ricks in Q2), Illinois came back, and Mizzou froze up. It was 37-20 when Danario Alexander fumbled and set up another TD. And then Chase Daniel was sacked and fumbled. In the blink of an eye, the score was 37-34. It was 40-34 when Jeff Wolfert missed the potential clinching field goal and UI got one last shot. They drove to the Mizzou 22 when Brown stepped in front of McGee's final pass and came down with the victory.

Significance: By 2008, Missouri had beaten Nebraska three straight times at home, by an average of 23 points. That was getting to become standard operating procedure. But they still hadn't won in Lincoln since The Boy was one month old.

48-17. 69-21. 63-6. 49-7. 57-0. 51-7. These are some of the scores by which Nebraska had defeated Missouri in their fifteen meetings in Lincoln since Mizzou had won three straight in 1974, 1976, and 1978. Rarely did Mizzou put up a serious fight. In 1998, they almost got the job done...but they did not, losing to the Huskers and 14th-string QB Monte Cristo. In 2000, they looked prime for a serious threat until Kirk Farmer broke his collar bone and Mizzou lost by 18. In 1982, a 5-win Mizzou team had come within four points (23-19) of doing the deed. But the opportunities were few and far between.

Mizzou had been on something of an exorcism streak in recent years. Beat NU for the first time in 25 years (2003). Beat KSU for the first time in 15 years (2007). Beat Colorado (badly) in Boulder after losing 10 of 11 there. But there was one more job to be done. to make up for years of suffering. And, to say the least, they slayed that last demon in 2008.

Specific plays don't even matter. This was destruction. After three quarters, the score was 52-10. Everything NU had done to MU over the years, Mizzou did to them that glorious night.

Aftermath: We all know what happened next. Mizzou thought about letting Ole Miss come back as well before winning by 13, and then things started to happen. They beat Nebraska by 35, Texas Tech by 31, Colorado by 45, Kansas State by 17...in 2007, they would go 12-2, losing only to Oklahoma twice., and winning the Cotton Bowl Could be the recency effect, but most currently regard this as Mizzou's best season ever.


Aftermath: This was the absolute apex of the 2008 season. Five games into the season, Mizzou was averaging 53.4 points per game and had yet to go three-and-out in a single series. Oklahoma State came to Columbia the next week and stole Mizzou's mojo. Mizzou would go just 5-4 the rest of the way, leading to the most "disappointing" 10-win season in Mizzou's history. They did well, but not as well as it looked like they would do that night in Lincoln.