The Greatest Win in Mizzou Football History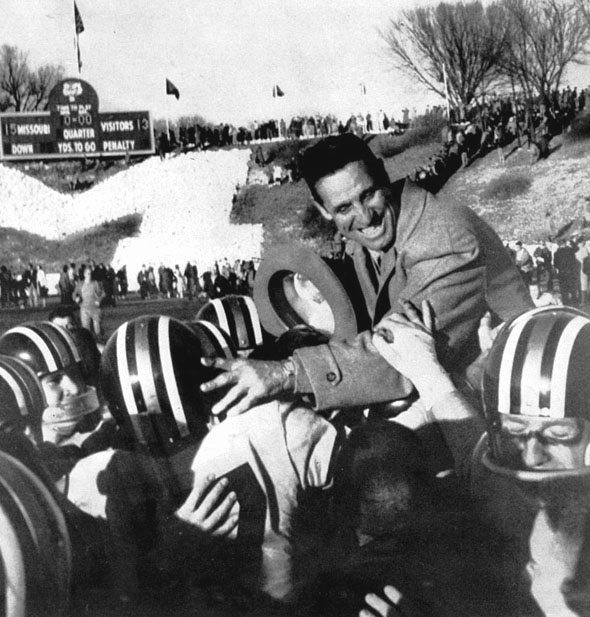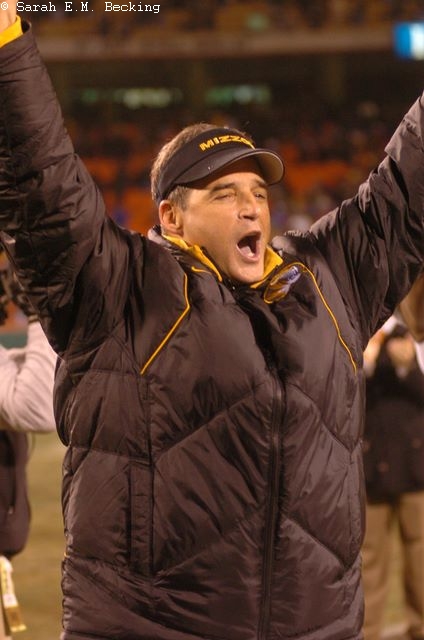 Greatest Win in Mizzou Football History Bracket

2000s Region

Round One
Which is greater, one of Mizzou's biggest comebacks, or one of Mizzou's most fun parties?
Mizzou 38, South Carolina 31

Mizzou 41, Nebraska 6

December 30, 2005
Shreveport, LA
Independence Bowl

October 6, 2007
Columbia, MO
Faurot Field


Significance: Whereas I would normally poo-poo a bowl result, good or bad (it's just one game, it doesn't affect recruiting, it doesn't make a season successful or unsuccessful), it's impossible to shoo away the importance of this one. After a crushingly disappointing 2004 season that saw Missouri fall from 8-5 to 5-6, Mizzou did improve in 2005, but barely. A ho-hum season, complete with big offensive numbers, a loss to New Mexico, and a third straight loss to Kansas, had done little to excite the fanbase, and from the start of this game it looked like Missouri had no interest being on the field.

Ten minutes into the game, the score was 21-0 SC. The Gamecocks had run 16 plays for 169 yards. Mizzou: 7 plays for -10. SC was moving in for yet another score when Marcus King picked off a pass at the Mizzou goal line and returned it 99 yards for a score. After another 'Cock touchdown, Brad Smith found Chase Coffman for a fade route score with :20 left in the first half. Mizzou was within reach but still had a long ways to go.

The road got tougher when Adam Crossett missed a 22-yard FG midway through the third quarter, but then things started happening. Smith scored up the middle from 31 yards out to make it 28-21. Then after a fingertip interception by Derrick Ming, Smith scored again on the second play of the fourth quarter to somehow tie the game. Less than five minutes later, Crossett atoned for his sins, booming a 50-yard field goal for a 31-28 lead. South Carolina would tie the game at 31-31, setting the stage for one of Smith's most memorable plays.

With 4:16 left in the game, Smith rolled left and found no one open. He bobbed back toward the middle of the field, weaved around a couple of tacklers, and then burst to the left at a diagonal. Fifty-nine yards later, he was brought down. From there it took just four plays for Smith to score the go-ahead TD. SC drove to midfield, but Darnell Terrell picked off Mitchell's final pass, clinching the most exhilarating of wins.

Significance: If ever there were a completely perfect day of Missouri football, this was it. Perfect tailgating weather. Gold Rush at Faurot Field. Late kickoff. Really late kickoff. ESPN telecast.

As The Beef mentioned the other day on The Fastest 40 MInutes, depending on how the next year or two go (both on the field and in the stands), this game might have re-defined the Mizzou football experience. Not only was a crowd of 70,049 in attendance--the biggest home crowd since 1984--and not only has Missouri averaged almost 64K per game in home attendance since then, but the gold in the stands looked, well, great. It continued to look great for most of 2008.

In the end, the game was almost an afterthought. At least, that's how it's perceived now. Nebraska entered the game with a 4-1 record, having lost only to USC that season. Once again, they were "back" as a major national player. (hmm, seems like I've heard this somewhere before). Only, Mizzou players and fans knew better. What took place that night was simply an unmasking. Missouri took the opening kickoff and went 80 yards in 12 plays for a touchdown. Nebraska went three-and-out (highlighted by William Moore destroying Marlon Lucky on a swing pass). Mizzou marched 79 yards in 11 plays. Ten minutes in, it was 14-0 and, for all intents and purposes, over.

From there it was just a series of memorable scenes. Sam Keller running for his life. Chase Daniel finding Jeremy Maclin. Chase Daniel finding Chase Coffman. Chase Daniel finding Danario Alexander over the middle for 50 yards and a touchdown. Mizzou was efficient on offense and just plain mean on defense.

After the game, the party made its way right back out to the parking lot. A crowd that really didn't want to leave the game despite the blowout found itself in the midst of the midnight traffic jam to end all traffic jams...and nobody really cared. Good day? Or the best day?

Aftermath: One game sometimes gets too much credit, good or bad, but the facts are this: midway through the second quarter, Mizzou was reeling as a program. Since the comeback, Mizzou has gone 30-11. Martin Rucker took charge of the team on the sideline and eventually helped lead them to a 12-2 season in 2007. Brad Smith's career was somewhat frustrating and up-and-down, but his final moment in a Mizzou uniform may have served as the program's greatest catalyst.


Aftermath: After struggling through much of the non-conference slate, the Mizzou defense found its attitude and, more importantly, figured out what worked in this game. What followed was some of the better defensive performances Mizzou fans have seen for a long time. Yes, Chase Daniel was the face of the team, and yes, he was a Heisman finalist, but the defensive identity of this team carried them to the Top 5 as much as the offense, and this was where it started.