The Greatest Win in Mizzou Football History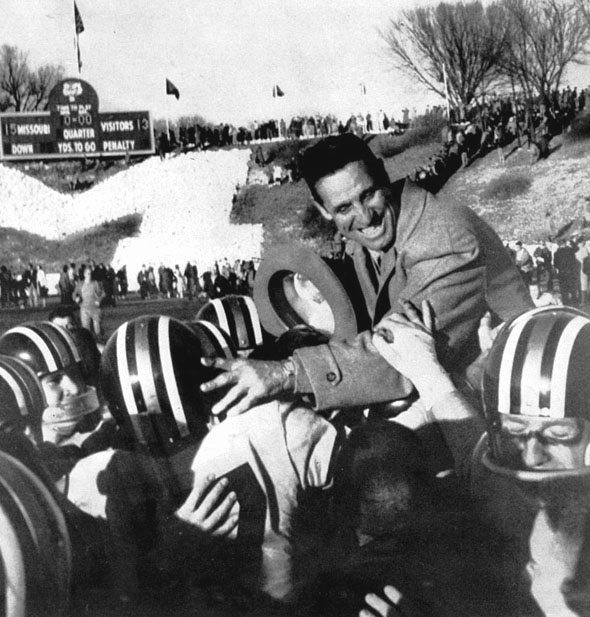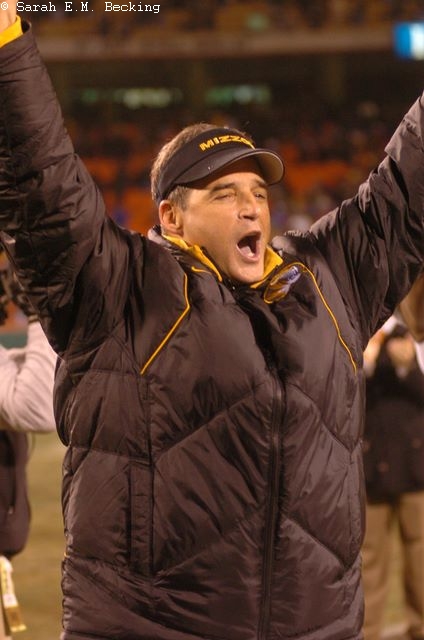 Greatest Win in Mizzou Football History Bracket

2000s Region

Round One
Which is greater, the catalyst for future success...or the future success?
Mizzou 27, Iowa State 24

Mizzou 36, Kansas 28

October 15, 2005
Columbia, MO
Faurot Field

November 24, 2007
Kansas City, MO
Arrowhead Stadium


Significance: It's pretty well-considered at this point that, without the 2005 Independence Bowl comeback win, then 2007 as we know it possibly does not happen. Well, without the comeback win over Iowa State in 2005, the Independence Bowl does not happen.

2005 is now seen as a bounceback from the disappointment of 2004, but really, Mizzou came within a quarter of finishing with exactly the same record as they had in 2004. The offense had looked great at Arrowhead versus Arkansas State, but the defense collapsed in a loss to Hank Baskett and New Mexico. After whipping Troy, getting whipped by Texas, and holding off OSU in Stillwater, Mizzou had a 3-2 record when Iowa State came to town for Homecoming at Ol' Mizzou.

As always seems to be the case, the game started well enough. Midway through the first quarter, Mizzou struck first, with William Moore pouncing on a Bret Meyer pass and taking it 62 yards to the house for a 7-0 lead. Just two plays later, Jamar Smith leveled Jason Harris, forcing a fumble that Xzavie Jackson recovered and took 16 yards for another defensive touchdown. This was a nice distraction from the fact that the offensive was terribly ineffective.

Thanks to the early touchdowns, Mizzou's defense was on the field a long time, which served to both wear them out and keep the offense from getting in a rhythm. The lead shrunk to 14-10 when, in the fourth quarter, disaster struck. Iowa State had just taken a 17-14 lead when Mizzou botched a reverse handoff giving Iowa State a short field and an easy touchdown. Suddenly it was 24-14, and the Brad Smith-led offense was in the process of being shut out. And then Tim Dobbins cracked Smith in the head after a pass, knocking him out of the game.

Enter Chase Daniel. The cocky freshman from Southlake, TX, had looked decent in limited playing time thus far, but now he was being thrown into the fire. And he responded. Entering the game on a 3rd-and-10, he found Ekwerekwu for 13 yards. Mizzou would kick a field goal on the drive--the offense's first points of the day--and it was 24-17 with 4:44 left. Mizzou got the ball back with 2:32 remaining, and it was time for Daniel to make himself a legend. Two minutes, eleven plays, 87 yards. He found Coffey with :20 left, forcing overtime.

Continuing the sudden resurgence, Mizzou's defense started overtime by forcing an ISU field goal. Bret Culbertson missed from 43 yards. After a Tony Temple run got Mizzou a first down, three Daniel keepers set up Crossett's chance for the win. For al his faults, Crossett was extremely clutch. His kick split the uprights, and he sprinted to the opposite 25-yard line to pay tribute to fallen teammate Aaron O'Neal. Improbably, Mizzou had moved to 4-2 without Brad Smith.

Significance: The significance of this one goes without saying, does it not? After decades of producing bad, to mediocre, to good, to occasionally very good results, Missouri and Kansas had simultaneously thrown together potentially their greatest seasons ever in 2007. Missouri was 10-1 and ranked #3 in the country. Kansas was 11-0 and ranked #2. Both programs were riding sudden and shocking momentum late into November. And did I mention, they were meeting at Arrowhead? And that ESPN's Gameday crew was in attendance? And that #1 LSU had lost the week before, meaning the MU-KU winner would move to #1 a week before the BCS Championship pairing was determined?

This was the biggest game in history for both schools, and they played like it early. Two untouchable offenses were out of sync, trading three-and-outs at the start. Mizzou struck first, with Danario Alexander the catalyst for a drive that culminated with a Martin Rucker touchdown on fourth-and-goal.

Kansas started the second quarter with their first good offensive play, a 39-yard pass to Kerry Meier, but going for the jugular on the next play, Todd Reesing underestimated William Moore, who stepped in front of a bomb to the endzone. Thirteen plays and 98 yards later, Chase Daniel had his Heisman moment, scrambling for seemingly minutes at a time before finding Alexander for an 11-yard TD and a 14-0 lead. KU would miss two field goals, and Mizzou would take said fourteen-point lead into halftime.

The third quarter was Mizzou's time to shine. After a Castine Bridges interception, Mizzou marched 40 yards, and Jimmy Jackson scored to make it 21-0 Mizzou. It was 21-7 when Mizzou went 69 yards in 14 plays and scored to make it 28-7. Mizzou had a seemingly insurmountable lead heading into Q4.

And then they had to hold on with all their might. With nothing to lose, Todd Reesing started gunning the ball to Meier and Dezmon Briscoe, and the points added up. Touchdown for KU, field goal for Mizzou. Touchdown for KU, field goal for Mizzou. When Reesing found Marcus Henry for a 5-yard TD with 2:03 left, the lead was just 34-28. Mizzou tried to run out the clock but couldn't. They had to punt, and KU had 11 seconds to go 89 yards. Seems impossible, but in the minds of most Mizzou fans, it was anything but. Here's where the Sports God would apply the biggest dagger ever to Mizzou hearts. Somehow KU was going to win this game.

Nope. The Mizzou defensive line blew up KU's offensive line and gang-tackled Todd Reesing in the endzone for the game-clinching safety (Mike Kelly's call: "Safety! Ballgame! Bingo!"). Sod Reesing was born, and Mizzou had just won the biggest game in the history of the rivalry.

Aftermath: Why was this game important? Because Mizzou lost three of five to end the regular season and squeaked into bowl eligibility at 6-5. As we said, without the Iowa State win, there is no Independence Bowl win. And who knows what happens to Gary Pinkel's program after back-to-back 5-6 seasons, but I'm very glad we didn't have to find out.


Aftermath: This win led to the single most celebratory week most Mizzou fans have experienced. Not only did they move to #1 with the win, but they had also ruined (somewhat) KU's best season ever. Mizzou would tie OU at half in the next week's Big 12 Championship before finally fading from the moment, losing and settling for the Cotton Bowl.