The Greatest Win in Mizzou Football History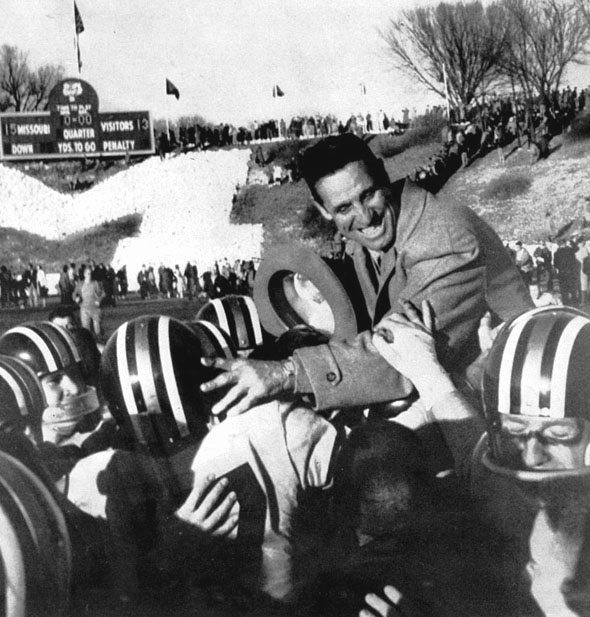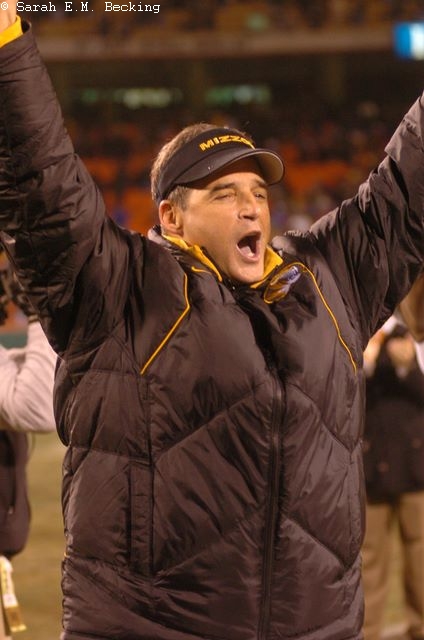 Greatest Win in Mizzou Football History Bracket

1976-2000 Region

Round One
We now enter a region full of games less familiar to RMN readers than the 2000s Region was.
What's greater, a win in USC's backyard or the first bowl win in 17 years?
Mizzou 46, USC 25

Mizzou 34, West Virginia 31

September 11, 1976
Los Angeles, CA
Los Angeles Coliseum

December 26, 1998
Tucson, AZ
Insight.com Bowl


Significance: Since his inaugural 1971 season (in which Mizzou went 1-10), Al Onofrio had brought pretty consistently decent results to Columbia. The problem was, a) they weren't as decent as what Dan Devine had produced, and b) there hadn't been improvement for a while. An 8-4 season in 1973 was followed by 7-4 in 1974 and 6-5 in 1975, and while upset wins--Nebraska in 1973 and 1974, Alabama in 1975--were great, consistency was nowhere to be found.

Mizzou fans hadn't seen anything yet.

The craziest season in Mizzou history started with a bang--with Mizzou waltzing into the L.A. Coliseum and not only upsetting a Top 10 USC team, but thumping them.

It all went right from the start. In strangely rainy conditions, USC's opening drive ended with a botched punt snap, setting up an easy Mizzou TD. After the Trojans responded with a TD of their own, Curtis Brown took the ensuing kickoff 95 yards for a touchdown. Mizzou led 13-7, and they hadn't thrown a pass yet. Mizzou led 16-10 when Steve Pisarkiewicz found Leo Lewis for a 20-yard score with 2:15 left in Q2, and it looked like Mizzou would take a 23-10 lead into half. Nope. USC would have to punt, and Brown took a swing pass 49 yards for another score and a shocking 30-10 lead. It was 33-10 when Lewis applied the dagger, taking a reverse 24 yards for a touchdown.

This was not just a run-of-the-mill upset. Not only had Mizzou handled the wet conditions better than USC, but they were faster than USC as well. New Trojan coach John Robinson's tenure had not started as planned; had Mizzou taken advantage of an overrated team? Nope. USC would win the final 11 games on their schedule and finish #2 in the country--this was an outstanding team, and Mizzou had squashed them like a bug.

Significance: After slow-but-steady growth in 1996 and 1997, big things were expected from Larry Smith's team in 1998, and they came oh-so-close to delivering. They were "first-half national champions," leading every game at halftime, and they were about three plays from a 10-1 record. If John Dausman doesn't drop a late pass against Nebraska...if Randy Potter doesn't fumble that punt against A&M...if any of about 17 plays don't go against Mizzou against K-State...but alas, Mizzou's best team in almost two decades went just 7-4 and headed to the desert in search for their first bowl win since 1981.

They met an explosive West Virginia team loaded with players like Marc Bulger and Amos Zereoue, but it was Mizzou doing the early igniting. On WVU's first possession, Jeff Marriott blocked a field goal, and the always-opportunistic Carlos Posey scooped it up and took it back for a touchdown. Eventual MVP Julian Jones picked off a Bulger pass to help set up a short Corby Jones touchdown, and it was 14-0. It was 14-3 when J. Jones blocked a punt through the endzone for a safety, then almost took the ensuing free kick to the house. C. Jones scored soon after, and Mizzou took a 24-3 lead into halftime.

And then they held on for dear life. Bulger caught fire, and the lead was soon chipped to two touchdowns; then, it was down to just one after a Bulger touchdown pass made the score 31-24 with ten minutes left. Momentum was not Mizzou's friend, but as Brad Smith would do seven years later, seniors Corby Jones and Devin West would make the plays when it counted. They would execute a perfect, 7-minute drive capped by a game-clinching 18-yard field goal. WVU would score again late, but Mizzou would recover the on-side kick and hold on for the win. If the game had been five minutes longer, who knows what would have happened, but for 60 minutes Mizzou was the better team.

Aftermath: Had Onofrio's program turned a corner? It sure seemed like it. But alas, a run of injuries and inconsistency led to mind-boggling results. Mizzou followed up this win with a 31-6 home loss to a weak Illinois team...and then beat #2 Ohio State in Columbus. It continued that way all season. Any team can go 6-5; the 1976 Mizzou team was extremely creative about it.


Aftermath: Had Smith's program turned a corner? It sure seemed like it. But alas, it was a mirage. Recruiting just had not picked up as it should have with the recent success, and when Jones, West, and company left after 1998, their replacements just weren't capable of getting the job done. In one year, Mizzou had gone from being three plays from 10-1 to being outscored 154-14 the last three games of 1999 and finishing 4-7.