The Greatest Win in Mizzou Football History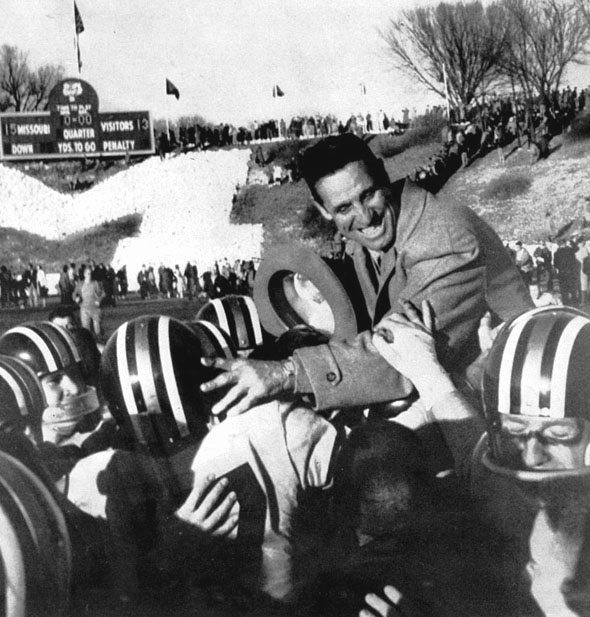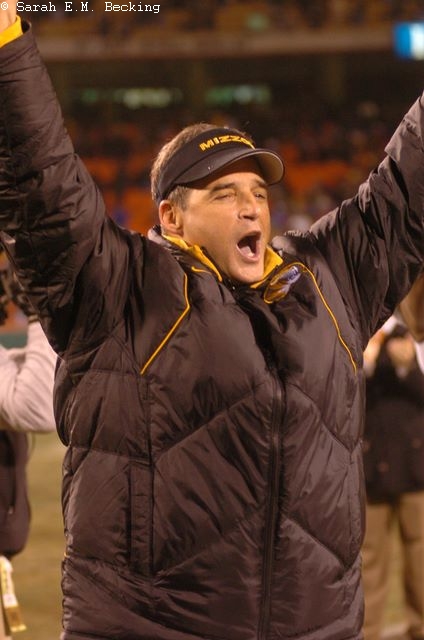 Greatest Win in Mizzou Football History Bracket

1976-2000 Region

Round One
What's greater, a well-played dogfight win, or a corner-turning catalyst?
Mizzou 35, Nebraska 31

Mizzou 42, Kansas 25

November 18, 1978
Lincoln, NE
Memorial Stadium

November 23, 1996
Columbia, MO
Faurot Field


Significance: After years of working in the shadows of both predecessor Bob Devaney and OU coach Barry Switzer, Nebraska's Tom Osborne has positioned his Huskers for a shot at the national title in 1978, having knocked off Oklahoma and needing only a win over Missouri to play for the national title. But Warren Powers' Tigers would pull off an upset in one of the most well-played, exciting games in Mizzou history. With wind chill near zero, in front of 75,000+, both teams threw haymakers all game long.

On the first play of the game, NU's speedy Rick Berns raced 82 yards for a touchdown. Mizzou responded with a 9-yarder by James Wilder. Led by Berns again, NU struck right back to go up 14-7 and quickly added a field goal to take what looked to be a double-digit lead into halftime. But as they would all game, Mizzou responded. On their last first-half drive, Wilder was dominant, accounting for half the drive's yardage. Phil Bradley found a tiptoeing Kellen Winslow in the front corner of the endzone, and the score was a much more manageable 17-14 at intermission.

NU bumped the lead back to ten on a 2-yard run by Berns, but they couldn't shake the Tigers. A powerful, long Mizzou drive led to another Wilder touchdown. 24-21. Then linebacker Chris Garlich, playing the game of his life, picked off a pass at the NU 31. A long run by Phil Bradley set up a short Wilder touchdown, and Mizzou led, but not for long. A long drive by NU put them back on top, 31-28, heading into the fourth quarter.

Offenses slowed down in the final 15 minutes, but when it was time to make a play, Mizzou stepped up with one last perfect drive. Wilder did the dirty work, and Kellen Winslow caught a 33-yard pass over the middle to set Wilder up one more time. The Sikeston Train literally shoved a tackler to the ground on his way to the endzone for the game-winner.

When all was said and done, Mizzou had knocked off #2 Nebraska in Lincoln, ruined NU's title hopes, and locked down a bowl bid to boot--they would beat LSU in the Liberty Bowl.

Significance: Fans of struggling programs are always looking for not only the sign of life, but the sign that the corner has been turned, that the worst is behind and success is about to roll in. For Mizzou fans, the 1996 win over Kansas allowed for nine months of optimism and hope before the 1997 team cashed in with Mizzou's first bowl game since 1983.

When KU and MU met, they were both 4-6, having arrived at their win total in different directions. The Jayhawks, coming off of a 10-2 season in 1995, started the season 3-1, romping Oklahoma in Norman on October 5, but they had lost five of six when they traveled to Columbia. Mizzou, on the other hand, had started 0-2 but gone a respectable 4-4 since. Kansas had won four in a row in the series, but Mizzou fans hope that the tide was turning. And turn, it did.

KU took an early 7-0 lead, but Corby Jones truly put the team on his back for, really, one of the first times. On an option keeper to the right, Jones found the corner and ran 80 yards to the house. Tie game. That was the momentum swing for which Mizzou was desperate. Great running from Brock Olivo, Ernest Blackwell, and Jones set up another touchdown and allowed Mizzou to play ball control. They took a slim 14-10 lead into halftime.

At the start of the second half, it was Jones again who gave Mizzou momentum. KU punted, and after a nice run by Olivo, Jones once again found the corner on the right and raced 37 yards for the touchdown. After KU cut the lead to 21-17, Jones decided to do some damage with his arm. He found Ron Janes for 22 yards on a 3rd-and-6, then found Rashetnu Jenkins for 27 more. Olivo would score to make it 28-17, and the celebration was on.

When all was said and done, Mizzou had rushed for 412 yards and scored 28 second-half points. Larry Smith's smashmouth football was finding success and identity in Columbia, and for the next two years, the same likable guys who worked Kansas over like a speedbag would find the success for which Mizzou fans had been yearning for almost a decade and a half.

Aftermath: This was the high point in the Warren Powers tenure. Mizzou would field a competitive program for a few more years, winning more than they lost, but there was never another moment like this one. So unbelievably well-played, this game would take on added significance when Mizzou decided to go 25 more years before beating Nebraska again.


Aftermath: For once, the promise and optimism stemming from one win was fulfilled...sort of. Mizzou did turn a corner of sorts in 1997, going 7-4 and making their first bowl in 14 years. But success was slow-growing. KU got revenge with a devastating 15-7 win in the second week of 1997, and Mizzou didn't really break through until October wins over Texas, Colorado, and OSU.