The Greatest Win in Mizzou Football History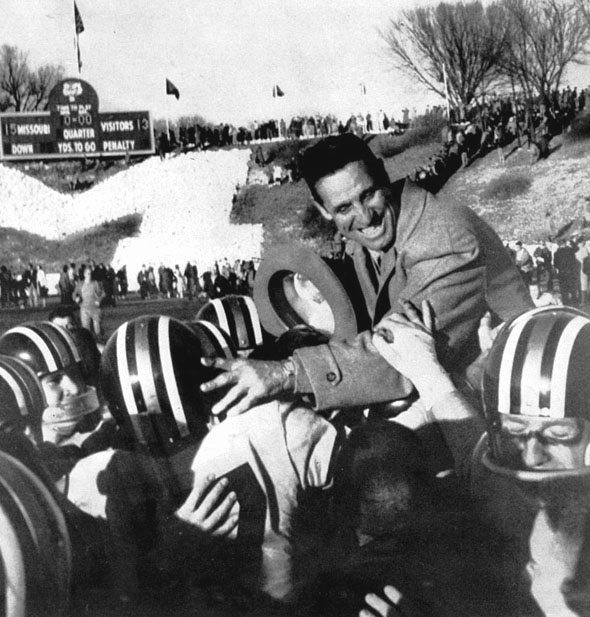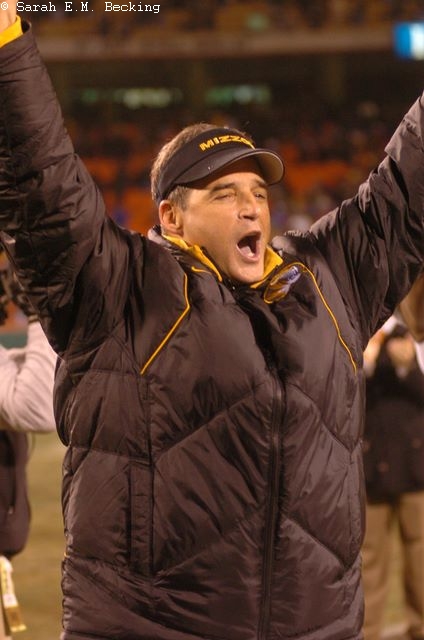 Greatest Win in Mizzou Football History Bracket

1976-2000 Region

Round One
What's greater?
Mizzou 3, Notre Dame 0

Mizzou 51, Oklahoma State 50

September 9, 1978
South Bend, IN
Notre Dame Stadium

October 25, 1997
Stillwater, OK
Lewis Field


Significance: Notre Dame entered the 1978 season the defending national champion; head coach Dan Devine had found the title that had stayed out of his grasp at Mizzou. He returned Joe Montana and a defense led by Russ Browner and Bob Golic. His first opponent in 1978 was a Missouri program that had just fired Devine's hand-picked replacement. Mizzou had gone just 4-7 in 1977 and surely would not be able to compete with the Irish in their first game with Warren Powers as head coach. Judging by total yards (334-288 Notre Dame), first downs (18-12), and the field position battle, ND really should have won this one easily. But Mizzou played the most timely defense they had ever played, and they came away with the mother of all upsets.

By game's end, Notre Dame would put together nine decent scoring opportunities, but time after time, the Mizzou defense made plays. Chris Garlich recovered a Montana fumble inside the Mizzou redzone in the first quarter, then intercepted a pass in the second. Notre Dame began to drive again, but this time Montana was picked off by Eric Wright (his future San Francisco teammate) deep in Mizzou territory. In a scoreless first half, Montana (or should I say, "Potentially the Greatest QB in NFL History" Joe Montana) went 4-for-17 with the aforementioned two picks.

In the third quarter, with the Mizou defense struggling to move the ball even a little, Notre Dame continued to threaten. They would go for it on 4th-and-1 from the MU 11 and fail. Mizzou immediately fumbled, but Notre Dame still couldn't score--Chris Garlich and Kurt Peterson stopped Vegas Ferguson for a loss on 4th-and-goal. Only a few minutes later, Notre Dame missed a field goal after a costly unsportsmanlike conduct penalty* backed them up.

* The penalty came when Irish WR Kris Gaines slapped Mizzou DB Russ Calabrese on the helmet after a big gain. Calabrese had talked smack about the Irish all week, and it had clearly gotten into their heads.

Mizzou had one sustained drive all game, but it came at the perfect time. With ND on their heels after three blown opportunities, the Tigers drove for a Jeff Brockhaus field goal. And then it was time for more defense. Notre Dame threatened yet again and was pushed aside, and with time running out, the Irish muffed a punt and Mizzou was able to run out the clock.

Outmanned and outgained, Mizzou forced three huge first-half turnovers and played the greatest bend-don't-break defense in history in the second half. Garlich, Peterson, Eric Wright, and the Mizzou defense had baffled Montana and the Irish, leading to one of Mizzou's greatest ever upsets, and greatest ever wins. Dan Devine had lost to his former team, and the Warren Powers Era had started with a bang.

Significance: Some wins are great because of the meaning behind the win. Some are great because they come amid a great rivalry. But some are great simply because of the out-of-nowhere drama they produce. In Joe Walljasper's words, "If there could be a more thrilling game than Missouri's 51-50 double-overtime victory over Oklahoma State yesterday, your cardiologist would recommend you avoid it."

Mizzou brought a 4-3 record to Stillwater, looking for back-to-back wins for the first time all season. Meanwhile, OSU was an upstart at 6-0 and ranked 12th in the country. Amid two Cowboy turnovers, Corby Jones threw three first-half touchdown passes, and Mizzou took a shocking 24-7 lead into halftime, and it didn't stop there. Jones scored on a keeper on the Tigers' first possession of the second half, and even though Scotty Knickman missed the extra point, who cared? It was 30-7!

Then OSU's Nathan Simmons scored, and it was 30-15.

Then Tony Lindsay found Sean Love for 61 yards and a score. 30-23.

Then Lindsay found stud tight end Alonzo Mayes for an 8-yard score and the tie.

Shellshocked, the Tigers quickly handed the ball right back to the Cowboys. Mayes, playing with a separated shoulder, scored again with just 1:57 left on the clock, and somehow Mizzou was about to lose this game. Lewis Field was rocking, and while Corby Jones had thrown well in the first half, he wasn't exactly your first choice for running the 2-minute drill.

Mizzou's first three plays of the final drive netted a loss of two yards, and wasted about 50 seconds; they faced a 4th-and-12 from their 18. Jones kept hope alive just enough, finding Ricky Ross for 18 yards. Two plays later, Jones found Coleman for 26 yards, and Mizzou was into OSU territory. With 35 seconds remaining, Jones found fullback Ron Janes wide open in the flat...and Janes dropped the pass. He could have walked in for the score.

Was Mizzou deflated by the drop? Nope. On the next play, Jones lofted a pass into the endzone, where a streaking Ross made the catch of his life, a one-hand-one-foot trick over McQuarters for the tying score.

Drama over? Hardly. Both teams scored easily on their first overtime drive, making the score 44-44 heading into a second overtime period. Once again, Mizzou scored easily and went up 51-44. When OSU scored easily, Bob Simmons blinked. Tired of the back-and-forth, OSU went for two points and the win instead of the PAT and a third OT. Employing a swinging gate formation they had used to great success that season, OSU did not fool Mizzou's defense. Marquis Gibson made Lindsay scramble directly into the path of Donnell Jones, who made the tackle and ended and epic contest.

Aftermath: The win kick-started one of Mizzou's most exciting seasons ever. (Exciting, not successful.) Mizzou would lead #1 Alabama at halftime the next week before falling. They built a 5-2 record before iffy losses to Colorado and OSU almost knocked them out of bowl contention. However, they rebounded, beating Kansas and upsetting #2 Nebraska in another Greatest Win candidate to finish 7-4 and finish with a trip to the Liberty Bowl.

Aftermath: Just two weeks earlier, Mizzou's bowl hopes were on life support. They were 3-3 and flailing. Then they beat Texas on Homecoming and upset Oklahoma State. The next week, they would go to Boulder and rock the world of a CU team ranked high in the preseason rankings. They would go on to win four of five to end the regular season (or all five, depending on how you view this game) and go to their first bowl in fourteen years.