The Greatest Win in Mizzou Football History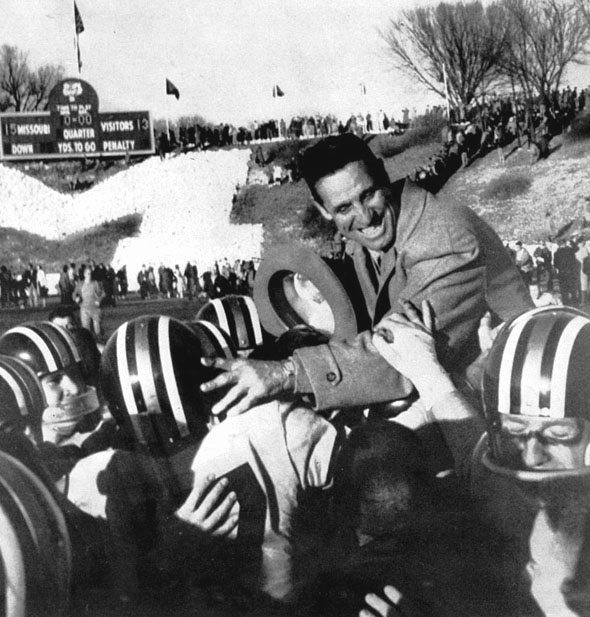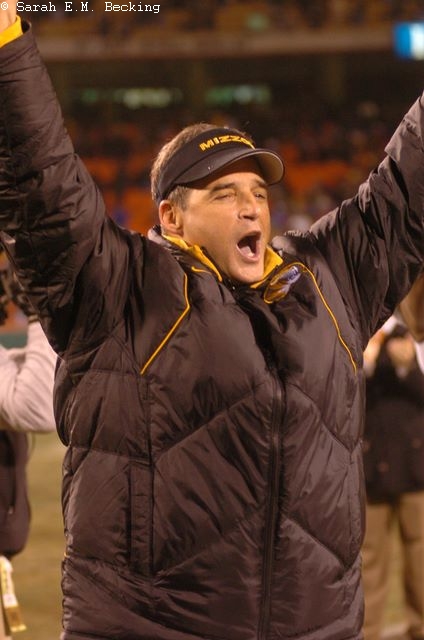 Greatest Win in Mizzou Football History Bracket

1976-2000 Region

Round One
What's greater, the unlikeliest of upsets or the most dominant of individual performances?
Mizzou 22, Ohio State 21

Mizzou 41, Kansas 23

September 25, 1976
Columbus, OH
Ohio Stadium

September 12, 1998
Columbia, MO
Faurot Field


Significance: Of all of Mizzou's upset wins of the 1970s, this had to be considered the least likely. Ohio State was ranked 2nd in the country and had just beaten 7th-ranked Penn State in Happy Valley. Meanwhile, after drubbing a Top 10 USC team on the road, Mizzou had lost QB Steve Pisarkiewicz and been pummeled, 31-6, by a mediocre Illinois team at home the preceding week. Backup Pete Woods would see his first career start in front of the third-largest crowd in Ohio Stadium history (87,936), against a team that had won 25 straight homes games.

Things went according to plan early. Buckeye LB Nick Buonamici tipped and intercepted a Woods pass, setting up a Pete Johnson touchdown that gave OSU a comfortable 21-7 halftime lead. Johnson ran for 103 yards and 3 touchdowns in the first half, and it looked like Ohio State would win easily.

But then the Mizzou defense stiffened. OSU would gather just 82 yards of offense in the second half (Johnson had just 19). After Big Play Chris Garlich intercepted a pass near midfield early in the third quarter, Mizzou's Curtis Brown scored from four yards out to cut the lead to 21-14. From there, it became a battle of punting units. It was a staring contest--who would make the first mistake?--and Ohio State blinked.

When Tiger DE Blaine Henningsen sacked OSU QB Rod Gerald with about five minutes left in the game, OSU was forced to punt. A previously boisterous crowd was starting to get anxious. Meanwhile, Mizzou settled down...almost too much. Milking the clock and attempting just two passes, the Tigers moved down the field, benefitting from a timely Ohio State holding penalty and moving into Buckeye territory. On 3rd-and-6 from the OSU 40, Brown burst through the line for 31 yards, setting up some serious drama. Forget OSU v. Mizzou--it became Pete Woods v. OSU crowd.

Woods repeatedly asked for help from the officials in quieting the crowd near the endzone (guess you could do that then), which just raised the volume (and Woody Hayes' hackles) even more. On third-and-goal with 16 seconds left, Woods rolled left and found Leo Lewis wide open for a 2-yard touchdown. Without hesitation, Al Onofrio decided to go for the win. After a holding penalty hegated a failed Mizzou 2-point pass attempt, Woods snuck through a crowd of bodies and found the endzone. After getting dominated for most of the first half, Mizzou had straight-up stolen a 1-point win in Columbus.

Greeted by 800 fans at the Columbia airport, Onofrio told reporters, "Looking back on all the football games Missouri has played, I'd say this has to be the greatest football game Missouri has ever played under the conditions." With a backup QB facing the toughest road environment in the country, it's hard to disagree.

Significance: Devin West was possibly the quintessential Larry Smith running back: big, strong, fast, durable. For the first three years of his Mizzou career, he was not only stuck behind Brock Olivo, but he didn't even get a true backup halfback's amount of carries because Corby Jones and Ernest Blackwell had to get theirs too. All of that changed in 1998, his senior season. That year, West turned into a true workhorse, especially when Jones got turf toe midway through the season.

So how does an easy home win over a soon-to-be 4-7 Kansas squad make the Greatest Win nominees list? Three reasons: 1) West's performance was simply magnificent--On Larry Smith's 62nd birthday, West rushed for 319 yards on 33 carries, a single-game Mizzou record that still stands. 2) This quite simply wasn't a game Mizzou would have won in the past. KU made big plays on special teams (who didn't against Mizzou that year?), and riding confidence from the previous year's 15-7 win over Mizzou, they played extremely well. 3) Without this win, the later great 1998 memories simply would not have taken place.

Mizzou led 20-13 at halftime, with West having exceeded 100 yards just 23 minutes into the game, but KU's Henri Childs returned a punt 79 yards for a touchdown just two minutes into the second half to tie up the score. Then Corby Jones threw an interception, leading to a 23-20 KU lead; suddenly, ghosts of the 1997 loss to KU (in which Corby played the worst game of his final two seasons in an MU uniform) started flooding to the surface.

With Mizzou in desperate need of a response, West stepped up. A 33-yard run set up a 3-yard West touchdown, which gave Mizzou a 27-23 lead. Mizzou got the ball back but was forced to punt; Vince Sebo's attempt was blocked, and KU took over at the MU 7 with another chance to take the lead. However, Tiger safety Harold Piersey stepped in front of a Zac Wegner pass in the endzone (KU fans swear it was pass interference) and stifled the threat.

So Mizzou took the ball over at their 20 and quickly faced a fourth-and-1. Sadly, going for it and failing seemed like a better option than risking another punting disaster--Jones snuck ahead for a first down, and then later broke free 48 yards on the option to give Mizzou a 34-23 cushion. Mizzou got the ball back, and with a chance at the all-time single-game rushing record, West raced untouched from 40 yards out for the game-clinching touchdown.

When all was said and done, Jones had stepped up when he had to, Harold Piersey had made a big play (he made a lot of them that year), and Devin West and the blocking he got were quite simply amazing. Beating a mediocre team by 18 shouldn't get you on the Greatest Win list, but the way Mizzou came through was, indeed, great.

Aftermath: In what I've already claimed was Mizzou's craziest season ever, Mizzou would follow up this win with a 24-3 shellacking of #14 North Carolina and move as high as #7 in the country before injuries, exhaustion, and inconsistency took their toll. In conference play (in one of the Big 8's best years--seven of eight teams finished with winning records), Mizzou would lose four of six down the stretch, still finding time to beat 9-3 Nebraska and 8-4 Colorado. Somehow, they would finish 6-5 and miss out on a bowl despite winning in LA and Columbus in the first month of the season.

Aftermath: This win served as a very nice shot in the arm for a team that would rely on West's legs and defensive play-making to reach eight wins for the first time since 1981. Mizzou would take a lead into halftime the next week at Ohio State (14-13), as they would every game that season, but special teams miscues, bad breaks, and second-half adjustments led to them losing three games by a touchdown or less. Still, though, 8-4 in 1998 was like 10-2 would be today, and without West's effort against Kansas, the season may have gone in a different direction.