The Greatest Win in Mizzou Football History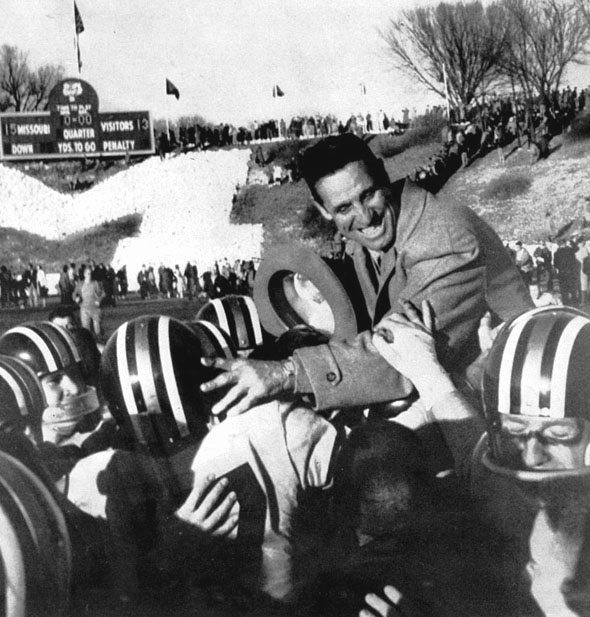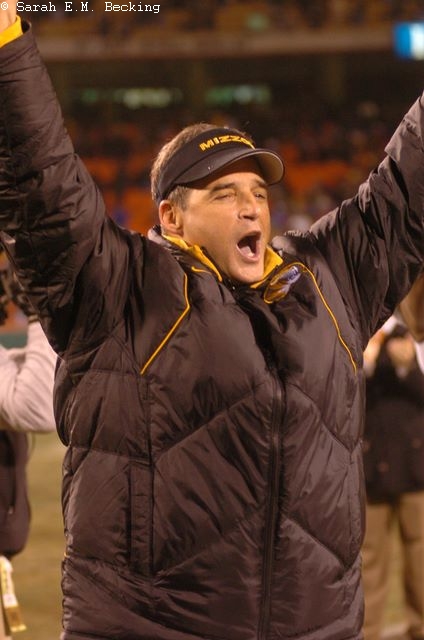 Greatest Win in Mizzou Football History Bracket

1963-1975 Region

Round One
What's greater, the statement win of Mizzou's last conference champion, or the biggest rebound win in Mizzou history?
Mizzou 40, Michigan 17

Mizzou 30, Notre Dame 26

October 4, 1969
Ann Arbor, MI
Michigan Stadium

October 21, 1972
South Bend, IN
Notre Dame Stadium


Significance: In Bo Schembechler's first decade as Michigan head coach (starting in 1969), the Wolverines lost a total of just 15 games. None of those 15 losses where anywhere near as bad as the thumping Mizzou gave them in the Big House in early 1969.

Mizzou was expected to be rock solid in '69--they had finished 1968 ranked 9th in the country, and they would begin 1969 10th. With Terry McMillan at QB, Joe Moore in the backfield, and Mel Gray and Jon Staggers running wild out wide, the offense was one of Dan Devine's best. Mizzou had crept by Air Force and pummeled Illinois before making the trip up North. Meanwhile, Michigan had destroyed Vanderbilt and Washington and moved to 13th in the rankings. Two ranked teams, huge crowd...made for a great game, right? Sort of.

It was close and favorable for the home team early. Michigan led 3-0 after one quarter, missing one field goal but holding the Mizzou offense at bay. Mizzou tied the game at 3-3, then Denny Poppe picked off a pass deep in Wolverine territory. Ron McBride scored to make it 10-3 Mizzou. Then the floodgates opened. Staggers scored to make it 17-3, then with under two minutes left in the half, big McBride passes to Mel Gray and Tom Shrock set up another McBride touchdown, and it was 24-3 at halftime.

The host Wolverines fought back. A nice punt return set them up at Mizzou's 10, and aided by a disputed defensive holding penalty, scored to make it 24-10. Then Ron McBride fumbled, giving Michigan another short field, and they took advantage, scoring again to cut the lead to just 24-17.

But in the fourth quarter, Mizzou proved that its offense was just too explosive to contain, especially when they got help from their special teams unit. A blocked punt led to a Mizzou field goal, bumping the lead to 10, then Joe Moore busted loose for 62 yards and a touchdown. 34-17.

From there, MIzzou coasted. A banged-up defense started making some plays, and a late Chuck Roper touchdown pass bumped the final margin to 23 points.

This one ended up being as much of a "We're ready to make some noise" statement as anything could have been in 1969. Mizzou had gone on the road and thumped the #13 team in the country. They would only move up to #7 after the win, but they had served notice that they were one of the country's most dangerous teams.

Significance: Imagine the level of dread for Mizzou fans in this situation: Mizzou had gone 1-10 in 1971 and was only 2-3 in 1972. They had just suffered their worst loss in the history of the Mizzou-Nebraska series. The backfield, clearly vital in a wishbone offense, was banged up beyond recognition. The defense was suffering lapses that few Mizzou defenses had in the last 20-25 years. And now Mizzou had to travel to South Bend, where they were 35-point underdogs to the host Irish, a team that would go on to face Nebraska in the Orange Bowl.

On a cold, foggy afternoon in Indiana, with a banged-up, thin lineup, all Missouri did was play one of their most perfect games. After a Bob Pankey interception, Mizzou's Leroy Moss scored from 16 yards out to put Mizzou up 7-0, the Irish responded with a touchdown of their own. A banged-up Mizzou backfield caught fire, however, and Don Johnson scored to put Mizzou up 14-7. Notre Dame responded again. 14-14. But John Cherry and the Mizzou offense shockingly kept it up. Cherry found Henry Marshall and Bill Zeigler for big gains, and late in the first half, Johnson found paydirt again. The five-TD underdogs were up 21-14 at half.

Though the home crowd probably assumed the Irish would bounce back in the second half, it was Mizzou who continued to strike. ND muffed a punt, and Greg Hill kicked a field goal to make it 24-14. Then Notre Dame fumbled the proceeding kickoff! Mizzou recovered, and another Hill FG made it 27-14.

Tommy Reamon's running set up het another Hill field goal to put the Tigers up 16, but finally the Irish struck back. They drove 80 yards for a touchdown, but John Moseley tipped away the 2-point conversion, keeping the lead at 30-20. The Irish came right back and scored again, converting a 4th-and-18 pass en route to another touchdown. Once again, the two-point attempt was quashed, and Mizzou's lead was four points.

With two minutes left, the Irish got the ball back one more time, and while everybody probably assumed they would drive down and win the game, Mizzou had other ideas. Mike Fink stepped in front of a long pass, and Mizzou ran out the clock for the win.

Words like "miracle" are probably thrown around too much, to the point that they lose some of their impact. But if you're ever going to use that word to describe a sporting event, now's a pretty good time. Mizzou's win as 35-point underdogs was USC-Stanford-esque, and it turned around the Onofrio era.

Aftermath: Mizzou would move to 5th in the country before an upset loss in Boulder dealt a strong blow to their national title hopes. But they followed the loss by scoring 194 points in their final four contests and coasting to the Big 8 title and an Orange Bowl bid. At #6 in the country, they would lose to #2 Penn State in Miami; it was their last truly great season until 2007.

Aftermath: Onofrio's tenure was in danger of falling apart, but this win got Mizzou going. They would beat a good Colorado team and sneak into the Fiesta Bowl, then get revenge on Nebraska the next year on the way to a Sun Bowl win. Without this win, it's uncertain that Mizzou would have done much of anything under Uncle Al.