The Greatest Win in Mizzou Football History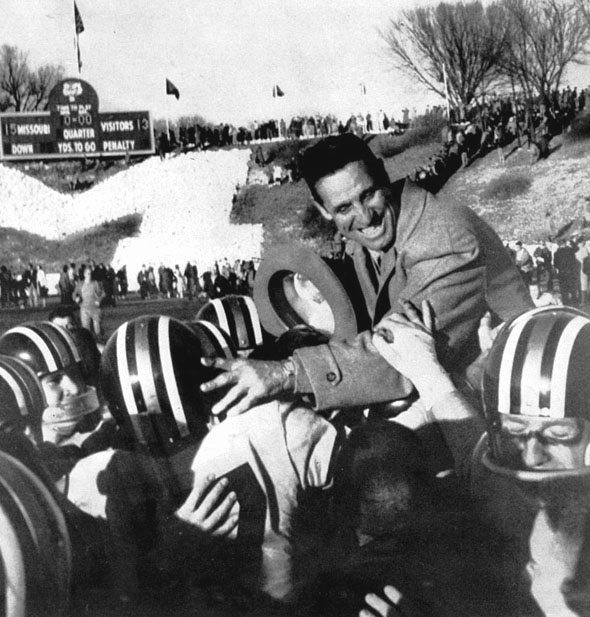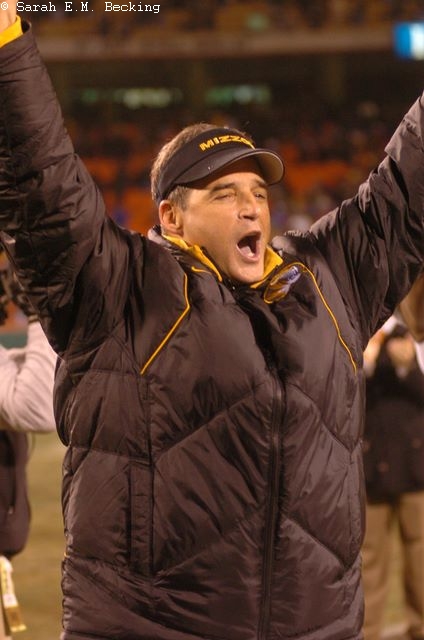 Greatest Win in Mizzou Football History Bracket

1963-1975 Region

Round One
What's greater?
Mizzou 35, Alabama 10

Mizzou 69, Kansas 21

December 28, 1968
Jacksonville, FL
Gator Bowl

November 22, 1969
Lawrence, KS
Memorial Stadium


Significance: Despite good to great records every season, Mizzou didn't always accept bowl bids. Dan Devine let the players decide whether they wanted to attend a bowl or not, and often they decided not to. It was apparently a different time. That said, when presented with the opportunity to play 12th-ranked Alabama in the Gator Bowl to finish the 1968 season, Mizzou accepted. They would not regret the decision.

In describing the 1975 Mizzou win over Alabama the other day, I mentioned that teams just did not do to Bear Bryant's Alabama teams what Mizzou did to them that day. But that was only a 13-point win. What they did to Alabama in the 1968 Gator Bowl was staggering. And that they did it without actually completing a pass is just play mind-blowing.

During bowl practices, Dan Devine got sneaky--he installed a completely new formation for Mizzou, the Power-I. Alabama's defensive stalwarts never knew what hit them--Mizzou would rush for 404 yards. Meanwhile, the Mizzou defense thrashed the Tide, giving up just 45 rushing yards and 68 passing yards. Tide QB Scott Hunter went just 7-for-25 passing and was sacked for a loss of 61 yards.

Regardless of the statistical domination, it was a game early. A first-quarter TD run by Terry McMillan gave Mizzou, a slight underdog, a 7-0 lead, but McMillan then completed a pass to the wrong team--Donnie Sutton picked McMillan off and returned it 38 yards for a 7-7 tie. Mizzou would put together another nice drive, however, and another McMillan touchdown gave Mizzou a 14-7 halftime lead.

There was no scoring in the third quarter, and when another McMillan INT gave Alabama the ball deep in Mizzou territory, it looked like Alabama could not only keep this more competitive than the stats indicated, but maybe even straight up steal a win.

But the Mizzou defense would hold Alabama to a field goal, cutting the lead to 14-10 but maintaining a Mizzou lead, and then Roger Wehrli, playing in his final game as a Tiger, intercepted a pass that set up McMillan's third rushing touchdown. Mizzou was up 21-10 and then poured it on. Greg Cook capped a 179-yard rushing day with a 37-yard touchdown run, then Dennis Poppe stepped in front of a Hunter pass and took it 47 yards for a touchdown and a 35-10 lead.

The 25-point loss was Alabama's worst bowl loss ever, which was saying something since they had already played in 22 bowl games by 1968. It gave 'Bama their first three-loss season since Bryant's first year in Tuscaloosa (1958), and most importantly, it gave Mizzou a major shot in the arm for 1969.

Significance: Kansas went just 1-9 in 1969, so why was this one of Mizzou's greatest wins? Because of the sheer, humiliating intensity with which the Tigers dispatched of KU. This one was ridiculous. As The Missourian's Doug Grow, put it...

"What Missouri's Tigers did to Kansas was more indiscriminate than napalm. The 69-21 beating the Tigers inflicted on Kansas was the worst that the K.U. team had ever taken. (Joe) Moore for 10. (Jon) Staggers for 4. (Mel) Gray around end -- touchdown. (Terry) McMillan to Gray -- touchdown. Moore off tackle -- touchdown.

It was automation brought to football. It was noisy, impressive, ruthless and, for Kansas, disgusting and humiliating.

Sounds great to me, right? With the Orange Bowl all but set in stone, Mizzou went to Lawrence looking to both maintain their Top 10 ranking (they were 7th at the time) and get revenge for KU's tight, 21-19 win in Columbia the year before. The win gave KU a share of the Big 8 title instead of Missouri.

At first, it was all Mel Gray. He scored on an end around on Mizzou's first possession, then caught a deep ball down the right side for a 63-yard score on the next possession. Next, Terry McMillan found Jon Staggers on an endzone lob, and it was 21-0 after the first quarter.

Would Mizzou let the foot off the gas? No way. They blocked the proceeding Jayhawk punt, and in just one play (McMillan to Gray for 26 yards), it was 28-0. KU scored before half to make it 28-7, but any hope of a miracle comeback was quickly squashed. Joe Moore caught a flare pass and took it 38 yards, then McMillan found Gray one more time for 26 yards. A quick flip to Staggers for another touchdown, and it was 35-7. Oh, it was just getting started.

Joe Moore: 53-yard TD run. 42-7.

Terry McMillan: 16-yard TD run. 49-7.

McMillan: 1-yard TD run. 56-14. Oh yeah, and it was still the third quarter. This was 1969--teams didn't score this much in 1969. But one of Mizzou's most prolific offenses ever just kept pouring it on. When backup Mike Farmer scored on a 1-yard sneak, the damage was done. Mizzou had not only clinched an Orange Bowl bid, not only clinched the Big 8 title, and not only gotten revenge for the 1968 loss...with #1 Ohio State getting upset by Michigan, and #2 Texas playing #3 Arkansas the next week, Mizzou would have a chance to move up into the Top 5 and, if they were to beat Penn State and other teams lost, they might have a chance at the national title.

Aftermath: The win sparked a Mizzou rise in the rankings--they would finish 9th in the AP Poll to end 1968 and start 1969 ranked 10th. Most of the offense that had dominated the Crimson Tide would return for the 1969, and as we see with today's other Greatest Win competitor, it would become one of Mizzou's most explosive offenses ever.

Aftermath: It didn't quite work out that way. Mizzou's offense threatened but couldn't break through against Penn State, and they lost 10-3. It wouldn't have mattered--Texas would beat Arkansas, then beat Notre Dame in the Cotton Bowl to win the national title. Penn State would finish 2nd, Missouri a very respectable 6th.