The Greatest Win in Mizzou Football History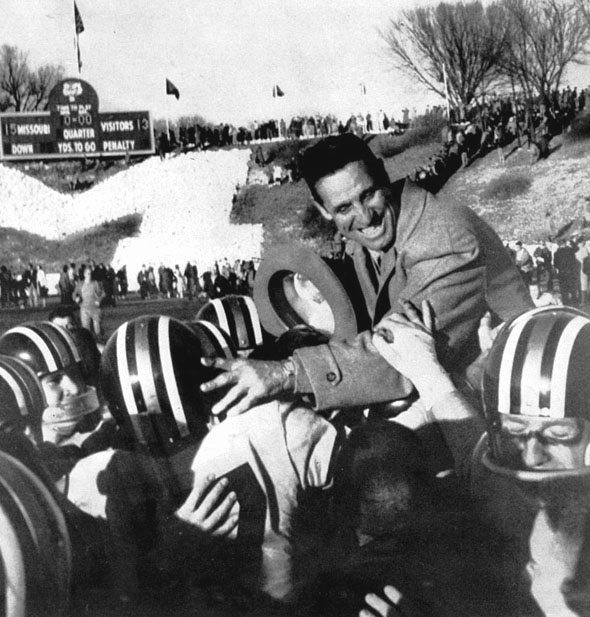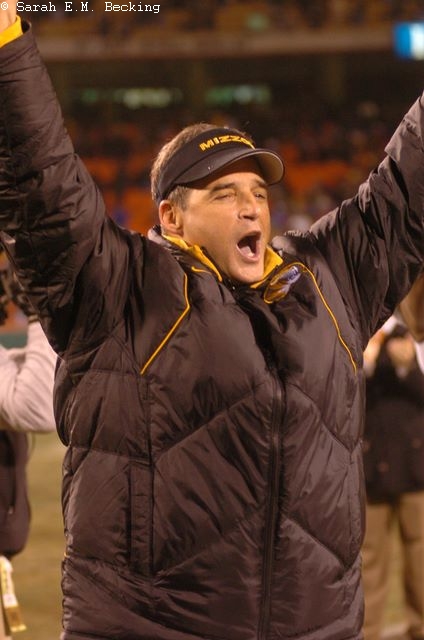 Greatest Win in Mizzou Football History Bracket

1963-1975 Region

Round One
What's greater, a season-capping win in New Orleans, or a revenge win in front of 68,000 at home?
Mizzou 20, Florida 18

Mizzou 13, Nebraska 12

January 1, 1966
New Orleans, LA
Sugar Bowl

October 13, 1973
Columbia, MO
Faurot Field


Significance: Throughout history, how often do you figure a team has stopped a soon-to-be Heisman Trophy quarterback on three two-point conversions? I'm willing to bet it isn't a very common occurrence. It takes a team with an infinitely supply of testicular fortitude to pull that off--luckily, Mizzou's defense proved it had just that.

Surprisingly, despite a high-profile QB battle of Steve Spurrier vs Gary lane, this game was a defensive show early. Neither team scored in the opening frame, as both teams were feeling each other out. But in the second quarter, Mizzou's rushing attack got rolling. The Tigers put together a 59-yard drive that was highlighted by Charley Brown's lovely diving catch of a Gary Lane pass. Brown then jetted in from 10 yards out to give Mizzou a 7-0 lead. After Florida muffed a punt, Mizzou quickly took advantage with a halfback option pass from Johnny Roland to Earl Denny, and it was 14-0.

Mizzou DE Dan Schuppan recovered a Spurrier fumble to stop a drive. Missouri snuck in a field goal and took a commanding 17-0 lead into halftime.

To shut out the potent Gators for a half was quite impressive, but to do it for another half would be impossible, right?

Well, maybe not. The D picked up where they left off in the second hafl, shutting UF out in the third quarter and, more importantly, tacking on another field goal to increase the lead to 20-0.

Heading into the final quarter, Mizzou had the dagger in their hands. They faced a 3rd-and-1 from the Florida 15 and a chance to end any hope of a Florida comeback, but Carl Reese was stuffed for no gain. Devine then had a choice to make--go for a third field goal and technically keep Florida within three possessions, or go for the first down, score a touchdown, and end the game. Devine went for the jugular. And missed. Reese was stuffed again on fourth down, and Florida was given life.

Six passes later (all completions), it was 20-6. Spurrier took the Gators 85 yards in the blink of an eye, but a two-point attempt failed, and Florida was down a full 14 points. After a Mizzou fumble, Florida quickly scored again, with Spurrier plunging in from a yard out. Ken Boston, however, broken up a second two-point attempt, and the lead remained at eight points.

After a Mizzou punt, Spurrier quickly led Florida 81 yards for yet another touchdown. Somehow, the score stood at 20-18 with four minutes left. But this time it was Jim Whitaker stepping up to the plate for the Tigers--he broke up a pass, and Mizzou continued to hold on for dear life.

Florida got the ball back one last time, but Mizzou's defense finally responded, quashing the rally, closing out a dramatic Sugar Bowl win.

Mizzou came within 10 points of an undefeated season in 1965, but any disappointment from the near-misses was erased by defeating Florida and finishing 6th in the country.

Significance: When Mizzou lost 66-0 to Kansas State in 1999, did they come back and beat KSU in 2000? No. What about when they lost 77-0 to Oklahoma in 1986? No (though in both instances, to their credit, they came close). But in 1973, after losing to NU 62-0 the year before, Mizzou did indeed come back to turn the tables the next season. And they did it in dramatic fashion.

With the previous year's loss in their heads, Mizzou came out fired up, but against the #2 Huskers, simply being emotional wasn't enough to get a lead. Nebraska kicked two first-quarter field goals to take a 6-0 lead, but Mizzou struck back. Led in part by John Moseley's great kickoff returns, Mizzou won the field position battle in the second quarter, and despite the complete lack of a passing game (for the game, Mizzou would complete two of 10 passes for 7 yards and an INT), managed two field goals of their own. The always clutch Greg Hill booted three points through the uprights with 29 seconds left in the first half, and the 68,170 in attendance saw a 6-6 tie at halftime.

Whatever offense Missouri had managed in the first half, it came to a screeching halt in the second. Mizzou would manage just one first half in the final 30 minutes. But NU's offense was also spotty until late in the third quarter, when they drove 60 yards inside the Mizzou 5. On fourth-and-goal from the 2, the Husker's lined up for a chip-shot, go-ahead field goal, but Mizzou's Herris Butler shot through the line and blocked it. Still 6-6.

It was an intense afternoon, but as the clock began to run out in the fourth quarter, there was only a low-scoring tie to show for it. Meanwhile, the Mizzou offense simply had nothing. Their biggest weapon was their special teams play. It continued that way.

With under three minutes to play, Jim Goble lined up to punt to Nebraska. As he had all game, Goble uncorked a beautiful 50-yarder. As Husker returner Randy Borg retreated to field the punt, he stumbled and bobbled the ball. All-American lineman Scott Anderson recovered for Mizzou at the NU 4, and with just 2:35 left, Mizzou had been handed a golden opportunity.

Two handoffs to backup fullback Tom Mulkey were all it took. Mulkey scored from a yard out, and with 2:03 left, Mizzou was suddenly up 13-6.

Nebraska responded, however. Sparked by the desperation of the moment, they needed just four plays to move 72 yards. NU QB Dave Humm found Ritch Bahe for 23 yards and a touchdown with a minute to play. Tom Osborne didn't hesitate--a tie would hurt NU almost as much as a loss would, so he was going for the win.

On the two-point conversion, the suddenly hot Humm rolled left and threw toward halfback Tony Davis, but Bob McRoberts deflected the pass and Tony Gillick pulled in the game-clinching INT. Mizzou had executed a 63-point turnaround from the previous meeting with Nebraska, and pulled off one of the biggest miracle wins in team history.

Aftermath: The 1965 Mizzou squad was full of seniors, and Mizzou would take at least a slight step backwards, losing three games for each of the next three seasons. But the recruits that signed with 1965's success were key cogs for the dominant 1969 Mizzou team.

Aftermath: The win catapulted Mizzou to 5-0 and 7th in the country. But as was usually the case with Al Onofrio's teams, they faded down the stretch, losing four of five to end the regular season and having to settle for a Sun Bowl bid with Auburn after entertaining Orange Bowl thoughts.