The Greatest Win in Mizzou Football History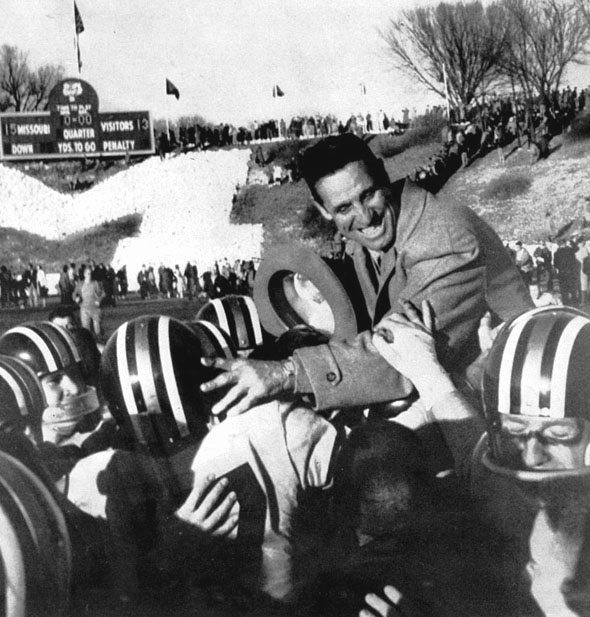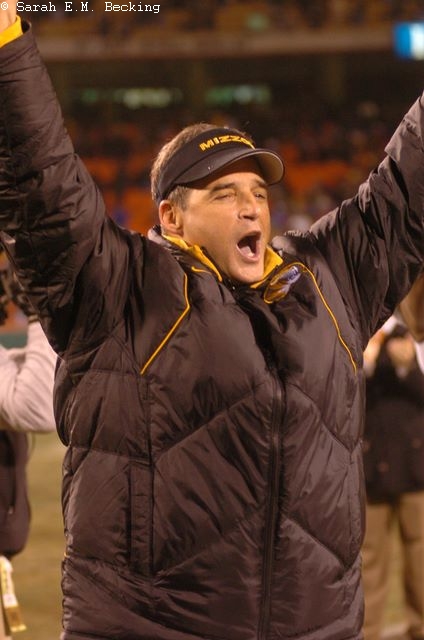 Greatest Win in Mizzou Football History Bracket

Pre-1963 Region

Round One
What's greater?
Mizzou 20, NYU 7

Mizzou 21, Navy 14

November 11, 1939
New York, NY
Yankee Stadium

January 1, 1961
Miami, FL
Orange Bowl


Significance: On the heels of a dominant win over a top ten Nebraska, team, Mizzou and Paul Christman had shown that they were an offensive force and a serious threat to win their first Big 6 title. In the middle of the conference race, however, they took a detour to Yankee Stadium to make a statement to the whole country that these midwesterners were for real. Against an NYU Violet team desperate for respect, they ran roughshod.

The week of the game, The New York Times ran article after article about Paul Christman and the explosive Missouri offense and whether NYU could stop them. The answer: no, they couldn't...eventually.

Early on, this was a battle. Mizzou struck first with an effortless 67-yard opening drive for a score. Christman completed a 23-yard pass on the game's first play, and then Bill Cunningham took over. Christman scored off-tackle from the 2, and after a missed PAT, it was 6-0 Missouri.

The Violet, however, immediately struck back. NYU ate up much of the late portion of the first quarter and the early part of the second in marching 72 yards for a touchdown and a 7-6 lead.

Mizzou kept marching forward, with miscues the only thing getting in their way. They twice advanced deep into Violet territory, but a missed field goal and poor clock management kept them off the scoreboard. NYU led 7-6 at half.

With the way the Mizzou offense was rolling, though, it was just a matter of time until they took the lead. Early in the third quarter, they made their move. On a drive spearheaded once again by Cunningham and just one pass, Mizzou advanced to the NYU 15 when Christman scored on a gorgeous cut-back run, avoiding just about every Violet defender at one point or another. The 10-play touchdown drive gave Mizzou a 13-7 lead. And by this point, NYU had completely ground to a halt on offense. Missouri would intercept three passes (allowing just four completions), and while NYU was winning the field position battle, they eventually had no answer for Mizzou's strength.

Mizzou was dominating everywhere but the scoreboard, but when Clarence Hydron intercepted an NYU pass, early in the fourth quarter, it was time for Christman to seal the deal. He would quickly find Ron King on a corner route in the endzone to put Mizzou up, 20-7. Game over. It didn't matter, but Mizzou actually blew two more scoring chances. Everybody in the stadium knew that the game could have very easily been about 44-7. Christman and Mizzou had impressed the east coast press and would finish the season 6th in the country.

Significance: Mizzou made their first ever bowl victory a pretty memorable one, hemming in (and popping down!) Heisman winner Joe Bellino and #4 Navy's offense, and piling up the rushing yards to win the Orange Bowl and finish the season 10-1 (I mean, 11-0). And they did it in front of Present-elect Kennedy, to boot.

From the opening kickoff, Mizzou dominated. On their first drive, they drove 70 yards to the Navy 2 before a miscue gave the Middies a surprising lead--halfback Donnie Smith got trapped behind the line and attempted an ill-advised lateral to QB Ronnie Taylor. The ball was picked off by Navy end Greg Mather and returned 95 yards for a touchdown. 6-0 Navy.

The craziness was just beginning. Navy attempted a surprise on-sides kick and recovered it. They moved inside the Mizzou red zone, looking to quickly go up 14-0, when Norm Beal turned the tables, stepping in front of a Hal Spooner pass and returning it 90 yards for a Mizzou touchdown. The first quarter was only half-over, and there had been two 90+ yard touchdowns. Bill Tobin's PAT made it 7-6 Mizzou.

From there, Mizzou took over. They quickly shut down the Navy offense, then drove 80 yards in 11 plays for the go-ahead score. Smith rolled in from 4 to make it 14-6. Navy had two opportunities to tie in the second quarter, recovering a Mizzou fumble and pouncing on a bad punt snap in Mizzou territory, but in both cases Mizzou's Andy Russell intercepted Spooner to get the ball back.

Entering the fourth quarter, Mizzou remained up eight when Mel West took over, marching Mizzou 64 yards toward the endzone. Ronnie Taylor snuck in from the 1, and Mizzou was up 21-6. This one was all but over.

To their credit, however, Navy finally moved the ball a bit. Spooner found Bellino for a late 27-yard touchdown, but this was Mizzou's day. Their first bowl win in seven tries was made possible by holding the explosive Middies to -8 yards rushing while plowing ahead for 223 yards of their own. West had 108 of those yards (plus Mizzou's only reception of the game, a five-yarder) in his final game as a Tiger, while Smith rang up 93. Heisman winner Bellino managed just four yards.

Though Kansas has wrecked Mizzou's national title hopes, the Tigers made a significant statement in this game. They truly were one of the two or three best teams in the country, and they had a pretty good claim for the national title. They didn't win it, of course, but they were as good as anybody that year, and they proved it in Miami.

Aftermath: Receiving a hero's welcome back in Columbia, Mizzou would follow up this win with a dramatic 7-6 win over always-elite Oklahoma to clinch the Big Six title and advance to the Orange Bowl, where they would lose to Georgia Tech. No matter. Paul Christman finished third in the Heisman Trophy voting, still the best ever finish for a Mizzou player. Meanwhile, the loss of Christman to graduation forced Don Faurot to get creative on offense to compensate...and he invented the Split-T formation, changing college football in the process.

Aftermath: Had the final polls been recorded after the season, Mizzou almost certainly would have finished 2nd (maybe 3rd) behind Ole Miss, as #1 Minnesota lost the Rose Bowl and #3 Iowa didn't get to play a bowl because of the Big Ten's "Rose or nothing" policy that last through much of the 1970s. Instead, they were locked in at #5. Regardless, Dan Devine's first batch of difference-makers (many of whom were recruited by Frank Broyles) went out a winner.