The Greatest Win in Mizzou Football History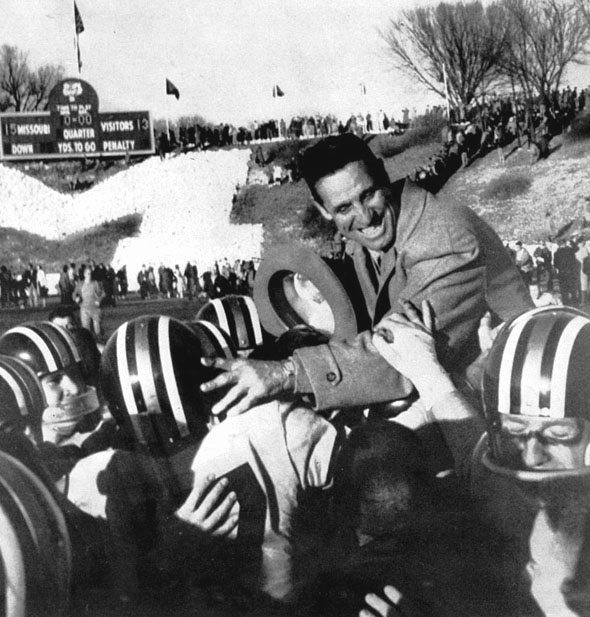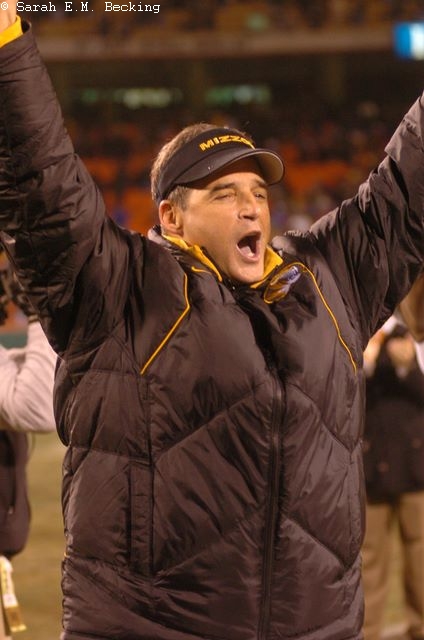 Greatest Win in Mizzou Football History Bracket

Pre-1963 Region

Round One
What's greater?
Mizzou 7, Iowa Pre-Flight 0

Mizzou 20, SMU 14

December 5, 1942
Kansas City, MO
Ruppert Stadium

October 16, 1948
Columbia, MO
Memorial Stadium

Significance: This game is significant for more than just the win, but the win was rather impressive as well. Iowa's Pre-Flight Seahawks would have been one of the most impressive college teams in the country if they had actually been a college team. They were a war-time, naval team with a host of former stars from schools like Michigan, Iowa, and Northwestern, plus a handful of former pro players. They played road games against most of the top schools in the midwest--Ohio State, Michigan, Notre Dame, Nebraska--and fared rather well, with losses to only Ohio State and Notre Dame. (In fact, in their three years in existence, 1942-44, they would lose only to tOSU, ND, and Michigan. Oh yeah, and Missouri.)

The Seahawks had played two Big 6 teams--Nebraska and Kansas--and had beaten them by a combined 107-0. They were a mighty bunch. But so were the 1942 Tigers. Don Faurot had unveiled the Split-T formation at the beginning of the 1941 season, and with scouting and film study at an absolute minimum, the element of surprise was still strong. When Pre-Flight coach Bernie Bierman found out that Mizzou would often let the defensive end go unblocked in their running plays, he was thrilled--his stud ends were going to kill Missouri!

In fact, the Split-T gave birth to the zone read play we see now in most spread offenses. The end would go unblocked and commit to either the QB or the back, and depending on his choice, the QB would either keep it or the halfback would take the option pitch unimpeded to the outside. This is exactly what happened on the first play of the game.

After a 40-minute delay at the start of the game while Bierman and Don Faurot encouraged some of the 7,600 in attendance to come down to the field and help clear away some snow (an epic blizzard had hit that morning, as you see from the picture above, wiping out the expected attendance), Mizzou took the opening kickoff. On their first play from scrimmage, QB Erv Pitts faked a hand-off to the fullback, and when the end committed to going after Pitts, he pitched to legendary Bob Steuber. The misdirection was supremely effective in the awful field conditions, and Steuber ran untouched, 60 yards for a touchdown.

From there, it was all about ball control. An outgunned Mizzou team outgained the Seahawks by a 2-to-1 margin, and Pre-Flight never had a chance. After the game, Mizzou players triumphantly carried Don Faurot off the field...and unceremoniously dumped him in a snow bank. It was the last game he would coach at Mizzou before enlisting.

Significance: Don Faurot's return to Mizzou had seen slow growth. Mizzou went just 5-4-1 in 1946 and 6-4 in 1947, but things came together again, and starting in 1948 Mizzou made one last great run under Faurot. After the typical season-opening loss at Ohio State (for money purposes, Faurot had agreed to a series of trips to Columbus throughout the 1940s...and Mizzou went 0-8-1 up there), Mizzou caught fire, first beating SLU 60-7, then welcoming mighty SMU to town.

Why was SMU mighty? Because they had a guy named Doak Walker dominating both ends of the field. SMU was 2-0 and ranked 4th in the country when they came to Columbia, and they were welcomed by a Mizzou team playing one of its most perfect games. Walker was every bit as dominant as advertised, and SMU played well...and Mizzou won anyway.

A record crowd of 30,892 watched SMU take a 7-0 lead in the second quarter after Walker made a leaping 25-yard grab to the Mizzou 3, then take it to the house off-tackle the next play (oh yeah, and he kicked the PAT too).

SMU led 7-0 at halftime, but Mizzou responded, with big runs from Nick Carras and Mike Ghnouly. Eventually Bus Entsminger scored, and it was 7-7.

The switch had flipped for the Mizzou offense. On their next drive, they drove to SMU's 1 before faltering, but they turned right back around and drove 69 yards for another score--Dick Braznell went in from 21 yards, and early in the fourth quarter it was 14-7 Mizzou.

Mizzou got the ball back, and with under four minutes to play Wilbur Volx scored on a 2-yard run. Despite a missed PAT, Mizzou had seemingly an insurmountable 20-7 lead.

Fifty seconds later, it was 20-14. After Walker returned the kickoff to the SMU 26, he caught a 74-yard bomb for a touchdown. SMU kicked off with 2:10 left and not only got the ball back via punt, but via poor punt. The Mustangs took over near midfield, but Loyd Brinkman stepped in front of a pass intended for Walker (seriously, I would hope they'd have had him quadruple-teamed), and Mizzou was able to run out the clock and clinch the stunning victory.

In the end, Walker was great (he did everything in the above write-up, plus he tracked Entsminger down from behind, preventing a TD on a long run), but the Mizzou rushing attack was too strong. They rushed for 356 yards, dominated the field position battle, and came away with the huge win.

Aftermath: Aside from being an impressive win, this game was significant for what came next. This was the last time a Faurot-coached Mizzou squad would be able to use the surprise of the unorthodox Split-T to its advantage. Feeling a duty to enlist after his brother Bob had been deemed missing in action in the South Pacific, Faurot was assigned to take over the reins of the Iowa Pre-Flight team. If he had simply put the Split-T in mothballs during his absence, he might have retained a competitive advantage for years after the war. Instead, he taught everything he knew to two young, hungry asisstants: Jim Tatum and Bud Wilkinson.

When the war was over, Tatum and Wilkinson would go on to coach at Maryland and Oklahoma (Faurot actually recommended Tatum for the OU job, which he held for one year before leaving for Maryland and letting Wilkinson take over for him in Norman), where they would both outrecruit Faurot and use his offensive genius to their advantage. Oklahoma would dominate the Big 6 for 15 years, Maryland would dominate the east coast in the early-'50s, and Faurot would retire after 1956, having averaged under four wins a year in the 1950s. If Faurot had been a little bit less of a good teacher and great guy, Missouri might have dominated the late-1940s and early-1950s.

Of course, he also wouldn't have been Don Faurot.

Aftermath: 1948 was one of Faurot's last great years. Mizzou would lose only to mighty Oklahoma the rest of the way (seriously, OU has prevented Mizzou from about another ten conference titles over the years) and play Clemson in the Gator Bowl on January 1, losing 24-23 and finishing at 8-3.

From there, things slowly regressed. Mizzou did go 7-4 in 1949, losing to Ohio State and SMU by one point each in the regular season and falling, 20-7, to Jim Tatum's Maryland Terrapins in the Gator Bowl. But the talent just wasn't rolling in like it had been before, or directly after, the war. Mizzou fell to 4-5-1 in 1950 and 2-8 in 1951. They rebounded somewhat, going 5-5 in 1952 and 6-4 in 1953, but they were no longer a serious threat in the Big 6. Mizzou went 1-9 in 1955, and the rumbling for Faurot to retire grew intense. He stuck around for one more season, bringing Mizzou back to 4-5-1 in 1956 and going out a winner, beating KU 15-13 in a Greatest Win nominee and, on the shoulders of his players, riding off of what would soon become Faurot Field.

I love the "What If..." game as much as anybody, but it's impossible not to wonder what would have happened to both the Mizzou program and the national balance of power had Faurot been stationed to coach one of the other military teams, Fort Riley or Great Lakes Navy, away from the curious eyes of Tatum and Wilkinson. Both of those guys would have been great coaches with or without Faurot, but they were greater because of him.