The Greatest Win in Mizzou Football History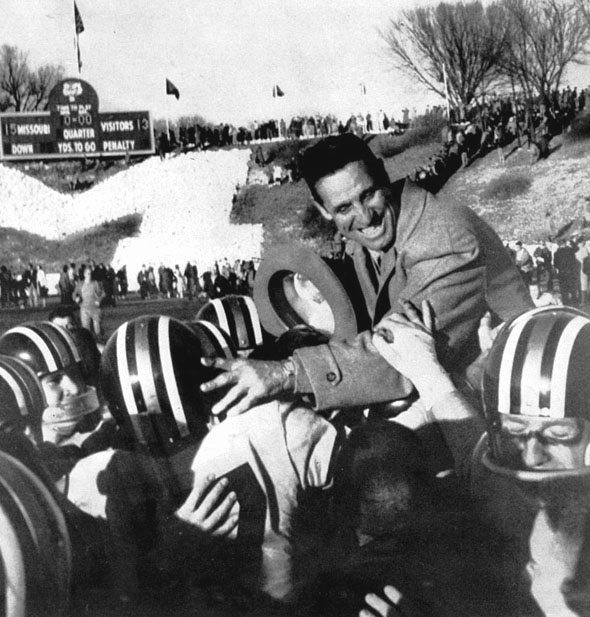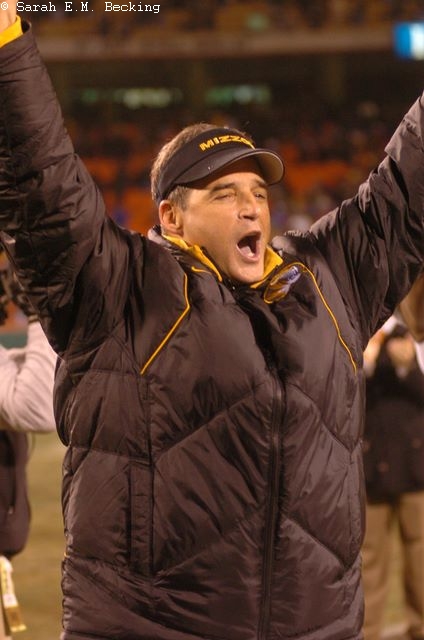 Greatest Win in Mizzou Football History Bracket

Pre-1963 Region

Round One
What's greater, a merciless assertion of power, or a great coach's final (crazy) win?
Mizzou 28, Oklahoma 0

Mizzou 15, Kansas 13

November 15, 1941
Columbia, MO
Memorial Stadium

December 1, 1956
Columbia, MO
Memorial Stadium


Significance: Before Don Faurot went off to war, before Jim Tatum, and then Bud Wilkinson took over at Oklahoma, before the concepts of the Split-T were slowly shared with the rest of the country, it was still a novelty. Faurot unveiled the Split-T for one possession in the 1941 season opener against 10th-ranked Ohio State, and it produced the only touchdown drive of a 12-7 loss. If he had leaned on it more in that first game, it could have led to a win and an undefeated season.

The next game, against Colorado, Faurot went all-in with the T, and Missouri took off. Combined with one of Faurot's best defenses (they gave up 3.9 points per game!), the 1941 team was simply dominant, blowing by K-State and Iowa State by a combined 74-13, slipping past a game Nebraska squad (6-0), pounding Michigan State in East Lansing (19-0), and obliterating NYU in The Bronx. When OU came to town to decide the Big Six title, Mizzou stood at 6-1, 16th in the country. Both teams were 3-0 in conference. Mizzou was averaging 288 rushing yards per game and welcomed the Sooners having won thirteen straight home games.

In a backfield that included Harry Ice, Bob Steuber, and Bus Entsminger, it was Red Wade's day against OU. In front of Mizzou's largest ever home crowd at the time (29,000), Mizzou was unstoppable. They would rack up 285 rushing yards and 353 total yards while holding the Sooners to just 147 total yards.

It started reasonably well for the Sooners. They drove inside the Mizzou 40 on their first possession before Jack Jacobs fumbled. The explosive Mizzou offense picked apart the Sooners, but on first-and-goal from the OU 7, Harry Ice was thrown for a loss. The Sooner defense would eventually force a turnover on downs.

OU was just delaying the inevitable, however. They quickly had to punt, and Mizzou drove 64 yards for a touchdown. Wade scored from 23 yards out to make it 7-0 Mizzou. After another OU punt, Steuber threw a 23-yard touchdown pass to Herb Ekern. 14-0.

Late in the first half, OU tried to respond. They drove to the MU 13, but a penalty bumped them back 15 yards, and a Jacobs pass on the final play of the half fell incomplete. It was 14-0 at half, and Mizzou had now gone 3.5 games without allowing a point.

MIdway through the third quarter, Wade scored another touchdown. 21-0. OU drove to the one-foot line early in the fourth quarter, but Mizzou's powerful D held their ground, and OU was still scoreless.

Late in the contest, Wade broke into the open field for a 34-yard touchdown run, his third of the game. This one was a laugher. It wrapped up the conference title and served as a major assertion of power for Missouri on their way to a Sugar Bowl bid.

The next game, Harry Ice rushed for a then-school record 218 yards in 11 carries, and Mizzou rushed for 449 yards in a 45-6 romp over Kansas.

Significance: The KU-MU rivalry was never more intense, more filled with crazy finishes, than from about 1950 to 1960. Mizzou beat the Jayhawks, 20-19, in 1952 and 10-6 in 1953. They would fall, 9-7, in 1957 (Frank Broyles' last game as Mizzou coach) and fight to a draw in one of the most insane ties in college football history in 1958. Then, of course, there was the Bert Coan Incident in 1960. But potentially the most lasting game from that decade came in 1956, when Mizzou won in the most unexpected of ways and someone took one of the most memorable pictures in Mizzou history.

The first half was relatively uneventful. Mizzou starting QB Jim Hunter was injured in the second quarter, leaving backups Dave Doane and Stub Clemensen in charge of the offense, and KU took a 6-0 lead into halftime.

In the third quarter, Mizzou finally started to move the ball. A 58-yard drive was capped by a 4-yard scoring run by Doane, and the great Charlie Rash's PAT gave Mizzou a one-point advantage, 7-6.

Kansas immediately responded. As the fourth quarter began, they moved into Mizzou territory, eventually moving to the MU 2, where they faced a fourth-and-goal. Beaker QB Wally Strauch found Jim Letcavtis over the top for a touchdown pass, and KU took a 13-7 advantage.

The straits were dire, but Mizzou mounted one last challenge for their departing coach. With Clemensen at the helm, Mizzou drove from their 27 to the KU 10 before things got dicey. On first-and-goal, Clemensen fumbled and had to fall on the ball for a 5-yard loss. On second-and-15, he found George Cramer for just one yard. A third-and-14 pass was broken up.

It was fourth-and-career for Faurot, and Mizzou came through--with 3:12 remaining in the game, Clemensen miraculously found Larry Plumb in the endzone for a touchdown...but Mizzou missed the PAT. The score was tied at 13-13.

But things were just getting interesting. Kansas couldn't stomach the thought of a tie any more than Missouri, so with just over a minute left in the game, they actually went for it on fourth down in their own territory. Joe Wynn and Bill McKinney took down Homer Floyd, and Mizzou took over at the KU 32...

...and promptly threw an interception in the endzone. KU got the ball back at their 20 when Strauch, who had just made the interception, scrambled and scrambled, looking for an open man, and was eventually sacked for a 16-yard loss. Surely KU would now play for the tie, right? Wrong. Out of desperation, they attempted a reverse from their 4-yard line (!!). Charlie Mehrer sniffed it out and snuffed it in the end zone for a shocking safety. Somehow, Mizzou led 15-13 with 39 seconds left.

There was still time remaining, but Mizzou fans went nuts, storming onto the field in attempt to tear down the North goalposts. When order was restored, Mizzou ran out the clock and ended Faurot's career with a joyous, unexpected victory and, on his players' grateful shoulders, a ride off into the sunset.

Aftermath: Mizzou would finish the regular season 8-1 and ranked 7th in the country, having outscored their opponents 226-39 on the season. They would lose a heartbreaker to Fordham in the Sugar Bowl, 2-0, but bowls didn't matter much then--one more touchdown against Ohio State could have meant the national title (though it wouldn't have been guaranteed, as Michigan and Duke also finished undefeated, and Notre Dame finished 8-0-1.

Aftermath: RMN readers should know what came next (Part One, Part Two, Part Three). Faurot named Frank Broyles as his successor, and through smoke, mirrors, and quick kicks, Broyles milked a 5-4-1 record out of the inexperienced, rather unathletic Tigers. He would quit on Mizzou after just one year, ditching them for Arkansas. A scorned Faurot would then call on Dan Devine, leading to Mizzou's longest ever run of sustained success.