The Greatest Win in Mizzou Football History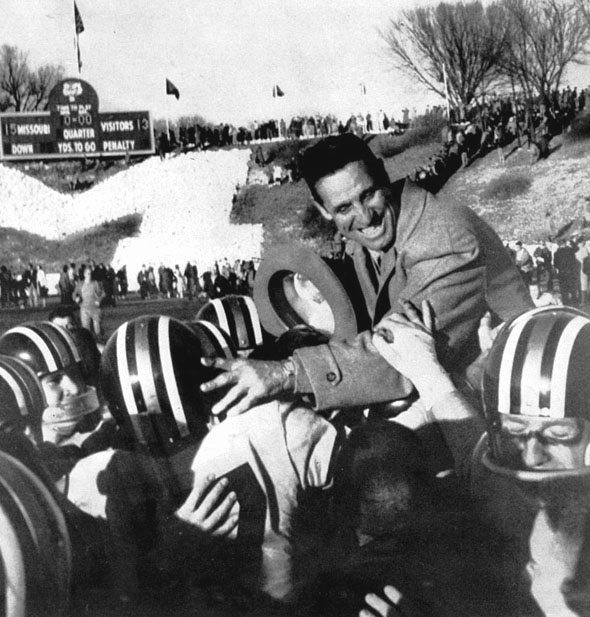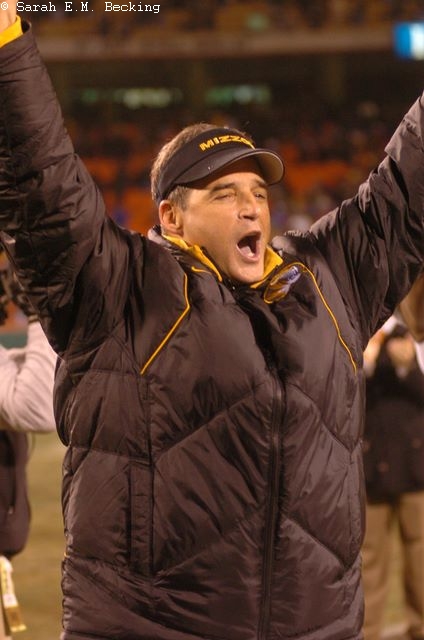 Greatest Win in Mizzou Football History Bracket

Pre-1963 Region

Round One
It's our final first-round game. What's greater, a conference clincher or another east coast statement win?
Mizzou 7, Oklahoma 6

Mizzou 21, Penn State 8

November 18, 1939
Columbia, MO
Memorial Stadium

October 1, 1960
State College, PA
Beaver Stadium


Significance: The 1939 Tigers faced back-to-back-to-back mighty tests in November, having to prove their worth by first beating Nebraska (they killed them), then heading to The Bronx to take on a supposedly up-and-coming NYU squad (they won easily).

Mizzou was welcomed back from New York at the Wabash train station by a huge crowd and a brass band, and now they had to refocus yet again because OU was coming to town. The crowd at Memorial Stadium was an overflowing 26,500 (Mizzou could have sold 50,000 tickets if they had the space), and they saw a dogfight.

A wet day in late-November led to a bruising, sloppy game that would be determined almost entirely by special teams. With Paul Christman struggling to handle a wet ball, Mizzou would be outgained by the Sooners, but a few plays made the difference.

In the third quarter of a scoreless game, an outstanding 54-yard coffin-corner punt by Ron King pinned OU at the 6. Then, on the resulting series, OU went three-and-out, and lined up to punt. Charley Moser came off the line untouched and got a hand on the punt, which went straight up into the air. Bob Orf timed his jump just right, leaping a smidge higher than everybody else and pulling down the touchdown. Then, Ron King made the PAT, never a given in 1939. 7-0 Mizzou.

OU would strike in the fourth quarter, scoring on a 15-yard pass, but they missed the PAT. They would also mishandle a field goal snap. Special teams completely made the difference, and the Tigers were Big Six champions.

Significance: From the moment Dan Devine took the Missouri job before the 1958 season, he had to look at the roster and realize that everything was building toward 1960. He would play an uncomfortable number of sophomores in 1958 as the Tigers went a respectable 5-4-1. In 1959, the record barely improved (6-5), but the wins came at just the right time, and Mizzou made one of the conference's more unlikely Orange Bowl runs, going 4-2 in conference but sneaking away with a ticket to Miami nonetheless.

When 1960 came, everything was in place. Mel West and Norris Stevenson were experienced backfield mates, both lines were outstanding, and end Danny LaRose was beyond dominant.

In the end, it was LaRose who carried Mizzou in the Nittany Valley. After whipping weak SMU and Oklahoma State teams to start the season, with an untouchable running game and soul-crushing defense, #19 Mizzou had a chance to make some noise by taking on #20 Penn State in Pennsylvania.

Thanks to LaRose, Mizzou made plenty of noise. The 6'4 senior from Crystal City made his All-America pitch by consistently finding his way into the backfield and getting after Lions QB Galen Hall, booming deep kickoffs to help Mizzou win the field position battle, and even catching a 16-yard touchdown pass. LaRose was one of the nation's premier two-way (three-way, really) talents, and he showed it on the first Saturday in October. Mizzou would win easily, heading back to the Central time zone an unthreatened 3-0, moving to #11 in the AP poll.

Aftermath: Mizzou would stomp Kansas to finish the regular season 8-1 and ranked 6th in the country. Their first ever trip to the Orange Bowl would be memorable for the festivities, but not necessarily the game. Mizzou would go up 7-0 early against Georgia Tech but eventually falter, losing 21-7. This was Faurot's golden age, however. After a step backwards in 1940, Mizzou would thrive in 1941 and 1942 with the unveiling of the Split-T and threaten to become a national power before the war got in the way.

Aftermath: Of course, this was just the start of Mizzou's upward trajectory. They would blow out just about everybody in the conference on the way to a 10-0 start, moving to #1 in the country before the infamous Bert Coan Incident, when KU played an ineligible player in knocking Mizzou from #1 with a 23-7 win in Columbia. It was the last time Mizzou would be #1 in the rankings until late-2007.