Confused?  Catch up with the BTBS Primer.
Today it's time to discuss the first game of the schedule that most Missouri fans agree will be a loss--the October 17 trip to Stillwater.  But fear not, Tiger fans!  Mizzou has OSU right where they want them: in Stillwater.  Quite simply, MU-OSU games never, ever, ever turn out as they're supposed to.  The road team in this series has won five of the last six.  MU has won in Stillwater three straight times--1997, 2001, 2005--and OSU has won in Columbia the last two--2004, 2008.  Strange, silly things happen in this series (including overtime--one in 1996, two in 1997, three in 2001), which in this case is good news for Missouri, but when "strange things happen" is your #1 reason for optimism, you know this isn't a game you're expected to win.
So why is everybody piling on the 'Pokes as this year's Texas Tech, the team expected to possibly break up the OU/Texas stranglehold on the South?  Explosiveness on offense and experience on defense.  Today, we look at the offensive side of the equation; but first, we start with a look back at 2008.
2008
Record: 9-4 (5-3 in the Big 12)
S&P+: 236.7 (14th in the country, 4th in the Big 12)
Scoring Margin: 530-365 (+165)
Conference Scoring Margin: 292-236 (+56)
Wins (S&P+ Ranking in parentheses): #10 Missouri, #40 Baylor, #42 Troy, #51 Houston, #82 Colorado, #98 Texas A&M, #104 Iowa State, #118 Washington State, 1-AA SMS
Losses: #3 Oklahoma, #5 Texas, #11 Oregon, #15 Texas Tech
Say this much for Oklahoma State: they're the exception to the "Bowl performances are overblown regarding the next season's expectations" rule.  They really didn't perform well after November 1, but expectations for them in 2009 have gone through the roof regardless.  And for the most part, it's easy to see why.  Their top skill position talent returns intact--they don't really have any pass catchers after Dez Bryant, but it's not completely clear that they need any; their offensive line is extremely experienced, and their defense is experienced if not amazing.  The pieces are in place, and as I was saying this time last year about Texas Tech, if they're ever going to break through into that top tier, now's the time.
When all was said and done in 2008, OSU had gone 8-0 against teams ranked below 15th in the country, and 1-3 against teams above.  So it makes sense, really, that they would end up the year 14th.  Their W/L performance was quite steady and consistent, even if their defensive performance wasn't.  But we'll get into "pre-November 1 vs post-November 1" defensive issues tomorrow.  The 2008 season, in the end, represented a lovely step forward for the OSU program, their first 9-win season since 2003 and only their second since 1988.  And unlike those seasons, and majority of the talent from that 9-win squad returns.
Coaching
Head Coach: Mike Gundy
Record at Oklahoma State: 27-23 (conference: 13-20)
Career Pythagorean Record: 27.79 wins (-0.2/year)
Let's get all the jokes out of the way now.  Mike Gundy is a man, he's 41, etc.  He's also captained an OSU team that has jumped from 4-8 to 7-6 (twice) to 9-4 in his four seasons, and even though the growth of OSU's overall athletic facilities has hit a bump in the road recently, there is still a lot to like about the direction of the athletic program as a whole and the football program specifically.  They'll probably take a step backwards in 2010 after losing Dez Bryant (probably), Zac Robinson, Russell Okung, most of their LBs and DB, etc., but the trajectory is good, and Gundy has to be considered one of the reasons why that is the case (after T. Boone Pickens, anyway).
Looking at Pythagorean projections, OSU has won pretty much exactly the amount of games their points and point differential would project.  Blowouts skew the Pythagorean numbers, and while I haven't figured out how to account for that yet, they haven't skewed Gundy's numbers too much.
Offense
Overall Stats

S&P+: 123.5 (#13)
Success Rate+: 114.3 (#18)
PPP+: 135.5 (#8)

Standard Downs S&P+: 118.5 (#14)
Passing Downs S&P+: 136.9 (#10)

Redzone S&P+: 113.9 (#28)

Q1 S&P+: 130.0 (#16)
Q2 S&P+: 114.9 (#28)
Q3 S&P+: 159.2 (#1)
Q4 S&P+: 95.2 (#80)

1st Down S&P+: 129.9 (#7)
2nd Down S&P+: 121.3 (#22)
3rd Down S&P+: 111.0 (#37)

Rushing Stats

Rushing S&P+: 123.2 (#13)
Rushing SR+: 115.5 (#20)
Rushing PPP+: 135.6 (#12)

Standard Downs: 115.9 (#25)
Passing Downs: 148.3 (#6)

Redzone: 112.7 (#38)

Line Yards+: 110.2 (#30)

Passing Stats

Passing S&P+: 129.4 (#11)
Passing SR+: 114.1 (#19)
Passing PPP+: 147.2 (#7)

Standard Downs: 127.4 (#9)
Passing Downs: 140.1 (#11)

Redzone: 116.2 (#30)

Adj. Sack Rate: 4.3% (#27)
Of all the categories above, in only one did the Cowboys rank outside of the Top 40 (Q4 S&P+), and only twice were they outside the Top 30 (Q4 S&P+, 3rd Down S&P+).  They were pretty consistently in the 80th percentile (at least) in most offensive categories.
The major contrast that jumps out here has to be their Q3/Q4 performance.  No real explanation for that.  Teams who win a lot of blowouts tend to see their Q4 numbers suffer simply because the starters are no longer on the field--Missouri was similar in that regard--and sure enough, OSU saw their fair share of blowouts (39-13 over Wazzu, 57-13 over SMS, 55-24 over Troy, 56-28 over ATM, 34-6 over Baylor).  However, they also faced plenty of tight games and didn't fare too well late.  In the last ten minutes of their closer games--Missouri, Texas, Colorado, Oklahoma, Oregon--they scored only 13 points combined.  Whether that was poor execution or predictable play-calling (from what I saw of the MU, OU, and UO games, it was a little of both), that clearly needs to improve considerably if they are to finish 2009 in the Top 10.
I'm not a huge fan of the "balance" given love in this ESPN Insider article, simply because there is too much variety in play calls to accurately break things down into "runs" and "passes."  For instance, Mizzou uses a lot of "long handoff" types of passes that are simply intended to stretch the field like a wide run play would, but it's categorized as a pass.  Simply balancing rushing yardage and passing yardage doesn't say you were equally adept at both.

That said, finishing 13th in Rushing S&P+ and 11th in Passing S&P+ is pretty damn impressive.  Granted, six other teams managed Top 15 in both categories--Florida (1st in Rushing S&P+, 3rd in Passing), Penn State (2nd, 6th), Texas Tech (4th, 15th), Oklahoma (6th, 1st), USC (7th, 2nd), and Stanford (10th, 13th)--but still.  Impressive.
Quarterback
Zac Robinson: underrated?  Correctly rated?  Deemed "underrated" so long that he's now overrated?  Your call.  Dude's good, though.
2008 Unit Ranking: #9 in the nation (#3 in the Big 12)

Projected Depth Chart
Zac Robinson (6'3, 218, Sr.)
Alex Cate (6'1, 200, Jr.)
Brandon Weeden (6'4, 215, So.)
In a conference full of superstars at his position, Zac Robinson has managed to stay more-or-less under the radar.  Most of that, I'm sure, has to do with the fact that, even in leading his 'Pokes to nine wins last year, OSU was only fourth in the South Division, below teams quarterbacked by Sam Bradford, Colt McCoy, and Graham Harrell.  But in justifying their leaping the Cowboys into their preseason Top 10 lists, many writers have cited Robinson as a main reason.  He is a unique and uniquely effective quarterback, matching fast legs with fast decision-making.
Even though he is only a decent runner and not a great one (he was 27th among QBs for Rushing POE), he is a persistent one, averaging 12.4 rushes per game in conference play and the Holiday Bowl.  And while he isn't a bulldozer with the ball or anything, defenses consistently have to account for his legs.  Between his diverse skills and those of Kendall Hunter and Dez Bryant, usually the Cowboy offense finds a crack and puts up some points.
Look at last year's Missouri game, for instance.  He averaged a decent 7.7 yards per pass and ran for only 2.8 yards per carry; meanwhile Dez Bryant only accounted for 47 receiving yards.  But Kendall Hunter blew up for 154 rushing yards, and OSU did enough to get by the Tigers.  Robinson is clearly aided by the strong weapons around him, but he is fun to watch and should put up some pretty ridiculous stats with Hunter and Bryant surrounding him for one more season.
Running Backs
Needless to say, Missouri fans know how good Kendall Hunter can be.
2008 Unit Ranking: #5 in the nation (#1 in the Big 12)

Projected Depth Chart
Kendall Hunter (5'8, 190, Jr.)
Keith Toston (6'0, 205, Sr.)
Beau Johnson (5'10, 210, Sr.)
Heading into last year's OSU-Mizzou game, I didn't know just how impressive Kendall Hunter really was.  After all, his numbers were no more impressive than those that Dantrell Savage had managed the year before, and besides...how impressed was I supposed to be by his to-date 2008 performance?  23 carries for 107 yards against a pathetic Wazzu defense?  Eleven for 132 against SMS?  Granted, 22 for 210 against Houston was damn strong no matter how iffy Houston's defense was, and there was nothing wrong with his 24-for-169 against Troy.  But still...Mizzou's rushing defense was by far the best OSU had faced at that point in the season.
That he put up 154 yards in 24 carries against the Tigers wasn't what impressed me.  In fact, taking away one specific run, he managed only 86 yards in 23 carries (3.7 per carry) and was good only for some nice decoying and ball control.  But the burst of speed involved in that other run (at the 22-second mark of this video) was all I needed to see to come away impressed.  (Granted, he was blowing past guys like Justin Garrett and Hardy Ricks, but still...)  His effort against Mizzou was indicative of what made OSU so effective in 2008--they would peck and poke at you, and at some point, your guard would slip and you'd catch an uppercut to the chin.
In the end, Hunter posted a +34.0 POE (Points Over Expected) mark, good for 5th in the country (behind Cal's Jahvid Best, Iowa's Shonn Greene, Oregon's LeGarrette Blount, and Georgia Tech's Jonathan Dwyer) and first in the prolific Big 12.
Behind Hunter resides the most proven backup in the conference (outside of Norman, anyway).  One-time Mizzou recruiting target Keith Toston has recovered from knee problems to give the 'Pokes a steady #2 option.  Toston put up 686 yards in 2008 (6.7 per carry), and his +16.5 POE was good for 27th in the country, ahead of Roy Helu Jr. and Baron Batch, among others.  There is little wonder why OSU's RBs ranked 1st in the conference, edging out OU's in the process.
Wide Receivers / Tight Ends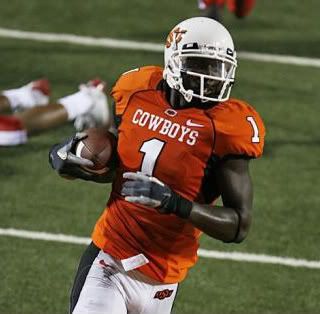 The Man.
2008 Unit Ranking: #9 in the nation (#2 in the Big 12)

Projected WR Depth Chart
Dez Bryant (6'2, 215, Jr.)
Justin Blackmon (6'1, 195, RSFr.)
DeMarcus Conner (6'1, 206, Sr.)
Hubert Anyiam (6'1, 198, So.)
Isaiah Anderson (5'10, 175, RSFr.)
Adrian Richards (6'4, 195, RSFr.)
Projected TE Depth Chart
Wilson Youman (6'5, 252, So.)
Jamal Mosley (6'4, 243, So.)
Cooper Bassett (6'5, 250, RSFr.)
Let's be honest.  If you can claim that you recognize any of the names above that aren't "Dez Bryant", you're either a) an OSU fan (and a pretty big one at that), or b) lying.  The biggest question mark for the 'Poke offense in 2009 is, will any reliable second threat emerge in the passing game?  They don't have to be All-Conference caliber--they just have to be able to make teams pay for double- (or triple-) teaming Dez Bryant.  Signs point to...who the hell knows?  Justin Blackmon impressed many during spring football, but...well, every year, at every school in the country, somebody impresses during spring football and doesn't make a sound in the fall.  He could be amazing, but I'll start believing when he does it in real games (same with Mizzou's Aldon Smith, really).  What we know for sure is, the non-Bryant names on that list combined for 12 catches, 141 yards, and 0 TDs in 2008.  Damian Davis had "potential" written all over him, and he was a dagger against Missouri, but he went and got himself kicked off the team this spring.
Dez Bryant (+53.8 POE receiving, 1st in the country) is good enough that Robinson might get away with not having another true receiving threat, but somebody needs to at least approximate Brandon Pettigrew's 42 catches and 472 yards for OSU to maintain a step forward.  Anyone know who that may be?  Anyone at all?  All eyes are on Blackmon, it appears, but we'll see.
Offensive Line
Okung leads a super-experienced line.
2008 Unit Ranking: #12 in the nation (#4 in the Big 12)

Projected Depth Chart
T Russell Okung (6'6, 305, Sr.)
C Andrew Lewis (6'5, 290, Sr.)
T Brady Bond (6'7, 295, Sr.)
G Anthony Morgan (6'5, 320, Jr.)
G Noah Franklin (6'5, 310, Sr.)
T Andrew Mitchell (6'5, 308, Sr.)
G Jonathan Rush (6'5, 309, So.)
G Ahmad Jones (6'2, 309, So.)
C Grant Garner (6'4, 286, So.)
T Patrick Hoog (6'4, 298, RSFr.)
Along with Oklahoma's Trent Williams and Iowa's Bryan Bulaga, Russell Okung is perhaps the top lineman on the board for the 2010 NFL draft.  He will lead a tremendously experienced OSU offensive line.  Only Texas (91) returns more career starts out of their offensive line than the Cowboys do; and while the 'Pokes managed only a 4th-place OL ranking in their own conference (Texas Tech was #1, Oklahoma #2, Missouri #4), they should pretty easily move into the Top 2-3 this year.
Summary
Zac Robinson is a senior.  Dez Bryant is almost certain to be projected as a high NFL draft pick next April, and is therefore not likely to return for another season.  Keith Toston is a senior, while the only thing that might bring Lindsey (D'OH!) Kendall Hunter back for a senior year is the fact that he's not very big and therefore might not be projected as tremendously draftable.  Five of probably the team's six best offensive linemen are seniors.
In other words, the time is now.  Whereas most of the Big 12's bottom ten teams will likely improve between 2009 and 2010, OSU will not.  If they are to make serious national noise anytime soon, it is going to be in 2009.  But hey, no pressure.
While they are not tremendously deep, few teams possess such great individual talent in each unit as OSU does--they have potential All-Americans at QB, RB, WR, and on the OL.  For this offense to score the points necessary to challenge the Oklahoma's and Texas's of the world, they must improve on third downs, and they MUST improve in the fourth quarters of close games.  Whether that means better conditioning, less nerves, or simply more unpredictability (here's where a great #2 receiving option would come in handy), it has to happen.  You know Sam Bradford or Colt McCoy will be calm, confident, and looking to make plays in the fourth quarter.  Will Zac Robinson?  Will he have the right plays to run?  That could make the difference between a South title run and another solid-but-slightly-disappointing 9-win season.