The Greatest Win in Mizzou History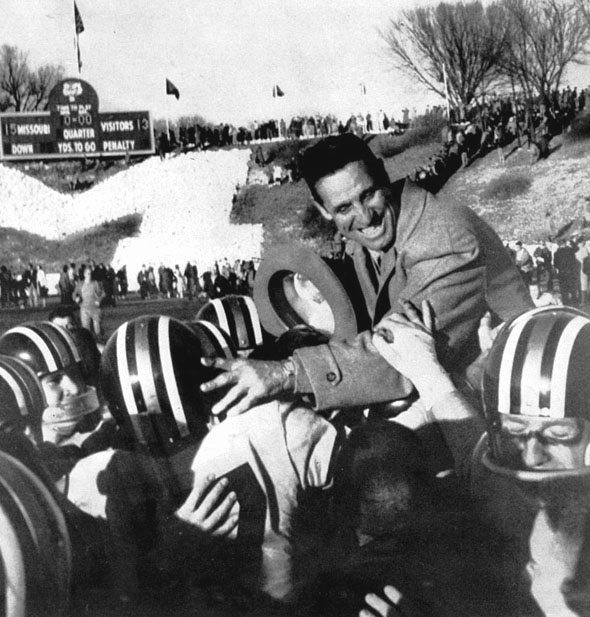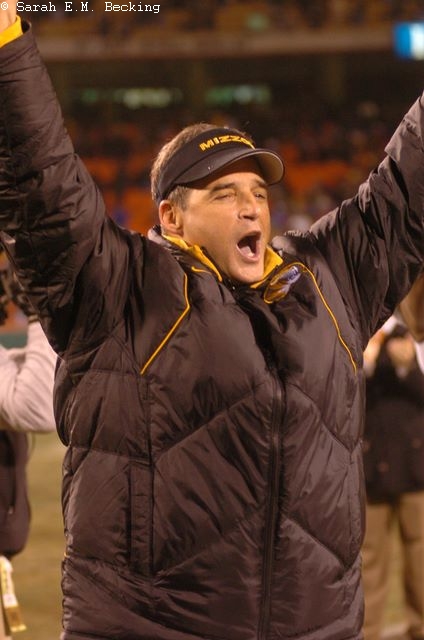 Greatest Win in Mizzou History Bracket

2000s Region

Round Two
Which was greater--a demon-exorcising home whoopin'...or a demon-exorcising road whoopin'?
Mizzou 41, Nebraska 24
Mizzou 52, Nebraska 17
October 11, 2003
Columbia, MO
Faurot Field
October 4, 2008
Lincoln, NE
Memorial Stadium


Significance: This was Mizzou's first win over Nebraska in 25 years. After the heartbreak of 1997, Mizzou fans had to wait another six years go get a prime opportunity to beat the hated Huskers. It started well enough, with Mizzou riding a long Brad-Smith-to-Darius-Outlaw-back-to-Smith trick play to a 14-10 halftime lead. But two third-quarter touchdowns gave Nebraska a 24-14 lead heading into the fourth quarter.

All that followed was possibly Mizzou's single most perfect fourth quarter ever. Brad Smith raced 39 yards for a touchdown on the quarter's first play, then James Kinney absolutely obliterated Jamaal Lord, forcing a fumble that Dedrick Harrington recovered and returned to the NU 9. After a three-and-out, Gary Pinkel trotted out kicker Mike Matheny for seemingly the game-tying field goal attempt. Instead, Sonny Riccio pulled the ball away from Matheny, rolled right, and found Victor Sesay for the go-ahead touchdown. 28-24, Mizzou.

The carnage continued. Marcus James returns a punt inside the NU 40, setting up an eventual Brad Smith touchdown. 34-24. Zach Ville dropped into coverage and picked off Lord, setting up another Smith touchdown. In ten minutes, Missouri had scored 27 points. The final five minutes were just a party. The horn sounded, and the goalposts were down in about 2.5 seconds. Sure, a last-minute win is exhilarating, but this was all about exorcising demons.

Significance: By 2008, Missouri had beaten Nebraska three straight times at home, by an average of 23 points. That was getting to become standard operating procedure. But they still hadn't won in Lincoln since The Boy was one month old.

48-17. 69-21. 63-6. 49-7. 57-0. 51-7. These are some of the scores by which Nebraska had defeated Missouri in their fifteen meetings in Lincoln since Mizzou had won three straight in 1974, 1976, and 1978. Rarely did Mizzou put up a serious fight. In 1998, they almost got the job done...but they did not, losing to the Huskers and 14th-string QB Monte Cristo. In 2000, they looked prime for a serious threat until Kirk Farmer broke his collar bone and Mizzou lost by 18. In 1982, a 5-win Mizzou team had come within four points (23-19) of doing the deed. But the opportunities were few and far between.

Mizzou had been on something of an exorcism streak in recent years. Beat NU for the first time in 25 years (2003). Beat KSU for the first time in 15 years (2007). Beat Colorado (badly) in Boulder after losing 10 of 11 there. But there was one more job to be done. to make up for years of suffering. And, to say the least, they slayed that last demon in 2008.

Specific plays don't even matter. This was destruction. After three quarters, the score was 52-10. Everything NU had done to MU over the years, Mizzou did to them that glorious night.

Aftermath: Mizzou was 5-1 after the win but went just 3-4 the rest of the way, winning out at home and losing out on the road. Still, they made their first bowl in five seasons--an Independence Bowl loss to Arkansas--and were thought to be headed in the right direction as a program. They were, but only after a 2004 detour cost Gary Pinkel a lot of goodwill that he's only now earning back.
Aftermath: This was the absolute apex of the 2008 season. Five games into the season, Mizzou was averaging 53.4 points per game and had yet to go three-and-out in a single series. Oklahoma State came to Columbia the next week and stole Mizzou's mojo. Mizzou would go just 5-4 the rest of the way, leading to the most "disappointing" 10-win season in Mizzou's history. They did well, but not as well as it looked like they would do that night in Lincoln.