The Greatest Win in Mizzou History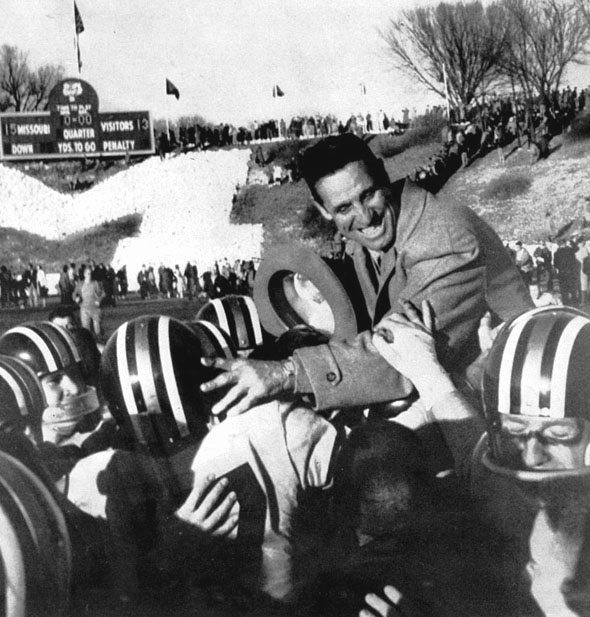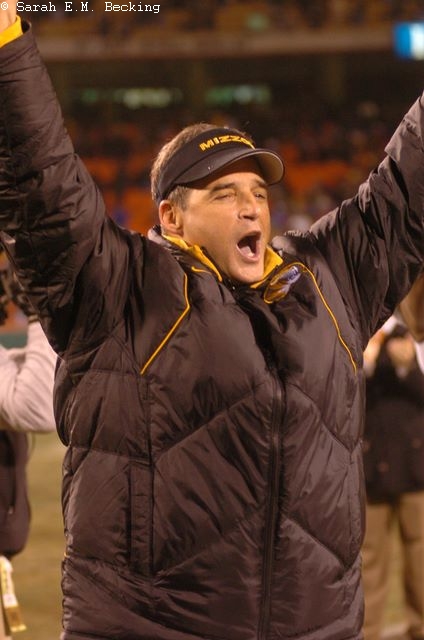 Greatest Win in Mizzou History Bracket

1963-1975 Region

Regional Finals

Two great wins...against the same team. Mizzou and Alabama only played twice between 1963 and 1975, but both times resulted in the rarest of results--easy wins over a Bear Bryant team (and apparently the two greatest wins of the time span). Heading into the 1978 Mizzou-'Bama game, there was talk of a Mizzou jinx with the Bear, and that talk grew when Mizzou rode an explosive second quarter to a halftime lead; but the Tide were the best team in the country that year, and after taking over and beating Mizzou in the second half, they would go on to split the national title with USC. But hey...scoreboard, I guess: Mizzou 2, Bear 1.
UPDATE: As a response/complement to this post, the great Roll Bama Roll has posted a nice recap of the 1978 game, a true tale of two halves.
Mizzou 20, Alabama 7

Mizzou 35, Alabama 10

September 8, 1975
Birmingham, AL
Legion Field

December 28, 1968
Jacksonville, FL
Gator Bowl


Significance: Mizzou had established its "giant killer" reputation long before the crazy 1976 season that we've documented recently. In 1972, they took out Notre Dame. In 1973-74, Nebraska. But they weren't dominant in any of those games. They crushed Alabama on Legion Field to start 1975.

In the early part of the 1970s, Mizzou had a decent amount of firepower, but aside from a nice run in 1973, they had been missing the dominant defense that they had through much of the 1960s. That changed in the 1975 season opener, as they completely shut down #2 Alabama's potent wishbone attack, holding them to a startling 31 rushing yards.

It was a week before the NFL season started, so ABC elected to move Mizzou-Bama to Monday Night Football, and Mizzou put on a shocking show in front of a national audience. A 20-point underdog, they played one of the most perfect first halves in Mizzou history. They forced a 'Bama three-and-out on the opening possession and drove 58 yards in 12 plays for a touchdown. Fulton native Tony Galbreath, who would rush for 120 yards on the day, both keyed and capped the drive, scoring from three yards out to put Mizzou up 7-0. Another Tide punt led to a 44-yard Tim Gibbons field goal.

To the surprise of most of the country, Mizzou was up 10-0, and the Mizzou defense was far from done. Safety Jim Leavitt recovered an Alabama fumble at the Tide 32 (his first of two recoveries on the day--thanks for straightening that out, Coach). Three plays later, fullback John Blakeman scored on an option reverse. 17-0. Mizzou didn't punt until four minutes remained in the first half, but after they did, Ken Downing picked off a hurried Richard Todd pass, and Gibbons bounced a line-drive field goal attempt in off the crossbar, and Mizzou shocked the country by going up 20-0 at halftime.

The second half was a formality, at least the Mizzou defense made it that way. Twice, Mizzou fumbled deep in their own territory, and a botched punt snap gave Alabama yet another opportunity, but the Tide would only score once, on a deflected touchdown catch by Ozzie Newsome. Led by tackle Keith Morrissey, who had three second half sacks, Mizzou would not let Alabama even think about coming back into the game.

When it was over, Columbia erupted. Students filled the Quad, where fireworks were shot and Marching Mizzou showed up. The impromptu parade spilled into downtown, where somebody etched "Missouri 20, Alabama 7, 9-8-75" into fresh cement. You just simply did not do to a Bear Bryant team what Mizzou did to them that Monday night. This was the only game 'Bama would lose in 1975.

Significance: Despite good to great records every season, Mizzou didn't always accept bowl bids. Dan Devine let the players decide whether they wanted to attend a bowl or not, and often they decided not to. It was apparently a different time. That said, when presented with the opportunity to play 12th-ranked Alabama in the Gator Bowl to finish the 1968 season, Mizzou accepted. They would not regret the decision.

In describing the 1975 Mizzou win over Alabama the other day, I mentioned that teams just did not do to Bear Bryant's Alabama teams what Mizzou did to them that day. But that was only a 13-point win. What they did to Alabama in the 1968 Gator Bowl was staggering. And that they did it without actually completing a pass is just plain mind-blowing.

During bowl practices, Dan Devine got sneaky--he installed a completely new formation for Mizzou, the Power-I. Alabama's defensive stalwarts never knew what hit them--Mizzou would rush for 404 yards. Meanwhile, the Mizzou defense thrashed the Tide, giving up just 45 rushing yards and 68 passing yards. Tide QB Scott Hunter went just 7-for-25 passing and was sacked for a loss of 61 yards.

Regardless of the statistical domination, it was a game early. A first-quarter TD run by Terry McMillan gave Mizzou, a slight underdog, a 7-0 lead, but McMillan then completed a pass to the wrong team--Donnie Sutton picked McMillan off and returned it 38 yards for a 7-7 tie. Mizzou would put together another nice drive, however, and another McMillan touchdown gave Mizzou a 14-7 halftime lead.

There was no scoring in the third quarter, and when another McMillan INT gave Alabama the ball deep in Mizzou territory, it looked like Alabama could not only keep this more competitive than the stats indicated, but maybe even straight up steal a win.

But the Mizzou defense would hold Alabama to a field goal, cutting the lead to 14-10 but maintaining a Mizzou lead, and then Roger Wehrli, playing in his final game as a Tiger, intercepted a pass that set up McMillan's third rushing touchdown. Mizzou was up 21-10 and then poured it on. Greg Cook capped a 179-yard rushing day with a 37-yard touchdown run, then Dennis Poppe stepped in front of a Hunter pass and took it 47 yards for a touchdown and a 35-10 lead.

The 25-point loss was Alabama's worst bowl loss ever, which was saying something since they had already played in 22 bowl games by 1968. It gave 'Bama their first three-loss season since Bryant's first year in Tuscaloosa (1958), and most importantly, it gave Mizzou a major shot in the arm for 1969.

Aftermath: I know everybody wants to schedule tougher, but 1975 is a pretty telling reason why that's not a good idea. Mizzou had to face the preseason #1 (OU), #2 ('Bama), #3 (Michigan), and #7 (NU) teams, and while they knocked off the Tide, they simply wore out down the stretch, losing four of six to finish the season 6-5, losing only once to a team that won less than 9 games in '75.

Aftermath: The win sparked a Mizzou rise in the rankings--they would finish 9th in the AP Poll to end 1968 and start 1969 ranked 10th. Most of the offense that had dominated the Crimson Tide would return for the 1969, and as we see with today's other Greatest Win competitor, it would become one of Mizzou's most explosive offenses ever.