Confused?  Catch up with the BTBS Primer.
Yeah, yeah...I'm a day late with this.  I'm not your nerd jester!  We are down to our second-to-last regular season opponent of the year, the Cyclones of Iowa State.  Once again, a new era starts in Ames.  Is Paul Rhoads the man for the job?

2008
Record: 2-10 (0-8 in the Big 12)
S&P+: 177.7 (104th in the country, 12th in the Big 12)
Scoring Margin: 304-430 (-126)
Conference Scoring Margin: 176-334 (-158)
Wins (S&P+ Ranking in parentheses): #107 Kent State, 1-AA South Dakota State
Losses: #10 Missouri, #13 Iowa, #14 Oklahoma State, #20 Kansas, #21 Nebraska, #40 Baylor, #79 Kansas State, #82 Colorado, #88 UNLV, #98 Texas A&M
This is going to be the backhanded compliment of all backhanded compliments, but...for a 2-10 team that didn't beat a team ranked higher than 107th, Iowa State really wasn't that bad.  They managed a scoring margin of just -126 points, which certainly isn't good at all, but again...for a 2-10 team, that could have been worse.  That's what happens when you lose by 2 to Kansas, 3 to UNLV, 4 to Colorado, 8 to Kansas State, 12 to Iowa, and 14 to Texas A&M.  If ISU had just figured out a way to be five points better in 2008, they would have been a much more respectable 5-7...
...and Gene Chizik would have left anyway.  In the end, results from 2008 don't matter because Iowa State is once again starting from scratch in 2009.  They've got some experience here and there, but a) probably not enough, and b) we don't really know what Paul Rhoads is going to do with that talent until the season starts.
Coaching
Head Coach: Paul Rhoads
Record at Iowa State: UNDEFEATED!!!!

Paul Rhoads has been a pretty stellar defensive coordinator for many years at the college level, but I think when he was being considered for the job, his most important qualification was what comes at the beginning of the second paragraph of his bio (PDF): "Born in Nevada, Iowa, just 10 minutes from Jack Trice Stadium..."
For all of Rhoads' accomplishments, the biggest draw for hiring him to coach the Cyclones had to have been simply that he's an Iowa boy (alma mater: Missouri Western), he likely considers ISU much more of a destination job than the last guy they hired, and he won't be looking for a bigger lilypad the moment the opportunity arises.  He will build Iowa State for the long haul, and I think as long as he produces any sort of results whatsoever, he will be given a lot of rope.
An assistant to Dan McCarney when McCarney first came to Ames, Rhoads pretty quickly worked his way up the coaching ladder.  He was LB/DB coach for five seasons in Ames before Walt Harris hired him as Defensive Coordinator for the Pitt Panthers.  In eight seasons with Pittsburgh, he put together consistently solid defenses and was maintained when Walt Harris left for Stanford and the Wannstache took over.  Pitt's defenses forced a ton of turnovers and always ranked pretty highly in terms of yardage allowed.  In 2008, he moved south, replacing Will Muschamp as Auburn's Defensive Coordinator.  Auburn's basic stats slipped under Rhoads, but everybody pretty much agreed that they were asked to do far too much with an incompetent Tiger offense putting them in sub-optimal situations.
Like Bob Stoops, Bo Pelini, and Mike Sherman, Rhoads assumes a Big 12 head coaching position with a strong defensive background.  How will that translate to life in the Big 12 North?  How much will recruiting need to improve for the Cyclones to move into the North's upper echelon (which, let's face it, isn't that "upper" at the moment)?  Can it happen?
Offense
Overall Stats

S&P+: 88.1 (#101)
Success Rate+: 90.3 (#100)
PPP+: 86.1 (#101)

Standard Downs S&P+: 92.1 (#91)
Passing Downs S&P+: 92.8 (#87)

Redzone S&P+: 82.3 (#112)

Q1 S&P+: 92.6 (#82)
Q2 S&P+: 89.4 (#99)
Q3 S&P+: 78.2 (#114)
Q4 S&P+: 110.9 (#37)

1st Down S&P+: 94.5 (#82)
2nd Down S&P+: 93.9 (#84)
3rd Down S&P+: 89.4 (#90)

Rushing Stats

Rushing S&P+: 88.4 (#97)
Rushing SR+: 90.7 (#99)
Rushing PPP+: 86.8 (#94)

Standard Downs: 89.7 (#96)
Passing Downs: 95.2 (#80)

Redzone: 80.2 (#112)

Line Yards+: 90.5 (#102)

Passing Stats

Passing S&P+: 87.5 (#94)
Passing SR+: 90.4 (#90)
Passing PPP+: 85.0 (#93)

Standard Downs: 94.4 (#79)
Passing Downs: 90.1 (#88)

Redzone: 89.1 (#86)

Sack Rate+: 105.5 (#56)
Aside from their 3rd-to-4th quarter splits, these numbers are pretty consistently terrible.  It's important to remember the strength-of-schedule component to the "+" number here.  Iowa State put respectable offensive numbers--25.3 points per game, 386.8 total yards, 5.5 yards per play--but these came against defenses that were giving up 400 or 500 yards to everybody else (plus, a lot of the yards came at the end of blowouts).  In the end, the 387 yards per game were far below what would have been expected against the defenses Iowa State faced, and it damaged their rankings.
Other thoughts:
Aside from their strong fourth-quarter rankings (which, as we've seen with other teams, can be skewed if you're blowing other teams out, or getting blown out, and your starters aren't playing much in the fourth quarter), ISU's biggest strength was in pass blocking, where they were above average with a 105.5 Sack Rate+, 56th in the country.  Beyond that?  Not much to be happy about...or, for an opponent, not much to be scared of.
ISU was consistently below-average in both the running and passing games, ranking 97th and 94th, respectively.  They ranked between 90th and 101st in most Success Rate+ and PPP+ breakouts.  They were bad across the board.
Quarterback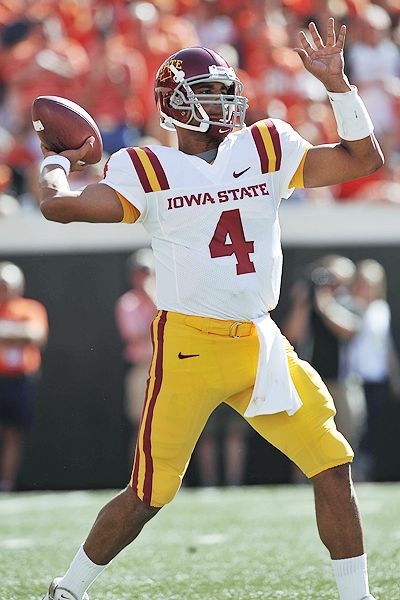 The stats don't like Austen Arnaud, but he's got at least a decent amount of upside.
2008 Unit Ranking: #92 in the nation (#11 in the Big 12)

Projected Depth Chart
Austen Arnaud (6'3, 220, Jr.)
Jerome Tiller (6'4, 185, RSFr.)
Brett Bueker (6'4, 213, RSFr.)
In glimpses, Austen Arnaud has size, a strong arm, and at least decent running ability.  He completed 61.6% of his passes in 2008 for a solid 2,792 yards, 15 TDs and 10 INTs.  He also mixed in 401 rushing yards and 5 TDs.  In normal times, those would be considered numbers worthy of all-conference consideration.  But in the Big 12, these aren't normal times.  Arnaud's numbers put him at just 9th in the conference yardage, 11th in passer efficiency.  And once again, when you factor in what was expected given the defenses Arnaud was facing, a decent quarterback probably would have produced more.
That said, if Arnaud has strong receiving talent around him, he's a good enough passer to get them the ball and let them make him look good.  He does not, in fact, have that talent around him.
Behind Arnaud are a couple of big (well, tall...at 6'4, 185, Jerome Tiller is far from big--Mizzou WR L'Damian Washington is supposedly 6'4, 180, and Dave Matter and Gabe Dearmond can't help but mention how skinny he is every time they talk about him) youngsters fighting it out to become his successor in 2011.  Tiller was a decent-looking 3-star recruit in high school and is likely being groomed for the job.
Running Backs
If Alexander Robinson always played like he did in 2007 against Missouri, he'd be an all-conference back.
2008 Unit Ranking: #90 in the nation (#10 in the Big 12)

Projected Depth Chart
Alexander Robinson (5'10, 184, Jr.)
Bo Williams (6'0, 217, So.)
Jeremiah Schwartz (5'11, 238, RSFr.)
Though the unit ranked just 90th in the country last year, I'm thinking the running backs have the biggest ceiling of any offensive unit Iowa State has.  In his first year as a primary ball-carrier, Alexander Robinson fared...alright.  His 703 yards, 6 TDs and 4.6 yards per carry were certainly respectable, and Missouri fans know he's capable of pretty solid play after his 2007 performance against them, but again...in a conference full of explosive weapons, Robinson gets lost in the shuffle.  Using the POE measure discussed here, Robinson ranked 187th in the country (of about 270 eligible) with a POE of -4.4.  Taking into account his relatively weak offensive line, he moved to 126th in AdjustedPOE with a -0.4, meaning when blocking was taken into account, he was almost a precisely average running back last year.  Average running backs are capable of a big game or two each year, but that's about it.
Of course, average is better than poor, which is what Austen Arnaud's pass targets were, so Robinson officially qualifies as a bright spot from 2008.  He will be joined in the backfield by the intriguing Bo Williams, a former 4-star recruit who originally signed with Florida before transferring.  Williams and Robinson running behind a reasonably experienced offensive line suggests that Iowa State's running game should improve a decent amount in 2009.  But when your RBs are ranked 90th in the country, improvement only takes them to what...75th?  70th?  Still some work to do here, but clearly Williams has some potential.
Wide Receivers / Tight Ends
Darius Darks: possibly ISU's most potentially explosive threat, "potentially" being the key word.
2008 Unit Ranking: #96 in the nation (#11 in the Big 12)

Projected WR Depth Chart
Darius Darks (6'1, 175, So.)
Sedrick Johnson (6'4, 199, So.)
Marquis Hamilton (6'4, 228, Sr.)
Houston Jones (6'1, 193, Sr.)
Jason Carlson (6'0, 205, So.)
Lonzie Range (6'3, 183, RSFr.)
Darius Reynolds (6'3, 190, Jr.)
Joshua Bellamy (6'1, 200, Jr.)
Projected TE Depth Chart
Derrick Catlett (6'4, 252, Sr.)
Collin Franklin (6'6, 248, Jr.)
Carter Bykowski (6'8, 249, So.)
As nice as it might be having a couple of good running backs, Iowa State desperately needs some rejuvenation in the receiving corps.  No returning wide receiver averaged more than 12 yards per catch, though there's at least some hope in the fact that two of ISU's leaders last year were true freshmen, former 4-star recruit Sedrick Johnson and 3-star Darius Darks.  Neither did a whole lot--Johnson caught just 18 passes for 188 yards (albeit with three TDs) and Darks caught a ton of passes (49) for not a ton of yards (9.7 per catch, very Thomson Omboga-esque)--but they were young and there's obviously plenty of playing time available in Ames.  If they can continue to develop, this unit could be pretty decent, especially if another newcomer or two turns out well.
Marquis Hamilton and Houston Jones are what they are--if this were baseball, I'd be calling them innings eaters (the Josh Fogg variety more than the Esteban-Loaiza-in-his-prime variety) and leave it at that--so really, if this is going to become a truly dangerous unit, newcomers will need to play a role.  One of two JUCO transfers, either Darius Reynolds or Joshua Bellamy, will need to turn out pretty capable, or they'll need to luck out with another ready-to-rumble true freshman or two (main candidates: Josh Lenz, Donnie Jennert, or Keith Blanton).  Reynolds, a 4-star JUCO recruit from Reedley CC in California, has the best resume of the bunch, but we'll see.
UPDATE, 1:57pm - I completely forgot to talk about the tight ends.
As down as I am about a few of Iowa State's units, I actually like their tight ends a decent amount.  Even though Derek Catlett only managed 20 catches for 220 yards last year, he finished the year with eight catches and 121 yards in the final two games, against Missouri and Kansas State.  I realize I'm probably high on him simply because he looked really good against Mizzou and was non-existent to me the rest of the year, but it is what it is.  Meanwhile, Collin Franklin is pretty decent as well.  Really, if we look at the two players as one entity, they're impressive--35 catches, 478 yards, 2 TDs.  They're not all-conference caliber players, but at the very least one of them could emerge as one of the better North tight ends behind Mike McNeill (and hopefully Andrew Jones).
Offensive Line
Big dude.
2008 Unit Ranking: #89 in the nation (#10 in the Big 12)

Projected Depth Chart
G Reggie Stephens (6'4, 338, Sr.)
G Ben Lamaak (6'5, 320, Jr.)
C Alex Alvarez (6'2, 294, Jr.)
T Hayworth Hicks (6'3, 354, Jr.)
T Kelechi Osmele (6'5, 338, So.)
T Matt Hulbert (6'7, 299, Jr.)
G Joseph Klerekoper (6'5, 305, So.)
G Trey Baysinger (6'6, 317, So.)
T Zack Spears (6'6, 306, So.)
C Ethan Tuftee (6'4, 294, Fr.)
When I was initially ranking offensive lines, I didn't take into account strength of schedule enough.  Now that I have a full-fledged SackRate+ number to call on...yeah, Iowa State doesn't look that great.  One thing they do have going for them, however, is experience.  Their 61 returning career starts is fourth-most in conference.  Another thing they have going for them: size.  The average weight of their projected starters: 329 pounds. These guys have a lot of nice, corn-fed Iowa names like Lamaak, Klerekoper, Baysinger, Tuftee, and...uhh, Osmele.  They should be able to do at least reasonably well against lighter defensive lines.
Really, their size is a potential wildcard.  If 220-pound Bo Williams turns out to be a solid running back, they could have a nice, big rushing attack to wear defenses out a little bit.
Then again, a variation of this huge line ranked 102nd in LineYards+ last year, so maybe not.
Summary
If you're looking at specific moments, you can talk yourself into Iowa State a bit.  Austen Arnaud went 27-for-45 for 268 yards and 3 TDs against a pretty good Kansas secondary in 2008.  Alexander Robinson put up 87 yards in just 11 carries against Nebraska.  Darius Darks had seven catches for 113 yards against Oklahoma State.  Bo Williams signed with Florida...Florida!  But you need more than moments to keep up in the Big 12, and it's still hard to rank given Iowa State units too highly, even within just the Big 12 North.  Arnaud's not as good as Todd Reesing, and he's probably not as good as (or at least no better than) Blaine Gabbert or Zac Lee.  Robinson's certainly not as good or as proven as Derrick Washington or Roy Helu, Jr.  Darks and Sedrick Johnson are not going to remind anybody of Dezmon Briscoe and Kerry Meier...or even Jared Perry and Danario Alexander.  The line has experience and potential...but Missouri's offensive line has experience, potential, and actual results.
I love nothing more than pointing out "These guys aren't as good/bad as you think" as much as humanly possible.  But while Iowa State certainly has the potential to put things together and win a couple of Big 12 games if things go right, I don't think it's a stretch to say that they just don't have enough to compete week in and week out.  It will be interesting to see how Paul Rhoads both a) develops what he's got and b) figures out how to attract more talent to Ames, but I think expectations are low for Year #1 for very good reason.  Prove me wrong, 'Clones.