The Greatest Win in Mizzou History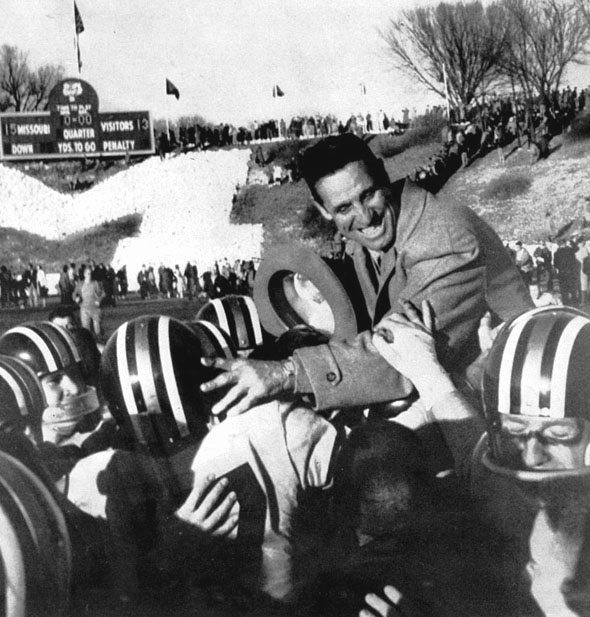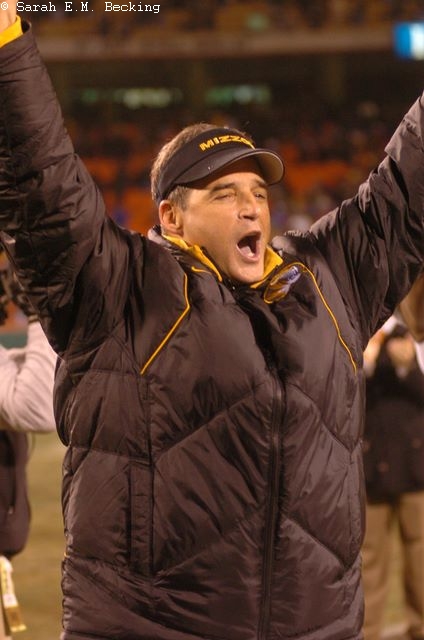 Greatest Win in Mizzou History Bracket

Pre-1963 Region

Regional Finals

Two great wins from the same great season. Apparently readers didn't think much of those late-'30s and early-'40s wins.
Mizzou 21, Navy 14
Mizzou 21, Penn State 8
January 1, 1961
Miami, FL
Orange Bowl
October 1, 1960
State College, PA
Beaver Stadium

Significance: Mizzou made their first ever bowl victory a pretty memorable one, hemming in (and popping down!) Heisman winner Joe Bellino and #4 Navy's offense, and piling up the rushing yards to win the Orange Bowl and finish the season 10-1 (I mean, 11-0). And they did it in front of Present-elect Kennedy, to boot.

From the opening kickoff, Mizzou dominated. On their first drive, they drove 70 yards to the Navy 2 before a miscue gave the Middies a surprising lead--halfback Donnie Smith got trapped behind the line and attempted an ill-advised lateral to QB Ronnie Taylor. The ball was picked off by Navy end Greg Mather and returned 95 yards for a touchdown. 6-0 Navy.

The craziness was just beginning. Navy attempted a surprise on-sides kick and recovered it. They moved inside the Mizzou red zone, looking to quickly go up 14-0, when Norm Beal turned the tables, stepping in front of a Hal Spooner pass and returning it 90 yards for a Mizzou touchdown. The first quarter was only half-over, and there had been two 90+ yard touchdowns. Bill Tobin's PAT made it 7-6 Mizzou.

From there, Mizzou took over. They quickly shut down the Navy offense, then drove 80 yards in 11 plays for the go-ahead score. Smith rolled in from 4 to make it 14-6. Navy had two opportunities to tie in the second quarter, recovering a Mizzou fumble and pouncing on a bad punt snap in Mizzou territory, but in both cases Mizzou's Andy Russell intercepted Spooner to get the ball back.

Entering the fourth quarter, Mizzou remained up eight when Mel West took over, marching Mizzou 64 yards toward the endzone. Ronnie Taylor snuck in from the 1, and Mizzou was up 21-6. This one was all but over.

To their credit, however, Navy finally moved the ball a bit. Spooner found Bellino for a late 27-yard touchdown, but this was Mizzou's day. Their first bowl win in seven tries was made possible by holding the explosive Middies to -8 yards rushing while plowing ahead for 223 yards of their own. West had 108 of those yards (plus Mizzou's only reception of the game, a five-yarder) in his final game as a Tiger, while Smith rang up 93. Heisman winner Bellino managed just four yards.

Though Kansas has wrecked Mizzou's national title hopes, the Tigers made a significant statement in this game. They truly were one of the two or three best teams in the country, and they had a pretty good claim for the national title. They didn't win it, of course, but they were as good as anybody that year, and they proved it in Miami.

Significance: From the moment Dan Devine took the Missouri job before the 1958 season, he had to look at the roster and realize that everything was building toward 1960. He would play an uncomfortable number of sophomores in 1958 as the Tigers went a respectable 5-4-1. In 1959, the record barely improved (6-5), but the wins came at just the right time, and Mizzou made one of the conference's more unlikely Orange Bowl runs, going 4-2 in conference but sneaking away with a ticket to Miami nonetheless.

When 1960 came, everything was in place. Mel West and Norris Stevenson were experienced backfield mates, both lines were outstanding, and end Danny LaRose was beyond dominant.

After thumping a suddenly bad SMU team (20-0) and easily taking out OSU (28-7), it was time to head to Happy Valley for their first true test of the year. They were ranked 19th in the country when they headed east to face 20th-ranked annual power Penn State.

Things started slow for Mizzou in PA, as the offense couldn't get going and Danny LaRose shanked two first-quarter punts (for 1 and 6 yards), but the Mizzou defense, which gave up just 8.5 points per game in 1960, kept the game scoreless.

Mizzou started the second quarter with an 80-yard touchdown trive, keyed by Mell West, Norm Beal, Donnie Smith, and Norris Stevenson. LaRose caught a touchdown pass, and it was 7-0. Then, Donnie Smith took a handoff and found Gordon Smith for a 28-yard, leaping touchdown catch, and Mizzou led 14-0 at half.

Penn State would challenge in the third quarter, marching on a 73-yard drive that resulted in a score when LaRose actually deflected a pass right to an open Nittany Lion receiver for a touchdown. Mizzou would quickly bump the lead back to double digits on a 13-yard TD run by Norris Stevenson.

In the end, this win was the perfect encapsulation of the 1960 Mizzou team. On offense, Mizzou took advantage of every opportunity, utilizing their speed and versatility to execute one misdirection play after another and milking their deep, deep backfield for every yard possible. Meanwhile, the defense was just unfair, forcing five turnovers. LaRose, the senior from Crystal City, played the game of his life, catching a touchdown pass, harrassing PSU QB Galen Hall all day, recovering two fumbles, intercepting a pass, booming deep kickoffs, and, after the first couple of shanks, pinning PSU deep with great punts. If any one game earned him the respect to be voted an All-American, it was this one.

Aftermath: Had the final polls been recorded after the season, Mizzou almost certainly would have finished 2nd (maybe 3rd) behind Ole Miss, as #1 Minnesota lost the Rose Bowl and #3 Iowa didn't get to play a bowl because of the Big Ten's "Rose or nothing" policy that last through much of the 1970s. Instead, they were locked in at #5.

Aftermath: Of course, this was just the start of Mizzou's upward trajectory. They would blow out just about everybody in the conference on the way to a 10-0 start, moving to #1 in the country before the infamous Bert Coan Incident, when KU played an ineligible player in knocking Mizzou from #1 with a 23-7 win in Columbia. It was the last time Mizzou would be #1 in the rankings until late-2007.