The Greatest Win in Mizzou History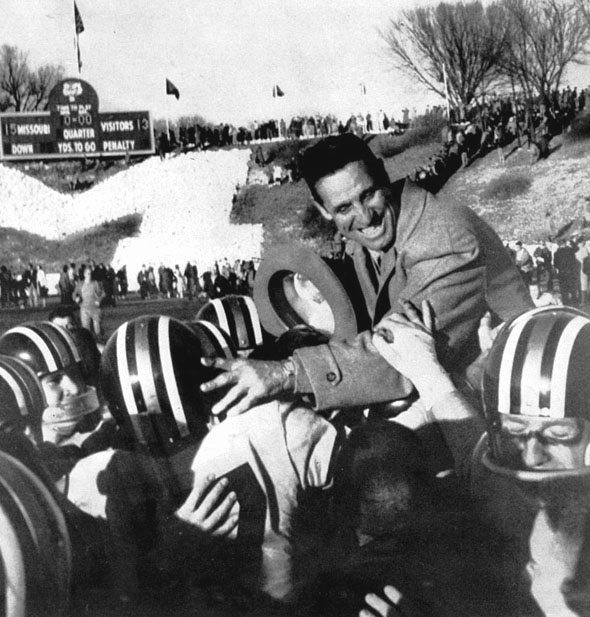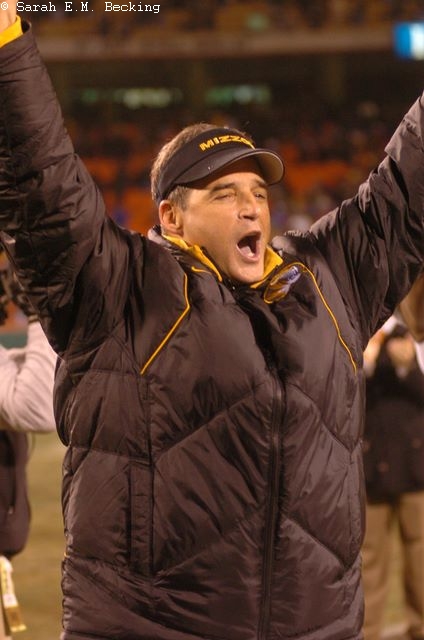 Greatest Win in Mizzou History Bracket

THE FINAL FOUR
Semifinal #1:
Mizzou 36, Kansas 28
November 24, 2007
vs
Mizzou 21, Navy 14
January 1, 1961
Semifinal #2:
Mizzou 35, Nebraska 31
November 18, 1978
vs
Mizzou 35, Alabama 10
December 28, 1968
Regional Finals

Two great wins from possibly Mizzou's two greatest seasons. What's greater, the biggest of big rivalry wins, or a big statement for bowl victory #1?
Mizzou 36, Kansas 28
Mizzou 21, Navy 14
November 24, 2007
Kansas City, MO
Arrowhead Stadium

January 1, 1961
Miami, FL
Orange Bowl

Significance: The significance of this one goes without saying, does it not? After decades of producing bad, to mediocre, to good, to occasionally very good results, Missouri and Kansas had simultaneously thrown together potentially their greatest seasons ever in 2007. Missouri was 10-1 and ranked #3 in the country. Kansas was 11-0 and ranked #2. Both programs were riding sudden and shocking momentum late into November. And did I mention, they were meeting at Arrowhead? And that ESPN's Gameday crew was in attendance? And that #1 LSU had lost the week before, meaning the MU-KU winner would move to #1 a week before the BCS Championship pairing was determined?

This was the biggest game in history for both schools, and they played like it early. Two untouchable offenses were out of sync, trading three-and-outs at the start. Mizzou struck first, with Danario Alexander the catalyst for a drive that culminated with a Martin Rucker touchdown on fourth-and-goal.

Kansas started the second quarter with their first good offensive play, a 39-yard pass to Kerry Meier, but going for the jugular on the next play, Todd Reesing underestimated William Moore, who stepped in front of a bomb to the endzone. Thirteen plays and 98 yards later, Chase Daniel had his Heisman moment, scrambling for seemingly minutes at a time before finding Alexander for an 11-yard TD and a 14-0 lead. KU would miss two field goals, and Mizzou would take said fourteen-point lead into halftime.

The third quarter was Mizzou's time to shine. After a Castine Bridges interception, Mizzou marched 40 yards, and Jimmy Jackson scored to make it 21-0 Mizzou. It was 21-7 when Mizzou went 69 yards in 14 plays and scored to make it 28-7. Mizzou had a seemingly insurmountable lead heading into Q4.

And then they had to hold on with all their might. With nothing to lose, Todd Reesing started gunning the ball to Meier and Dezmon Briscoe, and the points added up. Touchdown for KU, field goal for Mizzou. Touchdown for KU, field goal for Mizzou. When Reesing found Marcus Henry for a 5-yard TD with 2:03 left, the lead was just 34-28. Mizzou tried to run out the clock but couldn't. They had to punt, and KU had 11 seconds to go 89 yards. Seems impossible, but in the minds of most Mizzou fans, it was anything but. Here's where the Sports God would apply the biggest dagger ever to Mizzou hearts. Somehow KU was going to win this game.

Nope. The Mizzou defensive line blew up KU's offensive line and gang-tackled Todd Reesing in the endzone for the game-clinching safety (Mike Kelly's call: "Safety! Ballgame! Bingo!"). Sod Reesing was born, and Mizzou had just won the biggest game in the history of the rivalry.

Significance: Mizzou made their first ever bowl victory a pretty memorable one, hemming in (and popping down!) Heisman winner Joe Bellino and #4 Navy's offense, and piling up the rushing yards to win the Orange Bowl and finish the season 10-1 (I mean, 11-0). And they did it in front of Present-elect Kennedy, to boot.

From the opening kickoff, Mizzou dominated. On their first drive, they drove 70 yards to the Navy 2 before a miscue gave the Middies a surprising lead--halfback Donnie Smith got trapped behind the line and attempted an ill-advised lateral to QB Ronnie Taylor. The ball was picked off by Navy end Greg Mather and returned 95 yards for a touchdown. 6-0 Navy.

The craziness was just beginning. Navy attempted a surprise on-sides kick and recovered it. They moved inside the Mizzou red zone, looking to quickly go up 14-0, when Norm Beal turned the tables, stepping in front of a Hal Spooner pass and returning it 90 yards for a Mizzou touchdown. The first quarter was only half-over, and there had been two 90+ yard touchdowns. Bill Tobin's PAT made it 7-6 Mizzou.

From there, Mizzou took over. They quickly shut down the Navy offense, then drove 80 yards in 11 plays for the go-ahead score. Smith rolled in from 4 to make it 14-6. Navy had two opportunities to tie in the second quarter, recovering a Mizzou fumble and pouncing on a bad punt snap in Mizzou territory, but in both cases Mizzou's Andy Russell intercepted Spooner to get the ball back.

Entering the fourth quarter, Mizzou remained up eight when Mel West took over, marching Mizzou 64 yards toward the endzone. Ronnie Taylor snuck in from the 1, and Mizzou was up 21-6. This one was all but over.

To their credit, however, Navy finally moved the ball a bit. Spooner found Bellino for a late 27-yard touchdown, but this was Mizzou's day. Their first bowl win in seven tries was made possible by holding the explosive Middies to -8 yards rushing while plowing ahead for 223 yards of their own. West had 108 of those yards (plus Mizzou's only reception of the game, a five-yarder) in his final game as a Tiger, while Smith rang up 93. Heisman winner Bellino managed just four yards.

Though Kansas has wrecked Mizzou's national title hopes, the Tigers made a significant statement in this game. They truly were one of the two or three best teams in the country, and they had a pretty good claim for the national title. They didn't win it, of course, but they were as good as anybody that year, and they proved it in Miami.

Aftermath: This win led to the single most celebratory week most Mizzou fans have experienced. Not only did they move to #1 with the win, but they had also ruined (somewhat) KU's best season ever. Mizzou was one win from the national title game--the closest the Tigers have ever come to a "Final Four." They would tie OU at half in the next week's Big 12 Championship before finally fading from the moment, losing and settling for the Cotton Bowl.

Aftermath: Had the final polls been recorded after the season, Mizzou almost certainly would have finished 2nd (maybe 3rd) behind Ole Miss, as #1 Minnesota lost the Rose Bowl and #3 Iowa didn't get to play a bowl because of the Big Ten's "Rose or nothing" policy that last through much of the 1970s. Instead, they were locked in at #5.